In an online press conference last night, New Japan Pro Wrestling announced they are resuming operations on June 15th.  NJPW has not held a live event since February 26th, and on March 23rd, they canceled all events through April 11th. In total, the company canceled 53 live events due to COVID-19. Fans are anticipating the return of NJPW events on June 15th.
The press conference began with NJPW Chairman Naoki Sugabayashi welcoming viewers to the broadcast and thanking fans for their continued support. He then announced that NJPW worked with the Japanese Sports Authority to bring back live events. Wrestlers, ring crew, and other NJPW staff have been tested for COVID-19. Additionally, NJPW have been preparing arenas for the return of live shows. NJPW will announce further health and safety measures later.
The first show back on June 15th will be an empty arena show, which will be streamed live on New Japan World. NJPW have not announced any matches for the show, with the card to be announced by the ring announcer.
Sugabayashi then announced 8 other live events, from June 16th-July 3rd, which will comprise the previously canceled New Japan Cup. He also announced that this year's New Japan Cup will feature competitors from the Jr Heavyweight division. The tournament concludes on July 3rd, with the winner challenging IWGP Heavyweight and Intercontinental champion Tetsuya Naito on July 12th. The July 12th event replaces Dominion and will be the first to feature a live audience at 1/3rd capacity.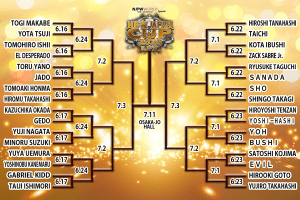 NJPW To Return On June 15th
Sugabayashi then yielded the floor to Hiroshi Tanahashi. The 8-time IWGP heavyweight champion expressed his regret at not being able to perform during this time. He said that the pandemic has been hard on wrestlers and fans alike. However, he also said that he looks forward to bringing fans fresh and exciting NJPW content.
The plans as announced last night seem to be very much in line with what NJPW President Harold Meij announced on May 13th. We here at Pro Wrestling Post are excited to see what NJPW's return will bring.
***
Be sure to stay tuned to the Pro Wrestling Post for this and additional stories from the wrestling world. Readers can rely on Pro Wrestling Post to be their daily source for all things past and present inside the squared circle from around the globe. As a result, readers can expect daily news, history, and so much more. Please visit New Japan Pro Wrestling's official website to also access their content here.