Jun Akiyama is unjustly forgotten when people talk about AJPW's success in the 1990s. When one heard the words 'All Japan Pro-Wrestling', a few specific names come to mind. The first that do tend to be those of the fabled Four Pillars of Heaven: Mitsuharu Misawa, Kenta Kobashi, Toshiaki Kawada, or Akira Taue. Others think of Giant Baba, the promoter that came up with the genius booking philosophy that became known as 'King's Road'. Others think of the stiff foreigners'/gaijins that became legends there like Vader, Stan Hansen, and 'Dr. Death' Steve Williams.
But there's one wrestler that doesn't seem to get that much credit for his work during the 1990s. most people consider him at a level underneath the Pillars, despite being involved with them from the very beginning of his career. He's a wrestler that became legendary for his tag team work, his innovative style, extensive catalog of amazing matches, and his role in saving the very company he debuted with.
His name is Jun Akiyama, and today we'll be revisiting his historic career.
Early years
Like most pro wrestlers in Japan, Jun Akiyama was a star athlete in high school, practicing swimming, judo, and amateur wrestling. After extensive success in the amateur field, Akiyama debuted for AJPW on September 17th, 1992. And his first opponent was a man he'd end up having an extensive and intricate relationship with, Kenta Kobashi. Although Akiyama lost, his debut match was one of the best and most exciting debut matches in wrestling history.
From there, Akiyama started wrestling in tag teams, which would become his specialty. Like most rookies, he'd be placed in six-and-eight-man teams and usually be the one taking the fall for his side. But during this period, Akiyama would rub shoulders with the best wrestlers AJPW had to offer. More often than not, he teamed with Kobashi and Misawa as part of their Super Generation Army stable. And when he wasn't teaming with them, he teamed with Takao Omori, another lower-carder. This team became one of AJPW's most successful, as they held AJPW's secondary tag titles, the All Asia tag titles, for a record 1,076 days.
Explosion
Things took a major turn for Jun Akiyama beginning in 1996. Kenta Kobashi split from Misawa after spending three years as Misawa's main tag team partner. He wanted to strike out on his own, much like how Kawada had done years earlier. Thus, Misawa elevated Akiyama to the role of his main tag partner. And the result was some of the greatest pro wrestling matches of all time.
Akiyama, like Kobashi, had phenomenal chemistry with Misawa and their various opponents. But there was a different story told when Akiyama teamed with Misawa when compared to Kobashi. Kobashi had the ability to create drawn-out battles in which he and his opponents battled as more or less equals. Akiyama didn't have that ability. Instead, he relied on Misawa more to create spectacular double-team sequences.
Akiyama proved to be a fantastic tag team partner for Misawa. He'd take a thrashing from his opponents, only for Misawa to tag in and save the day. But it wasn't always as simple as that. While Jun Akiyama did end up being beaten on more often than not, he withstood a ton of punishment on each occasion. Akiyama's incredible skills as a tag team wrestler led him to win the Wrestling Observer's Tag Team of the Year award on three occasions: 1997 and 1997 (with Misawa) and again in 1999 (with Kobashi).
Innovator
Jun Akiyama also proved to be a creative and innovative wrestler as well. He is credited with popularizing the running jumping knee attack (which is most commonly associated with Triple H). He also created two popular moves that have been used many times over the past two decades plus. The first is the Blue Thunder Bomb, which is now a staple of many WWE superstars, most notably Sami Zayn.
And his other signature move is the Exploder Suplex, which he has been known to deliver from many different positions (off the apron, of the top rope, on the floor, into the corner, with a wriest-clutch, etc.)
The End of the 1990s
By 1998, Akiyama had grown considerably as a star and sought to break away from being just a tag team wrestler. So, starting in 1998, Akiyama began competing for the Triple Crown Heavyweight Championship. His first two title matches were his matches to date, but alas both were losses. The first was to Misawa and the second was to Kobashi. Both were valiant efforts, and although Akiyama lost, his star power grew tremendously.
Akiyama spent the remainder of the 1990s teaming with Kobashi in his new stable 'Burning'. The two of them achieved great success, even managing to beat Misawa and Ogawa in tag team competition. That was a huge victory as Misawa rarely took the fall to anyone, such was his skill, power, and popularity.
Jun Akiyama & NOAH – The Struggle To Stand Out
In 2000, Akiyama followed Misawa in his exodus from AJPW to form Pro Wrestling NOAH. And Misawa's initial plan was for Akiyama and Kobashi to be the central draw for the brand. But things didn't pan out that way. You see, by the time NOAH formed, so too did a strange triangle of power. When it came to big matches, those three men seemed to have difficulty defeating each other.
Kobashi could never beat Misawa, Misawa couldn't beat Akiyama (anymore) and Akiyama couldn't bear Kobashi. Worse, by early 2001, Kobashi was sidelined because he needed extensive knee surgeries after years of wrestling in a demanding, high-intensity style. So without Kobashi to act as top wrestling draw, Misawa took it upon himself to elevate Akiyama as the new face of NOAH.
A tournament was held to crown the inaugural GHC Heavyweight Championship. Misawa won the tournament, but his reign was short-lived. Akiyama was still being groomed as NOAH's ace, especially after scoring a huge submission win over Kobashi in August 2000. Then, on July 27th, 2001, Akiyama beat Misawa to become NOAH's world champion.
Didn't Translate into More Popularity for NOAH
For some strange reason, fans didn't buy Akiyama as a top guy. Despite having beaten arguably the best pro wrestler in the entire country (Misawa). It seemed the fans still saw him as secondary to Kobashi. No matter what Akiyama did, he wasn't drawing as much as NOAH's bookers wanted. Part of it was that NOAH had a very late TV slot. Thus non-established names struggled harder to connect with audiences. Another issue was a nostalgic fanbase. NOAH most audiences only cared about Misawa and Kobashi and no one else.
Interestingly, Akiyama's biggest success as a draw was not for NOAH, but for rival New Japan. On their 2002 Tokyo Dome Show, Akiyama (as GHC Heavyweight Champion) defeated Yuji Nagata in the main event. This was akin to WCW's Sting wrestling 'Stone Cold' Steve Austin for the WCW Championship at WrestleMania. And retaining it. It didn't make much sense, but neither did the next change. Akiyama lost the title to Misawa's right-hand man Yoshinari Ogawa in a shocking, four-minute match.
Jun Akiyama – A Last Chance For Stardom
After that devastating loss, Akiyama needed another chance to prove himself to NOAH's audience. Prove that he was worthy of being a big star. After two years of toiling away, he finally got his chance. It was a special show for NOAH: Departure 2004. It was in the Tokyo Dome, in front of over 50,000 fans and it was during NOAH's peak in popularity. And he was in the main event. His opponent? Kenta Kobashi.
It was the perfect chance for Akiyama to be crowned champion. The planets would have to align before another such occasion came up. All Akiyama had to do was beat Kobashi and become champion. After all, he beat Misawa, who had beaten Kobashi many times before in the past. And Akiyama was much healthier compared to Kobashi. He was a heavyweight with a good look. Strong wrestling skills, and had enough in the tank to work with NOAH's next generation of rising stars. With all those strengths, beating Kobashi couldn't be so hard, right?
Wrong.
Despite an incredibly valiant effort that earned him and Kobashi praise from wrestling fans around the world, Akiyama still lost. And he lost clean, without any dispute. Because Kobashi busted out his ultimate superweapon – The Burning Hammer. This would end Akiyama and pin him for a decisive three-count.
This loss had serious implications for Akiyama as a star going forward. That loss proved beyond a shadow of a doubt that Akiyama was beneath Kobashi as a star. Akiyama had busted out every weapon he had. And Kobashi still kicked out. But Akiyama was felled by Kobashi, who was wrestling on borrowed time by that point.
From then on, anything Akiyama did wouldn't change this perception. He could've beaten Kobashi on the next night in under a minute and it wouldn't matter. He was shown his place, and that place was beneath the Ironman of Puroresu.
Going Nowhere
The rest of the decade was not particularly kind to Akiyama. Although he continued to wrestle at a fantastic level, he wasn't drawing as much as Kobashi or Misawa would. He did win more titles, such as the GHC Openweight Hardcore Championship, the GHC Tag Team Championship. Plus another run as GHC Heavyweight Championship.
But these accomplishments didn't catapult him into another level like they were supposed to. Instead, they helped slow the gradual decline in NOAH's popularity instead of slowing or accelerating it.
Then came 2009, the darkest year in NOAH's history. On June 13th, Mitsuharu Misawa passed away following an in-ring accident. Years of intense wrestling without breaks took a severe toll on him. And when he lost consciousness in the ring, almost the entire roster came to the ring to see what was going on and to try and will him to wake up. But Akiyama wasn't there. He was too busy nearly passing out from back pain.
Akiyama, like Misawa, had developed the mentality of 'sucking it up' and working through the pain. But Misawa's death jarred him deeply, enough for him to seek medical attention. That was the right call because he discovered he had several herniated discs. And so he vacated the world title the next day.
Returning Home
Between 2010 and 2012, Jun Akiyama wrestled for NOAH as normal without accomplishing much. But one thing he did accomplish was winning the AJPW Triple Crown Heavyweight Championship. He wasn't able to do this during his original run. But did succeed nineteen years after debuting for AJPW. That was the start of a series of events that would eventually lead him back to the first company he worked for.
In December 2012, NOAH released Kenta Kobashi from his contract due to financial struggles. This was seen as a major faux-pas on a cultural level. Kobashi was deeply respected by his fellow NOAH wrestlers. They saw this mistreatment as sacrilegious. Thus, several NOAH wrestlers, including Jun Akiyama, resigned from NOAH and went elsewhere beginning in 2013. After wrestling on Kobashi's retirement show, Akiyama returned full-time to AJPW. Eventually became the company's acting president.
Under Akiyama's guidance, AJPW began to grow. They too had their own scandals following a change in ownership that sent shockwaves through the puroresu industry. Akiyama became fully involved in AJPW and remains a critical figure there to this very day. He still wrestles occasionally despite being fifty years old and is in phenomenal shape for someone his age.
Legacy
Jun Akiyama is perhaps one of the biggest unsung heroes in puroresu. Most people overlook him for his accomplishments and skills during both his AJPW run and his NOAH run. In the former, Jun Akiyama was outclassed by the Four Pillars. Even though he showed he could hang with them in big matches. In the latter, he was in a sort of no-man's land. He wasn't as flashy or exciting as KENTA or Marufuji. Nor was he on the same legendary level as Misawa and Kobashi.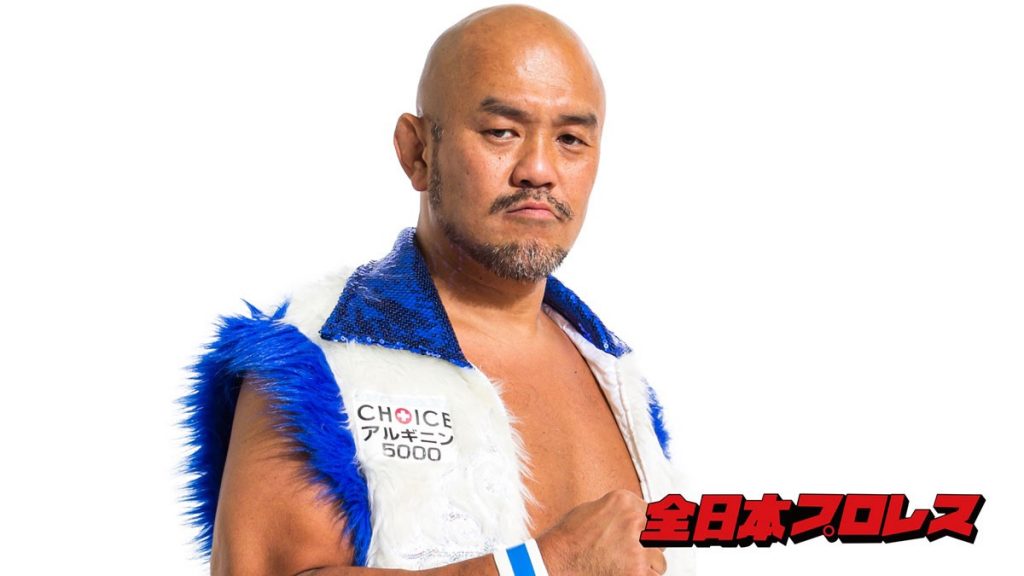 And yet, he is one of the best in-ring performers in the past thirty years. His matches, especially tags, were incredible. He understood how to craft deep, dramatic stories in his matches. While combining unpredictable twists and incredible athleticism. His matches are among the best in wrestling history. And, to this very day, make for some truly entertaining wrestling.