In spite of everything going on in the year 2020, the world of professional wrestling as still able to give us quality matches throughout the year. Many were considered wrestlers of the year to a lot of fans. But one that deserves the most recognition for that title is the current GHC Heavyweight Champion, Go Shiozaki. Go is from Pro Wrestling NOAH and currently holds the top prize in the promotion for those who don't know who he is. He was mentored by Kenta Kobashi while also trained by guys such as Harley Race, Tamon Honda, and Yoshinari Ogawa. During the beginning of his career in 2003, he teamed up with his mentor for quite a while, even getting praise for their tag match against Kensuke Sasaki and his protégé, Katsuhiko Nakajima.
_________________
The first championship that Go won in his career was during his excursion when he defeated Erick Stevens for the FIP World Heavyweight Championship. During his excursion from 2006 to 2009, he wrestled in places like Florida Impact Wrestling, Ring of Honor, World Wrestling League, and even had a WWE tryout in 2008. After the death of Misuharu Misawa in 2009, Jun Akiyama would vacate the GHC Heavyweight Championship, leaving it to be decided in a singles match between Go Shiozaki and Takeshi Rikio. Go would win the match to win his first GHC Heavyweight Championship, where he would have a reign for 175 days. His second GHC Heavyweight Championship reign would happen on July 10th, 2011, when he defeated Takashi Sugiura with a 196-day reign.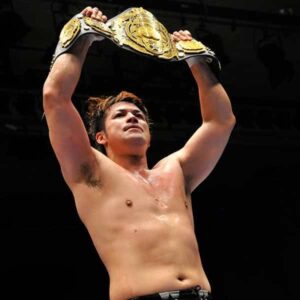 Go Shiozaki | Wrestler of The Year for 2020

After being with Pro Wrestling NOAH for ten years, he would leave the promotion with Atsuhi Aoki, Jun Akiyama, Kotaro Suzuki, and Yoshinobu Kanemaru to join All Japan Pro Wrestling on January 26th, 2013. Once they arrived to AJPW, they would form a faction simply known as Burning. He won his first set of titles in All Japan when he teamed up with Jun Akiyama on March 17th, 2013, to win the World Tag Team Championships. In 2014, he took apart in the Champion Carnival tournament and was leading his block until he was forced to be pulled near the end when he suffered a thumb injury.
Later on in the year, he would redeem when he won the Odo Tournament to receive a shot at the Triple Crown Championship. At first, he failed to defeat Joe Doering, but on January 3rd, 2015, the two would have a rematch, and go would get the victory to win his first Triple Crown Championship. He held it for 138 days with two successful title defenses until dropping it to Akebono. On September 28th, 2015, he would announce that he will be leaving AJPW to become a freelancer, forcing him to vacate the World Tag Team Championships with Kento Miyahara.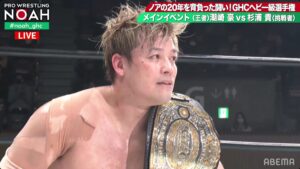 A Return to Pro Wrestling NOAH
On November 20th, 2015, Go would make his way back home to Pro Wrestling NOAH, saying he wants to wrestle with his original promotion again. He won his third GHC Heavyweight Championship against Takashi Sugiura on May 28th, 2016, but his reign was short-lived with only 63 days. After losing the championship, he focused more on tag team wrestling for the next couple of years, winning the GHC Tag Team Championships with people such as Mayback Taniguchi, Atsushi Kotoge, Kaito Kiyomiya, and Katsuhiko Nakajima. Go, and Nakajima's team was his more popular tag team runs and would be known as AXIZ, having three title reigns together. The two went on to be one of the best teams in NOAH while also focusing on their singles careers.

After being out of the Heavyweight Championship picture for nearly four years, Go would win his 4th championship when he defeated Kaito Kiyomiya on January 4th, 2020, starting the legendary reign that has been talked about this year. This was seen as a redemption arc for Go to make his claim that he is NOAH and embodies that spirit like the greats such as Kenta Kobashi and Mitsuharu Misawa. All six of his championship defense were all unique in their own right, telling different stories each time to make it much more compelling.
Go Shiozaki
The Protege of Kenta Kobashi
With him and Kazuyuki Fujita, it was a match between disciples with Go being the protégé of Kenta Kobashi and Fujita was the last disciple of Antonio Inoki, having a thirty-minute staredown in the match before wrestling for the other twenty-seven minutes. Go fighting Akitoshi Saito with Saito looking for forgiveness after Misawa's accidental death, having the match on the anniversary of his tragic death. The match between Go and Naomichi Marufuji was a test for Go being one step closer to his claim of being NOAH by defeating the actual symbol of NOAH.
His next defense was against the GHC Nation Champion, Kenoh, during the title for title match that ended in a sixty-minute draw. While champion, he was still partners with Nakajima until he betrayed him after losing the GHC Tag Team Championships. This led to their match after Nakajima won the N1 League but Shiozaki Go would prevail during his fifth successful defense. With Go defeating nearly all of the big names, he still had one more person to fight, and that man was Takashi Sugiura, which happened on December 6th, 2020.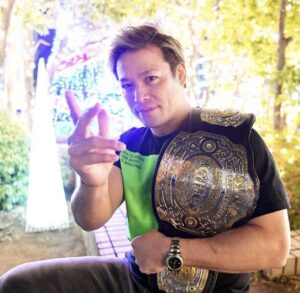 He IS NOAH
Go Shiozaki would defeat Sugiura and his claim of "I am NOAH" comes into fruition when he defeated all of the big names NOAH had to offer, solidifying his spot as the man to lead the company.
Every single title match Go Shiozaki has had during this year has been considered a Match of the Year contender. With each title match topping his previous bout & how well he tells the stories in the ring. His next title defense will be booked against Keiji Mutoh on February 12th, 2021. This was when they make their return to Budokan Hall after ten years. Go has had an incredible year and has competed while his arms have been banged up at the same time. Shiozaki is showing that fighting spirit. While he didn't win the MVP Award during the Tokyo Sports Awards, he at least won Outstanding Wrestler for the year. It is fitting since he should be on people's list for wrestler of the year. Shiozaki gave us a memorable GHC Heavyweight Championship reign.

List of Go's Title Matches