Unsung Heroes will cover people and personalities whose work doesn't always get talked about as much as it should be, such as Gentleman Chris Adams. With a history rich in stars, the supporting actors don't always get their just desserts. This series will strive to shine a light on those who fall into that category. Our next subject is late English grappling star, 'Gentleman' Chris Adams.
Adams was a national Judo Champion three times over by the age of 21. During his career, his greatest successes came from competing for World Class Championship Wrestling. While he competed for the UWA and WCW, it was his time in WCCW where his star shined the brightest. His career spanned nearly a quarter of a century, where he held nearly thirty championships.
In 1978 with no formal training, Adams worked for Joint Promotions with only his Judo background. Joint Promotions aired on British TV's World of Sport. His early achievements came against the likes of Mark "Rollerball" Rocco and Marty Jones. During this time, he faced notable WWE stars Fit Finlay and Tommy 'Dynamite Kid' Billington. Adams also gained notoriety while facing the likes of Adrian Street. It also became a point where training partners became close friends. Tony Walsh was one instance of this with Adams.
The original Superkick. "The Gentleman" Chris Adams… 🤘🤘 pic.twitter.com/aNGcbePOBG

— LG (@Hardwired_TSD) April 14, 2019
'Gentleman' Chris Adams
When he came to the United States, he would compete at the Olympic Auditorium against the likes of noted Judo star Gene LeBell. During the early part of his career, Adams was trying to find his way in the ring. One's footing, both literally and figuratively, stemmed from how Adams would compete. He initially competed barefoot but transitioned to wearing proper wrestling gear throughout the duration of his career.
Today, Adams' moves are used fairly regularly by several stars. Whether it is a superkick or an enzuigiri (that he called a Judo Kick), it is often used today. These moves all originated from Adams Judo background.
While working with the LeBell's, one early relationship that stemmed from Adams time in the US was with Dr. Tom Prichard. Tom spoke of his working relationship with Adams and the talent he could see in him.
Chris was definitely a talented guy. He was a really good guy and he could be a really intense guy. So we were both pretty young. He was probably about two years older than me. I was 20 and he was 22, I suppose. Just being at that state in your career and that young and he just came over from England and I came from Texas to California. We both hadn't experienced a whole lot of life yet. I think we grew in the sense that we were two young guys in L.A having a pretty good time. That's my experience with Chris. – Dr. Tom Prichard on 'Gentleman' Chris Adams
Adams competed all over the world. Whether it was Mexico, Japan, Europe, or Canada, Chris Adams went virtually everywhere for Pacific Northwest Wrestling. After a few years, Fritz Von Erich reached out to Adams to join his promotion, Dallas-based World Class Championship Wrestling. When he first came, he was advertised as a pen pal of sorts of Fritz's real-life son Kevin Von Erich. During the early time in WCCW, Adams and The Von Erichs were as close as close could be. They often teamed together. He, along with the Von Erichs, would often engage in a feud with Michael PS Hayes and The Fabulous Freebirds.
'Gentleman' Chris Adams engaged in a longstanding feud with 'Gorgeous' Jimmy Garvin over the World Class World Heavyweight title. Also known as the World Class American Heavyweight Championship. Chris Adams held the title on five separate occasions. However, success also breeds an ability to adapt and adjust.
For Adams, with Gary Hart by his side, he would turn heel. Embracing a more selfish in-ring persona. It seemed that any animosity would be put to rest between the Von Erichs and Adams if he fired Gary Hart. Unfortunately, a chair over the head of Kevin Von Erich would cut him and cause a concussion in the process. The brutal and violent nature of the feud would see Kevin Von Erich smash a chair over Adams's head, causing part of the chair to be lodged in his nose close to his eye.
World Class Championship Wrestling
Between '83 and 87′, Adams competed for World Class Championship Wrestling, among other promotions. On several occasions, he teamed with Gino Hernandez and WWE Hall of Famer Jake Roberts. Adams' was dispised while he was there. The jeers would fill the arena. He was always a sound wrestler who envokes both his past martial arts background with a technically sound ground game.
He eventually formed a new variation of the Dynamic Duo alongside Gino Hernandez. After terminating the services of Gary Hart, Adams would face anyone and everyone in World Class Championship Wrestling. At one point, he faced NWA World Heavyweight Champion Ric Flair. One match that stood out was his battle with the Great Kabuki and how the two exchanged stiff kicks. Many may, or may not, know that these 'superkicks' that have become so prevalent today? You can attribute Chris Adams with being one to use it regularly in a match.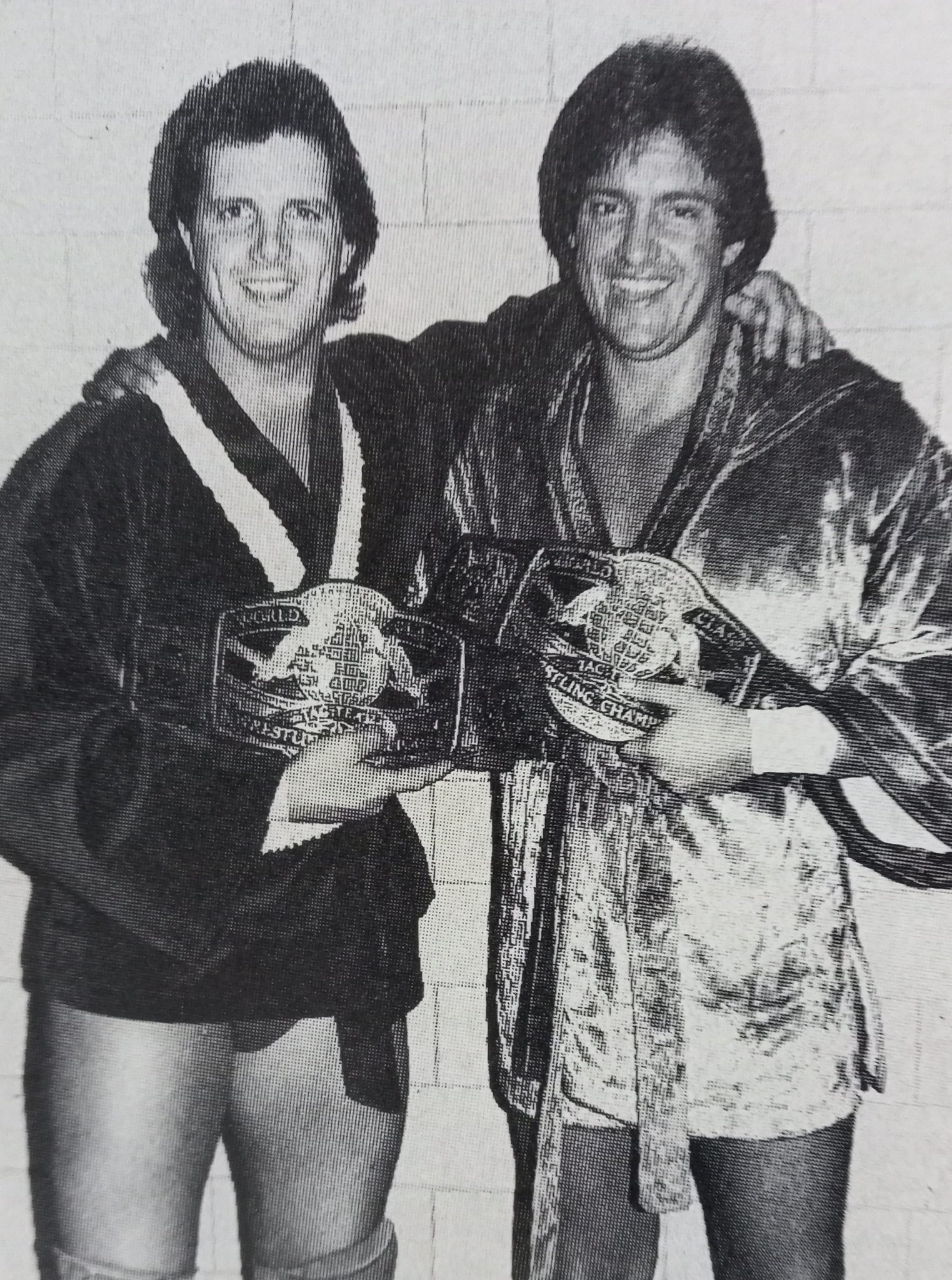 His alliance with Gino Hernandez is well noted. At one point, Adams had adopted a gimmick in which he would cut the hair of his opponents after a match. These antics eventually led to a matchup between Hernandez, Adams, and the Von Erichs. It culminated with Gino having his head shaved. The storyline was further built along with Adams and Hernandez wearing masks to hide their identities because of their appearance. The pairing would eventually split up, leading to a feud between Hernandez and Adams.
The Dynamic Duo
By the early winter of 1985, the Dynamic Duo pairing of Hernandez and Adams once again came together to face The Von Erichs. This match had everything – including betrayal. As the evening went on, Hernandez didn't tag in. Gino claimed his knee was hurt as he rested on the apron. Both Von Erichs, throughout the match, soundly beat the Gentleman. As the match reached its closing moments, Adams threw the referee over the top rope. This led to an instant disqualification. Chris then proceeded to slap Hernandez for not tagging him into the match.
The Hernandez/Adams rivalry reached a fevered pitch on January 27th, 1986. Here the two faced each other in a loser loses their hair match—this time, however, the Freebird Hair Cream caused Adams to win. Hernandez was able to throw it into Adams' eyes, and he walked away as the winner. After the death of Gino Hernandez, Adams embarked on a new direction on his own. There was no feud or rivalry that he was now tied to.
International Competitor
After a couple of personal issues, Adams embarked on a tour of Japan in the Spring of 1986. When he did return to the US, he once again competed for WCCW and Texas All-Star Wrestling. By July, he defeated Rick Rude for the World Class Heavyweight Championship. He held the title until he left the promotion. Adams' career would continue on for Bill Watts and his UWF promotion that was later a part of the NWA. However, by the Summer of the following year, Adams would rejoin Fritz Von Erich's WCCW.
Over the course of the next decade, Adams would compete alongside Terry Taylor for the UWF. His time there was immediately met with championship success. Unfortunately, it was short-lived as their success together was met with a new feud against one another. Adams moved around quite a bit. Whether it was in Mike George's World Wrestling Alliance, Southern Championship Wrestling, or the NWA, Adams was popular with fans and known for putting on highly competitive matches. After WCCW came to a close, he competed in the Pat 'O'Connor Memorial Tag Team Tournament. He competed for several promotions during this time, including the GWF, NWA, and was even a part of a tour in Nigeria.
Weaving On-Screen and Off-Screen Breaking Kayfabe Before It Was Cool
For Chris, some of his in-ring feuds also had off-screen implications. For instance, his feud with King Parsons, for example. It was a real-life tie-in as Adams' wife Toni was going on vacation with Parsons, where she and Adams were married. It was real emotion spilling out into the ring. At a time when kayfabe couldn't be kept more of a secret, fans were privy to something behind the scenes coming to life.
His career continued on to the USWA against the likes of the late Eddie Gilbert and Brian Christopher. Adams then competed for the Jim Crockett NWA Dallas promotion. Facing off against notable names at the time, such as Michael Hayes and Greg Valentine. From NWA Dallas, Adams traveled to compete for the AWF. They had the unique concept of using foreign rules out of domestic American promotion. His time was also spent as a promoter as well and not just an active competitor.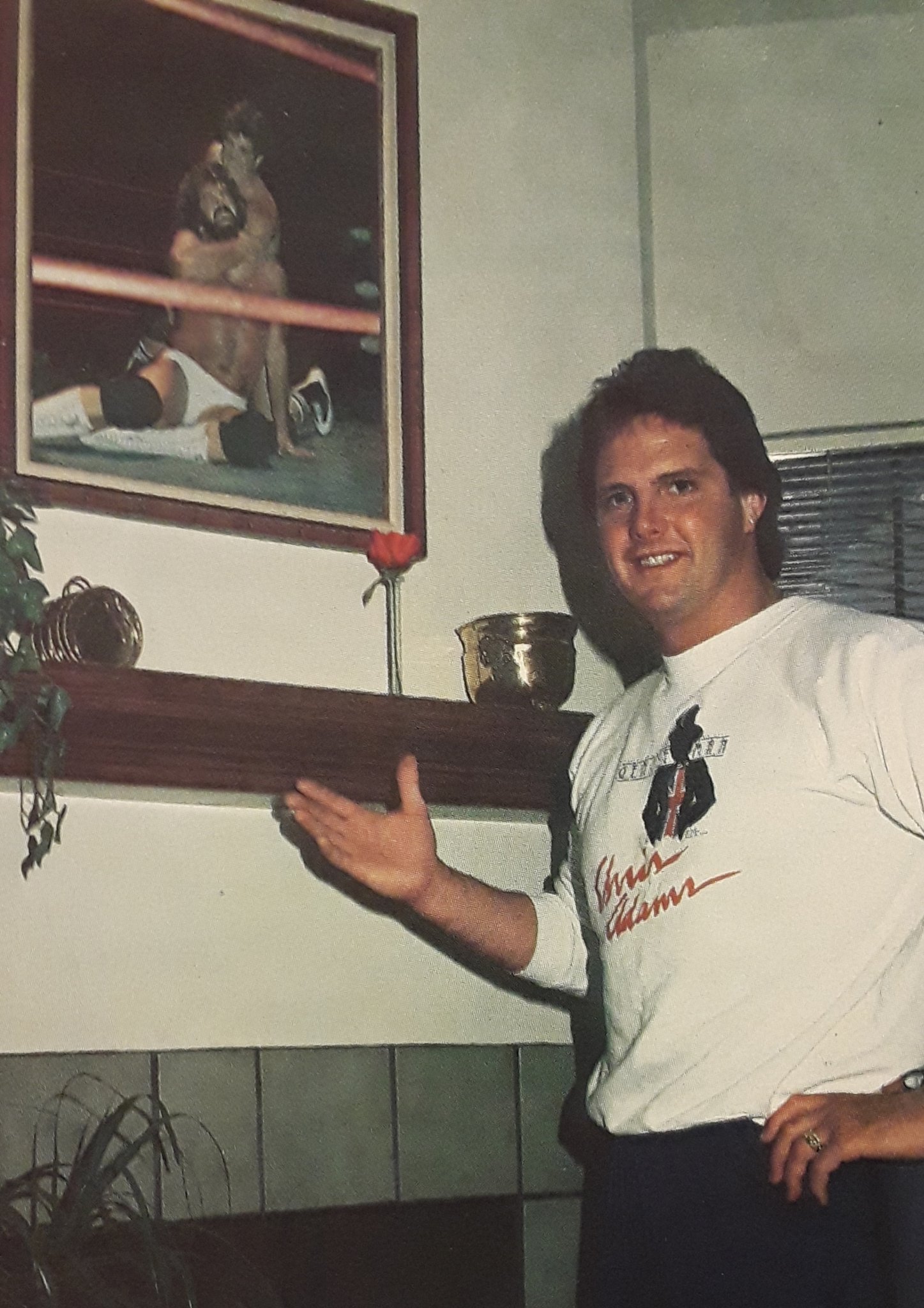 In 1997, Adams came to World Championship Wrestling which saw him face the likes of Randy Savage, among others. The initial belief was that he was set to be a part of the Bluebloods with William Regal and Dave Taylor. However, due to personal issues with Regal, that never materialized. His time and role with the company weren't what he was accustomed to in the past. But his inclusion in the company was something fans should keep in mind towards the end of his career. After leaving WCW in late 1999, Adams resumed his role as a promoter and part-time wrestler in the Southern states.
100% pro. A gentleman's gentleman. Easy to work with. Those are the things that stand out the most when talking about 'Gentleman' Chris Adams. I never had to negotiate a deal with him. But what I did know about him and seeing him backstage and working with others and that's how you can tell.

When you see guys working over details over a match and how genuine are they in wanting to make their opponent look as good as they do. Sometimes it's obvious sometimes it's not so obvious in watching people lay things out. Gentleman Chris Adams clearly had that name for a reason. – Eric Bischoff via 83 Weeks
In encapsulating Gentleman's Chris Adams career, it's important to understand his contributions to wrestling. Adams trained WWE Hall of Famers Scott Hall and Stone Cold Steve Austin, which says a great deal about him. He is also synonymous with creating the superkick. His contributions to wrestling should have garnered greater attention than they had.
While there could be a focus on his legal issues, marriages, and a more personal look at his life, this was never the focus here. We recognize that those decisions were his, so was his in-ring career. 'Gentleman' Chris Adams actively competed for over two decades. His tragic passing is still talked about by friends today. To his credit, he saw his value and wanted it to be on par with what he knew he was capable of. Fans would either love him or love to hate him. And being able to weave the two together seamlessly is a remarkable skill. To think of how his contributions were by popularized by others either in gimmicks (Brutus 'The Barber' Beefcake) or moves like the superkick (Shawn Michaels, The Young Bucks), there is no denying Adams' importance.
'Gentleman' Chris Adams | An Unsung Hero
Adams' contributions to the wrestling industry would have gone beyond just competition. He had plans to produce a documentary with the likes of the late Gary Hart and Mickey Grant, of matches that date back as far as the 1930s. Chris Adams's career should not be in vain. He was a wrestler's wrestler, bridging the gap between the technician and martial artist. He was awarded a lifetime achievement award, was a former world champion multiple times over, was successful as both singles and tag team wrestler. Despite these achievements, 'Gentleman' Chris Adams is still considered an unsung hero in wrestling today.