Gene LeBell. Every industry has their icons. Hollywood has John Wayne and Clint Eastwood. Music has Elvis. TV has David Hasselhoff. Stand-up comedy has Jay Leno and Steve Martin. Martial arts have Bruce Lee and Chuck Norris. MMA has the Gracie family. Wrestling has Lou Thesz and Frank Gotch. Lucha libre has Mil Mascaras. One thing these icons have in common is that they have all grappled with Gene LeBell.
Ivan Gene LeBell was born in Los Angeles, California, in 1932. His mother, Aileen, was working as a secretary for the Los Angeles Athletic Club. Her work meant that her sons Gene and Mike would spend a lot of time at the Grand Olympic Auditorium. The venue was mainly used to host boxing and catch-wrestling events.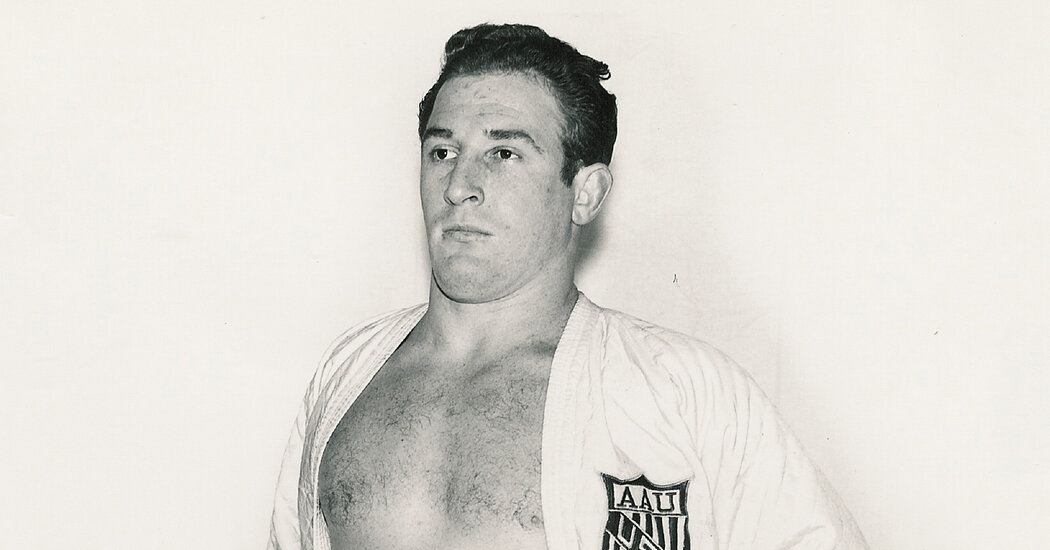 Gene LeBell – Grappling with the Greatest
The LeBell brothers took interest in both sports. Gene had been receiving lessons catch from Ed "The Strangler" Lewis when he was just seven years old. He also received training from Lou Thesz and Karl Gotch.
LeBell was also a huge fan of judo. Unlike most other martial arts, it puts emphasis on grappling instead of striking. He trained diligently in the sport and earned his black belt as a teenager. When he was old enough, LeBell relocated to Japan so he could further his training at the Kōdōkan judo institute in Tokyo.
A common mistake would become his personal trademark. Just before a competition, someone accidentally placed a pair of red shorts in the wash with LeBell's gear. The color ran and dyed his outfit a shade of reddish-pink. He had no time to replace it before the first round started.
Wearing the outfit was seen as an act of disrespect. LeBell had not earned enough of a reputation to do something like this. Fans responded with hostility. They became more accepting when LeBell went on to win the tournament, thus establishing some legitimacy. The pink judogi (judo robe) would become LeBell's signature look.
When he returned to the United States, he began competing in the sport as a heavyweight. He scored an upset victory in his first official match by pinning high-ranking judoka John Osako. LeBell made further shockwaves by winning two consecutive Amateur Athletic Union tournaments. The 22-year-old won the National Judo Championships in Heavyweight then Overall categories.
Earlier in 1942, LAAC vice-president Frank Garbutt sought a new promoter for the Auditorium. Aileen recommended former California State Athletic Commission inspector Alvah "Cal" Eaton. Her suggestion resulted in her working very closely with Eaton. Their professional relationship turned romantic, and they married in 1948.
The couple began booking pro wrestling events and became a force within the Southern California region. Aileen would develop the affectionate nickname "The Redhead." After LeBell's championship victories, they sensed an opportunity to make major money.
LeBell began wrestling for his mother and stepfather. To their collective surprise, LeBell was not a draw at the beginning. His reputation did not attract new fans. He also struggled to adapt to pro-wrestling despite his extensive experience in other grapple sports.
He was given the character of "Judo" Gene LeBell, a non-wrestler who depended on his judo skills to overcome the competition. He sometimes faced opponents in straight judo or karate rules competition. He would win most of his matches under his gimmick as long as he was not against a major name like Nick Bockwinkel, Mil Mascaras, or the Fantastic Kangaroos.
When this failed to catch on, he became an enforcer who physically stepped in when wrestlers broke company rules. During this same time period, he competed as the masked wrestler called The Hangman. Later as more talent came in from Japan, they particularly feuded with LeBell due to them normally having martial arts backgrounds, or characters that imply they have them.
He competed in a tag team with Roy Staggs to help him refine his skills. While he mainly wrestled in the California area, he also spent time competing in Hawaii.
"He was one of the original MMA fighters. He was an enforcer in his parents' pro wrestling league over there in L.A. Because he was 'Judo' Gene LeBell; judo and wrestling, and he also knew some boxing. He would enforce. If someone didn't want to drop the built, he would go in there and make them drop the belt."
– Don Frye on LeBell's wrestling career.
On December 2, 1963, LeBell took part in what has become recognized as the first televised mixed martial arts (MMA) fight. Boxer Jim Beck kept publicly stating his belief that a boxer could beat any martial artist in a straight fight. He issued an open challenge to anyone with experience in any Japanese fighting style.
Beck offered $1,000 if the challenger could prove him wrong. Ed Parker persuaded LeBell that it would be easy money and good publicity for him. Beck was not an exceptional boxer. He also showed ignorance about martial arts by assuming them all to be karate variations. LeBell traveled to Salt Lake City to answer the challenge.
When Beck said "a boxer" could beat any martial artist, he was not talking about himself. LeBell's actual opponent was revealed to be the considerably more skilled Milo Savage. This was not the only clue that the competition was rigged against LeBell. Both camps agreed to boxing match timings; five rounds of three minutes each.
Savage's team noted that their client was older and smaller than LeBell, and insisted he be allowed to use any kind of punch he wanted. They also demanded that LeBell could not grapple below the waist, which benefitted Savage due to his amateur wrestling background.
They offered to have Savage wear a judogi to facilitate LeBell's throws. LeBell's team assumed that their request that LeBell could not use kicks was further proof of their ignorance about martial arts, as judokas do not use kicks. But then Savage showed up to the fight in a much tighter karategi (karate robe), claiming not to know the difference.
During the fight itself, Savage would use martial arts techniques and stances to try and counter LeBell. The first counter aggravated a shoulder injury, putting LeBell at a further disadvantage. LeBell and others have claimed that Savage had brass knuckles hidden in his gloves, and his team had smeared petroleum jelly into his karategi to make it harder to grip.
Despite being on the losing end for the first two rounds, LeBell turned down opportunities for ground submission in the third. He decided his best option would be a sleeper hold. He managed to execute a rear naked choke in the fourth round. Savage passed out almost immediately, and LeBell was declared the winner.
The crowd reacted violently to local hero Savage losing. They began throwing bottles and chairs at LeBell's team. Both sides tried to calm the situation by having LeBell's team revive Savage. Local boxer Jay Fullmer called for calm and congratulated LeBell on a hard-earned victory. They still needed a group of wrestlers and judokas to escort LeBell out of the arena to safety. One crazed fan tried to push through them and stab LeBell.
LeBell would be involved in another famous early MMA fight. In 1976, boxer Muhammad Ali traveled to Tokyo after wrestling legend Antonio Inoki accepted his open challenge. LeBell was selected from over two hundred applicants to serve as the referee. As with LeBell's fight with Savage, the rules were adapted to benefit the boxer.
Inoki was barred from using throws or takedowns and could only use kicks if one of his knees were on the ground. Much of the fight consisted of Inoki wearing down Ali's legs with over a hundred sliding kicks. Ali struggled to get close enough to land his punches. The fight had to be ruled a draw as the time expired without either man scoring a convincing knockdown. However, both maintained that they were the rightful winner.
After Cal Eaton passed away in 1966, his widow took over the presidency of the company. As respected as "The Redhead" was, the company was too successful for her to manage everything on her own. She put her son Mike in charge of their wrestling promotion while she focused on the boxing side of the business.
Gene was also given a senior management role within Worldwide Wrestling Associates. Gene a step lower down because he had outside commitments that took him away from the company for several weeks at a time. His new role meant an end to his time as a competitor in combat sports.
In 1968, Mike quickly re-joined WWA into the National Wrestling Alliance, renaming it NWA Hollywood Wrestling (some refer to it as NWA Los Angeles). Both men remained in control of the company until it ceased operations in December 1982. Gene's final match in the company was against "High Chief" Peter Maivia. This became the final match of his career as he retired as soon as NWA Hollywood Wrestling ceased operations.
LeBell had been an actor and stuntman dating back to 1961. He has over four hundred credits to his name. Some sources claim it is over a thousand, likely due to counting each episode of a television show individually. He has played a referee in 25 different TV shows and movies.
They included Man on the Moon, The Incredible Hulk, The Six Million Dollar Man, The Bionic Woman, Married with Children, The Beverly Hillbillies, Family Matters, Taxi, Fantasy Island, and Baywatch. Most of his other roles were minor characters who were involved with stunts or fight scenes.
"A very unique man. Very successful, and not only as a competitor an instructor. He also made his mark in the movie industry a great deal. There is so many different movies that he has been in that most people will never know because he always took such minor roles in movies."
– Dan Severn on LeBell's acting career.
He earned his reputation as "The Hardest Working Stuntman in Hollywood." LeBell has been a stunt coordinator and stuntman on over 250 productions. He was frequently uncredited. He worked alongside some of the biggest action stars, with most having found memories of him. One person who does not is Steven Seagal.
He has called LeBell a "sick, pathological scumbag liar." This is referring to an incident on the set of Out for Justice. Seagal used to claim that he was immune to chokeholds due to his aikido training. He offered to let LeBell apply a hold to prove it. According to Seagal's bodyguard Steven Lambert, LeBell realized that Seagal was going to counter before he could lock in the hold.
LeBell allegedly swept Seagal's leg, causing him to fall to the floor. There is an alternative version of this story that has become an urban legend. LeBell has never confirmed it, yet, but has indicated that there are other witnesses who could. They allege that once Seagal gave LeBell the command to sinch in the hold, the actor passed out immediately…
..and involuntarily released his bowels. It is not possible to verify either account as both sides accuse the other of making things up.
LeBell and Jack Ginsburgs were arrested, charged, and tried over the murder of former business partner Robert Duke Hall in 1976. Hall was a private investigator who had hours of wire-tapped recordings in his home. The illegally made recordings contained material that led to the resignation of the Chief of police in Beverly Hills and had connections to Richard Nixon's presidential campaign.
LeBell was acquitted of the original charges but was convicted of being an accessory for driving Ginsburgs to and from the murder scene. The accessory conviction was overturned by the California Courts of Appeal.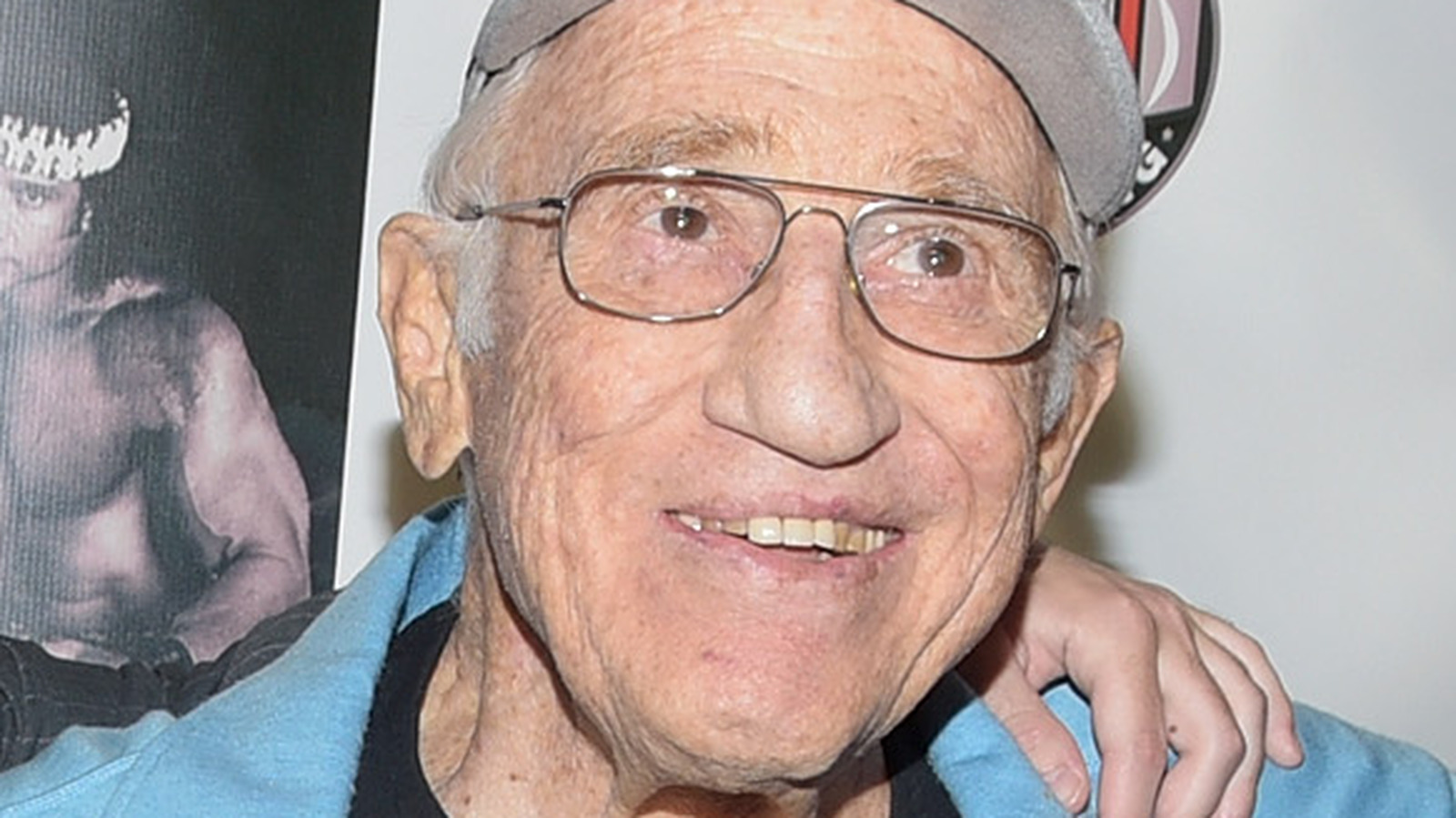 As LeBell's age caught up with him, he became passionate about developing a new generation of grapplers. He founded two dojos. Unlike traditional dojos, they specialized in a range of fighting styles from Asia and the Americas. His schools teach wrestling, submission wrestling, judo, boxing, kickboxing, karate, jujitsu, and Brazilian jiu-jitsu.
Among the people that LeBell has trained or given tuition to are Roddy Piper, Mando Guerrero, and actor Chuck Norris. He has written twelve books on judo, grappling, and self-defense. He has also contributed to more than we will ever know. One of his students was Ed Parker, the man who convinced him to answer Jim Beck's challenge.
Parker would become a martial arts master in his own right and is recognized as the father of modern Kenpo. LeBell also formed a friendship with Bruce Lee while working on The Green Hornet television show. It is rumored that LeBell was hired to "persuade" Lee to start being gentle with his stuntmen.
It is hard to say if the lesson needed to be taught as Lee respected LeBell from the start. The two became firm friends and spent many hours training and discussing combat techniques. The culmination of all the things Lee learned in his life were published in a book and were used for the basis of a brand-new martial art; Jeet Kune Do.
"You never take your eyes off your opponent. I can see Mando [Guerrero] here. I can see what he is thinking. Once you take your eyes of your opponent, you deserve to get blindsided and taken advantage of."
– Gene LeBell explaining an important aspect of wrestling in his own video.
BJJ Master Royce Gracie claims that the Ultimate Fighting Championship tried to bring LeBell out of retirement. Being 63 years old, he was not prepared to return to full-time competition. He did propose having a fight against Royce's 82-year-old father Helio.
The match fell through because LeBell was unwilling to lose 100lbs to meet Helio's weight class. Helio offered to have him face any one of his sons instead. LeBell turned it down due to the large age difference between them.
LeBell has been involved with every aspect of combat sports. He has written articles, taught classes in his former student's schools, and been a cage-side trainer and a judge. He has been seen in the corner of multiple fighters, including MMA-star turned wrestler Ronda Rousey. LeBell judged fights up until 2018.
Numerous wrestlers across North America and Europe would use the "Judo" nickname and gimmick in homage to LeBell. He was also immortalized into a folk song which recounted his victory over Savage. The song can be heard on his video, 'Pro Wrestling Finishing Holds'. Early into his WWE run, former star Daniel Bryan (currently competing under his real name Bryan Danielson) was asked to change his finishing move.
Danielson chose a variation of the cross-face, naming it "The LeBell Lock" in tribute to the submission master. Bryan had never interacted with LeBell at that point, but WWE staff would arrange for them to meet.
In 1991, the Cauliflower Alley Club awarded LeBell the rare Honorary "Reel" Membership. The award is exclusive to movie stars who have also competed in boxing and wrestling (pro or amateur). They also gave him the "Iron Mike Mazurki" award in 1995. In 2005, he received the Frank Gotch award for the positive recognition he brought to pro wrestling.
The LeBell family (Aileen Eaton, her two sons) were inducted into the NWA Hall of Fame in 2011 in recognition of their promoting NWA Hollywood Wrestling.
On August 9, 2022, LeBell submitted peacefully to the one opponent that nobody can defeat. It was noted that one of his final acting roles was as a corpse that fell out of a coffin. Even nearing the end of his life, he was still cementing his legacy as one of the toughest men in the entertainment industry.
LeBell passed away peacefully in his sleep. He was 89. While "The Godfather of Grappling" may no longer be with us, he has left a legacy that will not be so easily defeated.