In the second edition of A&E Biographies, the focus is presented on 'Rowdy' Roddy Piper, his life, and times. It began with Vince answering a phone call pretending he's speaking to Rowdy, from Hell. He hung up, then assured that Roddy is in Heaven and not in Hell.
Given the renown of 'Rowdy' Ronda Rousey, it becomes important for everyone to remember Roderick Toombs, who was famous, or infamous, under the name Roddy Piper. To start, Hulk Hogan spoke about Piper's impact. Roddy was riveting and unlike any other wrestler because he separated family from business. He was an anti-hero from the very beginning.
'God takes care of fools and babies'.
We hear Piper in a previous interview recall his life growing up in Saskatchewan, Canada, and then heard from Colt Toombs, his son, who spoke on his behalf. Colt described his father's life early on. He faced racism, being the only white child near an indigenous reservation. He received very little comfort from his parents. Again Piper was shown speaking about how physical punishment isn't the way to go about solving problems with children. His daughter Ariel spoke about the dark place he felt he lived in as a child.
Former NHL player Cam Connor, a childhood friend, said this guy Rod wanted to fight. He wanted to be wrestler and wanted a better relationship with his father. So he took his bagpipes and left home. Piper would often be homeless. Cold and hungry, he would turn to theft to make ends meet. Colt told of how Roddy faced abuse and attempted sexual abuse.
A&E Presented 'Rowdy' Roddy Piper
Origins of Roddy "The Piper"
Piper's first wrestling match was against the legendary Larry 'The Axe' Hennig. At the time, he used bagpipes and a kilt and announced as Roddy the Piper. He would often never knew what was next for him in his career. Piper would fight wherever he could as he traveled the territories. The manner in which wrestling had evolved gave him a chance to succeed. His first break came in Los Angeles, California. Gene Lebell coached Piper early in his career. LeBell, an accomplished martial artist, wrestler, stunt man, and occasional actor, trained Bruce Lee, Chuck Norris, and Ronda Rousey, among many others. He gave Piper the edge he needed. Under the learning tree of LeBell, Piper didn't just become any fighter, but one fans wanted to see.
Ariel noted how Piper wanted to live in Hollywood but often drove near the Compton area of Los Angeles and would share awful stories with her as a kid. Historian Rock Rims spoke about seeing a new face in the Los Angeles territory in 1976, a  21-year-old Roddy Piper. H said fans would see Piper evolve into a heel more and more. During his feud with the Guerreros, he showed how he could get under the skin of his babyface opponents. On one occasion, he said he was going to play the Mexican national anthem with his bagpipes but instead played La Cucaracha. In response, fans pelted the ring with chairs!
Piper would then move from California to Portland, Oregon. We heard from Kitty Toombs, Piper's widow; she shared how he would make moves on her, and it wasn't until the late 'Killer' Tim Brooks begged her that she gave Roddy her phone number. He had become a celebrity almost immediately, but he was also the most chivalrous man.
A&E Presented 'Rowdy' Roddy Piper
Atlanta, Georgia
Bruce Prichard shared how it was important during that era to move from territory to territory in order to develop and make a good living. Piper moved to Georgia to join Ted Turner's Georgia Championship Wrestling. He had the gift to gab, serving both as a wrestler and a color commentator. 'Rod Piper' shared his views and would challenge the likes of Bullet Bob Armstrong and Dick Slater. Eventually, he became known as Roddy Piper.
In the Mid-Atlantic territory, Piper and Ric Flair were initially friends since both were heels. We heard stories of the insanity that was Piper and Flair's time on the road. Bret Hart recounted how he would have to chase Piper during his partying days. We hear of how drugs helped to numb the pain and to cope. Hart said wrestlers were incentivized to self-medicate as an injury could cost someone their job.
Roddy's traveling made it difficult on a growing family like his. Flair said that he kept his family completely out of the business. According to Kitty, when he came off the road, Piper would rest in a motel before coming home. He had been a villain and faced assault charges because he would attack those in attendance, not just his adversaries in the ring.
The people wanted to kill me
– Roddy Piper
Sgt. Slaughter recalled how Piper was stabbed by a crazed fan. In fact, he was stabbed by fans three times in his career. We then heard of his famous feud with Greg Valentine. They wanted to put on the meanest, most brutal, and dangerous match to end the feud. The success and popularity of Larry Zbysko and Bruno Sammartino's Shea Stadium match meant they had to raise the stakes to counter it. Piper proposed a Dog Collar match for his feud-culminating bout with Valentine in Greensboro, North Carolina, a match wherein both men were bound together by a chain attached to a collar around their necks. It was a brutal and bloody affair. In summarizing their feud, Valentine shared just how good Piper was in the ring.
A&E Presented 'Rowdy' Roddy Piper
New York, New York
Vince McMahon described what a good heel needed to have. His desire in the early 1980s to expand nationally meant that he needed to bring in all the top wrestlers from all of the territories. Piper came to New York, and the WWF had him focus on what he did best: talk. To that end, they created 'Piper's Pit,' the wrestling talk show. It was on that show that Piper's infamous smashing of a coconut across the head of 'Superfly' Jimmy Snuka occurred. His gift of gab helped with the WWF's collaboration with MTV. The inciting incident for this was Cyndi Lauper being used by the WWF. In December 1984, 'Captain' Lou Albano received an award on Piper's Pit, only for Piper to kick Lauper and crack the platinum album over the head of Albano.
'Hot Rod' rose to cultural prominence over the course of the next four months for nefariously beating on others. The 'Rock and Wrestling Connection' led to 'The War to Settle the Score' match on MTV between Piper and Hogan. The two would battle back and forth, but Piper had the aid of 'Mr. Wonderful' Paul Orndorff and 'Cowboy' Bob Orton. This led to Hogan's Rocky 3 castmate, Mr. T getting involved; he entered the ring and attacked the heels. Security came in and began pulling everyone apart. Police were heavily involved during this without knowing this was part of the story.
I would get into fights against people who would want to test themselves against our family
– Colt Toombs
Ariel recalled how her father felt that it was bad for them to have to be his daughter. Colt noted how he got into fights because others would try to test themselves against him.
McMahon said that Piper did not like Mr. T because he was an outsider undeserving of being in the main event. But their program was the foundation of WrestleMania, and McMahon said his idea for WrestleMania was to create a platform and event like the Super Bowl. For that history-making event, Piper didn't want to lose to Mr. T or Hogan, so the finish saw Orndorff take the pin after accidentally being struck by Orton.
I am here to chew bubble gum and kick a** and I'm all out of bubble gum
Eventually, Piper completely walked away from the industry for a few years. The program showed the process of making John Carpenter's film They Live, Piper's first major lead acting role. Kitty then described Piper's departure from wrestling and the challenge in getting a foothold in Hollywood. In the past, wrestlers would have to balance acting with their in-ring career in order to maintain a steady income, but during this period, they needed to be removed from one to be in the other completely.
Roddy's return to wrestling at WrestleMania V was exactly what fans wanted. Because of his absence, he was fresh again, and soon he had altercations with other loudmouths. It was difficult to jeer him now as he was so beloved and had become a big draw in the industry. His strong opinions often led to fights with McMahon behind the scenes. He said he wouldn't lay his shoulders down for anyone, but he wanted it to 'make' the opponent when he did.  To that end, he faced Bret Hart at WrestleMania VIII for the Intercontinental Championship and put over the 'Hit Man.'
It takes a man to be a dad
– Roddy Piper
Bret and Hulk detailed how they would miss all these special moments with their families due to being on the road, and Piper was no different. But when he was home, he would try and create what he didn't have as a child. Ariel said how she thought he missed work when he was with his children and missed his children when he was at work. Kitty recalled how it was hard having him leave when all she wanted was her family to be together.
Kitty also discussed how difficult it was to live with someone who was always injured. They showed the massive scar from his hip replacement, which was necessitated by an injury he suffered during his feud with Hogan in WCW.
We then see Piper in an interview in 2003 when he discussed his friends who has passed away. Around that time, his contract with WWE was terminated due to the personal demons that manifested in that interview, among other issues.
A&E Presented 'Rowdy' Roddy Piper
WWE Hall of Fame
After reconciling, Piper was inducted into the WWE Hall of Fame in 2005. Fans and talent all applauded him as he stood on the stage accepting his induction. From an interview in 2006, Piper is shown recalling his life and times. Kitty said that he would have ups and downs and had difficulty finding a middle ground. She thinks he likely did think of suicide but knew it wasn't something he would do.
In 2014, Piper would go into comedy, including standup, something that was therapeutic for him. Ariel described how passionate he was about performing. We hear from comedian Steve Simione, who was asked to cultivate a program for him, establishing a relationship between the two. Piper was able to carry on entertaining even though his in-ring career was over.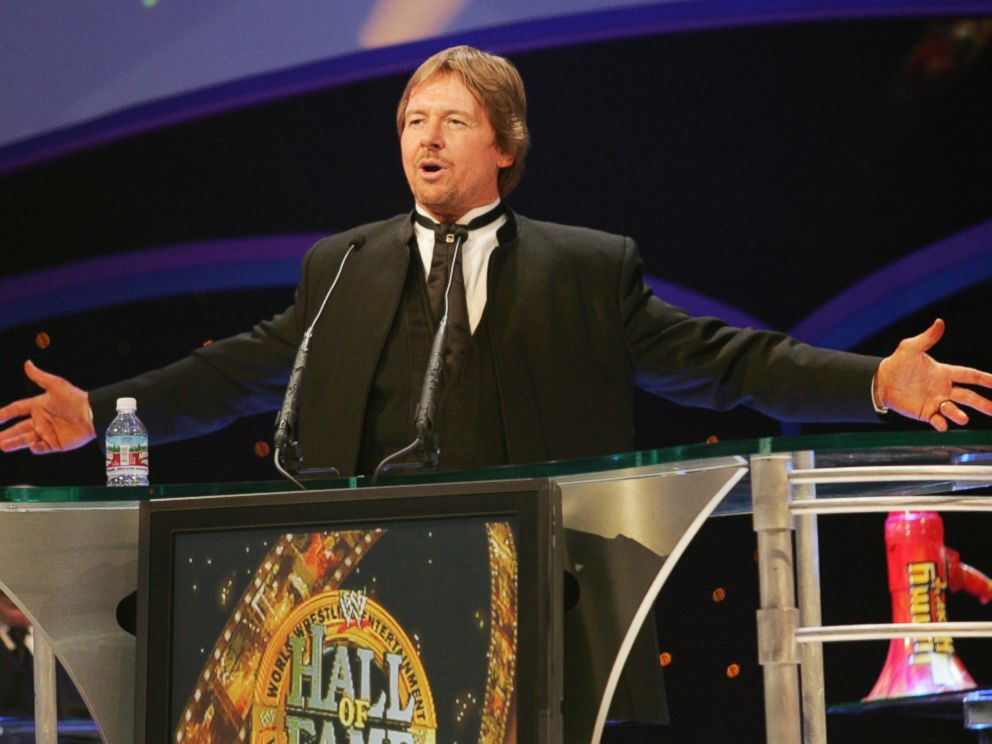 A&E Presented 'Rowdy' Roddy Piper
Passed Away At 61
In an interview from 2015, he couldn't seem to get his thoughts together. Those conducting the interview and anyone watching could see something was wrong. Afterward, he went home, and he was tired and going to bed. He passed away in his sleep. Kitty recalled how alone he was while away and was glad he was home with her on his last day. Hogan shared a phone message he received from Piper, saying he was walking with Jesus.
We then see the Toombs family appear in the audience at WrestleMania, watching Ronda Rousey. She embraced his family, and Kitty shared how Roddy had high hopes for Rousey before his passing. Piper was a loner but always in your face, and he didn't change for anyone. His children expressed their hope that his legacy will continue to live on, and others will be inspired by it.
I love you too
– Roddy Piper