When a wrestling fan hears the words "¡Viva la raza!", they think of Eddie Guerrero. It is more than a catchphrase for him. It was the secret to his whole life.
Eddie's grandparents were migrant workers who started a new life in Arizona. Their first son Salvador was born in 1921 and named after his father. He was only nine-years-old when his mother died, and he dropped out of school. The remaining family returned to Mexico, where Salvador developed an interest in wrestling.
He studied lucha libre and made his debut as "Joe Morgan" in 1937. He would change his name to "Gory Guerrero" as he developed a reputation for his bloody matches. Gory would go on to become one of the true pioneers of lucha libre.
Gory married Herlinda Llanes, the sister of the Llanes brothers. The couple settled in El Paso, Texas. They had six children, and all four sons became wrestlers; Salvador III (Chavo), Armando (Mando), Héctor, and Eduardo (Eddie). Youngest son Eddie was born just three years before his nephew, Salvador IV (Chavo, Jr.).
Eddie Guerrero – Putting Family First
Eddie and Salvador IV were practically raised as siblings. They were taken to various promotions on both sides of the border to watch Gory, their uncles and the older Guerrero siblings compete. They spent much of their childhood playing in the ring that Gory kept in the backyard to train aspiring wrestlers.
They were still kids when Gory arranged for them to put on matches against each other during intermissions at Empressa Mexicana De La Lucha Libre (EMLL) events. Arena staff reportedly asked Gory to stop putting the kids in the ring as fans stayed to see them instead of going to the concession stands.
"From day one – from birth – he was a hothead. My biggest memory of him was that we used to play wrestling with him. He couldn't lose. The little baby couldn't lose. But today he lost. We double-crossed him. We gave him the fast count; one-two-three. He got up.
The guy who beat him was a little monkey, a little pet monkey. Not a real monkey, but a stuffed monkey we got for him as a baby. We carried him on our shoulders. [Eddie] was hopping, and throwing himself on the couch, kicking and crying and everything."
– Mando Guerrero tells a story about Eddie when he was 4 years old.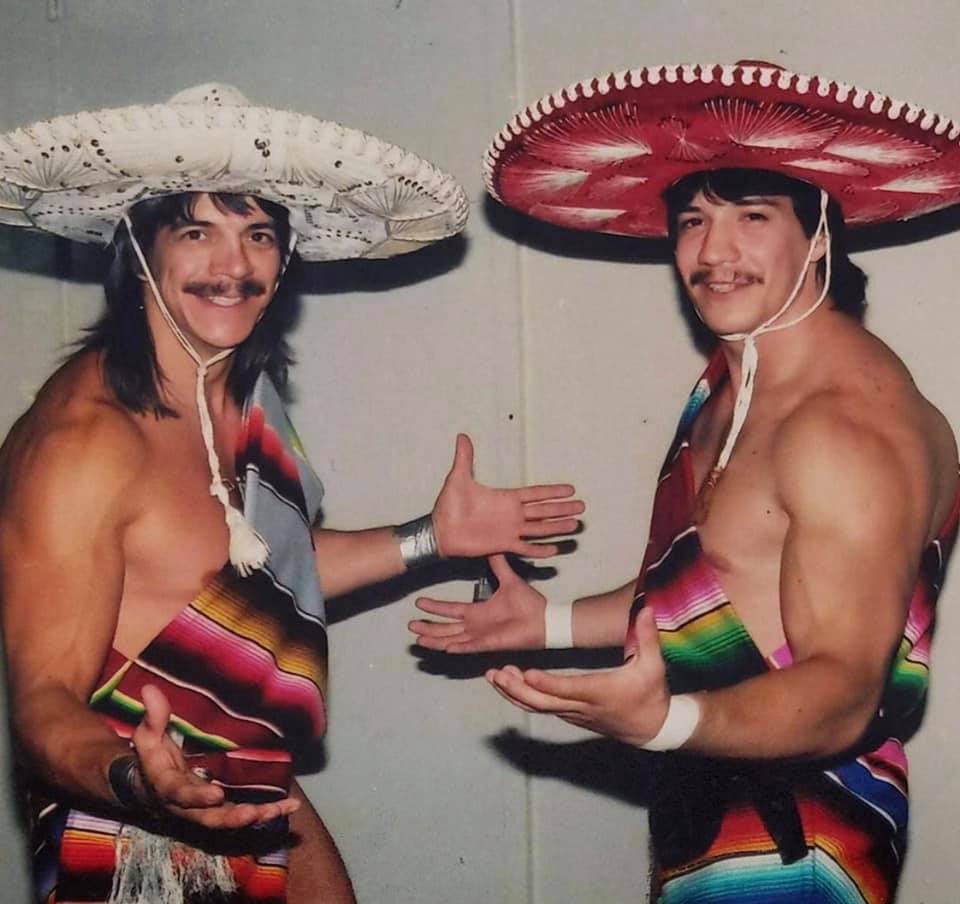 The youngest Guerrero brother attended the University of New Mexico, and then the New Mexico Highlands University, on an athletic scholarship. He competed in collegiate wrestling to help them with his new career. He had already made his official debut while he was studying.
Eddie Guerrero competed in trios tag matches with Chavo and Mando in World Wrestling Association (WWA). They also held the WWA Trios Championship together. Once he graduated, he moved to Mexico to formally begin his training.
In 1986, he made his solo debut in Consejo Mundial de Lucha Libre (CMLL), the oldest wrestling promotion in Mexico. He competed as Mascara Magica. Even though he was quite popular, he would never hold a championship there. Antonio Peña launched Asistencia Asesoría y Administración (AAA) in 1992. When Peña jumped ship, Eddie was among the talents who went with him.
Eddie Guerrero was not allowed to use the Magica character in AAA due to CMLL owning the rights to it. He wore the costume on his first television appearance. He removed his mask, revealing his identity as a Guerrero. He further emphasised this by reforming 'La Pareja Atómica'. This was a successful tag team with Gory and fellow lucha legend El Santo.
Eddie teamed with El Hijo Del Santo (literally The Son of El Santo). The pair had little success, and rarely competed in the same matches. Eddie mainly teamed with others in trios tag matches. The union ended when Eddie turned on his partner.
Eddie's fortunes changed when he started teaming with Konnan's protégé, "The Love Machine" Art Barr. The Oregon-native was also a second-generation wrestler. They called themselves La Pareja del Terror. They drew heat from audiences by playing foreign rudos (heels).
The act was so successful that Konnan expanded it into a stable called Los Gringos Locos. Every member of the group was born in the U.S., except for team leader Konnan, who was from Cuba. La Pereja were the primary tag team.
La Pareja mainly feuded with Eddie's former partners; Octagón and El Hijo Del Santo. The masked men were the inaugural AAA World Tag Team Champions. La Pareja claimed the belts in mid-1994. Their biggest clash took place at When World's Collide, the first lucha pay-per-view to take place in the U.S.
The titles were not on the line, but it was a "Masks vs Hair" match. The rudos lost the match and their mullets. They were due to put the titles back on the line against their rivals. But Barr lost something more precious; his life.
Barr was found lying unconscious in his home beside his child. His had died of sudden heart failure. Certain reports indicate it was drug-related. Those who were close to him insist that his cause of death was never discovered. Barr had used the frog splash as his finisher. He had copied the top rope splash from 2 Cold Scorpio.
However, Scorpio commented that Barr "looked like a frog" when he did the move. Barr then continued to do it intentionally. Eddie then adopted the move as his own finisher in tribute to Barr. The AAA also paid respect to him by retiring the titles. La Pareja del Terror will forever be the final champions.
Eddie Guerrero completed a few tours with New Japan Pro Wrestling (NJPW). One of their most popular characters was Tiger Mask. It had been adapted directly from a popular children's anime. His arch-rival was Black Tiger. The heel was typically played by gaijins (non-Japanese people). Englishman
Mark Rocco
played the role first. Eddie would be next.
It was also during this time that Eddie first encountered Wild Pegasus (Chris Benoit). The pair helped elevate the Super Juniors division during their tours.
Eddie and Benoit resurfaced in Extreme Championship Wrestling (ECW) in 1995. If Barr had not passed away, they would have debuted as a tag team six months earlier. Eddie beat 2 Cold Scorpio for the ECW World Television Championship in his debut match. He spent most of his time in ECW feuding with Dean Malenko over the title.
After just six months, both of them signed deals with World Championship Wrestling (WCW). Commentator Joey Styles announced this to the crowd just before their final match. This put extra pressure on them to put on a great performance. They received a standing ovation from both the crowd and the locker room.
Eddie, Benoit, and Malenko were initially brought in to boost WCW's Cruiserweight division. It was a revamped version of the former Light Heavyweight division. It acknowledged the success of Super Juniors and lucha libre. They were intended to put on exciting, fast-paced matches in the middle of Nitro events.
Nearly every former AAA talent had been showcased in ECW first. This was not the case for Eddie Guerrero. He had worked matches for the company a few years earlier. They wanted him because he was a Guerrero brother. They determined that he was too small to make it on the roster.
Now the bilingual luchador had developed a fan following and experience in different international wrestling styles. He did a crossover tour with NJPW in 1996. He won both the Best of Super Juniors III and Junior Heavyweight Super Grade Tag League tournaments. He returned to WCW and received a strong push.
His push saw him compete for and win the WCW United States Heavyweight Championship. He feuded with Konnan, Ric Flair, Diamond Dallas Page, Chris Jericho, Malenko, and the New World Order. He dealt a blow to the nWo by retaining the U.S. title against Syxx at "their own" PPV event; Souled Out. The feud with Jericho saw him become Cruiserweight Champion.
During this time, he had a memorable feud with former AAA ally Rey Misterio, Jr. Their "Title vs Mask" match at Halloween Havoc remains one of most highly rated matches that WCW ever hosted.
Going into 1998, his nephew Chavo Guerrero, Jr. joined the company. Héctor was in the company too as an enhancement talent. Hector tried to stop Eddie from mistreating their nephew, but Eddie used them both to advance his own career. Chavo lost a match which stipulated that he had to become Eddie's "slave".
The abuse caused Chavo to become unhinged. Their story ended with a "Hair vs Hair" match. Chavo voluntarily shaved his own head after losing.
Before the storyline with Chavo had properly finished, Eddie began behaving unprofessionally. He began putting in the bare minimum effort in matches. He, at one point, made an unscripted tirade against WCW President Eric Bischoff. He accused his boss of holding down mid-card talents to favor the nWo, and demanded to be released from his contract.
He also alleged that Bischoff once threw coffee over him during a meeting. Bischoff eventually responded to Eddie's behavior by sending him to represent WCW in Japan. After four months off television, Eddie Guerrero returned. He claimed that he decided to put his differences aside in order to put WCW first. But he continued to behave petulantly. All of this was a work.
The aim of this storyline was to mock dirt sheet reports that mid-card talents were unhappy in WCW. It was also designed to mock those who genuinely were frustrated. The coffee incident referred to a time when Bischoff accidentally knocked a cup off a table and some of the contents splashed unto Eddie's clothing.
The real reason Eddie was taken off television was to have shoulder surgery. Eddie did admit years later that it was easy to get into character because he was frustrated with his position in the company. He just had not vocalised it like others had. Bischoff's plan had worked as dirt sheets wrongly reported that the coffee incident was genuine and that Eddie had been fired over his conduct.
Eddie formed a stable called Latino World Order. They consisted exclusively of rudo luchadors from the Cruiserweight division. He alleged that the fact that Mexican wrestlers mainly fought other Mexican wrestlers was proof that they were being held down. It was really because some of the luchadors had trouble adapting to different wrestling styles and spoke little English.
The LWO mainly feuded with the luchadors who did not join them. Their main storyline involved Eddie forcing Misterio to be in the group. Then Eddie was in a genuine car accident on New Year's Day. Some websites were sceptical at first because of the storyline Eddie did before his last absence.
By coincidence, the last segment he featured him depicted him at a party. An amateur journalist uncovered legal documents that had recorded the accident, proving it was genuine. When Eddie returned from his injuries, he praised Bischoff (who was no longer and onscreen character) for supporting him during his recovery. This put the final-end to the LWO.
His friends Konnan and Misterio had formed an alliance known as "The Filthy Animals" while Eddie was out of action. Eddie joined them (and occasional member Billy Kidman). While Konnan was still the leader, Eddie was the main singles star. They feuded with The Dead Pool and The Revolution. One of Eddie's final WCW matches was a "Keys on a pole" match for Torrie Wilson's freedom.
On January 31, 2000, Eddie Guerrero appeared on WWF Raw with most of The Revolution. Several months earlier, Bischoff tried to curb bad attitudes by offering to release anyone who wanted out of their contracts. This offer was still open when the company rehired Kevin Sullivan as booker. The quartet became unsure about their futures in WCW and asked for their releases.
Departing talents were normally asked to sign a "No Compete" clause which prevented them from signing with WWF for a specified period. Kevin Nash was so sure that the group would not benefit either company that he convinced Bischoff to let them go unconditionally. Benoit was not even asked to drop the WCW World Heavyweight Championship before he left.
Nash coined the constantly misused phrase "vanilla midgets" to describe them as being small and uninteresting. To the contrary, many believe this to have been the moment when WCW lost the war with WWF.
There was heat on Eddie at the very start. The Radicalz debut storyline was that they had to beat D-Genetation X in a series of three matches to earn their WWF contracts. Eddie teamed with Saturn to face the New Age Outlaws. During the match, Eddie dislocated his shoulder while doing his frog splash finisher.
He panicked and had one of his opponents pin him to end the match quickly. The original plan was for Eddie's team to win, bringing the score to 1-1 before Benoit won the tie-breaker that night. Eddie's botch meant it was now 0-2, and creative had to come up with a new reason for them having contracts. This involved the Radicalz turning heel. They were more natural in this role.
With injuries to other members of the roster, they wound up fulfilling an urgent need by turning heel. Eddie's injury meant that he would be sidelined for a while. Eddie was cleared a month later. By getting back in the ring so soon, he earned a reputation for being as tough as his father.
"There's one time. I wanted Eddie Guerrero to powerbomb me. I wanted to jump off the top turnbuckle like I was going to give him a hurricanrana to the floor, and he was gonna catch me and powerbomb me. He was like, 'No way, that's gonna hurt you so bad!
I don't wanna do that to you; it's gonna hurt you.' I was like, 'No, no, no. it's gonna be awesome; that's what I wanna do!' He was so adamant about not doing it, and I was so adamant about doing it – and it hurt me! I landed on the ground like, 'He was right…'"
– Lita talks about advice she received from Eddie soon after their arrival in the WWE.
Long before The Radicalz joined the company, Chyna had made a deal to pose for Playboy Magazine. The word had become public even though it would be several months before the issue was ready to hit newsstands. They tried to help promote the issue by increasing Chyna's fan support, and helping her to be viewed as a desirable feminine beauty.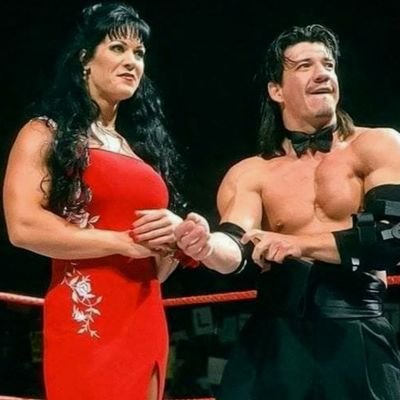 They did this by putting her in a romance storyline with Eddie. He was supposed to take advantage of her throughout. She helped him to win and then retain the European Championship. But the couple were so popular that Eddie turned face. When the publication was close to release, they reverted to their original plan.
Now Eddie was using her to keep the Intercontinental Championship and actively trying to sabotage her appearance in Playboy. The couple separated when Eddie was caught cheating on Chyna. The Radicalz and DX both reformed, with Eddie and Chyna returning to their respective sides.
Eddie refocused himself on regaining the European Championship. He did so at WrestleMania X-Seven, but quickly dropped it to Matt Hardy. He then tried to join Team 3Xtreme (Lita and the Hardy Boyz). The storyline ended abruptly. The WWE claimed Eddie had been injured during a match with Albert. Then several months later, fans were baffled when Eddie began appearing in almost every indy company going.
The injury storyline was to protect Eddie's image. He had been brought up in a Catholic home that put strong emphasis on family. This was something he had in common with his wife Vickie, whom he married in 1990. When he began his solo career, church became less important to him.
He also started dabbling in alcohol and recreational drugs more and more. This put a strain on his family, and he separated from his wife. He had another rocky relationship with gave him a third daughter. Repeated arm injuries, specifically after the car crash, led to a painkiller addiction.
One night after a SmackDown taping in 2001, staff called emergency services. Eddie had become too intoxicated to leave the arena under his own power. The WWE quietly sent him to rehab, using the storyline to explain his absence. However, Eddie was arrested on a drunk driving charge that November. The WWE released Eddie from his contract.
This was the wake-up call he needed. He was now a jobless addict who had three daughters with two different mothers he had no relationships with. Eddie started taking his recovery more seriously. Some of the exercises he did in rehab reminded him of his upbringing. He started going back to church to try and add some stability to his life.
Eddie reached out to Vickie and pleaded for a chance to make things right with her and their daughters. He knew that this would involve supporting their kids financially. He had blown his chances of a contract with a major company. Eddie Guerrero took every indy booking he could get.
Things started looking better for him immediately. Promoters were largely unaware of his personal issues or the reason for his WWE release. All they cared about was that a big name from the WWE was suddenly available. Eddie competed in multiple companies across America, U.K., Australia and did another tour in Japan.
He was almost always in matches for titles or other significant accolades. Vickie and his daughters saw he was making a genuine effort and invited him to move back into the family home. The WWE also offered him another chance.
"I've never met anybody who was so committed to turning his life to Jesus, to God. I talked to him a few times, and he had his Bible. […] You know he would open his Bible and pray with me. He would ask God to forgive him and to protect him."
– Marty "The Boogeyman" Wright talking about how Eddie built his life on his faith.
Eddie returned to WWE television in April 2002. He was booked as if he was never gone. He had another run with the Intercontinental Championship before resuming his feud with Flair. He formed an alliance with Benoit and rivalry with Edge. Then the three were sent to SmackDown and became half of "The SmackDown Six".
The original brand division was poorly thought out. The singles championships were put on the Raw brand with most of the tag teams, while the tag titles were put on SmackDown with the bigger singles stars. The WWE began correcting the imbalances. The most ambitious change was giving both brands separate tag divisions with their own titles.
Eddie was placed into a tag team with his nephew Chavo. The new 'Los Guerreros' were introduced through a series of comedic vignettes explaining how "We lie, we cheat, we steal". They were heels who cheated in every match, not because they needed to, but because it was what they did.
Other make-shift tag teams were put together for the new division. Among them were Benoit & Kurt Angle, and Edge & Mysterio. Together with Los Guerreros, they became informally known as "The SmackDown Six". The group carried the brand with their exciting matches and interconnected stories. They dominated both singles and tag competition.
One thing that WWE did not plan on was how Hispanic audiences favored Smackdown. Mysterio and the Guerreros, specifically Eddie, became the unofficial stars of the brand. Los Guerreros turned babyface. Their cheating tactics were now more for entertainment than victories. Eddie became known for a trick called "The Smoking Gun".
This typically involved acquiring a weapon while the referee was distracted and then making it appear as if his opponent had used it. He also started a new routine where he drove into the arena in a different customise low-rider each week. When Chavo was injured, he was replaced with their "cousin" Tajiri.
Eddie turned heel briefly to become the inaugural WWE United States Champion. This did not last long as Eddie was too popular. Los Guerreros regained the tag titles, making Eddie a dual champion. Chavo eventually became resentful of how Eddie played up to the crowds.
He eventually turned on his uncle, and brought in his father (who would become known as "Chavo Classic") for help. Eddie beat both Chavos. Classic focused on helping his son in the Cruiserweight division, while Eddie went for a bigger prize.
Two days after Benoit won the 2004 Royal Rumble, a re-match was held featuring only SmackDown talents. Eddie replaced Bill DeMott, who was injured in the main Rumble. Eddie won the match and a shot at the WWE Championship at No Way Out. Defending champion Brock Lesnar went out of his way to mock Eddie's latino heritage and his past personal struggles.
Eddie Guerrero – Addicted to the Rush
Eddie happily told Brock about how he gave given his life to God because God have given him his life back. He had overcome his addictions, rebuilt his career, and renewed his wedding vows with his wife. He told him he had set the goal of winning the WWE Championship as his vindication.
Even though Eddie personified the filler opponent, fans started to believe he was the right person at the right time. Eddie became the hot favorite to dethrone Lesnar, and he did exactly that. But his moment of vindication was still a few weeks away.
"When Eddie was born, I was already married. I remember he always felt like a baby. Even to the last time I saw him, he always felt like a baby to me. He was just Eddie."
– Chavo Guerrero (Sr.) talking about his youngest brother.
Eddie Guerrero defended the title against Angle at WrestleMania XX. His opponent spent the whole month attacking Eddie's character and past struggles. Their clash ended in one of the most creative finishes to a WrestleMania match. Eddie Guerrero loosened his boot to relive pressure on his swollen foot. Angle saw this and went for another attempt at his ankle lock submission.
Eddie kicked him away, his boot came off, and Angle lost his grip. Angle went after the exposed foot and got caught in a cradle pin. But his vindication was an hour away. His friend Benoit won the World Heavyweight Championship in the main event. He turned around during his celebration to see Eddie standing in the ring with his belt. In that moment, everyone understood how much it meant for both men. THIS was Eddie's vindication.
His next feud was his most controversial. His feud with John Bradshaw Layfield started with the implication that JBL had issues with an immigrant being champion. Over the coming months, Eddie's mother Herlinda had a heart attack in the ring, Eddie collapsed and went into shock after a PPV due to excessive blood loss, and BOTH MEN goose-stepped and performed Nazi salutes during matches in Germany (where such actions are criminal offenses).
Eddie lost the title to Layfield by reverse decision in a "Texas Bullrope Match" at Great American Bash. Some fans mistook this as Eddie being punished for Layfield's actions. Like most other aspects of this feud, the truth was revealed long after.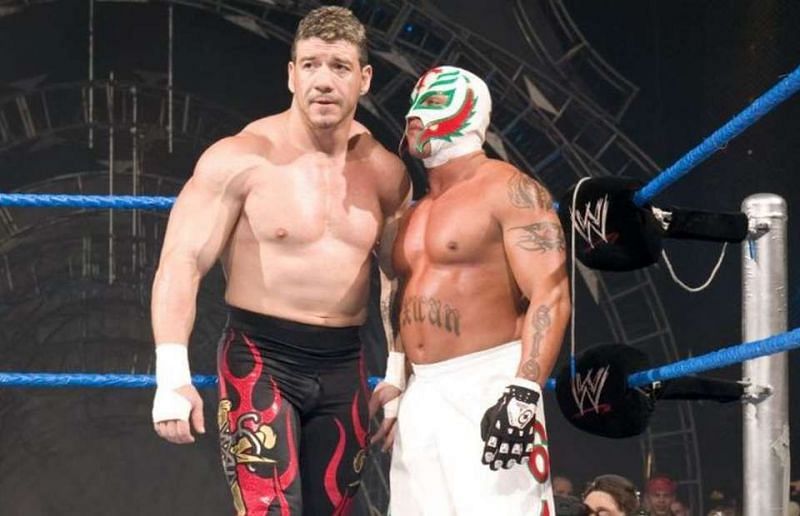 Throughout 2005, Eddie engaged in a storyline with his long-time friend and rival Mysterio. Despite winning the WWE Tag Team Championship together, they had four consecutive PPV matches against each other. Eddie became more serious and ditched everything that made him a fan favorite.
After the third, Eddie claimed that he was the biological father to Mysterio's oldest child Dominik. He alleged the boy was a result of a fling Eddie had while he was separated from Vickie. They put "custody of Dominik" on the line at SummerSlam. Mysterio won all four matches.
Eddie Guerrero beat Rey Mysterio in a cage match to earn a shot at the World title at No Mercy. Eddie lost his final PPV match and turned babyface in the process. Then on November 11, he worked his last ever match.
On November 13, his nephew Chavo asked to be let into Eddie's hotel room after he failed to respond to calls. He was found on the bathroom floor. Chavo claims that Eddie took his final breath in his arms. His death was ruled as a heart failure due to earlier substance abuse, including steroids. Eddie had won the battles against his demons but could not recover from the scars they left behind.
Storylines were suspended for a week, with all shows being dedicated to Eddie Guerrero. Almost every North American promotion held a 10-bell salute in his honor at their next event, regardless of whether Eddie Guerrero had worked for them or not. In one poignant moment, wrestlers on a Combat Zone Wrestling card refused to work the event until a heckler who interrupted the tribute was ejected from the building.
Wrestlers in multiple companies wore armbands and t-shirts dedicated to Eddie Guerrero. Others adopted the frog splash as one of their signature moves in tribute to him. He would be posthumously inducted into numerous wrestling Halls of Fame over the next two years. Eddie's death coincided with the release of the WWE SmackDown vs Raw 2006 video game.
While he was a SmackDown superstar in the first edition, he was changed to a "WWE Legend" for reprints.
"Through Eddie, I learned humility. He was one of the most humblest guys. We miss him dearly. We know [the fans] miss him dearly – we all do. But you know what? He's alive.
There's a Heaven, and there's a hell. He's with Jesus. We're crazy; we're wild; we're Guerreros. But you know what? We still have an upbringing in Jesus, our savior."
– Hector Guerrero talks about his brother's memory.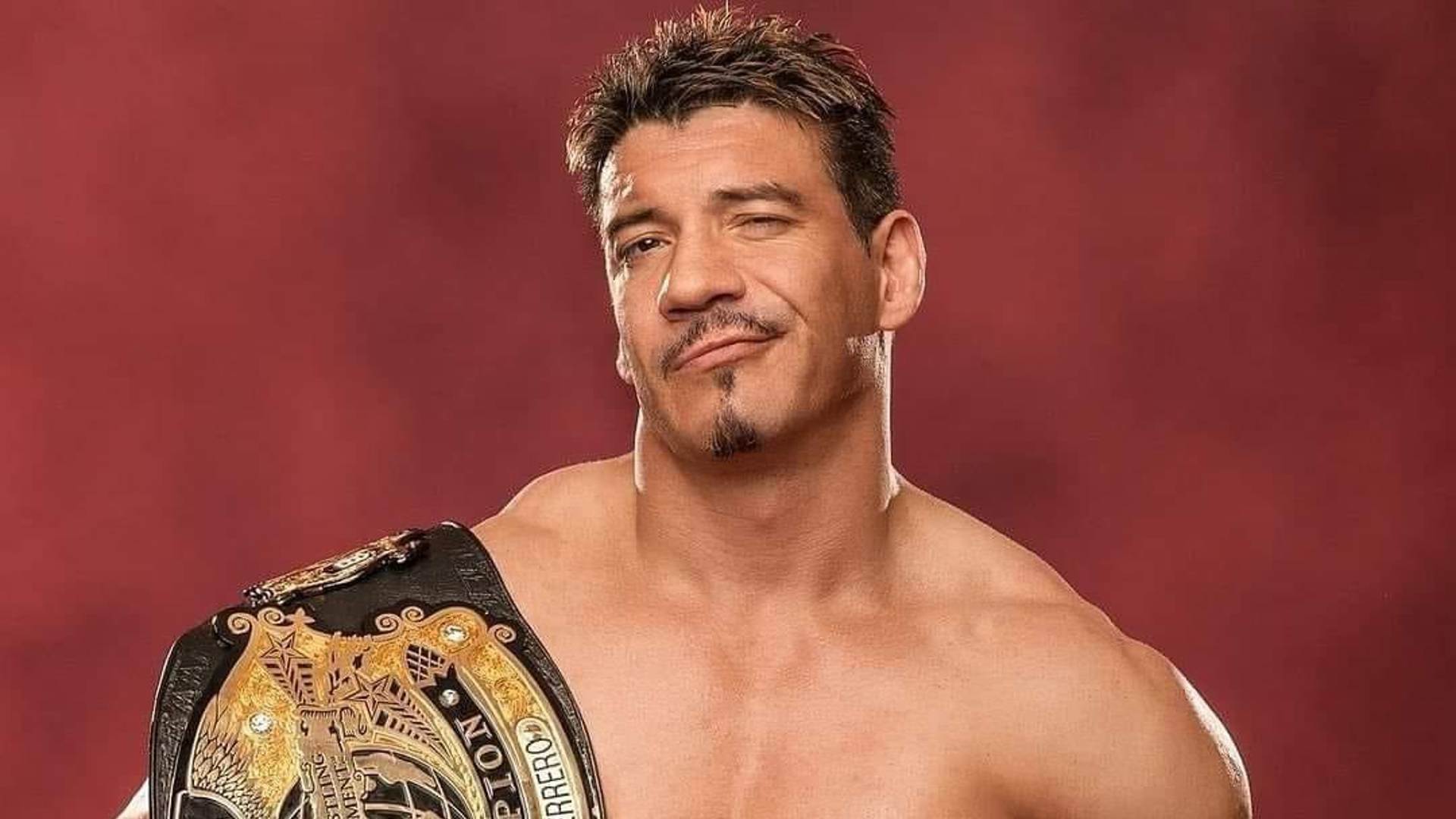 The WWE immediately pushed Mysterio as their main Hispanic star, also in tribute to Eddie Guerrero. His push saw him win the 2006 Rumble, and the World Heavyweight Championship at WrestleMania 22. Vince McMahon hired his widow Vickie as an onscreen talent so she could continue supporting Eddie's family.
Ever since his passing, those that were close to him continue to share stories about Eddie Guerrero. Even the more negative stories tell about his love for his friends and family. Layfield revealed that Herlinda's heart attack was a work, and Eddie came up with the idea. He also said it was Eddie's idea for Layfield to be WWE Champion.
Eddie believed he had to be on every show and appearance. The workload was getting too much for him. As Smackdowns ratings and ticket sales had fallen slightly, Eddie took it personally as a champion. The WWE never saw this as Eddie's fault but acknowledged his wishes in respect to his mental health.
There is an unverifiable rumor that Eddie Guerrero was supposed to win the title on the day that he died. The WWE ran with this as this offered comfort to fans.
To this day, fans cannot hear words like "familia" without thinking about Eddie. For Eddie, familia was life. ¡Viva la raza!