In the world of Lucha Libre, there is one name that stands above all others, and that name is El Santo. The average pro wrestling fan probably hasn't heard that name before. However, when he was alive, El Santo was a bigger star in Mexico than Hulk Hogan, The Rock, and John Cena ever were in the United States.
El Santo was not the first wrestler to compete under a mask. That honor goes to "The Masked Wrestler," an anonymous competitor at the 1865 World's Fair. Santo wasn't even the first masked wrestler in Mexico. That trend took off after Mexican audiences saw Cyclone MacKey, an American wrestler who performed under a mask.
Santo's contribution to lucha libre is far greater than a mask and a moveset. He showed that luchadors could be more than just athletes. Santo showed that luchadors could be cultural icons.
____________________
El Santo – Early Career
Rodolfo Guzman Huerta was born on September 23rd, 1917, in Tulancingo, Hidalgo, Mexico. Rodolfo was the fifth of seven children and a gifted athlete, playing baseball and American football in his youth. His older brother, Miguel, wrestled as Black Guzman due to his dark complexion.
Black Guzman innovated a new style of lucha libre, revolving around the flying headscissors. In 1934, while working in a stocking factory, Rodolfo decided to join his brother in the wrestling business. Their brothers Javier and Jesús would follow, becoming Jimmy Guzman and Pantera Negra, respectively. After a few months training with his brother, Rodolfo would enter the ring.
The earliest match we have on record was on June 28th, 1934, when he was only 17. Later in the year, EMLL wrestler Jack O'Brien would see the Guzman brothers wrestle at Arena Pachuca. Impressed by the young duo, he recommended them to talent scout Don Jesús Lomeli.
After Lomeli saw them, he quickly brought them to Mexico City to sign contracts with EMLL. In his rookie year, Rodolfo wrestled as Rudy Guzman. However, Miguel was quickly becoming the more popular star. Wanting to be seen as more than just Black Guzman's brother, he started wrestling as El Hombre Rojo, or The Red Man.
Toward the end of 1936, Lomeli grew unhappy with his treatment in EMLL and started promoting his own shows at Frontón México, a jai alai arena in Mexico City. Rodolpho, also dissatisfied with his push in EMLL, decided to work for Lomeli instead.
Becoming El Santo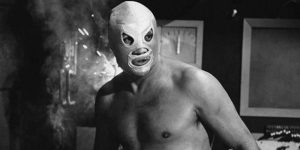 Now that he was out of his brother's shadow, Rodolpho felt he should pick a different name and carve a new path for himself. To that end, he donned several masks, wrestling as "El Demonio Negro" (The Black Devil) and El Murcielago II (The Bat II), among other names.
His time as El Murcielago II caused him some trouble. The original El Murcielago, Jesús Velázquez,  filed a complaint with the Boxing & Wrestling Commission. The Commission ruled Guzman could no longer wrestle as El Murcielago II. Things weren't working well for him, as every time he started to get over, he had to change his gimmick.
Looking to his manager for advice, he asked Don Lomeli what to do. Lomeli suggested three names: El Angel, El Diablo, and El Santo. Rodolpho liked the idea of a merciless heel wrestling under the name "The Saint." With the name El Santo and some inspiration from "The Man In The Iron Mask," Rodolpho took what little money he had and bought a cheap silver mask and tights.
El Santo debuted on July 26, 1942, at the Arena Mexico in an 8-man Battle Royal. In the match, he faced Bobby Bonales, Lobo Negro, Gorila Macias II, Bobby Rood, Ed Pavilivsky, Murcielago Velazquez, and Ciclon Veloz. The final two were Santo, and Ciclon Veloz, who wrestled a 2-out-of-3 falls match.
Santo pinned Veloz for the first fall, Veloz pinned Santo for the second fall. In trying to get the 3rd fall, Santo unleashed on Veloz, beating on him until the referee pulled him away. Incensed that the referee put his hands on him, Santo laid into the referee, causing a DQ finish. The following week, they had a rematch, which Santo won. However, he attacked Veloz after the bell, leading the referee to reverse the decision.
Growing Popularity
El Santo's first main event match came on August 16th, 1942, facing former National Lightweight Champion Bobby Bonales. Bonales defeated El Santo that night, but the rub from a rising national star did a lot for the young rudo. In modern times, when you think of a heel wrestler, you usually think of a cowardly heel.
The kind who try to rack up wins while doing as little wrestling as possible. El Santo was the opposite. He wrestled an intense, aggressive style, doing as much to injure his opponent as possible. Legend tells of a 1942 match with Dientes Hernandez in which El Santo hit Hernandez with a low blow eight times. He may not have been winning them over in droves, but lucha libre fans definitely knew who El Santo was.
El Santo won his first championship on February 21, 1943, when he defeated his old rival Ciclón Veloz to win the Mexican National Welterweight Championship. Ciclon was only 7 days away from having held the belt for a whole year when Santo defeated him. 26 days later, he would defeat Murciélago Velázquez for the Mexican National Middleweight Championship, becoming a double champion.
Santo would use the Middleweight Championship to Bobby Bonales on June 1st but defeated him in a rematch on October 7th. As for his Mexican National Welterweight Championship, he retained that for nearly a year, losing it to Jack O'Brien on February 18, 1944.
La Pareja Atomica
Having lost both of his championships by mid-1944, El Santo was starting to lose his way. Making matters worse, he suffered major injuries in a car accident that May. To cover up his shortcomings due to injury, he began working in more tag team matches.
He tried working with Black Shadow and El Charo Aguayo before he found the one partner he would never leave. IOn November 19, 1944, he teamed with fellow rising star Salvador "Gory" Guerrero for the first time, and they had instant chemistry. With Guerrero's technical skill and Santo's wild brawling style, they wowed audiences across Mexico as "La Pareja Atomica" or The Atomic Pair.
While the duo would never capture a championship together, they proved quite dominant over the next 6 years. La Pareja Atomica would wrestle together on and off from 1944 up until El Santo's retirement match in 1982.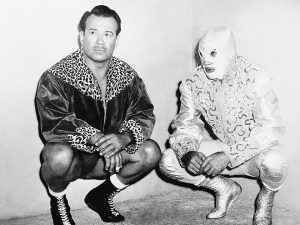 In March of 1949, EMLL promoter Salvador Lutteroth announced a tournament to determine the #1 contender to Jack O'Brien's NWA World Welterweight Championship. As part of a storyline, El Santo encouraged Guerrero, a middleweight wrestler, to lose weight and participate in the tournament.
However, when EMLL announced the brackets, Santo and Guerrero were on opposite sides. In the tournament final, Guerrero defeated El Santo in front of a sold-out crowd at Arena Coliseo. Guerrero would go onto defeat O'Brien on April 29th, 1949. At the time, many thought jealousy would cause friction between La Pareja Atomica.
Santo and Guerrero would prove them wrong and continued teaming together on and off until El Santo retired in 1982. In his final match ever, El Santo teamed with Guerrero, El Solitario, and Hurrican Ramirez to defeat Los Misioneros de Muerta & Perro Aguayo.
Rise To Stardom
In 1946, American wrestler Jack Reynolds vacated the NWA World Welterweight Championship. EMLL reached out to the National Wrestling Alliance, asking to hold a tournament for the vacant title. The NWA agreed on the condition that their top two contenders also competed in the tournament.
The top contenders for the title were American wrestler Red Garner and Bulgarian wrestler Pete Pancoff. El Santo met Pancoff in the final, forcing him to submit in a Boston Crab hold. To Santo's shock, the crowd started chanting his name throughout the stadium, even though he was a heel.
In defeating a foreigner for a world championship, he defended his country's pride and quickly became a national hero. He held the NWA World Welterweight Championship until February 15th, 1947, when Jack O'Brien defeated him at the Arena Coliseo.
Over the next few years, he would become a dependable upper-mid card act. As such, it often fell to Santo to put over debuting stars such as Wolf Rubinsky and Black Shadow. Although he was a vicious rudo, many people still thought of him as the pride of Mexico.
During his storyline with Guerrero in 1949, Black Shadow and Blue Demon started teaming together as "Los Hermanos Shadow." The young tag team was growing in popularity by the day, and it seemed only fitting to book them in a match La Pareja Atomica.
On April 9th, 1950, El Santo and Gory Guerrero defeated Black Shadow and Blue Demon in what was one of the biggest matches in Arena Coliseo history. In the aftermath, Black Shadow swore he'd get revenge, making it his mission to be the man to unmask El Santo.
The Silver Mask
Masks have always been a part of Lucha Libre, but El Santo's mask, in particular, holds an important place in the history of the sport. While many wrestlers did wear masks, El Santo developed a reputation for never removing his. According to rumor, El Santo would wait until all of his colleagues left the locker room before he unmasked.
Legends tell of the many different variations on his mask El Santo owned. This includes masks for the Winter and Summer months, a mask with a larger mouth hole for eating, and a fancy mask he wore to formal events.  It has even been suggested that El Santo lobbied the Mexican government for a special "prop" passport featuring a photo of himself in the mask.
Luchas de Apuestas (or "Betting matches") had been common in Lucha Libre since Octavio Gaona defeated Murcielago Velasquez for his mask in 1940. However, the most high-profile of these matches took place when Black Shadow wagered his mask against El Santo's on November 7th, 1952.
That night, El Santo defeated Black Shadow 2 falls to 1 and revealed his face to everyone in Arena Coliseo. Losing your mask is perhaps the greatest humiliation one can suffer in Lucha Libre, and Blue Demon swore he'd avenge his partner. In the process, Blue Demon turned face, or "Tecnico" to feud with the vicious rudo El Santo.
This would become the defining feud of El Santo's career, lasting well into the 1960s. The feud also came around during the rise of television in Mexican households, leading to the first pro wrestling boom in Mexico.
From The Wrestling Ring To The Silver Screen
Also, in 1952, comic book writer Jose G. Cruz realized that the larger-than-life personas of professional wrestlers had a lot in common with comic book superheroes. To that end, Cruz started publishing El Santo comic books. He made the first El Santo comics in "fumetti" style, inserting sepia photos of Santo into new and outlandish situations.
In the comics, Santo would do battle with criminals, supervillains, and monsters as he defended the honor of Mexico, even though he wrestled as a heel. The comics did huge business, competing head-to-head with the likes of Superman. This led to a boom in Lucha Libre comics, featuring masked wrestlers performing feats of heroism.
At one point, there were 4 different lines of El Santo comics.
The same year Cruz started publishing El Santo comics, the real El Santo received an invitation to star in a motion picture serial called The Man in The Silver Mask. Santo turned down the offer, thinking the series would flop. Six years later, wrestler-turned-filmmaker Fernando Osés invited Santo to appear in his movies.
Osés had written two movies, El Cerebro del Mal and Hombres Infernales, both featuring masked police officers El Incognito (played by Osés) and El Enmascarado (played by Santo). They made both movies in 1958 but ran into difficulty finding distributors. In 1961, El Santo had his first lead role in Santo contra Los Zombies, where he played a fictionalized version of himself who moonlighted as a superhero.
Santo contra Los Zombies was a huge success, leading to a clamor for more Santo features. Distributors quickly snapped up the previous two El Santo movies and demanded more adventures for the big screen. In total, El Santo appeared in 52 movies over the course of 24 years.
Most of his films feature him battling monsters, mad scientists, and secret agents, among others. The movies made Santo a bigger star than he had ever been, and he needed to bring his wrestling persona more in line with his movie persona. In 1962, after 28 years of wrestling as a rudo, he finally turned Tecnico.
Later Career and Retirement
At the height of his popularity, El Santo starred in as many as 3 movies a year while continuing to wrestle. During this time, he would have another reign as Mexican National Middleweight Champion. He would also rack up two reigns as Mexican National Tag Team Champions with Rayo de Jalisco.
In 1975, he formed a trio with fellow tecnicos El Solitario and Mil Mascaras. Fans voted them team of the year, despite their sparse appearances together. In the late 70s, Santo began to slow down in the ring, making fewer and fewer appearances.
His last major feud was in 1978 with a young masked superstar called Bobby Lee, who swore to not only unmask El Santo but send him into retirement. Santo accepted the challenge, taking Lee's mask and, in a rematch, his hair. However, Santo never captured Lee's UWA World Welterweight Championship.
In 1980, while facing Los Misionarios de la Muerte, Santo was noticeably unwell in the ring. Doctors would diagnose him with a coronary condition, but Santo continued wrestling. In 1981, he had his first heart attack while teaming with Black Shadow and Huracan Ramirez against Los Misionarios.
After reviewing his case, the Boxing & Wrestling Commission revoked Santo's wrestling license, and Santo decided it was time to retire. From late 1981-1982, Santo went on a 3-match farewell tour. In the first of his retirement matches, he teamed with El Solitario to defeat Villano III and Rokambole.
In the second, he teamed with Gran Hamada to defeat Villano I and Scorpio in Arena Mexico. And in his final match, he teamed with Gory Guerrero, El Solitario, and Huracan Ramirez to defeat Los Misionarios de la Muerte and Perro Aguayo. True to legend, El Santo won.
Death and Legacy
In late January 1984, El Santo made an appearance on the popular Mexican talk show Contrapunto (Counterpoint) along with Blue Demon. During an otherwise normal television discussion about pro wrestling, Santo decided to briefly lift his mask, revealing his face for the first and only time.
On February 5th, 1984, he would suffer his second and final heart attack ten days later. El Santo's funeral was perhaps the biggest in Mexican history, as fans and fellow luchadors came in droves to see the man in the silver mask one last time. In accordance with his wishes, he was buried in his mask.
Following his funeral, his home city of Tulancingo erected a statue in his honor, with many other cities following suit.
Of Rodolpho Guzman Huerta's ten children, only one, Jorge, followed him into the wrestling business. Jorge was ringside at each of his father's retirement matches, wearing a silver mask. Commentators made special note of this, referring to the young masked man as "El Hijo Del Santo."
In effect, El Santo's retirement served as a launching point for Jorge's wrestling career. As El Hijo Del Santo (The Son of Santo), Jorge has wrestled for The World Wrestling Association, the Universal Wrestling Association, and CMLL (the former EMLL). He has feuded with the sons of his father's rivals, such as Eddie Guerrero and Blue Demon Jr.
In 1993, one of Santo's 25 grandchildren debuted as Axel, using "El Nieto del Santo" as a nickname. In 2013, one of El Hijo Del Santo's sons announced he would be training with Pro Wrestling NOAH. He debuted in 2016 as El Santo, Jr.