At the age of 69, British Wrestler Mark "Rollerball" Rocco has passed away. He was originally Black Tiger and appeared as part of the UK's ITV program "World Of Sport" during its time. Wrestling fans that are familiar with the likes of Fit Finley and The Dynamite kick had memorable matches with Rocco.
Throughout the rise of wrestling in the UK in the 1970s, Rocco was a noted member of two promotions in particular. Both All-Star Wrestling and Joint Promotions are where Rocco gained his notoriety. Fans of New Japan Pro Wrestling should note (if they aren't already aware) that Rocco was also the original Black Tiger. During his time with the promotion, he held the WWF Junior Heavyweight Title.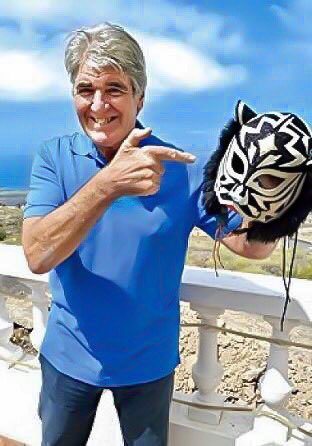 Rocco's value to the UK wrestling scene can not be understated. Several of today's wrestlers including those in the WWE have credited Rocco with his influence on them.
Just heard about the passing of Mark Rocco. Rollerball was without a doubt one of the very best to lace up a pair of boots.

He was a pioneer and an innovator and its safe the Junior heavyweight style wouldn't be what it is today without his contribution.

An absolute legend.

— Flash Morgan Webster (@Flash_Morgan) July 31, 2020
"Awful news to hear of the passing of Mark Rocco. The modern style of wrestling wouldn't be what it is today if it wasn't for him. One of the best ever. RIP Rollerball" 

– Mark Andrews


Whether you know him as the original Black Tiger, "Rollerball" or simply by his name, Mark Rocco left an indelible imprint on our industry. Whether it's versus Sayama, Fujinami, Dynamite, Marty Jones- do yourself a favor & watch a match of his today. Rest In Peace.

– Chris Hero
Rocco's in-ring career came to an end in 1991. He was last seen on-screen as part of the TNA/IMPACT Wrestling featured British Bootcamp in 2012. Rocco's passing is been articulated best by a former colleague and friend William Regal.
I've woken to the terrible news that my friend and colleague Mark " Rollerball" Rocco has passed away. Mark was so ahead of his time and wether as himself or the original "Black Tiger" in @njpwglobal, he, along with Marty Jones were the…

— William Regal (@RealKingRegal) July 31, 2020
Please see one of his matches below if you're unfamiliar with his work. Here he is against The Dynamite Kid. Rest in Peace, Rollerball.
****
Be sure to stay tuned to the Pro Wrestling Post for this and additional stories from the wrestling world. Readers can rely on Pro Wrestling Post to be their daily source for all things past and present inside the squared circle from around the globe. As a result, readers can expect daily news, history, and so much more. Please visit NJPW's official website to access their content here.