Mercy is slowly becoming a forgotten concept. Agreeing or disagreeing with one opinion can be construed as aligning yourself with an entire ideology. D'Lo Brown often found himself beside people who expressed radical views. While he was deemed guilty by association, he never asked for mercy.
Accie Connor was born in Burlington, New Jersey, in 1970. He was taught the importance of working hard and living right at a young age. The world treating you poorly was no excuse for treating the world poorly. He met his closest friend in high school. Darren Lewis would call him "Ace", and Connor would call his friend "D.Lo". Connor graduated from the University of Maine with a degree in accounting. He was working as a certified public accountant until his wrestling career took off.
D'Lo Brown – Rising Above The Lo Down
He trained at the Monster Factory under Larry Sharpe. The wrestling school was co-founded by Sharpe and Buddy Rogers in 1983. It was the first to be open to the public. This meant that anybody could register without having to be in the business already or referred by an established promoter.
The school gained recognition after their graduate Bam Bam Bigelow main-evented the World Wrestling Federation's first annual Survivor Series pay-per-view. A lot of their students went on to make names for themselves in America's biggest wrestling promotions. Among them were future World champions Big Show, Chris Candido, Raven, and Sheamus. Sharpe would eventually add the words "World Famous" to the school's name.
Connor made his in-ring debut in 1994. He competed in various indie promotions around the New Jersey area. He also experimented with ring names such as "Ace Connor", "Ace Brown" and "Ace the Animal". Sharpe's contacts with the WWF helped some of his students to get tryouts with the company.
Connor competed as an unsigned jobber using the ring name "A.C. Connor" (or as one popular screen capture demonstrates, "A.C. Corner"). His first televised match was a squash loss to Earthquake. He made several other appearances in this capacity, as well as a recurring role as one of Jerry Lawler's "peasants". He was one of the peasants that accidentally tipped Lawler's throne, causing him to fall and hit his head on the ring apron on an episode of Monday Night Raw.
He was referred to Smoky Mountain Wrestling (SMW). It was around this time that his friend Lewis lost his battle with cancer. Connor asked Lewis' mother for permission to use her son's name as his ring name. When SMW promoter Jim Cornette asked him how he saw himself, he pitched using the name "Downtown D'Lo Brown". He would also begin using a frog splash finisher which he named "The Lo Down" as a further tribute.
Brown was repositioned as the "Head of Security" for The Gangstas. The tag team of Mustapha Saed and New Jack had created shockwaves in North Georgia Wrestling Alliance. SMW Promoter Jim Cornette brought them in and asked them to amplify their antics. New Jack would rile the mainly white crowds with racist rhetoric.
They would sometimes praise controversial black figures for committing crimes against white people, including (alleged) murder. Then their matches were little more than straight brawls. The Gangstas did anything they could to inflict extra pain on white opponents. Cornette loved their act because of the intense reactions they got from live crowds. He had learned first hand that if a heel was convincing enough, fans would forget it was a show and would try to fight the heels themselves.
As a large black guy, Brown's job was to help get The Gangstas out of any genuine fights they found themselves in. Killer Karl was later added to the group for the same reason. The group had to be vigilant at all times when they were at shows or on the road. This stressful year came to an end when The Gangstas suddenly defected to Extreme Championship Wrestling.
"He's one of my favorite people. He is a hell of a guy. He was a tremendous talent, he still is. I worked with him in TNA. I can't say enough good about D'Lo Brown and all the s**t he went through to get into the wrestling business.
And having to put up with New Jack and his bulls**t. But that's D'Lo Brown. He had a f**king hard road to hoe, as they say down south, to get into the wrestling business. But he persevered. And he is a tremendous worker to this day. And I would trust him more than I would trust most people with my life or property because D'Lo is a hell of a guy."
– Jim Cornette on Brown's character as a person.
The WWF had a renewed interest in Brown. He was now much larger than the last time they had worked with him. They sent Brown to Heartland Wrestling Association to refine his skills as a singles wrestler. In 1996, he spent some time in Puerto Rico competing for World Wrestling Council.
Brown's next role on WWF television was not intended to be his debut. He was one of the many extras who stood and silently saluted while Nation of Domination members cut promos. The N.O.D. had originated in United States Wrestling Association. They were obviously based on multiple black nationalist political groups, such as the Nation of Islam and the Black Panthers.
With that said, half of the original line-up was white, including group leaders PG-13. The tag team and Jacqueline were the only original members to be part of the WWF's re-imagining. Their version was led by Faarooq. For the second time in his career, Brown found himself in a stable where the leader incited fans with racist rhetoric for heel heat.
The N.O.D. mainly feuded with Ahmed Johnson. One of Brown's first spots saw Johnson powerbomb him onto a car. He would graduate from being a silent support, to Faarooq's personal bodyguard, to a fully-fledged member. Brown was billed as being from Chicago, Illinois, which was the home of his favorite football team, the Chicago Bears.
After Faarooq failed to win the WWF Championship from Undertaker at King of the Ring 1997, he completely dismantled and rebuilt the N.O.D. Brown was the only person he retained from the previous incarnation. This version intentionally used only African-American wrestlers.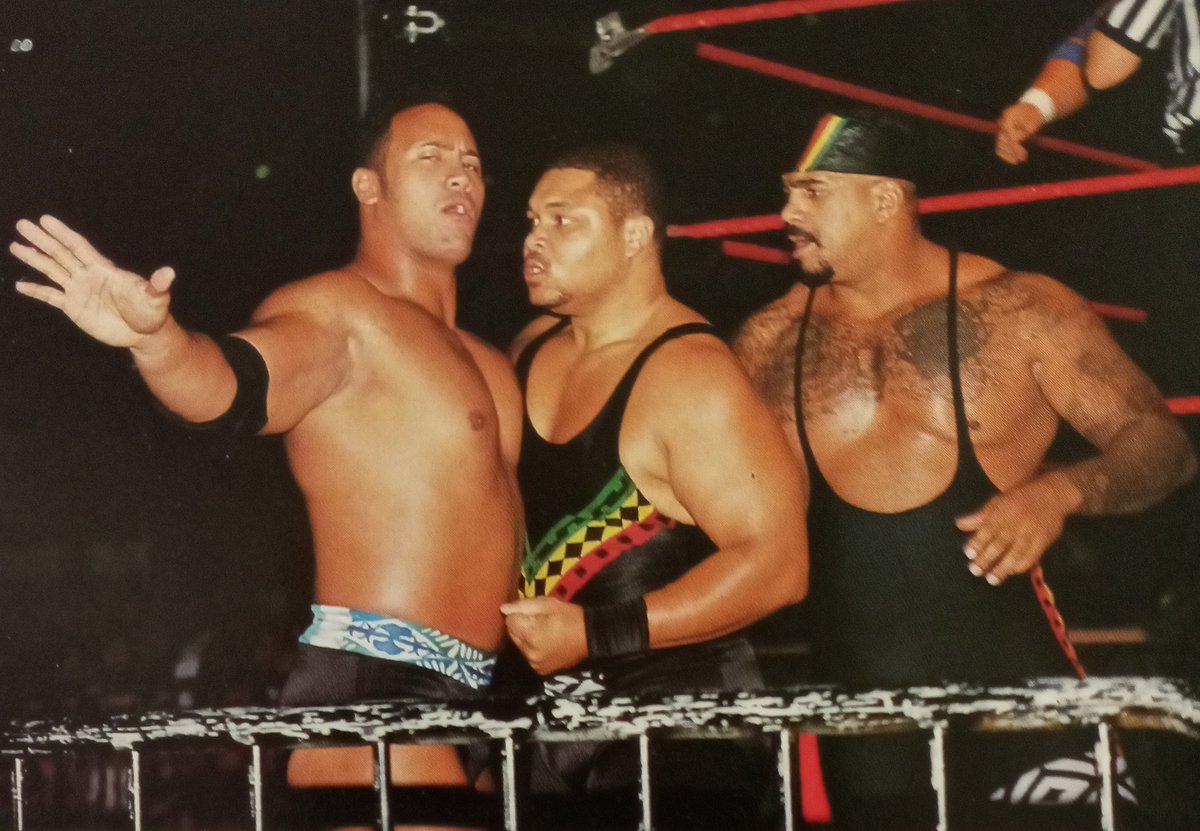 For whatever reason, Johnson was added to the group. The change facilitated the creation of "The Gang Warz" in WWF. Former N.O.D. members Crush and Savio Vega created The Disciples Of the Apocalypse and Los Boricuas stables, respectively. D-Generation X, the Hart Foundation, and the Truth Commission were also active at the time.
The stables would feud with each other simultaneously. The N.O.D. failed to gain any traction until Rocky Maivia replaced Johnson. The entire contingent would turn on Faarooq and installed Maivia as their new leader.
Under The Rock, the Nation become more simplified and started achieving real success. They ditched the political speeches and focuses on beating opponents and winning title matches. Each member of the group, which now included Owen Hart, would develop stronger personalities. Brown also got his chance to shine.
D-Generation X mocked The Nation in a now infamous segment that saw the group dress up as their rivals, which included them wearing blackface. This has since been removed from all of WWE's online services. Around the same time, Brown suffered (kayfabe) torn pectoral muscles from a longbow backbreaker submission used by Dan Severn.
Brown would then start wearing a customized chest protector. The weighted vest made his Lo Down finisher more devastating. The first person to learn this was DX's leader Triple H. Brown defeated him for the European Championship, getting decisive revenge for their cruel parody two weeks earlier.
The title win gave Brown a renewed confidence that made him cocky and outspoken. He promised to represent all of Europe while he was European Champion. To North American fans, this consisted mainly of declaring he was from a different European city each time he wrestled. He became a genuine babyface in the United Kingdom due to his frequent publicity tours. He particularly loved to visit Liverpool as he is a fan of the local soccer team.
Brown then found himself in yet another controversial story line, but this time it had nothing to do with race. The Nation formally split when Brown and Mark Henry attacked Maivia. The pair continued to compete as a tag team. Henry was using his "Sexual Chocolate" persona at the time.
This made him a target for the Pretty Mean Sistas, who had gone on a crusade against womanizing men. Their constant interferences in Henry's matches often affected Brown too. Then Brown accidentally knocked Terri Runnels from the ring apron.
Runnels alleged that Brown had caused her to suffer a miscarriage. She preyed on Brown's guilt and emotionally manipulated him into doing their bidding. This included turning on Henry too. He was released from this nightmare when a doctor revealed that Terri was never pregnant.
Brown had the biggest push of his career in 1999. The company had been impressed by everything Brown did. Aside from going along with controversial storylines and doing international promotions, they noticed he had improved as a performer. He had lost around 70 lbs and was visibly in better shape.
He had gained speed, athleticism, and stamina without losing any of his strength. He had also become more charismatic. Brown had started working in private jokes with The Rock into his performances. His headshaking was parodied from a movie that he and Rock watched together, and his catchphrase "You better recognize" was something Rock once said to him. They had Brown take off his chest protector and pushed him as a babyface.
"Rocky is wrestling Ken Shamrock. Rocky tossed Ken to the floor. I slide right up there and went, "You got knocked the – out." My first thought was I just cussed on national TV, I'm going to get fined. So here I am. I'm bad D'Lo, walking to the back with The Nation. And Vince goes, 'You know that thing you do with your head? Keep doing it.' "
– D'Lo Brown on how the head-shaking gimmick started.
On the night of WrestleMania XV, Brown was the co-winner of a battle royal with Test. The duo had earned a match for the WWF World Tag Team Championship on the main show. They were not successful. Realizing that they didn't have natural chemistry and Test still needed more refinement, they chose not to keep the team together.
Brown would hold the European Championship throughout most of the summer. In August, he won the Intercontinental Championship too. He coined the term "Euro-Continental Champion", which refers to someone who held both championships at the same time. He was the first person to achieve this feat, and only four people ever did.
The best year of his career also featured the worst day of his life. On October 5, Brown attempted a running powerbomb on Droz. He had performed this move perfectly hundreds of times, including on this specific opponent. On this night, Droz was wearing a loose vest. Brown began to lose his grip just as he was about to drive Droz down.
Droz was already falling when he alerted Brown that he wasn't in position. Instead of landing flat on his back, he landed directly on his neck. Droz was immediately paralyzed and has been quadriplegic since. This ended the former athlete's career.
The match had been filmed for SmackDown, but the WWF never made the footage publicly available. Camcorder recordings and photographs taken by fans have surfaced online over the years. Droz and Brown have remained friends ever since.
A myth maintains that Brown lost his push over the incident. He formed a tag team with former N.O.D. teammate The Godfather. He would dress and act like his partner, only using his music during this phase. The team had very little success and lost the opening match at WrestleMania 2000. But the plan wasn't for them to be great; it was to save Brown.
Nobody within the industry blamed Brown for injuring Droz. Even Droz himself maintains it was a freak accident that could have happened to anyone. But it took years for Brown to stop blaming himself. He fell into an immediate depression after the incident. He had lost his self-confidence and greatly toned down his ring work.
He lived with the constant fear that he would end someone else's career. Brown began partying too much, and it was causing problems at home. Things got so bad that his fiancee called off their engagement, and Brown seriously considered quitting the industry. Jim Ross intervened by having a three-hour heart-to-heart with Brown.
He pleaded with him not to let the incident end two careers. Realizing how low Brown had become, he was placed with the Godfather to help get him back on track mentally. When Brown started to recover mentally, the broke up the team with a feud on Sunday Night Heat.
"People ask me all the time if it affected me. Hell yeah. If it didn't, I wouldn't be human. For probably about a year, I wrestled different. I second-guessed everything I did. I should have just taken time off. And if it hadn't been for Jim Ross really talking to me, I was going to quit the business. I was done. I was this close to saying, 'To hell with it.'"
– D'Lo Brown on his mental state after the Droz injury incident.
In the latter half of 2000, Brown sensed his WWF career was in trouble. Chaz Warrington felt the same way. Warrington was better known as Mosh of the Headbangers. His career kept stalling due to Thrasher's frequent injuries. His previous attempt at a singles run had been a disaster.
For reasons that weren't disclosed at the time, Thrasher had no interest in remaining in a tag team. Knowing that the creative department didn't have any plans for them, they pitched being put into a tag team. The friends were both from New Jersey, met when they were training in the Monster Factory, they worked in SMW together, they were signed to the WWF at the same time, and they had fought each other numerous times. The alliance just made sense.
They began competing on TV as 'Lo Down'. Most of their matches took place on WWF's lower-priority shows, like Heat, Jakked, and Metal. They used a modified version of D'Lo's theme, which now included new lyrics performed by Chaz. They wore gym gear at first until they could arrange proper team gear.
They initially had Chaz perform his Mosh Pit finisher as a setup for Brown's Lo Down. Chaz later changed his move to a superplex. The team were almost featured in the WWF SmackDown 2: Know Your Role video game, but Chaz was dropped. Their team Titantron is still on the game disc.
In November, Lo Down were repackaged. They took on forgotten superstar Tiger Ali Singh as their manager. Singh was the son of Tiger Jeet Singh. There had been several Indo-Canadian wrestlers with the same last name and character. They played Indian nationalists who found it easy to generate racially-motivated heat from mainly white crowds.
Ali played a gentler version of these characters in the WWF. He had joined the company in 1997 but mainly worked for their developmental territories. Lo Down adopted Ali's music and gimmick. Once again, Brown was in a stable where the leader used race-baiting to draw heat.
Lo Down wore cartoonish outfits based on stereotypical Indian clothing. They originally wrestled in kurta pyjamas and wore Sikh dastar turbans when they were out of the ring. This later changed to dressing like Aladdin. These outfits came with modified turbans (which men wear) with added naqab-style face coverings (which women wear) attached.
They were encouraged to wear the headgear throughout their matches, but they refused as they were impractical and caused them to overheat. Their ring names were changed to "Rajah" (Brown) and "Bajah" (Warrington) for one episode of Heat before it was dropped. The team came to an end when Ali suffered a career-ending third concussion.
Ali and Warrington were released, and Brown was sent to developmental territories to undo the damage from this terrible gimmick. It was during this time he married his wife, Jennifer.
Brown resurfaced just after the 2002 Brand Division on Raw. He pleaded with Stacy Kiebler to manage him as his career was going nowhere. Theodore Long decided to retire as a referee and returned to his roots as a manager. He took on Brown as his first client in "Thuggin' & Buggin' Enterprises".
He alleged that Brown and others like him had been denied opportunities in the WWE due to their skin color. Once again, Brown was the muscle for yet another race-baiting mouthpiece. He went on a winning streak until suffering a loss to Booker T. Long quickly replaced him with Rodney Mack. The WWE announced Brown had been released two days before his final appearance aired.
Brown spent some time touring various indie companies before taking root in NWA: TNA in March 2003. For a year and a half, he repeatedly challenged for NWA's World Heavyweight and Tag Team Championships. He won the tag titles with Gran Apolo for a week. While he was there, Jennifer gave birth to their first daughter, Bria.
Despite the company airing trailers for him returning with a new attitude, D'Lo Brown had chosen to leave. He didn't like the proposed changes for his character and didn't feel like a good fit there.
Brown spent the next three years doing tours in Japan and the British Isles. He competed in All Japan Pro Wrestling as part of the Roughly Obsess & Destroy stable. He would join their rivals Voodoo Murders but later reunited with RO&D in Pro Wrestling Noah. His tours of the UK and Ireland often saw him losing title matches against the promotions' top champions. At Irish Whip Wrestling, he battled Seamus O'Shaunessy, aka Sheamus.
A forgotten blemish on his UK career was the misleadingly-named game show 'Celebrity Wrestling'. Brown and Joe E. Legend would give actual wrestling training to two teams of regional celebrities. They would then compete in a series of mini-games on top of a rotating platform with "best-of-three-rounds" rules.
One such game involved both contestants pushing against a large wrecking ball to try and knock colored cones off the platform. The first episode on prime time was poorly received. The second episode collided with the relaunch of Doctor Who. Ratings bombed so hard that the show was canceled within a few episodes, and the rest of the series was moved to Sunday mornings.
Nearly half of the participants were injured, and the only two athletes in the competition won. The only saving grace was Roddy Piper giving over-the-top descriptions and reviews of each game. The network reached out to multiple wrestlers to appear as talking heads, but only The UK Pitbulls took part.
Frontier Wrestling Alliance had booked a tour to be headlined by Brown, Legend and the Pitbulls. After Celebrity Wrestling bombed, the FWA removed all association with the show from their advertising.
The WWE announced that Brown was back after a series of dark matches in 2008. However, he only had a few televised matches before they announced his release several months later. This was reportedly a cost-cutting measure. It was around this time Jennifer gave birth to their second daughter, Payton.
He spent the rest of 2009 working for Ring of Honor and bouncing around other indie promotions. While he was in ROH, he worked with their top stars. He also did one final tour with Pro Wrestling NOAH where he got a win over Mitsuharu Misawa. He announced that once he had finished his scheduled dates with RoH, he would retire from in-ring competition.
D'Lo Brown then began an on-again-off-again relationship with TNA Wrestling. In his first run, he was a Head Agent. His primary role was to scout prospective talent through their TNA Gut Check initiative. He appeared in a few backstage segments as an agent, usually trying to break up fights. He also filmed a skit for TNA's online services. In the segment, he bumps into Television Champion Eric Young in a roadside store, and Young mistakes him for singer Cee Lo Green making a challenge for his title.
TNA had made several attempts at recreating their own version of the New World Order that appeared in WCW. In 2012, their latest attempt was a group of masked bikers called "Aces & Eights". To maintain an air of mystery, TNA kept changing who played the characters until they could decide who they definitely wanted to be in the group before they were unmasked.
Fans recognized Brown's distinctive body shapes and movements. Brown then revealed himself to be club Vice-President three days before Bully Ray was unveiled as club President at LockDown 2013. Brown mainly served as a ring-side bodyguard to younger members.
After two months, D'Lo Brown was demoted to "prospect" after a loss to Kurt Angle, and quietly left TNA. Soon after his departure, Brown, D.O.C. (Luke Gallows), and Knux (Mike Knox) made appearances at conventions as A&8s, although Brown only worked one match.
"It's been the greatest story told in pro wrestling history. It was nine months in the making, and nobody saw it coming. And it was just incredible to watch it play out. Sometimes I had to stop myself from laughing because I knew what was coming."
– D'Lo Brown maintaining kayfabe over the Aces & Eights storyline.
After one final tour with AJPW, Brown signed another multi-year deal with Impact Wrestling (formerly TNA) in 2019. This time he was a producer. He was supposed to have a one-off match as A&8s with Mr. Anderson, but the event was canceled. When the match finally happened, Wes Brisco & Garett Bischoff represented the team, and Brown was the manager at ringside. He left Impact soon after.
Whether you like D'Lo Brown or not is irrelevant to him. Brown stood his ground no matter what life threw at him. While he was always on the outskirts of controversy, he never let it change who he is. He may have never reached the top of any company, but his reputation is sky-high. And that's the Lo Down.