In the 1990s, there were many underutilized and underrated pro wrestlers. Chris Candido was one of those talents. He never really had the opportunity to shine on the main stage in WWF and WCW, however his peers and fans knew that Candido was a technical master in the ring. Chris Candido's tagline was no gimmicks needed. That statement has never been more true. His ability to put on a 5-star match spoke for itself. He was a multi-time champion, including the NWA World Heavyweight Champion. Many people do not realize that Chris Candido's grandfather was also a pro wrestler.
________________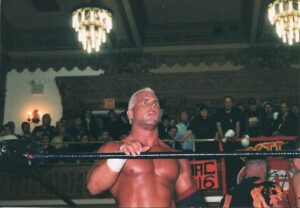 At the age of 14, Chris Candido began training with Larry Sharpe at The Monster Factory in New Jersey. Chris also set up the ring and barricades for all of Larry Sharpe's shows. Many fans did not realize that Chris's real last name is Candito. He changed it for his ring name shortly before he made his debut. In 1991 at 19 years old, Chris Candido made his pro wrestling debut in Jerry Jarrett's USWA promotion. He was not in the USWA long before All Japan pro wrestling booked him for a tour. In Japan, he competed against another ECW alumni, Sabu. 
Independent Champion 
In 1993 Chris Candido along with his valet and girlfriend Tammy Sytch aka Sunny, debuted in Smokey Mountain Wrestling. Candido was becoming an independent wrestling star. In a short time, he became a three-time SMW Junior Heavyweight Champion. He also won the SMW Beat The Champ Television Championship. Candido also would appear in Eastern Championship Wrestling. This was the precursor to Extreme Championship Wrestling that would give both WWF and WCW a run for their money.
In ECW he tagged with Johnny Hotbody and Chris Michaels as a trio. They became known as The Suicide Blondes. The Suicide Blondes used the "Freebird rule" to their advantage in many matches. The Freebird Rule was a ruling that came into place during the reign of the Fabulous Freebirds. As is well known, The Freebirds were a trio made up of Michael Hayes, Terry Gordy, and Buddy Roberts. Since the trio were tag team champions, the Freebird rule mandated that any two of the Freebirds could defend the titles at any time. This style propelled the Suicide Blondes to the ECW Tag Team title twice. 
On November 19, 1994, Chris Candido won the NWA Heavyweight Championship in a ten-man tournament. Unfortunately, this was during a down period in the NWA. They did not have a tv contract. For that reason, most of Chris Candido's title defenses either occurred at the local SMW arena or on the indy circuit. On February 24, 1995, he lost the title to Dan Severn. Candido began tagging with Boo Bradley. However, after the team lost to Tracey Smothers and Cactus Jack, he attacked Bradley. On February 26, 1995, Chris Candido lost a loser leaves town match to Boo Bradley. He may have lost, but his eyes were set on making a name in the WWF. 
Bodydonna Skip
On June 3, 1995, The WWF introduced the world to Skip and Sunny – The Bodydonnas. In the 1990s, fitness infomercials were all the rage. You couldn't escape them. The Bodydonnas were WWF's answer to this stereotype. Chris Candido, who was now known as Skip, found himself in a gimmick. The man who lived by the words "no gimmick needed" found himself playing a fitness guru role. Tammy Sytch was now known as Sunny. And Sunny immediately caught the eye of WWF fans. She became the most downloaded female on America Online. Chris, on the other hand, was not as successful.
On an episode of WWF Wrestling Challenge, enhancement talent Barry Horowitz rolled up Candido for his first win ever. Horowitz was a very capable athlete, but his character was a "jobber." This was his first legitimate win. That led Chris to challenge Horowitz at Summerslam 1995. Unfortunately, Barry Horowitz defeated Skip again. In 1995, The Bodydonnas recruited Rad Radford aka Louie Spicolli. He was going to be the Bodydonnas "project" but Skip and Sunny would regularly embarrass Radford. Skip finally got a win at the 1995 Survivor Series when his Bodydonnas team defeated the Underdogs led by Barry Horowitz.
'The Project' Rad Radford & The BodyDonnas
On December 23, 1995, Skip and Rad challenged the WWF Tag Team Champions The Smoking Gunns. Unfortunately for the Bodydonnas, Rad lost the match when The Gunns pinned him. Sunny was furious and immediately fired him. On January 6, 1996, Skip's cousin Zip joined the team. As we all know, Zip wasn't just the storyline cousin of Skip. Zip was Tom Prichard. Prichard has had several roles in the WWF both as a producer and as a talent. He is also a trainer. His brother is current WWE producer and podcaster Bruce Prichard. Prichard cut his trademark long curly hair and dyed it blonde. The Bodydonnas had arrived. 
In February 1996 The Smoking Gunns forfeited the WWF tag team titles due to Billy Gunn's neck injury. Similar to a personal trainer spotting a newbie walking into a gym, the Bodydonnas attacked the tag team division. At Wrestlemania XII, they became WWF Tag Team Champions. Skip and Zip may have elevated their status in the ring, but Sunny was becoming a household name. She was becoming one of the most popular personalities in the business. The Bodydonnas only held the championship for a few months before being defeated by the Godwins.
Sunny Days
Like a spoiled brat, Sunny turned on the Bodydonnas. She also used Phineas I. Godwin. He fell in love with Sunny and made her the Godwins manager. Phineas tag team partner Henry O. Godwin didn't trust her, and rightfully so. All Sunny wanted was the tag team titles. Eventually, Sunny got more than she bargained for when Phineas found out the truth, he dumped slop all over her. Humiliated, Sunny aligned herself with the returning Smoking Gunns. The Smoking Gunns went on to defeat the Godwins for the tag team championship.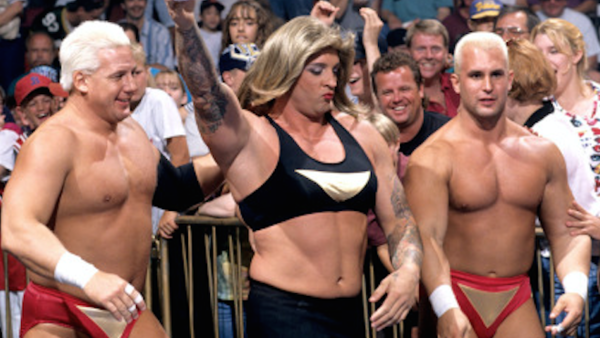 In the Summer of 1996, The Bodydonnas announced that they had found a new manager. Cloudy debuted in the corner of the Bodydonnas at the King Of The Ring. Cloudy was a man in drag. This was the ultimate humiliation directed at Sunny. After two years with the WWF, Chris Candido decided it was time to move on. It was time to get Extreme. 
Chris Candido gets Extreme 
On October 26, 1996, at the ECW High Incident PPV, Chris Candido returned to the land of the extreme. His debut match was against Spike Dudley. Candido dominated the runt of the Dudleys with the Blonde Bombshell powerbomb. It wasn't long before Chris formed an alliance with the ECW Heavyweight Champion Shane Douglas. He became a part of the Triple Threat. This group comprised of Douglas, Candido, and Brian Lee ruled over ECW.  Lee got kicked out of the Triple Threat for stalking Douglas's valet Francine. Bam Bam Bigelow was brought in as a replacement for Lee, but he also wanted Douglas's title.
Even though Chris Candido was now firmly an ECW star, he competed in one final match on Monday Night Raw. On June 6, 1997, Extreme Championship Wrestling and the USWA invaded the WWF. In an inter-promotional match, Chris Candido faced off against Brian Christopher. Ironic enough, the special guest ring announcer was Sunny. The match ended when Jerry Lawler and RVD attacked Candido. This prompted fellow ECW star Tommy Dreamer to run them off with a steel chair. The Canadian wrestling machine Lance Storm was bought into the Triple Threat. 
Chris Candido & Lance Storm | ECW Tag Team Champions
Storm and Candido started a tag team together. Candido and Storm never really did get along yet they managed to accumulate victory after victory. Those wins took the team to the ECW tag team Championship. On December 5, 1997, they defeated Doug Furnas and Philip Lafon to become tag team champions. The two held the belts for six months until Sabu and RVD defeated them. This led to a bitter feud between Candido and Storm. A match was scheduled between the two at ECW Heatwave 98.
During the match, Tammy Lynn Sytch returned and assisted Candido with the win. Tammy no longer had a "Sunny" disposition. She was ready to get extreme. On November 1, 1998, at ECW November to Remember, The Triple Threat started a war with the New Triple Threat consisting of Tazz, RVD, and Sabu. Unfortunately for Candido and his team, the New Triple Threat was victorious. This caused a rift between Douglas, Candido, and Bam Bam. On January 10, 1999, at ECW Guilty as Charged Shane Douglas lost the ECW Championship to Tazz. This was the final straw. The Triple Threat disbanded. 
Chris Candido
WCW Cruiserweight Champion 
In the Spring of 2000, Chris Candido and Tammy made their debut in World Championship Wrestling. On April 16, 2000, he won the WCW Cruiserweight Championship in a six-way match at Spring Stampede once again with Tammy Lynn Sytch's help. Candido started a feud with The Artist, formerly known as Prince Iaukea, whom he defeated for the title. On an episode of Monday Nitro, Candido and Sytch defeated The Artist and his valet Paisley.
On May 7, 2000, at Slamboree, he defended his title again against Iaukea. Candido's greatest asset was also his biggest downfall in WCW. Tammy assisted him with winning most of his matches. However, she also cost him the Cruiserweight belt. On the May 15, 2000 episode of Nitro, Candido and Sytch faced off against Crowbar and Daffney in a mixed tag match. There was a special stipulation that if Candido or Sytch were pinned, Candido would lose the WCW Cruiserweight Championship. Unfortunately, that is exactly what happened when Tammy got pinned by Daffney. After losing the belt, Chris Candido left WCW. 
TNA Wrestling 
After spending some time in the independents, Chris Candido debuted in TNA Wrestling on  Jan 7, 2005, against none other than AJ Styles. After a hard-fought match, he was defeated with the Styles Clash. During his time in TNA, Chris Candido also took on legends like Dustin Rhodes and DDP. He spent most of his TNA time tagging with the Naturals. At TNA Lockdown 05, Candido was injured after a botched dropkick landed on him. Chris shattered his tibia and fibula. He had to have titanium screws implanted in his leg.
On April 28, 2005, Chris Candido collapsed in his home. He was rushed off to the emergency room, where doctors looked into possible complications from the surgery. Chris Candido passed away that day from pneumonia, which was later revealed to have started as a blood clot. He was only 33 years old. Two days after Chris Candido passed away, TNA Impact aired his last appearance. Chris Candido was in the corner of The Naturals as they won the TNA tag team championship.
The Chris Candido Memorial Tag Team Tournament
TNA Wrestling held a tournament called the Chris Candido Memorial Tag Team Tournament to honor this great athlete. This tournament was unique because it featured eight teams consisting of one rookie wrestler and one veteran. Alex Shelly and X-Pac Sean Waltman won the tournament. This was a great tribute to Chris Candido's love of giving back to the business. He always wanted to help out new and upcoming wrestlers, and this event was a testament to that. 
Chris Candido was one of the most underrated stars in pro wrestling history. He had charisma, mic skills, and in-ring marksmanship like no other. He gave back to wrestling as much as wrestling gave to him. Whether it was getting under the skin of out of shape fans or going extreme, he always had people talking. From the age of 14 till his death at 33 years old, Chris loved wrestling. He literally gave his life for wrestling. No gimmicks were needed. No fans disappointed. Thank you, Chris Candido.