ATTACK Pro Wrestling – this piece will be about a promotion that is a somewhat different kind of promotion, a company that holds shows a bit….strangely, shall we say. Going forward, I shall be covering ATTACK! Pro Wrestling events right here at Pro Wrestling Post, so you should see this article as a gateway to the company, a way to immerse yourself in the craziness this promotion brings.
Ladies and gentlemen, boys and girls, fans of pro wrestling…… I give to you – ATTACK! Pro Wrestling
ATTACK! Pro Wrestling began life in 2011 as the brainchild of Pete Dunne (YES! That Pete Dunne) and Jim Lee (who ended up becoming the company's ring announcer) as a way to create more exposure for themselves and their fellow wrestling friends – Mark Andrews and Eddie Dennis to name but two. Pete and Jim's brief was to market their promotion as a "fast-paced, hard-hitting" promotion with a very unique creative aspect.
They held their first events in August 2011 in Birmingham, Pete's hometown, and the card was made entirely of wrestlers that were friends of Pete and Jim and featured the first ever "Elder Stein Invitational" tournament, which was won by Mark Andrews.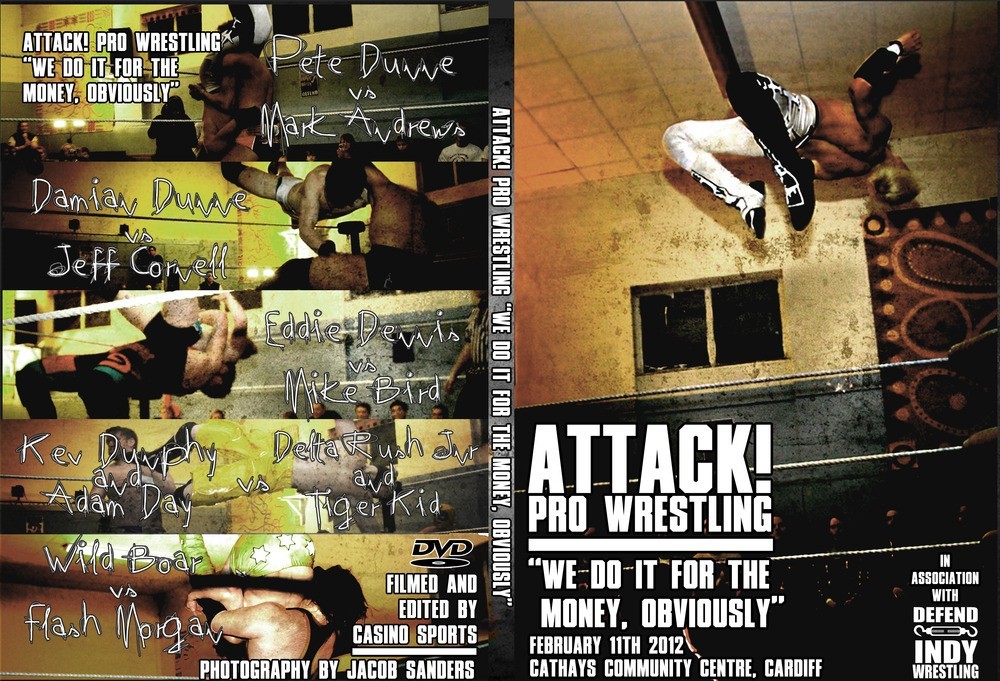 ATTACK Pro Wrestling
In February of 2012, ATTACK! ran the Cathays Community Centre in Cardiff, and it would eventually become it's home, as Mark Andrews joined Pete and Jim behind the scenes in organizing events. Their first show was titled "We Do It For The Money, Obviously", as a slight dig at local promoters from around Cardiff that tried to stop the show from happening.
After this event, Jim Lee stepped down as co-promoter due to outside commitments, which left control of the company to Pete and Mark Andrews. And it was when Mark stepped up that ATTACK! Really found it's creative feet by hosting themed events.
In October 2012, Mark and Pete created "GooseBUMPS," a Halloween-themed show that held the second Elder Stein Invitational (which was won by Pete Dunne, I smell creative control there), but it wasn't until February 2013 when "Press Start" debuted that the promotion was seen on a national scale.
Press Start really was a game changer (excuse the pun). Pete and Mark encouraged the roster to wrestle in video game fancy dress – Eddie Dennis and Ryan Smile dressed as Sonic and Knuckles, Mark Andrews as Pikachu, and The Hunter Brothers as Mario and Luigi. Below is the trailer that received national acclaim and put so many eyes on the company.
Following the massive success of Press Start, and sensing that they may have tapped into something, Pete and Mark began running more and more themed shows such as "Now That's What I Call Wrestling" (a music theme), "We're Gonna Need A Bigger Boat" (a nautical theme), "Not Another SUPER Show" (a superhero/villain theme) and the "Under The Mistletour" (a now yearly Christmas themed tour). And it's not just the talent that dresses up. Fans are regularly encouraged to do the same, with prizes for the best and most original dressed.
It was at the very first Under The Mistletour that ATTACK! Finally brought in a championship. The ATTACK! Pro Wrestling 24/7 Championship was first won by Sebastian Radclaw in a TLC match but had lost it to referee Chris Roberts by the second night of the tour! Remember the WWE Hardcore title? Remember the craziness behind it? Well, this title is just that, without the hardcore aspect.
With the promotion becoming more popular and running more events, Pete and Mark began to weave long-term storytelling into their shows. One such story has given us the Pete Dunne gimmick that he uses right now.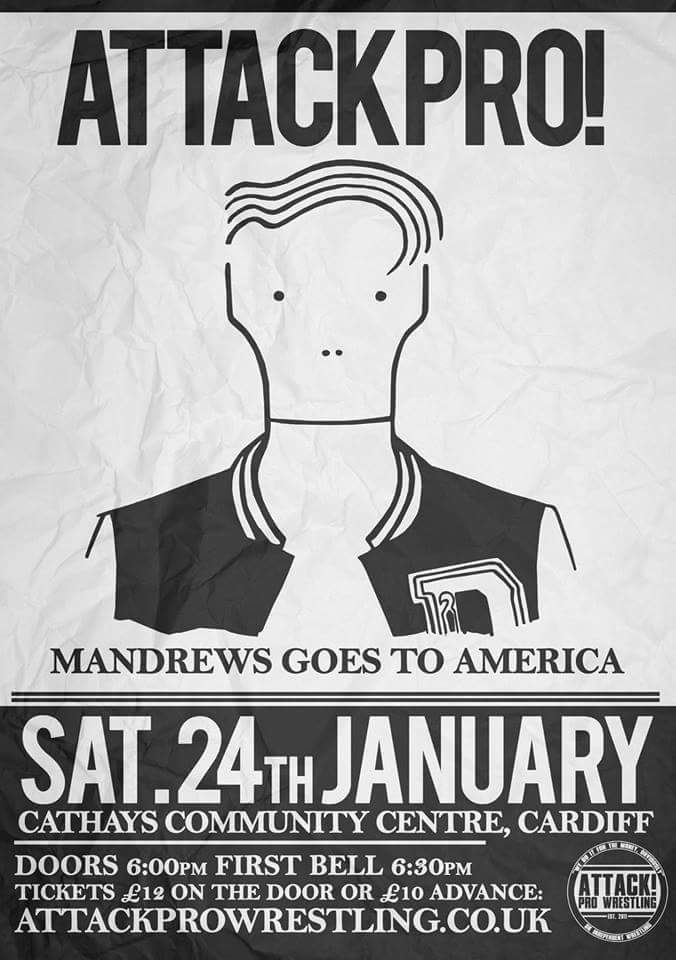 When Mark Andrews signed with TNA back in 2015, best friends Pete and Mark faced off in the main event of the "Mandrews Goes To America" event, which lead to Pete giving a vicious beat down to Mark as a leaving present.
It was around this time that ATTACK! partnered up with CHIKARA Pro when the American promotion toured around the UK, asking the UK outfit to hold a pre-show event before the Cardiff leg of the CHIKARA tour. It's a partnership that still stands to this day, with many talents from both companies crossing over the pond for "excursions."
At Press Start 4 in June 2016, it was announced that there would be a tournament to decide the first-ever ATTACK! Pro Wrestling Champion. The tournament would last nearly five months as the inaugural champion was crowned on November 20, 2016, and that man would be Eddie Dennis.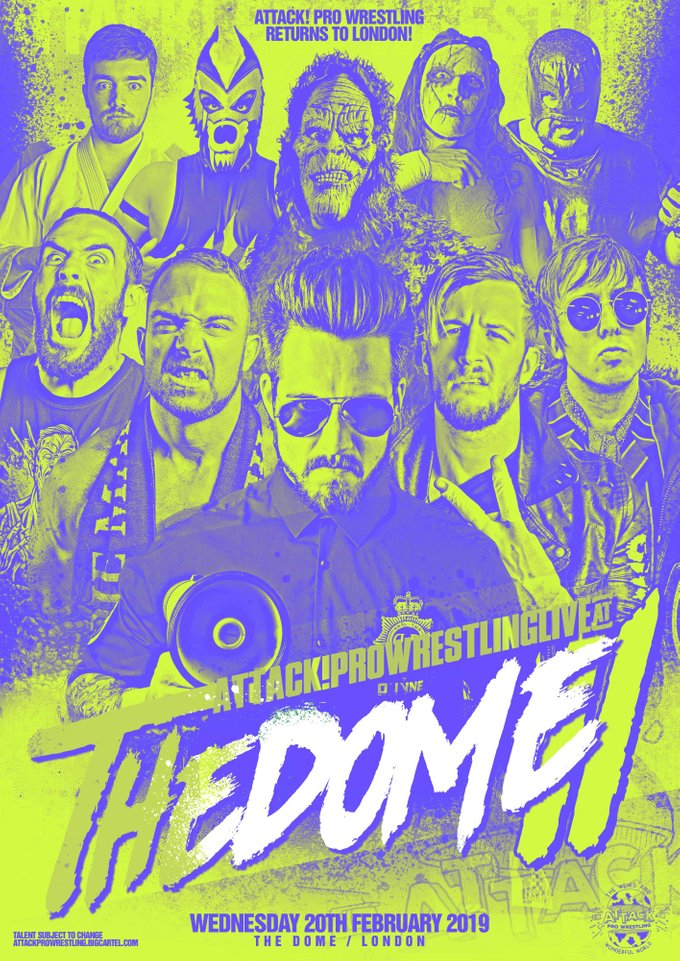 ATTACK! finally came down to the southern part of the UK when they announced that they would be holding shows at The Dome in London on a regular basis late last year. With tickets selling out almost immediately, they were one hot show to go to. I have promised myself that I WILL make a Dome show.
As the WWE strengthened its hold on the UK wrestling scene, a lot of promotions lost talent with ATTACK! being one such company. Tyler Bate (who had made a name for himself here at ATTACK! and at Fight Club Pro), Eddie Dennis, El Ligero, and even Pete Dunne himself all said goodbye to their home for many years as they wrestled their last matches on 15 December 2018.

But even with high-profile names such as those now gone, the future is bright for ATTACK! The current tag team champions are Aussie Open; the 24/7 champion is Robbie X and the ATTACK! Pro Wrestling champion is Chief Deputy Dunne from the Anti-Fun Police. With the roster still stacked with amazing talent like those champions named above, and many more like Chuck Mambo, Ryan Smile, The Hunter Brothers…..There's still plenty of life left in this crazy, wacky, amazing company.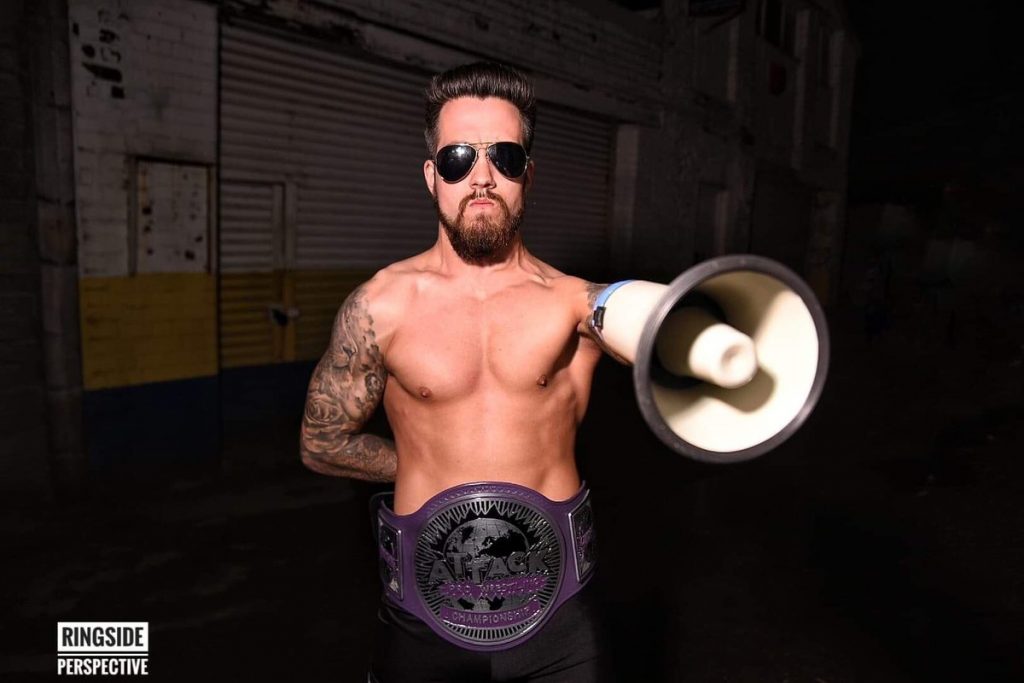 I hope you've enjoyed this quick recap of the history of ATTACK!, it was great fun writing about them, and I hope that has come across. Maybe you'll go take a sneaky peek at them; trust me, there's nothing like them in the UK.

As always, I value all your opinions, so feel free to talk to me about ATTACK! Or any other wrestling-related subject either below or via my Facebook/Twitter accounts (details of both are below)

So until next time…..
ADIOS!
Mark Blake Twitter – @Smart_Mark_B