Welcome to the newly revamped AEW Weekly! Here we will be providing you with news and notes coming from the Elite brand. Also, an in-depth review of that week's Dynamite. Look out every Thursday for the drop! We present AEW Weekly for 7/23/20.

AEW Weekly for 7/23/20
News and Notes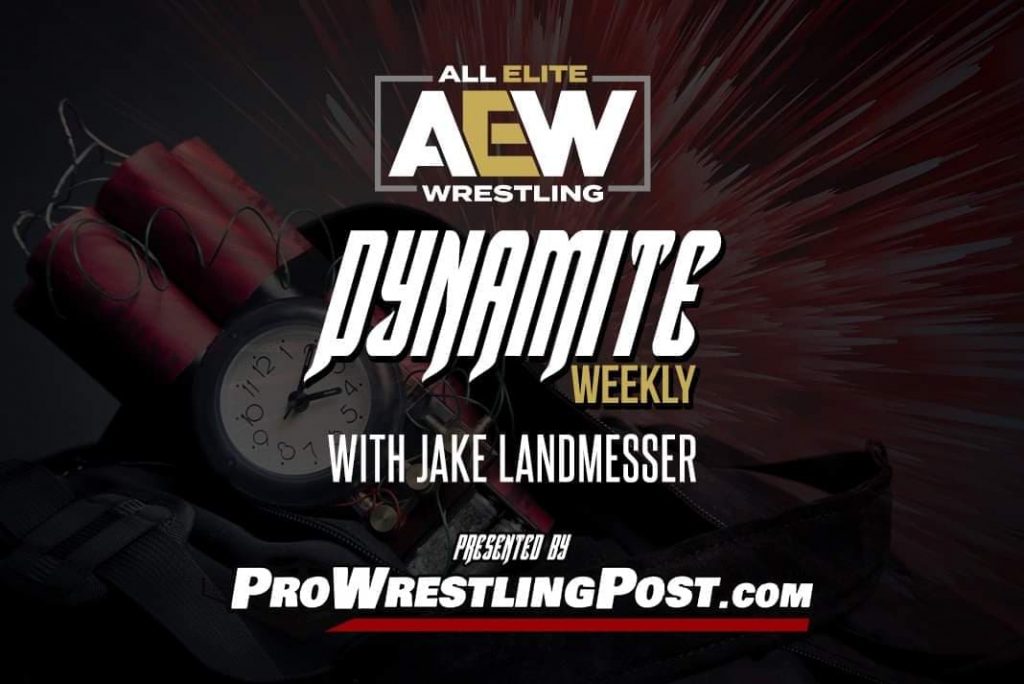 With much speculation about Karl Anderson and Luke Gallows going to AEW, the rumors had some grounds to them. On The Good Brothers' podcast Talkin' Shop, they revealed that they originally were going to sign with the start-up brand. They stated that The Young Bucks had big plans for their former allies from their Bullet Club days. They were going to debut on the first night of Dynamite and turn on The Elite.
Chris Jericho also noted on his Saturday Night Special Livestream that the plan for the pair would have been to join the Inner Circle.
Tony Khan mentioned that it's too early to decide when fans will be back in stadiums for AEW. He noted that everything is still very much week to week, and will continue shows at Daily's Place until further notice for the safety of the fans.
British talent PAC still has no timetable for a return. Khan noted that until it's safe to travel back and forth from the US to the UK that PAC will be unavailable for TV.
According to Dave Meltzer's "The Wrestling Observer", WWE provided FTR legal notice to not use "Shatter Machine" as their finisher name. It is now called the "Goodnight Express".
In a reply to Cody's most recent open challenge, Britt Baker made an inquiry for a TNT championship match.
Kenny Omega recently talked about the progress of the AEW video game. He stated that he wishes he could show more, but everything is very much in the preliminary stages. Omega has talked in the past of the need for the game to be able to be picked up and played. Something simple, and compared the game-play to the classic N64 games like WCW vs NWO and No Mercy.
AEW Dynamite
This weeks Dynamite was set up to start like last weeks. Cody in the ring awaiting his challenger. Before Justin Roberts could start his introduction Eddie Kingston made his AEW debut. With mic in hand and a brash attitude, he delivered a passionate promo about the rough upbringing that he's had. He also noted that he had a conversation with Tony Khan to make this match a No DQ. The only condition is that Cody had to agree. Well, it wasn't that hard as Kingston threw more insults to Cody and innocent bystander Arn Anderson. Once again, before Justin Roberts could even officially introduce the new stipulation Kingston was on Cody like white on rice. What started as a brawl, ended with some good ol' hardcore. Cody comes out victorious but at the cost of being a human pin cushion. Hey, Cody's gotta get that color in, at least he didn't blade this time.
Moxley
delivered a promo about Taz doing what was right for
Brian Cage
, and that next time he won't stop.
AEW Weekly for 7/23/20
MJF vs. Griff Garrison
Next up was MJF in action against Jung- excuse me – Griff Garrison. What would an MJF appearance be without some kind words? Trying to intimidate Garrison by stating he was in the ring with a prodigy, MJF was set off by Garrison pointing out that he lost a tag match at Fyter Fest. With a mic shot to the head, we were on our way. With the match quickly going to picture in picture, we were brought back with MJF on the mic again throwing a temper tantrum about Garrison saying he lost. Next, MJF forced Garrison to say that he's undefeated. Shortly after The Salt of the Earth made quick work of Garrison with the Heat Seeker. Thus continuing his undefeated streak.
Next, we had Tony Schiavone brought into Britt Baker's dressing room attempting to get an update on her status. Instead, we were treated by Britt cutting promo comparing herself to Tiger woods and Michael Jordan.
Enter Taz and Brian Cage talking about last week's match and the reasoning of throwing in the towel. With
Darby Allin
interrupting
Ricky Starks
immediately comes behind with a wicked shot to the back of Allin. Followed by a powerbomb from Cage on the entrance ramp. Then as Ricky Starks holds a lifeless Allin, Cage was about to swing the skateboard, but enter Jon Moxley barb wire bat in tow for the save.
Announced next was the Deadly Draw Women's Tag Team Cup Tournament. Featuring 8 teams this Summer. This may indicate an introduction for Women's tag belts, but currently, the prize seems to be a trophy.
Next, we saw
Chris Jericho
with The Inner Circle talking about his $7000 white jacket that now has an orange tint. He is hyping up his match with
Hager
against Jurassic Express throwing shots at
Jungle Boy's
stag film sideburns, and in true heel, fashion revealing
Luchasaurus
not being a real Dino. Just downright mean.
AEW Weekly for 7/23/20
The Young Bucks vs. The Butcher and The Blade
Next, we saw
The Young Bucks
marching to the kitchen to meet
The Butcher and The Blade,
practicing butchering. Go figure! This was a fantastic fast-paced match that never seemed to lull. Some notable spots included:
Nick Jackson getting driven into the production truck door with his own face on it.
The Blade getting stereo super kicked into the escalator leading to a perfect commercial transition.
The Blade completely missed the flip over the top rope hitting the side of the table brutally.
The Bucks with stereo jumps from the top of the entrance sets onto Butcher and The Blade through tables. Matt with the elbow and Nick with the Swanton Bomb followed by the pin to win.
We saw
Lance Archer
and Jake Roberts being interviewed by Alex Marvez. Archer goes on a complete rampage laying waste to a bunch of indie guys in the locker room.
Next up was Dynamite debut versus Dynamite debut. Puerto Rican versus Puerto Rican. Diamanté versus Ivelisse. Not even 3 minutes into the match they showed
Big Swole
cutting a promo on Britt Baker. Not the best message to your fans when you're taking the focus off of the new talents you're showing. In a back and forth battle Diamanté picked up the win with a small package.
Five vs Adam Page
Up next was Five versus
Hangman Adam Page
. Page was trying out some white wrist tape per the lower third, and also came out double masking reminding everyone at home to mask up! Adam Page seemed very relaxed in this match, that is until the rest of the Dark Order appeared on stage. During the break, Five seemed to get a surge of energy from his group as he was holding his own against one-half of the tag champs. However, as expected Page picked up the win with a Powerbomb in the middle of the ring.
After the match entered
Colt Cabana
and
Mr. Brodie Lee,
The Exalted One, entered the ring offering to join The Dark Order. Page dropped the "C" word stating he wasn't ready to join a cult. Brodie Lee then ordered the rest to attack Page. Then
FTR
made the save before Omega could. The end of the segment saw FTR give Page a beer with tensions building between Omega and FTR.
Announced for next week's Dynamite is The Dark Order versus Page and Omega for the Tag Team Titles, Hikaru Shida versus Diamanté, Darby Allin, and Jon Moxley versus Ricky Starks and Brian Cage in a Tornado Tag match, and Cody with another open challenge.
AEW Weekly for 7/23/20
Main event time
Jurassic Express vs The Inner Circle
Jungle Boy and Jericho started the match and Jungle Boy was getting the best of Jericho. JR mentioned the match where Jungle Boy lasted 10 mins with Jericho and said that was getting in his head. This match saw Jericho and Hager working Luchasaurus' leg. Marko Stunt came in late in the match with a hurricanrana leading Jericho into a small package by Jungle Boy. Jericho continued his feud with Aubrey Edwards when he brought the bat into the ring they got into a shoving match. At the end of the match, Serpentico hits Luchasaurus with the aforementioned bat. Seemingly joining Inner Circle however, it is the returning Sammy Guevara. Back from his suspension, Guevara hits a perfect moonsault before unmasking himself. Orange Cassidy then comes with Best Friends to clear out the Inner Circle as this weeks Dynamite came to a close.
A hectic Dynamite for sure! Lots of action and lots of stories. Tell us what you thought in the comments!