WCW fans, we are back! During the last RetroView, I finished up looking back at what should have been the conclusion of the Sting versus the nWo storyline. We looked at WCW Starrcade 1997. Instead of continuing the path of chronologically following WCW into 1998, I figured I'd jump around. Recently inspired by the crowd reactions during CM Punk, Adam Cole, Ruby Soho, and Bryan Danielson's debuts in AEW. I decided to look back at one of the greatest crowd reactions in WCW history and wrestling history in general. Of course, I am talking about Dean Malenko's surprise reveal at WCW Slamboree 1998. Heading into this pay-per-view, the nWo had been split into two factions.
nWo Hollywood is led by Hollywood Hulk Hogan, and nWo Wolfpac is led by Kevin Nash. Hollywood Hogan is champion once again after Bret Hart assisted him in defeating Macho Man Randy Savage.
On the WCW side of things, the Steiner Brothers broke up due to Scott turning on Rick to join the nWo. After losing the title to Hogan, Sting couldn't find his previous momentum and was days away from joining the nWo Wolfpac.
Sidenote: Sting joining any version of the nWo was atrocious then and even more annoying now looking back on it.
Also, on the WCW side, Bill Goldberg was adding more and more names to his undefeated streak. On this show, he is zeroed in on defending the United States Championship. Now, on to the show. 
The show begins with a dramatic video highlighting the recent interactions between The Giant and Sting and Bret Hart and Savage. Our three announcers tonight are Tony Schiavone, Mike Tenay, and Bobby "The Brain" Heenan. Schiavone talks about the first time ever meeting between Hart and Savage with Rowdy Roddy Piper serving as referee.
The announcing trio talks about the Giant re-joining the nWo and the issue it has caused with Sting. Oh, and they reference Eric Bischoff challenging Vince McMahon on the previous WCW Thunder episode.
In the first match of the show, Fit Finlay defeated Chris Benoit for the WCW Television Championship. After the show opener, we cut to the back where Lee Marshall is interviewing current Cruiserweight Champion Chris Jericho. Jericho is asked about the Cruiserweight Battle Royal coming up to determine who he will wrestle with.
WCW Slamboree 1998
Brian Adams w/ Vincent vs. Lex Luger
This one is your classic nWo Hollywood versus WCW match-up. Luger is looking to exact revenge on Adams for sidelining Rick Steiner after a baseball bat attack. As always, the "Total Package" Lex Luger receives a rousing ovation from the crowd. Luger sends Adams reeling to the outside early with a flurry of punches. Quick to follow him outside, Luger gives Vincent a pair of punches before refocusing on Adams. Focusing on Adams' shoulder is Luger's way of exacting his revenge.
A Vincent distraction gives Adams the advantage, and he nails Luger with a spike piledriver. Eventually, Luger puts Adams in the Torture Rack to get the win for WCW. Kind of an abrupt ending to this one. 
Winner – Lex Luger
We go to Perry Saturn in the locker room; he proclaims there will be no gauntlet match with Goldberg. Instead, it will be him and Goldberg one on one because Saturn is now finally focusing on himself and not what Raven wants.
WCW Slamboree 1998
WCW Cruiserweight Battle Royal – Winner earns title shot Ciclope, Chavo Guerrero Jr., Damien, El Dandy, El Giro, Evan Karagias, Johnny Swinger, Juventud Guerrera, Kidman, Lenny Lane, Marty Janetty, Psychosis, Silver King, Super Calo, Villano IV
Jericho makes his way out, interrupting David Penzer before he can announce the competitors. The Cruiserweight Champion then proceeds to hilariously announce each wrestler as they make their way to the ring. Jericho is in top form here delivering such gems like…
"The winner of the Lou Ferrigno look-alike contest, El Dandy"
and
"The scourge of the Guerrero family, Chavo Guerrero Jr."
Competitors can be eliminated by pin or being thrown out of the ring, over the top, or through the ropes to the outside. Evan Karagias is the first man eliminated after being thrown out by Kidman. He is quickly followed out Johnny Swinger. Eventually, the field begins to thin, and we're left with a final four of Kidman, Ciclope, Juventud, and Psychosis.
Ciclope evades an attack from Psychosis and Juventud eliminates Kidman. We get a brief staredown between Ciclope and Juventud before Juventud willingly hops over the top rope, eliminating himself. The crowd begins to rise as Ciclope starts to remove his mask.
Once the mask is off and it's revealed to be Dean Malenko, the crowd explodes. Making it even better is Jericho, who had entered the ring, and his reaction was priceless. With the crowd roaring at the return of Dean Malenko, he goes on the offensive as the announcers note how fired up he is.
The fight spills to the outside, and the crowd erupts while Malenko administers punishment. Jericho gets a brief flurry of offense, but it doesn't last long. Malenko seals the victory with his patented Texas Cloverleaf. The crowd gives Malenko one final huge ovation the second Jericho taps out.
Winner – Dean Malenko
WCW Slamboree 1998
Bowery Death Match
DDP vs. Raven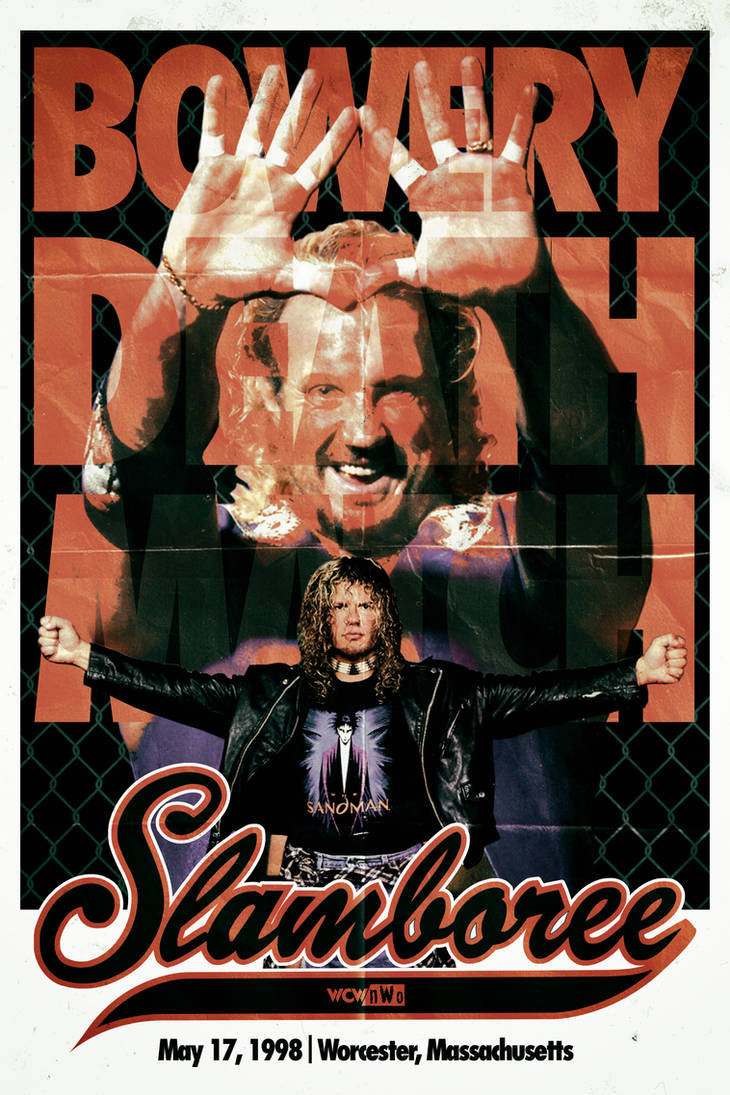 The cage hanging above the ring begins its descent as this personal grudge looks for a conclusion.
Side note: The entire Page and Raven feud in WCW was a complete rip-off of ECW's Raven-Tommy Dreamer feud.
The cage used for this has a top. So, the only way to win is to knock out your opponent or inflict so much damage they can't answer a ten count. Raven enters with his security team decked out in riot gear.
Page takes the early advantage inflicting punishment without abandon. It doesn't take long for the trash cans and cage themselves to be used as weapons. After getting the advantage, Raven dumps out the contents in both trash cans. This moment really missed having the late, great Dusty Rhodes call the weapons Plunder.
Before Raven can inflict much damage, Diamond Dallas Page retakes control and ties a bull rope around Raven's neck. From here, he launches him into the cage multiple times.  Page attempts to choke out Raven by pulling the rope through the top of the cage. Raven barely beats the ten-count rising at eight before having a VCR smashed across his head.
This time Raven answers the ten count at seven. Raven turns the tide with an assist from a trash can and a metal cookie sheet. The breaking of a sleeper hold leads to the referee being taken out. This leads to Raven's Flock making their way ringside.  Bolt cutters in hand, they cut the lock off the cage. 
WCW Slamboree 1998
But, before they can enter, former Flock member Van Hammer comes out from under the ring stop sign in hand. Van Hammer takes out a pair of Flock members before being chased off by Raven's riot squad. It's then revealed that two members of the riot squad were Flock members, but their attempt to hit DDP with a stop fails. Both Flock members receive Diamond Cutters for their interference.
This distraction allows Raven to hit Page with a fire extinguisher before his Even Flow DDT. After Page answers the ten count, Raven surprisingly Raven hits him with a Diamond Cutter. An act that completely stuns Schiavone on commentary. Once both men get back to their feet, it's DDP's turn to hit the Diamond Cutter.
This leads to DDP rising to his feet just before the ten count to get the win. After the match, Mortis, who removes his mask, becoming Kanyon, is revealed as a riot squad member, and he proceeds to handcuff Raven to the ring. Then in an act much like Raven-Dreamer before it, bashes a helpless Raven with a chair.
Winner – Diamond Dallas Page
As the ring crew begins to tear down the cage, we get our second view from the Vinnie Mac Cam. Cameras around the building check to see if Vince McMahon has arrived to answer Eric Bischoff's challenge.
Eddie Guerrero vs Ultimo Dragon
Dragon comes out in his traditional green and gold garb. Eddie comes out as always full of piss and vinegar with Chavo Gurrero Jr. by his side. These two brilliant cruiserweight's put on a clinic. A match full of acrobatic counters, high-flying assaults, and technical brilliance.
Dragon's full arsenal of submission holds is on display during this match. Meanwhile, Guerrero's athleticism shines with the perfect opponent to work with. Near the end of the match, there is a beautiful sequence where Eddie counters the Dragon Sleeper into his own variation of the hold.
After a miscommunication between Dragon and Chavo, Eddie gets the win with his patented frog splash. However, the post-match beatdown solidified Chavo's heel turn. 
Winner – Eddie Guerrero
WCW Slamboree 1998
WCW United States Championship Match
Goldberg © vs. Perry Saturn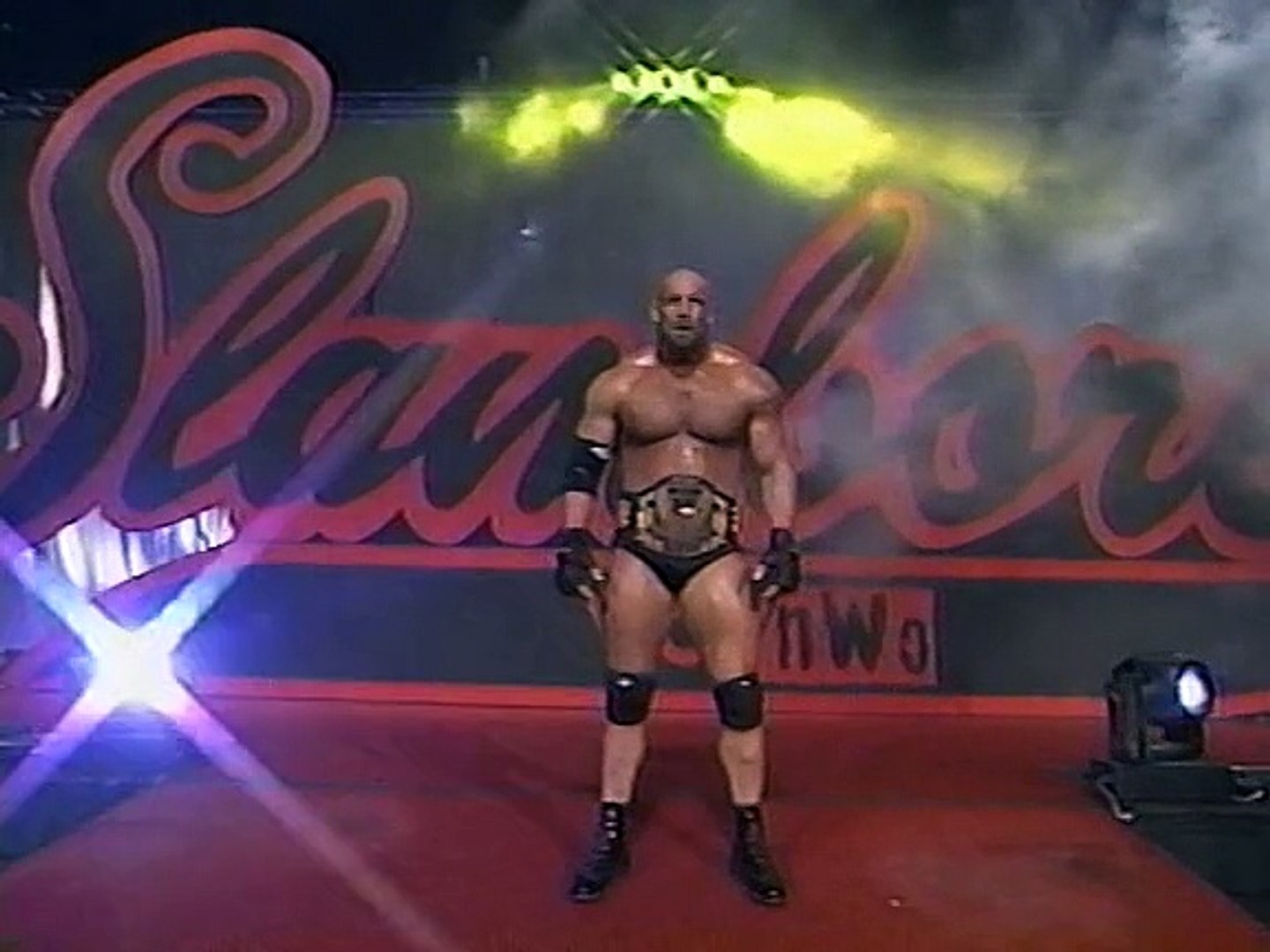 Saturn enters first, then the Goldberg chants begin. Schiavone sums it up best, calling it a phenomenon when referencing Goldberg's rise. Saturn holds his own, but the power and strength of Goldberg proves too much. Like most Goldberg matches during this time, this one ends with a spear followed by the Jackhammer. Goldberg wins and extends the winning streak to 88-0. 
Winner – Goldberg
Up next is the Eric Bischoff challenge to Vince McMahon segment. Michael Buffer brings out Bischoff like this match was really going to happen. Obviously, McMahon doesn't show as that would be a stupid move on his part to give any kind of publicity to WCW at that time. Bischoff gets the "win" by count-out after McMahon no-shows.
Bret Hart vs. Macho Man Randy Savage
Special Guest Referee Rowdy Roddy Piper
Hart comes out first, and I have to say, even 23 years later, Bret Hart in WCW is just weird. Next out is special guest referee Roddy Piper, to a boisterous ovation. Savage is third out in his awesome black and red Wolfpac attire. Piper quickly gets involved, physically forcing Hart into the ring to begin the match.
Hart controls the early portion of the match, freely using dirty-handed tactics to gain the advantage. The tension between Piper and Hart is played expertly by both men. The same can be said for Piper and Savage, as there is no love lost there.
When the fight falls to ringside, Hart's attempt to use the stairs on Savage backfires as the two fight their way into the crowd. After they make it back to the ring, Hart turns his attack to Savage's knee. His plethora of strikes and holds softening Savage for the Sharpshooter.
A beautiful spike pile driver by Hart receives a two count. Once again, Hart gets in Piper's face for what he feels is a slow count. Basically, on one leg, Savage makes his comeback, something that impresses Schiavone. Savage lands the flying elbow drop, but the landing hurts his knee, delaying the pin cover.
This leads to Hart applying the Sharpshooter, which brings out Elizabeth, and somehow Savage reverses the hold. Elizabeth enters the ring and confronts Piper leading to a shoving match between Piper and Savage. Hart brings in brass knuckles, but before Savage can use them on Hart, Hollywood, Hulk Hogan, who had entered minutes earlier, hits Savage in the leg. Savage is forced to tap out with too much damage already done, giving Bret Hart the tainted victory.
Winner – Bret Hart
WCW Slamboree 1998
WCW Tag Team Championship Match
Sting & The Giant vs. Kevin Nash & Scott Hall (c) w/ Dusty Rhodes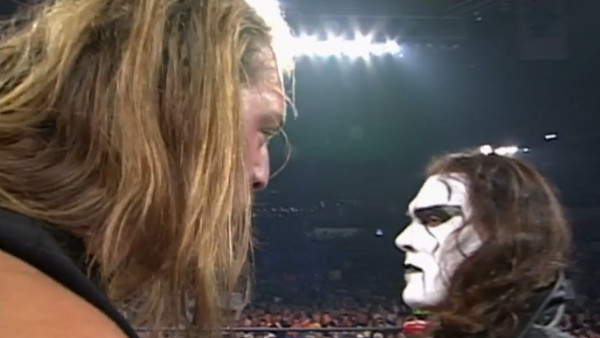 Much like how I mentioned earlier that Sting joining the nWo was atrocious, seeing Dusty Rhodes in a nWo shirt is just as bad. The Outsiders with Rhodes enter first, always the coolest guys in the room. The intriguing thing about this match is that the Giant recently returned to the nWo by Hollywood Hogan's side.
Sting, still the WCW supporter, was basically. being recruited by both sides of the nWo. Hall and Sting begin the match; of course, Hall throws the toothpick in Sting's face. Sting responds with multiple crotch chops in Hall's direction.
The early advantage goes to Sting as he finds himself fighting both Outsiders before the Giant finally gets in the ring to help. When we finally get the Giant and Kevin Nash showdown, the crowd erupts appropriately.
Nash goes for the jackknife powerbomb early, only for Giant to pick him as a countermeasure. While the Giant is in control, he is met with a "Let's go Wolfpac" chant from the crowd. Eventually, Hall and Nash cut Sting off from his corner. Both hitting him with their patented moves at different points.
The Giant finally gets the tag and takes control up until he goes to the top turnbuckle. Leaping off the top, the Giant misses on his splash attempt when Nash moves just in time. This allows Nash to signal for the jackknife powerbomb, but before he can hit the move, Hall hits his long-time partner.
Winners: No Contest
The announcers are completely shocked as Hall, the Giant, and Dusty Rhodes embrace. Mike Tenay sums it up best "The Outsiders are history." Sting just stands on the apron with a perplexed look on his face as the show goes off the air.