Diamond Dallas Page began his pro wrestling career at the American Wrestling Alliance in 1988. He began in the AWA as a manager. However, DDP wasn't just your average manager; he had his own entourage. Page was always accompanied to the ring with three valets named the Diamond Dolls. Everywhere Dallas went, his Dolls went. Diamond Dallas Page was flamboyant and obnoxious. DDP's first clients were Badd Company aka Paul Diamond and Pat Tanaka. It wasn't long before, under Page's guidance, Badd Company became the AWA tag team champions.
__________________
Soon after, Diamond Dallas Page continued to add to his stable, now known as the Diamond Exchange. He acquired the talents of Col. Debeers, Medusa, and Curt Henning, aka Mr. Perfect. Page had the ability to generate the hatred of the AWA fans like no other. Dallas was also very gifted on the mic. He regularly appeared as a color commentator next to the great Gordon Solie.
In 1990 Diamond Dallas Page had a tryout for an announcer with the World Wrestling Federation. He didn't get the job, but he received another opportunity. WWF was getting ready for Wrestlemania VI in Toronto. At the time, The Honky Tonk Man and Greg "The Hammer" Valentine were in a tag team called Rhythm and Blues. DDP happened to work at a nightclub that had a pink Cadillac that was perfect for their entrance. Needless to say,  Diamond Dallas Page made his WWF debut driving Rhythm and Blues to the ring at WrestleMania.
Diamond Dallas Page
WCW
In 1991 Dusty Rhodes became the booker in World Championship Wrestling. Dusty enabled DDP to come to WCW and manage the Fabulous Freebirds – Michael Hayes and Jimmy Garvin. His over the top charisma was a perfect addition to the rock concert flamboyance of the Freebirds. Accompanied by the Diamond Dolls, DDP made his WCW debut. He guided the Freebirds to the NWA Tag Team Championship by defeating Doom shortly after. It wasn't long until Dallas added Scott Hall to his stable.
At that time, Hall was called The Diamond Studd. Hall was the centerpiece of the DDP's Diamond Exchange. Night after night, the Diamond Studd would defeat his opponents. Dallas knew WCW would try to take Scott Hall away from his Diamond Exchange. After talking to fellow wrestler Magnum T.A, DDP decided to start his journey to becoming a pro wrestler. At the age of 35, Page attended The WCW Power Plant.
The WCW Power Plant was a training camp for up and coming wrestlers located in Atlanta, GA. Page knew that he had to put everything he had into becoming a wrestler.
Diamond Dallas Page
Through Drills with Buddy Parker
He was put through grueling drills by his trainers, Sgt. Buddy Parker, Jody Hamilton, and Dusty Rhodes. After Page survived the Power Plant, he made his debut alongside Scott Hall in a tag team match. Shortly after that, DDP found himself on a losing streak, jobbing out every night. Every wrestler pays their dues, but Dallas knew this was not going to be easy. Diamond Dallas Page was quoted as saying –
"Bischoff gave me the job as I was a good example of work ethic, passion, and someone that cares about the business. Since they really wouldn't book me, I went down to the Power Plant every day I wasn't working. That's how you adapt to adversity. Even when I started to make it, I still kept going back."
Even then, DDP had a positive mindset, and nothing would stop him from achieving his dream.
Taking it to the Next Level
DDP has always a student of the game. Knowing he had to up his game, he reached out to Jake "The Snake" Roberts for help. Roberts was excellent at ring psychology, and Page soaked up all his knowledge like a sponge. He not only had a new mindset; he had a new Diamond Doll, aka Kimberly. DDP would hold open challenge arm-wrestling contests, and to make the contest more interesting, he would put Kimberly on the line. If Page lost at an arm-wrestling match, the winner would get a date with Kimberly.
At WCW Fall Brawl, Diamond Dallas Page won his first singles title when he beat the Renegade for the WCW Television Title. This led DDP to his first-ever feud against Johnny B Badd, aka Marc Mero. Sensing momentum in his favor Dallas entered the Lethal Lottery at WCW Slamboree. In a Lethal Lottery match, competitors start in a tag team tournament where your tag partner is chosen by a lottery.
The winner of that tournament then faces his tag team partner to be the winner of the Battle Bowl. In addition to that, WCW announced that the winner would get a title shot at the WCW champion. In 1996 DDP won the Battle Bowl by eliminating his partner, The Barbarian, with the Diamond Cutter. Thus earning a WCW title shot. Unfortunately, Page never did receive his title shot because of the chaos the New World Order would inflict upon WCW.
Diamond Dallas Page IS WCW
Diamond Dallas Page entered a tournament to crown a new United States Champion. In the finals, Page found himself across the ring from Eddie Guerrero. Throughout the tournament, the returning Scott Hall and Kevin Nash of the nWo would assist Page in advancing to the finals. Dallas did not ask for the nWo help. They just took it upon themselves to help out a 'friend".
After Page won a match on Monday Night Nitro, the nWo met Page in the ring with a brand new nWo t-shirt. To their surprise, DDP rejected the offer by hitting a Diamond Cutter on Scott Hall. Diamond Dallas Page was WCW. After that moment, he earned the respect of pro wrestling fans worldwide. Unfortunately, DDP made a new enemy in the New World Order, and they were about to make his life miserable. Page became a WCW flag bearer in the war against the nWo.
Dealing with The Madness
DDP gained a lot of attention. However, he also gained the attention of the madness himself, Macho Man Randy Savage. At this point, Savage was a huge part of the New World Order. On an episode of Nitro, Savage and the Outsiders attacked DDP and spray painted the new logo on his back. At Uncensored, March 16th, 1997, Macho Man took this a step further when he and Elizabeth told the world that Kimberly wasn't just DDP'S armpiece. She was his wife. Savage then attacked Page and Kimberly. To make matters worse, he painted the nWo logo on Kimberly too.
The next night on Nitro, Page issued the challenge to Savage, saying, " Savage, you wanna come into my real world, I'm going to snap into yours." This led to DDP's first main event against none other than the legend himself, Macho Man Randy Savage. At WCW Spring Stampede, DDP and Savage took each other to the limit. Savage brought the madness while Dallas brought the Bang. In the end, DDP was victorious with a Diamond Cutter. However, Macho Man was not done with Page. The two met again at The Great American Bash in an Anything Goes Lights Out Match. This time Savage got the win thanks to the nWo. Page and Savage's rivalry grew.
"It was good for my career just to work with him. What happened after that was unbelievable."
At WCW Halloween Havoc on October 26th, 1997, DDP challenged the Macho Man Randy Savage one last time to a Las Vegas Sudden Death Match. During the match, Macho Man focused on Dallas's already injured ribs. Randy won the match due to Hollywood Hogan, dressed as Sting, attacking Page. Years later, on a WWE Network special, it was revealed that Randy chose to take the Diamond Cutter as he saw something in Page. In the same WWE Network special, DDP recounted how he feels about Randy Savage. DDP stated –
"It was good for my career just to work with him. What happened after that was unbelievable."
Truly the match with Macho Man Randy Savage made Diamond Dallas Page.
Diamond Dallas Page
Self High Five
1997 was a good year for the master of the Diamond Cutter. At Starrcade on December 28th, 1997, he defeated Curt Hening to win the United States Championship. DDP became the symbol for the WCW against the nWo. Nothing made that clearer than when Page teamed with Utah Jazz superstar Karl Malone to take on Hollywood Hogan and the Chicago Bulls Dennis Rodman. In another celebrity tag team match Dallas teamed up with Tonight Show host Jay Leno against Hollywood Hogan and Eric Bischoff. After those two high profile tag team matches, Diamond Dallas Page set his sights back on winning WCW championships.
At the 1998 Fall Brawl, DDP won the War Games match to become the number one contender for Goldberg's WCW Championship. After Page and Savage had their knockdown drag-out fight one year later, DDP faced Goldberg for the WCW Title. At Halloween Havoc, Page and Goldberg gave WCW fans everything they had. This was Dallas's first WCW Heavyweight title match ever, and he wasn't going to disappoint. The fight in DDP was off the charts. Goldberg hit Page with everything he had, but Dallas kept coming back.  But Goldberg retained his title. And even though DDP lost the match, he earned more respect from Goldberg and the fans. Bobby "The Brain" Heenan even stated that he doesn't say this often, but he has respect for DDP. The match itself was awarded Pro Wrestling Illustrated 1998 Match of the Year and WCW Magazines Match of the Year.
DDP WCW Heavyweight Champion ….Bang!
DDP was not without a title for long. A few months later, Page defeated Bret Hart for the United States title. However, they call Bret Hart the Hitman for nothing. A few weeks later, on Nitro, Dallas lost the title back to Hart. Once again, Diamond Dallas Page was on the losing end, but he was earning respect.
In April 1999, at WCW Spring Stampede, the main event was a fatal four-way for the WCW Championship. The four combatants were Ric Flair, Sting, Hollywood Hogan, and DDP. As an added bonus Macho Man Randy Savage was the special guest referee. During the match's closing moments, a dazed Flair was hit with the DDP's Diamond Cutter. And as Macho Man counted to three, Page had achieved his dream. Diamond Dallas Page was the new WCW Heavyweight Champion. After being told he would never do anything in this business, DDP was the measuring stick in WCW, and no one saw it coming.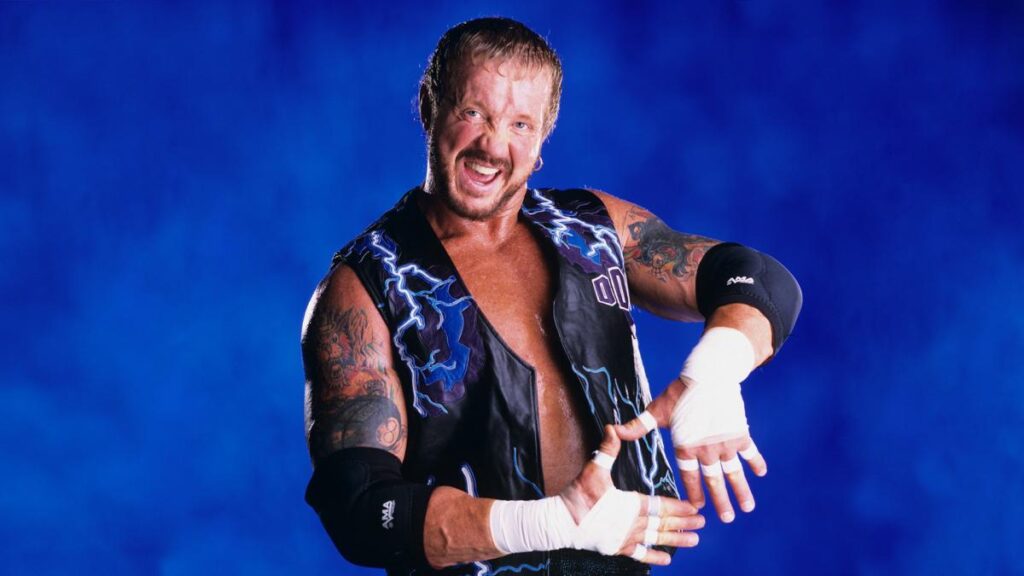 DDME….WCW heel DDP
During DDP's championship run, the fans began to boo him. Page represented the underdog, and now that he was WCW Champion, that quality kind of faded. He was not the underdog anymore. He was the top dog. Dallas started to get more aggressive in his matches. Everything he did was with more attitude. On an episode of Nitro, Goldberg challenged DDP. Page won the match but used brass knuckles to knock Goldberg unconscious. After the match, Dallas continued to assault Goldberg. The attack continued until Kevin Nash saved him. Sting returned to WCW and became DDP's number one contender for the WCW title.
On a later episode of Nitro, Sting defeated DDP and took the title in the process. However, that same night, Kevin Nash made a fatal four-way to determine who would be WCW champion. The participants were Nash, Goldberg, Sting, and Page. Dallas was determined to get his title back, and he did just that. Page hit Nash with a foreign object to get the win. As with the rules of multi-person matches, even though Sting was champion, DDP did not have to pin Sting to win the title. Diamond Dallas Page was now a two-time WCW Champion. However, Kevin Nash got even and defeated DDP for the WCW Championship at Slamboree.
It's a Jersey Thing for the King of Badda Bing
After losing the WCW Championship, DDP decided to go back to his Jersey roots. He formed a three-person team with Bam Bam Bigelow, and Kanyon called The Jersey Triad. The triad eventually disbanded after Dallas failed to bring back the US title to the group and Bam Bam and Kanyon lost the tag title to Harlem Heat. During the breakup of the triad, Kanyon and Bam Bam began double-teaming DDP. Page once again gained the fan's respect. In 2000 WCW was changing. New faces began arriving. One of those new faces was Jeff Jarrett. Jarrett was the Chosen One, according to Eric Bischoff and Vince Russo.
Diamond Dallas Page, on the other hand, was chosen by the fans. After Russo vacated the WCW title, a match was set between DDP and Jarrett at Spring Stampede on April 16th, 2000.  Kimberly was in Page's corner, while Bischoff was in Jarrett's. At the conclusion of the match, Eric Biscoff distracted the referee, which allowed Kimberly to grab Jarrett's guitar. WCW fans thought Kimberly was going to hit Jarrett, but instead, she hit Page. Kimberly had cost Dallas the title. On Nitro April 24th, 2000, he got his revenge when he challenged Jeff Jarrett to a steel cage match. Page beat Jarrett for the WCW title with the Diamond Cutter once more. Diamond Dallas Page was now a three-time WCW champion.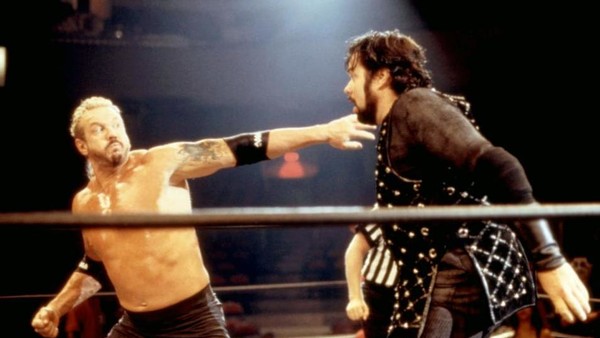 Ready To Rumble
At this time, WCW was shooting a movie called Ready to Rumble. DDP and several other WCW wrestlers were a part of the filming. The movie starred David Arquette, Scott Cann, and Oliver Plath. It's a buddy comedy about the wrestling business. To promote the movie, DDP teamed with David Arquette on WCW Thunder against Jeff Jarrett and Eric Bischoff. In the match, anyone could pin anyone and win the WCW title. The unexpected happened that night when Jeff Jarrett pinned Page at the same time David Arquette pinned Eric Bischoff. The referee did not see Jarrett and awarded the belt to David Arquette. At the time, this looked like a great publicity move, but many point to this as the end of WCW.
At WCW Slamboree on May 7th, 2000, David Arquette defended his WCW Championship against Jarrett and DDP in a three-tiered steel cage. In this match, David Arquette helped Jeff Jarrett recapture the WCW Championship. After taking some time off, Diamond Dallas Page returned as Kevin Nash's tag team partner. Now known as The Insiders, Page and Nash won the WCW tag team championship. Page also renewed a rivalry with former Jersey Triad member Kanyon. After defeating Kanyon, Dallas focused on "Big Poppa Pump" Scott Steiner, but he found himself on the wrong end of a Steiner Recliner.
Make Me Famous
Shortly after DDP feuded with Steiner, a major change occurred in the world of pro wrestling. The World Wrestling Federation bought World Championship Wrestling. As part of the deal, Page's contract was now in the hands of the WWF. In 1990 Dallas drove a pink Cadillac to the ring at Wrestlemania VI. Now he was about to be a featured superstar. Diamond Dallas Page made his WWE debut on June 18, 2001. For weeks someone had been stalking The Undertaker's then-wife, Sara. That, someone, was DDP. Diamond Dallas Page claimed he targeted Sara to get Undertaker's attention.
DDP said he was begging the Undertaker to "make him famous". This led to an unsanctioned match against The Undertaker at King of the Ring on June 18th, 2001. Page recruited his Jersey Triad buddy Kanyon to attack The Undertaker. Taker enlisted the help of his brother Kane in their feud. While this was happening, Dallas and Kanyon defeated the APA for the WWF tag team championship. Likewise, the Brothers of Destruction defeated Kronik and became WCW tag team champions. This led to a winner takes all cage match at Summerslam on August 19th, 2001.
At Summerslam, The Brothers of Destruction defeated DDP and Kanyon, unifying the tag team titles in the process.  After the WWF defeated the WCW/ECW Alliance at Survivor Series on November 6th, 2001, Diamond Dallas Page was "fired." When he returned, he had a character change. DDP became Positively Page. Even though Diamond Dallas Page is a very positive person, the idea behind this character was to be over the top. When DDP returned, he won his job back by defeating the Big Boss Man on Raw. Shortly after that win, Page won the European Championship by defeating Christian. Unfortunately, Diamond Dallas Page's WWE run was cut short due to a neck injury.
DDP WWE Hall of Famer
DDP returned to the WWE to host the DVD release of The Very Best of Monday Nitro. He also appeared on Raw 1000 when he stunned Heath Slater with a Diamond Cutter. In 2014 DDP inducted his friend Jake "The Snake" Roberts into the WWE Hall of Fame. Page had not forgotten about the help Jake gave him when he was struggling. Page was also very instrumental in the rehab of Scott Hall and Jake Roberts. Both stars credit Dallas with saving their lives.
On March 31, 2017, Diamond Dallas Page was inducted into the WWE Hall of Fame. DDP came full circle. He had come from an enhancement talent to a WWE Hall of Famer. There is no better example of positive thinking in the entire business. In his induction speech, DDP mentioned how, without Dusty Rhodes, there would be no DDP. Without Jake the Snake, there would be no DDP. Without Randy Savage, there would be no DDP. Diamond Dallas Page remembers who helped him, and he's more than willing to give back.
DDPYOGA and AEW
While DDP was injured in 1998, his (now) ex-wife, Kimberly, introduced him to yoga. Under his own admission, DDP confessed he wouldn't be caught dead doing yoga. However, it's yoga that helped him heal his spine and return to action. After some time, Page met Yoga Doc Craig Aaron and developed YRG or Yoga for Real Guys. A few years later, YRG evolved to DDP Yoga. This was the first yoga plan targeted at men and athletes. Page made yoga more about strength building and flexibility. DDP Yoga has helped millions lose weight and feel great.
DDP appeared on Shark Tank to present his idea to investors such as Mark Cuban. Although the investors on the show declined due to the massive availability of exercise products available, according to Dallas, his system sold over 1 million dollars worth of product after that appearance alone. Several pro wrestlers have attested to the benefits of DDP Yoga, including Stone Cold Steve Austin, Chris Jericho, and Edge, just to name a few. Not only has DDPYoga helped other athletes prolong their career, but unbelievably Page returned to the ring in All Elite Wrestling.
Diamond Dallas Page is ALL IN
At AEW, All In on September 1st, 2018, DDP accompanied Cody Rhodes to the ring for his NWA World Heavyweight Championship match against Nick Aldis.
Diamond Dallas Page gives back to younger talent, guiding them through the pitfalls of the business. DDP himself even returned to in-ring action teaming with Dustin Rhodes and QT Marshall against MJF, The Butcher, and The Blade. He stresses that he doesn't have a contract. He's just giving back to Dusty Rhodes' son because there would be no DDP without Dusty Rhodes.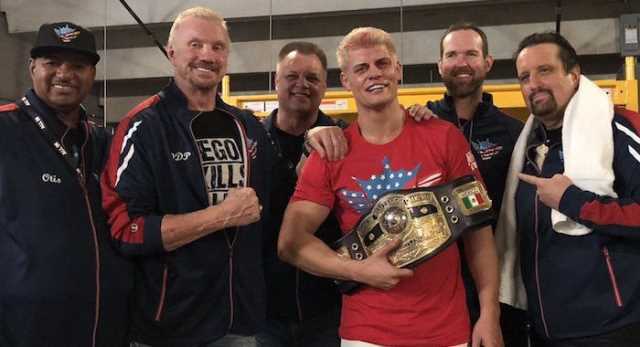 Diamond Dallas Page is a shining example of how the power of positivity can do the impossible. He was told he would never make it in the wrestling business. His work ethic and charisma earned him a WCW title opportunity at an age where most athletes think of retirement. DDP reached the top of the mountain as WCW Champion. He made a name for himself in both WCW and WWE. His matches with Macho Man Randy Savage, The Undertaker, Bret Hart, Sting, and Goldberg made him a household name, but his positivity made him a success.
Diamond Dallas Page is Wrestlings Success story. DDP has been called an overachiever. At his WWE Hall of Fame Speech, Page responded to that by saying
"To be an overachiever, you must first be an over believer. Never give up the power you give yourself by believing in you."