Once again it's time for the next WCW RetroView. The choice to cover WCW's prime years of pay-per-views came with the good, the bad, and the ordinary. WCW Slamboree 1997 falls under the latter. Not to say this was a bad show by any means, this show is just kind of there. More of an attention seeking opportunity than storyline advancement. 
Coming off the heels of a red hot Spring Stampede WCW entered Slamboree with the champion, Hollywood Hulk Hogan, still MIA. Hogan's movie/TV schedule kept him away from WCW pay-per-view for a few months in 1997. With Hogan not on the show, WCW looked to the NFL to gain viewers, bringing in a pair of future Hall of Famers to pick up the slack. 
_____________________
The show begins with our favorite WCW announcing trio of Tony Schiavone, Bobby "The Brain" Heenan and Dusty Rhodes welcoming us to the fifth annual Slamboree. They are quick to mention the NFL stars set to compete during the show. Green Bay Packer defensive star Reggie White is fighting Steve Mongo McMichael in a grudge match. Also, Carolina Panther Kevin Greene joins Ric Flair and Roddy Piper in the main event six man tag team match against Kevin Nash, Scott Hall and Syxx. Making the event even more special is Ric Flair's in-ring return from injury and it's coming in Flair Country, Charlotte, North Carolina. 
WCW Slamboree 1997
WCW Television Championship Match
Ultimo Dragon © vs Steven Regal 
Regal enters first and the announcers let us know he no longer wants to be known as Lord. This is the first hint that Regal is super focused heading into this match. Ultimate Dragon enters next with Sonny Onoo by his side. Dragon in his black, gold and silver ensemble looks like a million bucks. Regal controls the pace early on, stretching, twisting and bending Dragon all sorts of ways to wear him down. Dragon responds with a flurry of vicious kicks including three in a row while Regal is grounded on the mat. 
Throughout the match Regal attempts to put Dragon in the Regal Stretch, but Dragon is able to avoid each attempt. It's a really hard hitting match that even sees the fans chanting for Regal at one point. Sonny Onoo gets involved as he always does, but the first time it annoys the Dragon.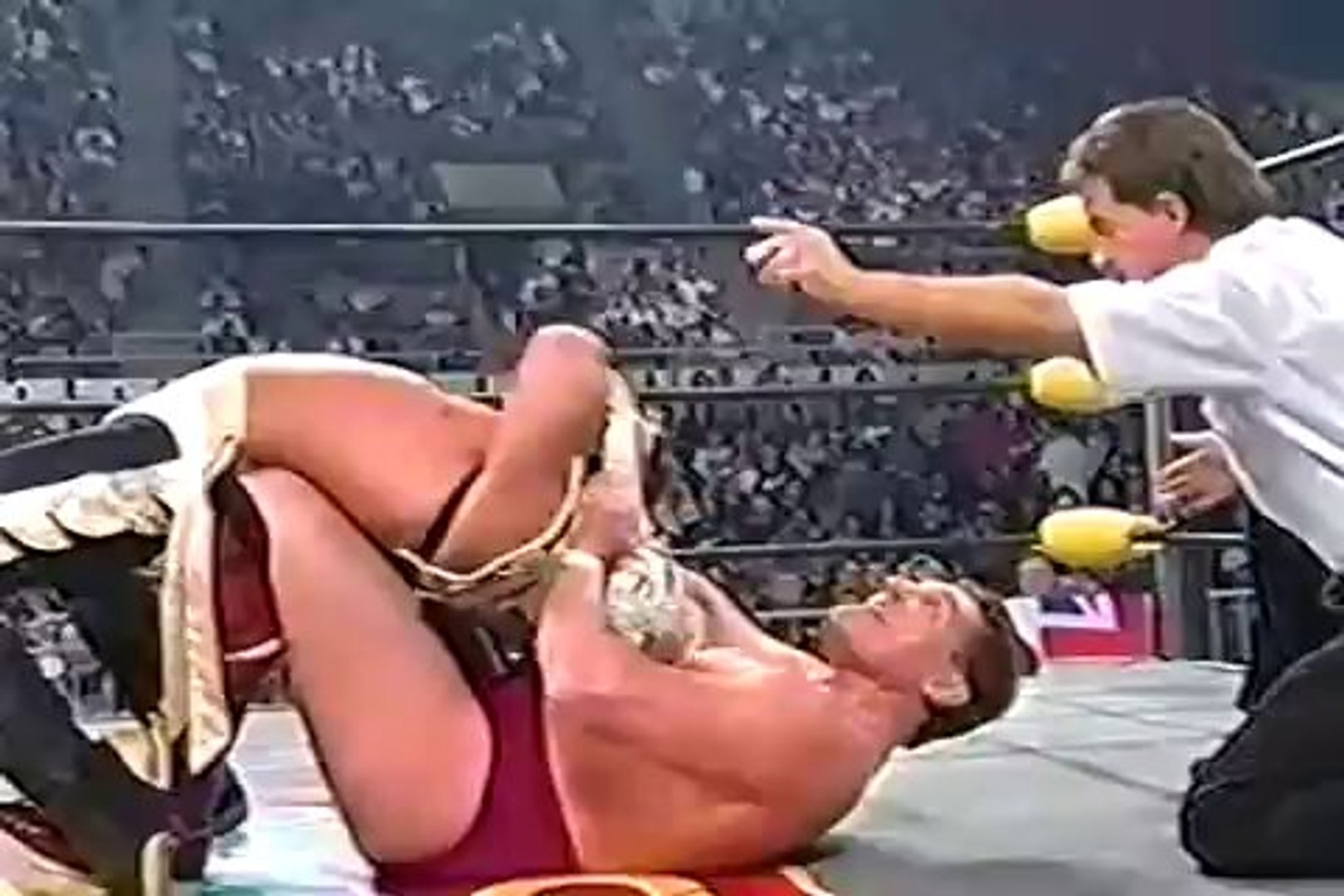 The second time, the Dragon stops him from intervening and Onoo responds by kicking his client in the back of the head. This distraction leads to Regal finally locking in the Regal Stretch, forcing Dragon to submit. We have a new Television Champion and Sonny Onno and the Ultimo Dragon's relationship is over. 
Winner – Steven Regal 
Ladies Grudge Match
Luna Vachon vs Madusa 
Look at that, WCW had a women's division match on consecutive pay-per-views, crazy I know. This all stemmed from Vachon attacking Madusa at Spring Stampede the month prio. Luna controls the early portion of the match but outside of her crazy antics, this was your standard WCW women's match. 
In the end Madusa picks up the win with a German Suplex, getting her an ounce of revenge from Spring Stampede. Once again, I have to reiterate, WCW had plenty of talented women to work with on their roster, just a shame they didn't take advantage. 
Winner – Madusa 
Next up we get our first Mean Gene Okerlund WCW hotline plug of the evening. Tonight he's hinting at a certain WCW star ready to hang up his boots. Before Okerlund can finish he's interrupted by Macho Man Randy Savage. 
In the ring the nWo's resident wild man, talks trash on Diamond Dallas Page, continuing their bitter feud. Of course this leads to DDP coming through the audience, crutch in hand, you see on a recent episode of Nitro, DDP was hit from behind with a crutch by Hollywood Hulk Hogan. Page chases Savage and Elizabeth off and before Savage can return to the ring for a fight, Eric Bischoff and company come out to hold him back. That is until DDP basically calls Savage, Hollywood Hogan's little b**ch. 
This enrages Savage and he makes his way back to the ring where he is assaulted by DDP and his crutch. Quick to respond the nWo comes to the ring and they are, at first, kept at bay by Page and his crutch. Eventually the numbers are too much, but before the beatdown can really get going, The Giant runs in to make the save. 
WCW Slamboree 1997
Rey Mysterio Jr. vs Yuji Yasuraoka
The cruiserweight division is on full display in this one. We get one of the cornerstones of the division taking on a newcomer out of Japan. Both wrestler's in their early 20s, bring the excitement in this match.  Mike Tenay joins the commentators and gives us a breakdown of their history wrestling each other in Japan. 
The highlight of the match is when Mysterio's attempt at a top rope plancha is interrupted accidentally by referee Mark Curtis. In response, Mysterio flips over Curtis on to Yasuraoka. Mysterio's experience leads him to victory when he defeats Yasuraoka with a frankensteiner. This win continues his steady rise back to the Cruiserweight Championship held hostage by Syxx. 
Winner – Rey Mysterio Jr.
Mortis vs Glacier 
The rivalry between the two Mortal Kombat cosplayers continues. Mortis attacks Glacier right out of the gate and before long he calls out the big man, Wrath. Wrath puts an end to Glacier's offensive response and the two bad guys put the boots to the literal iceman. Before the beat down gets out of hand, an apparent fan enters the ring to help Glacier.  Except this is no fan, instead its martial arts champion Ernest Miller, yep Ernest "The Cat" Miller made his debut at this event. Miller clears the ring, sending Mortis and Wrath to the locker room, tails between their legs. 
Winner – Glacier by disqualification
WCW Slamboree 1997
United States Championship Match
Dean Malenko © vs Jeff Jarrett 
This is a fantastic match. Two guys who know who they are and what they are in the ring, making magic together. Malenko as always is all business, following up each move with another move leading to his eventual goal of submitting his opponent. Jarrett, always the cocky heel, plays to the crowd any time he gets the chance in between moves.  
Both men want to set their opponent up for their signature submission hold. Malenko's Texas Cloverleaf and Jarrett's Figure Four are both two of the best submission holds in the game. There is a great sequence where Jarrett attempts the figure four, but Malenko counters into a cloverleaf attempt only to be rolled up for a close two count.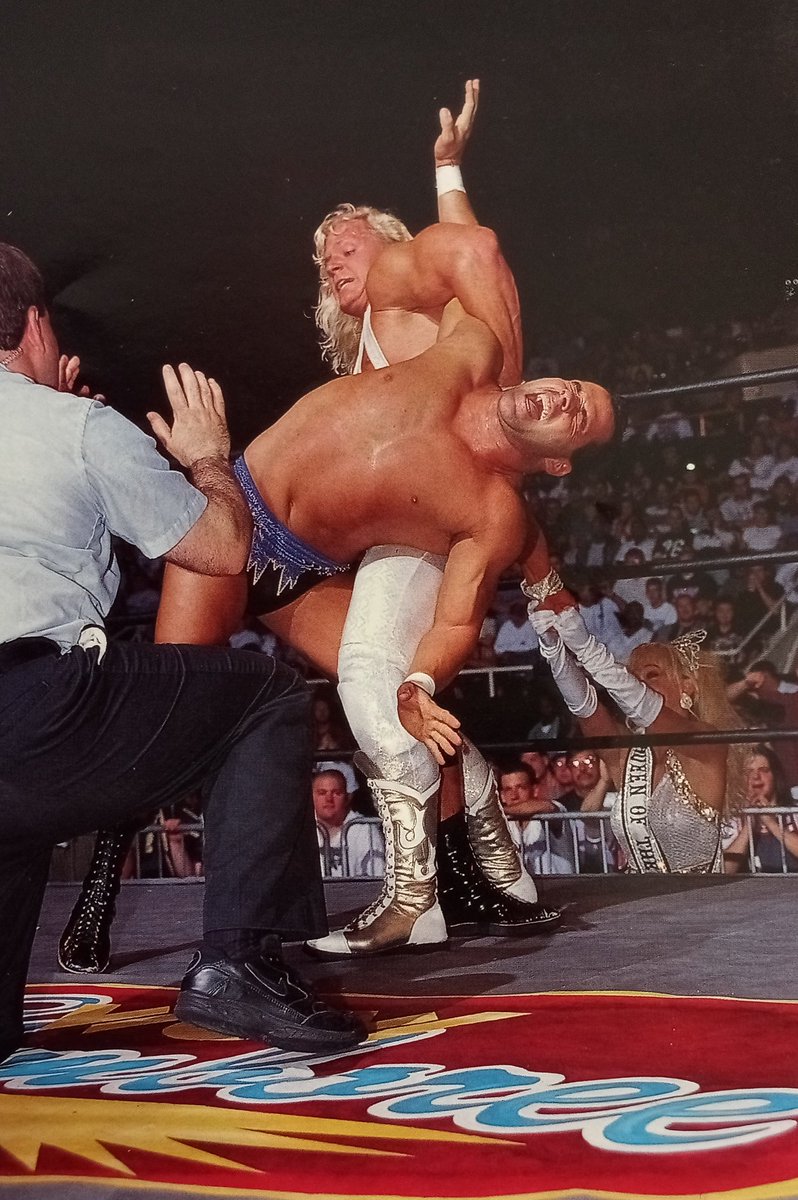 The two even trade sleeper holds before Jarrett is able to lock Malenko in the figure four. Malenko, ever aware of his ring position, gets to the rope to break the hold. Eventually Mongo McMichael makes his way out to force his wife Debra, to leave Jarrett's side, this leads to Malenko getting the victory. A victory set up beautifully with his double underhook powerbomb right into the Texas Cloverleaf. 
Winner – Dean Malenko
Following the United States Championship match is a wild Death Match between Chris Benoit and Meng continuing the feud between the Four Horsemen and Dungeon of Doom. 
WCW Slamboree 1997
The Steiner Brothers vs Hugh Morrus & Konnan
Two powerhouse teams in a featured tag team bout right here. This match accomplished two things. First, it showed how much of a cohesive unit the Steiner's were after months of nWo harassment. Secondly, it allowed Konnan to make his move out of the Dungeon of Doom and eventually  join the nWo. Scott Steiner hits an impressive belly to belly suplex on Hugh Morrus early on only for Morrus to respond with an even more impressive full body press on Steiner. Morrus and Konnan eventually single out Scott riling up the dog face gremlin until he can get he hot tag. 
All four men find their way into the ring for a pier six brawl which leads to Morrus attempting his "No Laughing Matter' moonsault only for Ric to move just in time. Scott finishes the match with a frankensteiner getting the Steiner Brothers a big win. After the match, Konnan attacks Morrus before walking away from Jimmy Hart, ending his relationship with the Dungeon of Doom. 
Winners – The Steiner Brothers
WCW Slamboree 1997
Grudge Match
Reggie White vs Steve Mongo McMichael
WCW's first attention grab brings the Packers vs Bears into the squared circle. White enters in full on Packer garb, ready to try his best during his in ring debut. Early on Mongo shows he has more in ring experience and the announcers hilariously talk this up like Mongo is a skilled grappler. 
After a pair of shoulder blocks that neither man gets the advantage, the two gridiron greats face off in three point stances. Mongo goes low and chop blocks White. On the second attempt White jumps over Mongo learning from his early mistake. 
The two Super Bowl winners spend most of the match trading holds, body slams and football moves. At one point Mongo tries to leave but is cut off by White's teammate Gilbert Brown. After Brown forces Mongo back to the ring, White nails a solid drop kick and the announcers lose it on commentary. 
This match goes on for too long and becomes very plodding, but the finish is vintage Horsemen. Brown keeps Mongo from using the loaded briefcase only for a distraction by Debra to allow Jarrett to provide Mongo with another one. A simple shot to the back by Mongo to White with the briefcase gets the former Chicago Bear and current Four Horseman the victory. 
Winner – Steve 'Mongo' McMichael
WCW Slamboree 1997
Six-Man Tag Match
Ric Flair, Roddy Piper, Kevin Greene vs Kevin Nash, Scott Hall, Syxx
Main event time and the nWo come out first as a cohesive unit. Then we get Kevin Greene, who's met with a hero's response, being that he plays for the hometown Panthers. Piper makes his entrance next, followed by the man of the hour Ric Flair. The crowd erupts for the Nature Boy, as they always do in North Carolina. Flair and Syxx start off the match and Flair lays into each member of the nWo eliciting an even louder reaction from the crowd. Even the announcers are fired up as Dusty Rhodes excitedly proclaims for the nWo to
"Jump your ass into some tradition." 
Once again, Dusty pure gold on commentary. Eventually Scott Hall gets the tag and he wants Kevin Greene. The linebacker obliges taking Hall down before he nails Kevin Nash with a shoulder block, clothesline and body slam. This gets the crowd even rowdier. 
Which brings us to Piper and Hall facing off, Piper controls the action early before Hall attacks his bandage hip. With the advantage the nWo trio works over the injured leg, Hall even attempts to put Piper in the figure four, but Piper fights it off. Flair gets the hot tag and takes it to all three members of the nWo. That is until a finger in the eye by Hall slows his momentum. 
Now it's Flair's turn to play the hero in peril as Dusty proclaims
"the nWo has taken the crowd out."
After the referee misses the tag between Piper and Flair, the Rowdy one punches him in the face. Then all hell breaks loose as all six men begin brawling in and around the ring. Hall looks for the Outsider's Edge but Flair counters it into a figure four. Kevin Greene chop blocks Nash before Piper locks the big man in the sleeper hold. Greene then powerslams Syxx and while Nash is put to sleep and Hall continues to tap in the figure four, replacement referee Nick Patrick makes the three count on Syxx. And just like that WCW gets a huge win over the nWo. 
Winners – Ric Flair, Roddy Piper & Kevin Greene
A win that makes Tony Schiavone proclaim
"when they wake up make sure someone tells them that tradition doesn't bite."
The show ends with WCW's conquering hero's arms raised together at the entrance ramp.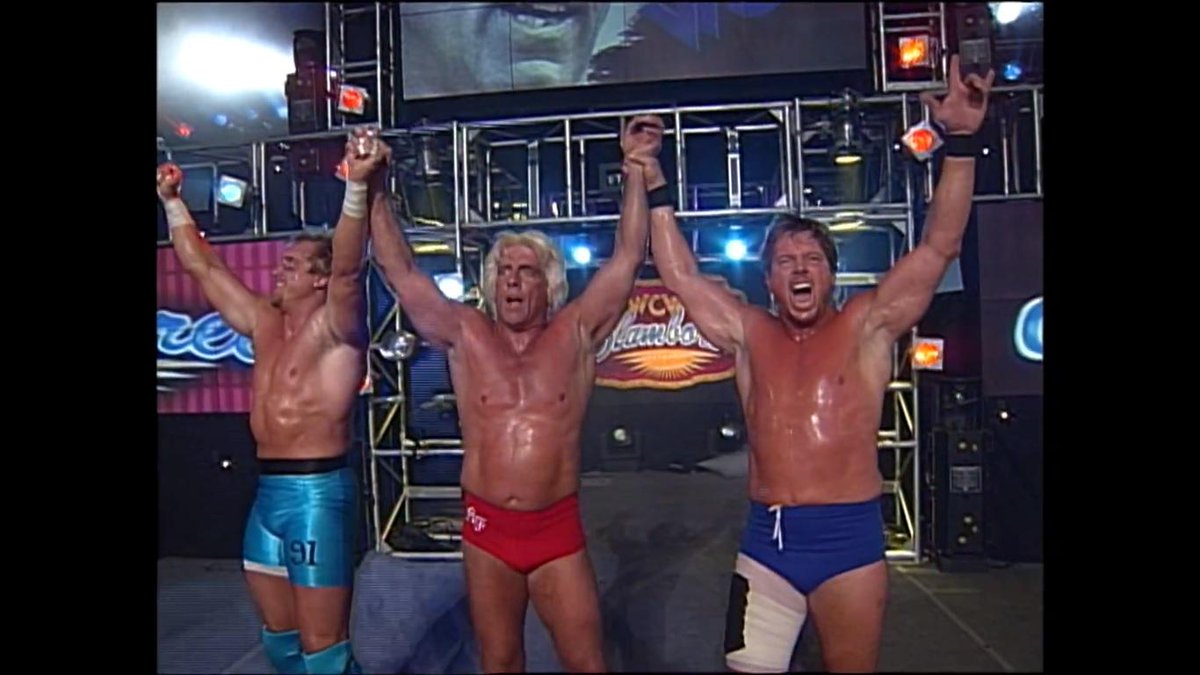 ---
Alright folks, another WCW RetroView in the books. Join me next time when we take a look back at WCW Great American Bash 1997. The night the feud between DDP and the Macho Man escalates once again.