With WWE recently announcing that War Games will officially be returning at this year's Survivor Series. I figured what better event to cover for my two WCW RetroViews during the month of November. So today, we're starting off with WCW Fall Brawl 1998. 
WCW 1998, you could sum up perfectly by calling it a hot mess with a pinch of greatness still in it. The nWo had long worn out its welcome, but they were still holding out hope it would once again reignite their numbers.
Their attempt to capitalize on the good old fashion nostalgia came in the form of the Ultimate Warrior arriving in the company. This War Games deviated from the original concept and would feature three teams of three instead of the usual two teams stepping inside the dangerous structure. 
Team nWo Hollywood consisting of Hollywood Hulk Hogan, Bret Hart, and Stevie Ray. The red and black nWo Wolfpac team was composed of Kevin Nash, Lex Luger, and Sting. Meanwhile, team WCW was the trio of the Warrior, Diamond Dallas Page, and Roddy Piper. 
Another change to the traditional War Games format was that pin falls were allowed in this match, and the man who scored the winning pin earned a future World Heavyweight Championship match. 
We are welcomed to the show by Tony Schiavone, Mike Tenay, and Bobby "The Brain" Heenan. The trio talks about how different this War Games is and how the match could possibly end before all nine men enter the cage. 
Mean Gene Okerlund comes out to hype the show even more before he's interrupted by prime WCW heel Chris Jericho. The Television Champion announces that he will, in fact, be facing Goldberg in a title versus title match. 
WCW Fall Brawl 1998
"The Dancing Fools" Disco Inferno & Alex Wright vs. The British Bulldog & Jim Neidhart
The dancing duo makes their way out first, followed by Bulldog and Neidhart. It has to be noted it's still weird seeing Bulldog and Neidhart in WCW, never felt right. Bulldog and Alex Wright begin the match. 
Even past his prime, Bulldog's strength is always an impressive sight. He hits Wright with a full body press early on in the match. Whenever Wright and Disco are in control, they sprinkle their dance movies, something that drives Schiavone crazy on commentary. 
After a back-and-forth, ten minutes, Bulldog and Neidhart get the win with Bulldogs' patented running power slam. 
Winners – British Bulldog & Jim Neidhart
Before the next match, we get Mean Gene backstage looking to interview Scott Steiner. Big Poppa Pump claims he's too injured to wrestle his brother Rick. He and Buff Bagwell present a "doctor's note" stating Scott Steiner is, in fact, too injured to wrestle. 
WCW Commissioner JJ Dillon isn't having any of these shenanigans, letting both men know that if Scott doesn't wrestle Rick, he's banned from WCW.
WCW Fall Brawl 1998
WCW Television Championship Match
Chris Jericho © vs. "Goldberg"
This is pure gold by Jericho. The heel TV Champion enters first, complete with his two "intimidating" personal security guards. Chris Jericho pays homage to Spinal Tap, with several attempts at entering the arena leading him to the wrong area. 
The best is when they open an exit from the arena. I have to say the edited version of this using "Break the Walls Down" for Jericho's music annoys me. Goldberg's music hits, and the crowd erupts, but the excitement turns to laughs when it's revealed to be a Goldberg impersonator. 
While it isn't as hilarious as Gillberg, it's a solid impression, something Schiavone calls a disgrace. Jericho makes quick work of "Goldberg", finishing him off with the Lion Tamer. 
Winner – Chris Jericho
Before the next match, we get an interview segment between Mike Tenay and Scott and Steve Armstrong that is interrupted by Ernest "The Cat" Miller. 
After beating up the Armstrong brothers, he's confronted by Norman Smiley.
WCW Fall Brawl 1998
Ernest "The Cat" Miller vs. Norman Smiley
Smiley enters first, a mild reaction from the crowd. Miller, however, receives a chorus of boos. "The Cat" gets on the mic and explains he's a three-time world karate champion. He offers Smiley five seconds to leave the ring, and Smiley responds with a hard right hand. 
Smiley sends the cat fleeing to the floor with a drop kick. A stiff sidekick soon gives Miller the advantage. This is a quick, five-minute match that gets the win in the end with a spinning roundhouse kick. 
Winner – Ernest "The Cat" Miller
We get a video recap of Scott Steiner's shocking betrayal of his brother Rick and Scott's metamorphosis into Big Poppa Pump. 
WCW Fall Brawl 1998
Rick Steiner vs. Scott Steiner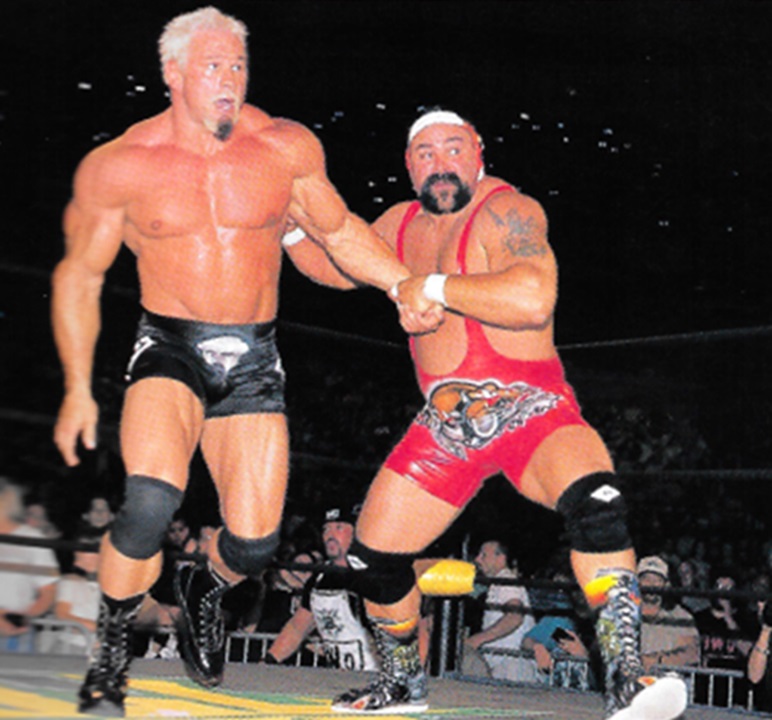 Scott, with Buff Bagwell by his side, entered first. 
And as obnoxious as they are, they look good together. It just makes sense. 
These two come out swinging, something Schiavone mentions; they've probably done thousands of times growing up. 
Rick hits a big clothesline, and the crowd erupts. The Dog Face Gremlin's' early assault sends Scott running to ringside, and Rick follows right behind them. The two fight into the crowd before eventually returning to the ring, where Scott hits a low blow to swing the momentum his way. 
A big DDT by Rick and goes to the top for the Steiner Bulldog, but Buff intervenes for the first time. Rick quickly handles Buff, who pretends to be injured, causing the match to stop as the crowd chants "bull sh*t".
Trainers come to the ring to check on Bagwell while an incensed Rick Steiner waits in the ring. Eventually, a gurney is brought out to carry away Buff Bagwell as the crowd is not happy, knowing the tricks Bagwell and Steiner had pulled before. 
They even show Bagwell being loaded into an ambulance before the ruse is revealed. Bagwell and Steiner exit the ambulance and attack Rick before making a quick exit out of the parking lot. Their actions disgust all three WCW announcers. 
Winner – No Contest
WCW Fall Brawl 1998
WCW Cruiserweight Championship Match
Juventud Guerrera © vs Silver King
A maskless Juventud receives quite the ovation from the crowd. Silver King tries to use his size and strength early, but the two-time Cruiserweight Champion counters each attempt with his elusive speed. As always, Juvi is impressive with his high-flying offense.
Silver King is a good filler opponent for Juvi, not one he will steal the show with, but one who will put on a solid match. Juventud hits an impressive inverted Frankensteiner before getting the win with his always spectacular 450 splash. 
Winner – Juventud Guerrera
Before the next match, we get a segment with Konnan being interviewed by the WCW.com team before he's interrupted by Scott Hall.
Following the brief segment, we get a recap video showing what has led to the next match between Raven and Perry Saturn. 
WCW Fall Brawl 1998
Raven's Rules Match
Raven vs. Perry Saturn
The stipulations for this match are if Saturn wins, Raven has free the Flock members from his leadership. If Raven wins, Saturn has to be his servant for the rest of his days as a pro wrestler. Also, Kanyon, Raven's lackey, is handcuffed ringside. 
Raven's unorthodox offense gives him the early advantage. It doesn't take long for this match to spill to the outside, where Saturn hits a suicide dive over the top rope onto Raven and his other lackey, Lodi. 
Back in the ring, Raven hits a pair of awkward-looking elbow drops from the middle rope for the first near fall of the match. Raven eventually introduces a chair into the match and hits his drop-toe hold onto the chair to Saturn. 
This brings out Flock members Horace, Sick Boy, and Kidman, along with a table. While Sick Boy and Horace are getting it set up, Kidman hits a missile drop kick on Raven, and Saturn follows it up with a Death Valley Driver for close two count. 
Saturn follows up with a bevy of suplexes, much to the delight of the crowd. It looks like Saturn is going to have the match won when he locks in the Rings of Saturn, but a distraction from Lodi causes him to break the hold. 
After the ref is inadvertently taken out, Kanyon gets the keys to the handcuffs and frees himself. He then hits a Flatliner on Saturn, but Saturn amazingly kicks out at two, and once again, the crowd erupts. 
Crazy to think how over Saturn was at one point in WCW. Raven hits the Even Flow DDT, but once again, Saturn kicks out, shocking the announcers. Saturn finally hits the Death Valley Driver and gets the win, and the crowd goes berserk. 
Winner – Perry Saturn
A video recap of Curt Hennig, Rick Rude, and Stevie Ray beating down Dean Malenko inside a steel cage on Monday Nitro brings us into the next match. Hennig attempted to slam Malenko's head in the cage door like he did the previous year to Ric Flair. 
Arn Anderson makes the save, and the crowd loses their minds. Anderson then endorses Malenko as a Four Horsemen in another cool moment. 
WCW Fall Brawl 1998
Dean Malenko vs Curt Hennig
Hennig and Rude make their way out first full of bravado and swagger. Dean Malenko, always in game mode, is as intense as ever. The fight begins quickly, with Malenko going on the attack. 
These two spill ringside, and Malenko continues the assault as a boisterous "We Want Flair" chant rings through the audience. Once they get inside the ring, the two begin to show their technical brilliance. 
Malenko focuses his attack on Hennig's legs. When Hennig gets the advantage, Schiavone is quick to reference how he takes the shortcuts being a member of nWo Hollywood. Hennig tries to act like he's injured, but Malenko doesn't let him limp away. 
Malenko is relentless in this match, showing how good he is at wearing down an opponent. What was starting to become a great match ends abruptly when Rude's interference leads to a disqualification. 
Winner – Dean Malenko via disqualification
The post-match beat down by Hennig and Rude brings Arn Anderson out for the save once again. Only this time, the nefarious duo gets the best of the Enforcer. The crowd's "We Want Flair" chants hits a fever pitch as Hennig and Rude make their way to the locker room. 
WCW Fall Brawl 1998
Konnan vs. Scott Hall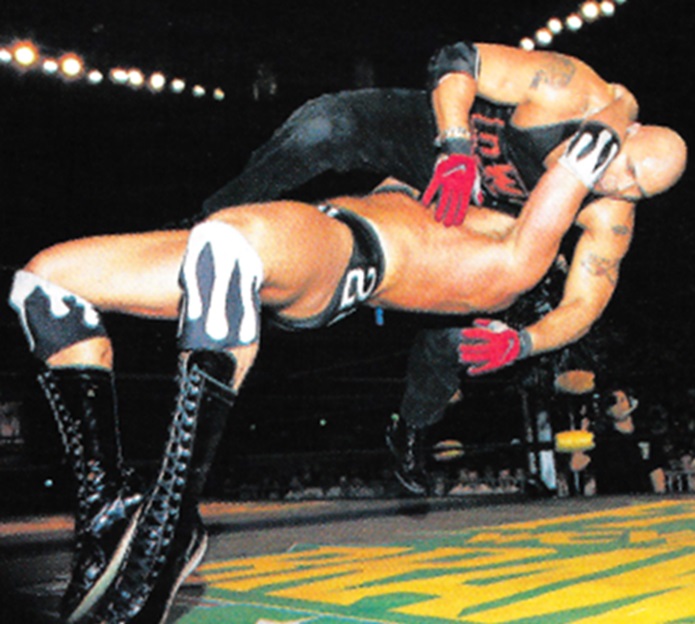 The nWo music begins, and Vincent makes his way out, but he awkwardly waits for Hall to make his way out carrying a drink. This was some of the ugly that went on in WCW's final years. Hall begins stumbling around the ring as the announcers make vague comments alluding to Hall's possible state of mind. 
Making things even more awkward is Hall's pre-match promo. The Wolfpac's music finally hits, and it's impressive how over with the crowd Wolfpac Konnan was. Hall continues playing up his buzzed state while Konnan gets all types of cheers when in control. 
We get all of Hall's classics, including the fall-away slam and abdominal stretch in this match. Hall wanting a late match drink leads to Konnan getting the via Tequila Sunrise submission. 
Winner – Konnan 
WCW Fall Brawl 1998
War Games Match
Team WCW (Diamond Dallas Page, Warrior, Roddy Piper) vs Team nWo Hollywood (Hollywood Hogan, Bret Hart, Stevie Ray) vs Team nWo Wolfpac (Kevin Nash, Sting, Lex Luger)
As Bruce Buffer announces the three teams, I'm reminded how much I disliked Sting in the Wolfpac. The enormous cage begins its descent as Buffer explains the rules. Team WCW's captain, Diamond Dallas Page, is the first wrestler to make his entrance. 
Out first for nWo Hollywood is Bret Hart, who immediately looks out of place in WCW still at this point. The first five-minute period begins. No surprise; Bret has great chemistry with DDP. 
The next wrestler to enter the match is Stevie Ray. Now it's two-on-one, and Schiavone ponders if Stevie Ray is going to go for a pin while he has the advantage. This two-minute period goes by fast, and next out is Sting to a boisterous ovation. 
Highlighting Sting's entrance is him jumping from ring one to ring two and clotheslining Stevie Ray. Piper comes storming out as the next competitor. Everyone gets hit by Piper, including his teammate, Page. 
Luger is the next Wolfpac member to enter the cage. Sting and Luger show some cohesiveness in what amounts to an everyman-for-himself match. Kevin Nash gets a flare of pyro when he comes out. He gets a loud reaction from the crowd. 
Before the next time period ends, Hollywood Hogan sneaks into the match and starts taking everyone out. In ring two, Luger has Hart in the Torture Rack, while Sting has DDP in the Scorpion Deathlock. 
The final ten seconds count down, and nothing happens. Hogan and Stevie Ray eventually become the last two men standing while the final minute begins to countdown. Hogan lands a pair of leg drops and goes for the cover. 
Before the three count can be made, the rings fill with smoke. When the smoke clears, the Warrior is in the middle of the ring. Hogan attacks him from behind before the smoke refills the ring. 
This time when the smoke clears, Warrior is gone before he comes running from the locker room. Stevie Ray begins fighting Warrior as Hogan sneaks out of the ring before having the Disciple lock the cage shut. Warrior begins stalking Hogan from inside the cage, following him around both rings.
In an effort to get to Hogan, Warrior kicks through the cage and chases Hogan down the entrance ramp. Hogan gets to the locker room while WCW security holds the Warrior back. 
After all the Warrior shenanigans, Stevie Ray misses his attempt at hitting DDP with the slap jack, which allows DDP to hit the Diamond Cutter. 1-2-3, and DDP is the new number-one contender to Goldberg's World Championship. 
Winner – Diamond Dallas Page
The show ends with DDP amongst the fans celebrating his victory.
---
WCW Fall Brawl 1998 is by no means a horrible show. There are some highlights. Saturn getting the in over Raven and Jericho's trolling of Goldberg stand out. Up next, I'll go one more round of War Games, just need to decide on which one.