Tragedy struck the wrestling world Saturday, May 11th, 2019, in an event from London, England, when Silver King collapsed in the middle of a match with Juventud Guerrera and officially died later when receiving medical attention.
The event in question took place from Roundhouse, London, for Hijo del Santo's 'Todo X El Todo' wrestling promotion, which is a mostly inactive promotion but will occasionally run a tour once in a while.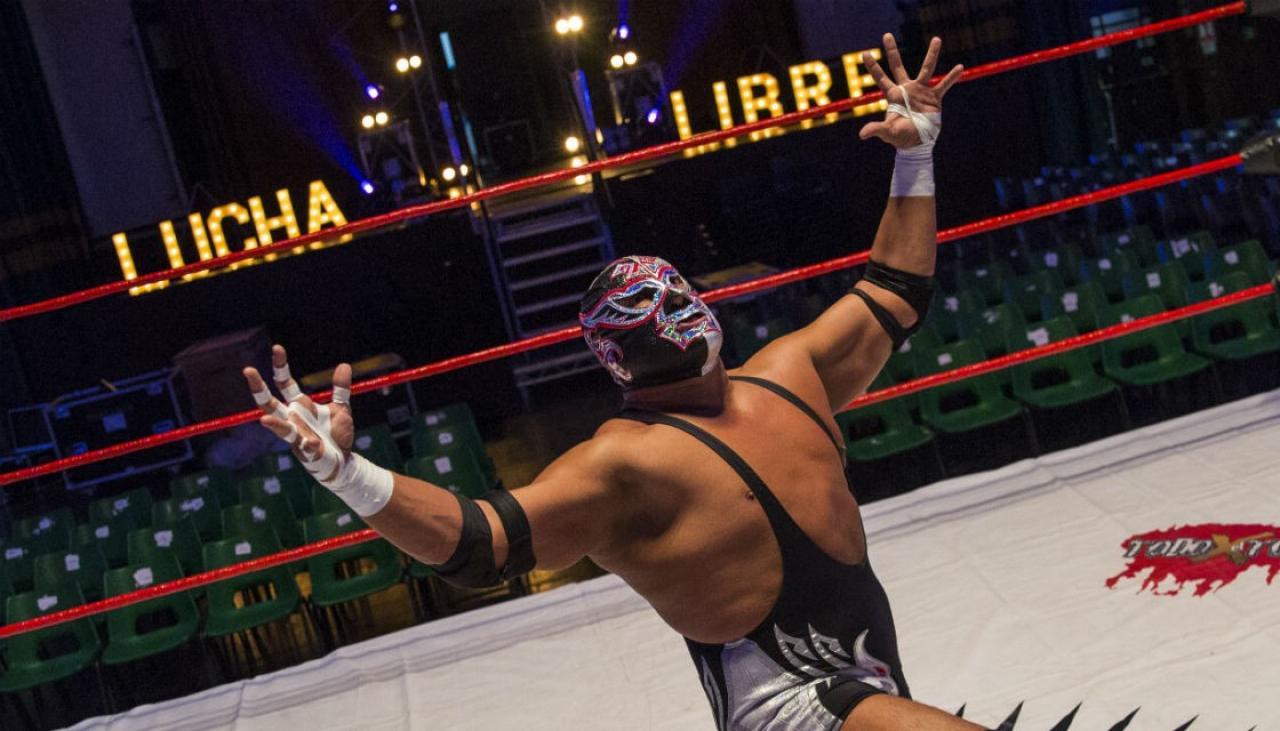 On this night, Silver King was having his second match of the night before collapsing amid an exchange with Juvy and did not receive proper attention until it was far too late. Many have argued that there was a great deal of mishandling on the part of Juventud Guerrera, the referee, and the promotion.
However, details are scarce as of now and maybe should be looked in the future. For now, it's only speculated that Silver King suffered a Stroke followed by a Heart Attack.
The news of Silver King's passing hits me hard. I was lucky to be able to tour & work New Japan with him. Such a great person. Rest In Peace, good sir.#RIPSilverKing

— Christopher Daniels (@facdaniels) May 11, 2019
Who was Silver King?
But who was Silver King? Born César Cuauhtémoc González Barrón but best known as Silver King, he is the son of legendary Mexican wrestler Dr. Wagner and brother of the also legendary Dr. Wagner Jr. He's gone by other names as well, most notably "Silver Kain," a variant of his usual name used to bypass Mexico City's athletic commission to keep using his mask.
He's also well known as Black Tiger III. The rival character of Tiger Mask in NJPW. Competing with the alias throughout the later part of his career before returning to his more famous AAA role would be his longest tenure for one sole promotion in 2007. 
Silver King has worked in almost every major wrestling organization globally, such as WCW, NJPW, AJPW, AAA, CMLL, UWA, and IWA-Japan, among many others. Mostly working as part of the tag team "Los Cowboys" alongside Texano and winning many a Tag Team Championship across the world.
Despite his great talent and charisma, the man never really was much of a singles wrestler. Only four of his fifteen listed Championship wins were singles titles—three-under Jr. Heavyweight divisions and one was CMLL's World Heavyweight Championship (CMLL's titles are all under divisions, so this is not equal to a standard World Heavyweight title).
However, his most notable mainstream exposure came in the form of his character Ramses. The main antagonist of the Nickelodeon film "Nacho Libre" was (very loosely) based on the life of wrestler Fray Tormenta. He was portraying an arrogant heel Champion wrestler who opposed Jack Black's Nacho.
Ramses was a highly influential superstar who earned millions as a Champion but only cared for those earnings while the film's protagonist Nacho struggled to make money for his orphanage. 
What wrestler got to have his own hype man as he's being massaged?
Silver King. As the hype-man says in one of the most quotable moments of the film, "Ramses is number 1". Having lasting impact within the wrestling community since his debut in 1985.
Following an unmasking in 1987, however, he teamed up with El Texano for his most notable mark in wrestling as the duo would go on to win numerous tag team titles. As such, in his later years, Silver King would label himself a "16 times World Champion" while working for AAA.
An obvious nod to a certain Nature Boy; however, the titles in reference were all tag team titles from all the promotions he worked. This would lead to a feud with a top draw in AAA and multiple-time Megachampion Dr. Wagner Jr.
Silver King's older brother as Silver King claimed he was their father's favorite and was the more successful of the two; however, ultimately, he came short and instead had to resort to forming a stable with a more successful close friend turned rival of Wagner's in the form of Electroshock in the stable "Los Maniacos."
A group of traitors that abandoned Dr. Wagner Jr's "Los Wagnermaniacos" group. Silver King's stint in AAA was his longest. However, it wasn't quite as impactful as his run with Texano years before. Looking on the bright side, he had a run as a top villain for some time before returning to his mid-card role, working with various tag team partners as the twilight of his career set in. 
Silver King demands a Mega championship title match from his brother while claiming he has proof that their father loved him more.
Silver King's years in AAA may not have been his brightest, but were bright enough. He got to headline many cards as well as work alongside his brother. It came off a less pleasant time for him as he, along with many others, was not pleased with his time in WCW. The pay was good.
But he was not creatively satisfied being hardly used on TV and such. After years in WCW merely filling out the roster with no real direction, he was released in 2000 and returned to CMLL. However, he did not compete under his famous character.
Instead, he was given the character of "Black Tiger" and sent to NJPW. While that was somewhat odd, it got worse for him when NJPW decided to make Rocky Romero the new Black Tiger.
Silver King was re-packaged again as "El Bronco" but also had to work as Black Tiger depending on NJPW and CMLL's circumstances, making for a rather difficult period for him. He worked, yeah.
He was being used far more than when he was in WCW. But the legacy of Dr. Wagner was not evident. This lasted until 2006, when he left CMLL for AJPW for a short period and later AAA, where he would last until 2013.
It saw him go on a career renaissance, finally able to fully embrace the legacy of his family and having a chance to work on his own to make his mark. From then on, Silver King wrestled sporadically for independent promotions.
Mexico, the US, Japan, Silver King has wrestled everywhere.
Silver King is one of those wrestlers who's had a significant influence, and most don't realize it. His team with Texano as "Los Cowboys" has become a standard of Mexican tag teams presented as fierce brawling heels. It's also leaked into American wrestling in one form or another.
Being one of the son's of the noted "Galeno Del Mal" (Doctor of Evil), he inherited his father's brawling style. This mixed with his knack for studying Japanese and American wrestling. He became capable of adapting to any wrestling style.
Plus, he had the perfect partner to add to that in Texano, who also exhibited the same brawling style and made them very apt for all the various promotions around the world they would compete in, leading to many bloody battles with the likes of the Headhunters.
The Puertorrican duo meant to emulate Abdullah The Butcher would be their most notable rivals competing all over Mexico and Japan and tussled for various tag team titles.
One of MANY matches between the two teams
Rest in Peace, Silver King
As far as mainstream goes, his film appearance as Ramses has already been stated. While the movie isn't precisely faithful in its portrayal of Mexican wrestling. It does tell one of the most basic but successful stories. One can see in all of wrestling in the form of the underdog rising to face the arrogant heel.
It was something Silver King portrayed gloriously by merely having a blank stare most of the film. Being a pro wrestler, he had the charisma of one, and it was very much present in the movie.
Amid the 'kid's film' comedy, Silver King was the one actual element of Lucha Libre in the film. Silver King was immortalized thanks to his portrayal in this film, and his legacy will live on thanks to such.
Of course, he came out to Smells Like Teen Spirit in AAA.
Thank you for a lasting legacy, influencing so many, not just with a unique blend of high-flying and brawling. But also by instilling the practice of studying tapes. Thank you for influencing tag teams and for taking the influence around the world. Thank you for your time as Ramses, being a gateway of wrestling to children, and thank you, Silver King, Rest In Peace. (1968-2019)
Rest in Peace, Silver King.
Originally written by AB Morales.