In Chapter 1, we recounted The Undertaker's greatest fear. With Chapter 2, it was about how The Undertaker remerged. Chapter 3 recounted his tag team match in Saudi Arabia with Kane against Triple H and Shawn Michaels. Chapter 4 looked at his journey to his tag team match with Roman Reigns against Shane McMahon and Drew McIntyre and the intriguing 'dragon ahead of for him. Undertaker: The Last Ride Chapter 5: Revelation begins with his tag team match.
Chapter 5: Revelation
It starts with Undertaker cleaning house and in a tag team match with Reigns against Shane McMahon and Drew McIntyre. He said he felt good sharing about it after the matchup. Shane shared about how everyone was receptive to the Undertaker's performance from the fans. Shane shares how he is conflicted between the fan in him and the friend in him wanting something different for his friend.
I felt good about how I was on how I left Philadelphia. The match went well. I went to Hawaii for two weeks, and I was content
– Mark Calaway
Michelle McCool shared how she wouldn't count him out just yet. She always expects him to come back. That the Undertaker has been that role for 30 years, McCool feels that she doesn't know what Mark Calaway does and how he can separate.
Mark and I had a lot of conversations in that time, and maybe he believed it, and maybe he didn't. But I never got the feeling with him that I am done. Ever. The easiest person to lie to is yourself. The dragon is still there. Basically, you're not done. What he deserves is. He deserves to be satisfied.
– Triple H
Two Months Later
New York City
Calaway spoke about how they (WWE administration) wanted him to appear at Madison Square Garden for television. That is is something special. Something that they could do all the time. He shares his favorites moments were his time in the Garden and performs where Elvis Presley and Muhammed Ali. He spoke about the importance of the Garden for him. It was the truth to him. Calaway shared that it takes him longer to not only arrive but to leave as well.
He spoke about fans and how they would get him through several nights. We then see an in-ring promo with Undertaker in the ring addressing the crowd. Undertaker spoke about how heroes were created there and competed there. The reaction was still evident for him there. He talked about wanting to be able to bottle the energy of the crowd in MSG while in attendance.
He spoke about how he is finally in a spot where he is okay with walking away. Calaway said he never felt that way before that an ovation would still drive him to want to compete.
When you are in the business that we are in. You love to see how many people can get into the building. You live for the crowds and you live for the pops. Now you have that something that brings you same highs and that same adrenaline and stuff. It can take a while.
– Stone Cold Steve Austin
Triple H shares how, when your mind plays tricks on you and that one minute, you feel like you can do something. That when you begin to think about it. It's not the same. The strength, reaction time, and ability to achieve what Calaway once could isn't there now. He spoke about how those feelings once settled in are challenging to take out.
McCool shares that this is a hamster wheel and that the constant jockeying in his mind. He says where will he be in 10 years if he doesn't have it, then what? Calaway continues by saying he will be alright. He wants to capture these last few years and the will to be the best that he can be at this point in his career. Calaway said he wasn't at that point before but is now.
Calaway then recalls a time when his father attended an event in Houston, Texas, at The Summit. His dad would shadow him backstage about his attire and then asked him about his makeup on his eyes. There was no one more proud and upset about his career than his dad. His father said he had a full scholarship from basketball to forfeit it for wrestling. He wanted to be both a good husband and father at the end.
Undertaker: The Last Ride Chapter 5: Revelation
Los Angeles
Broken Sull Sessions – November 2019
We then see a recording of Stone Cold Steve Austin's WWE specific podcast show debut with The Undertaker. It was the debut episode of the show. He spoke about how he was feeling and how it was a different perspective. To see him and address how he is out of character was refreshing to see. Calaway spoke about how this was something fans had wanted for the longest time. Austin addresses how he loves the business-like The Undertaker. He talked about wanting to write his own story and write his own ending. Calaway then shared that he had no idea that the podcast would be the gateway for his conclusion.
My buddy had said he watched the podcast with Stone Cold. And that he wants to retire on his own terms. It almost sounded like he was going to go one more match. Or two more. If he's going to do something. How can I be one of those matches that is with him?
I just want to be one of them. I said I'm going to give it a shot. The worst he could say is no. It's not a big deal. I asked Vince and if Taker doesn't want to do it then it's not going to happen. So then I caught up with Undertaker, and we just started chatting.
– AJ Styles
I had a pretty good idea of what he was calling for. He (Styles) said, when you were on Steve's show, you said 'you were going to do things on your own terms' what does that even mean? Are you going to work? Are you going to do something? Because I would love to do something with you at Mania.
I said 'bro, I would have loved to work with you..10..15 years ago.' I said, 'we could have tore the place down,' and I just don't have any aspirations of getting back in the ring. He said, 'well, just think about it..'
– Mark Calaway
Edge then speaks about the roster and says that if it was him, he wants AJ Styles. That is who I want to have my final match with. How his matches with smaller guys tend to be better. To be able to put something together with. He needs to be out there with someone he can trust. There would be no one better to get in the ring with. It could be magic, McCool shares. Undertaker wanted a couple of weeks to think about it.
When you're AJ Styles and you're as good as AJ Styles is. When you go, Mark, 'that's an intriguing dragon to chase'. – Triple H
Undertaker: The Last Ride Chapter 5: Revelation
Orlando, Florida  – January 16th, 2020
At the WWE Performance Centre, we see Damien Priest, Dominick Dijakovich, Matt Riddle, Keith Lee, Killian Dain all shake hands with Calaway. He shares that he promised Matt Bloom that he would come down to the performance center to work with some of the larger guys on the roster there. He shared that he felt some guys didn't want to look to their opposition because of intimidation rather than trusting them and trying not to be something that they aren't. It is difficult to figure out. McCool says he wants to share what is in him and pass on his knowledge. That is should be shared down to the next generation.
I got to know him best on European tours. Picking his brain. Cracking out a cold one after a match. I remember my first match with him (Smackdown, May 30th, 2002) on Smackdown. You could tell he liked me because I was arm dragging him and hip tossing him, giving him backdrops. He was taking all these bumps for me because he really wanted to make the young kid look good.
I remember we came back through Gorilla and Vince was like 'what are you doing?' and Undertaker was just looking at him like 'its good for the kid, 'i'm just trying to make the kid, isn't that just what we do?' And that response right there  I thought was so cool because he just wants to make me look good. He knows I'll return the favor for him farther down the line'.
– Randy Orton
He shares how this business is forever even if his character isn't. Calaway shares how its important to help these younger guys and girls along. We see the famous Raw July 1st, 2002 match with Undertaker and Jeff Hardy. The story told and how fans were emotionally invested in Hardy potentially winning this match. To be in the main event of Raw and how it earned the respect of the Deadman.
Undertaker: The Last Ride Chapter 5: Revelation
The Next Day
Calaway how this would be the first time he would be in the ring since Extreme Rules. He trains and sees what he can do with those at the performance center and make an assessment of where he is at and their youth and desire. This is how you don't become the bitter young guy and that he wants to work through it with them. Their hunger becomes infectious with him there. He still feels torn and how he has to be completely committed. Calaway shares how Extreme Rules was where he was quite happy with his performance.
WrestleMania 18 – March 17th, 2002
Toronto, I was working with Ric Flair. It was WrestleMania and I remember Ric coming back and thinking how his confidence was in the tank after WCW. What are you talking about? You're Ric Flair. You are wrestling. This is what wrestling is all about. You know, you're the Nature Boy. Woo! All that. I didn't understand these last few years and I know exactly what he was talking about. I know what that self-doubt feels like.
Don't think about all the hardships. Or about all the sacrifices Michelle is going to have to make. Or the time I am going to have to spend away from my daughter. I'm going to have to go home and think about it. Talk it over with them. Pray about it. This thing could on forever. It would be the longest documentary of documentaries. Undertaker would not die. He would not go away. Making his way to the ring…with a walker. Hopefully, I'll get some clarity really soon because I know they need an answer.
–  Mark Calaway on feeling conflicted in Undertaker: The Last Ride Chapter 5: Revelation
He says how he and Michelle talked about it. Calaway shared how he was watching AJ's work and then he decides to agree to do it. He wanted to make sure that he wanted to wait a couple of days. Calaway then puts Vince up to messing with Styles and that he wanted to face someone else but he wasn't buying it.
Undertaker: The Last Ride Chapter 5: Revelation
Riyadh, Saudi Arabia
Super Showdown – February 27th, 2020
We see Mark Calaway arrive in Saudi Arabia and leave the vehicle upon his arrival. Styles then shares that it probably doesn't mean that much for him as another WrestleMania. However, for Styles, he shares that he gets in the ring with The Undertaker. He calls this the biggest match of his career. Styles says that he wants Undertaker to be so satisfied that he can walk away on top. That there could be no one he steps in the ring with that would be better than Styles.
We see The Undertaker comes out while AJ Styles stood in the ring. That he had arrived and could be anyone of any era. Calloway shares his excitement in facing Styles.
Austin Texas,
March 10th, 2020
Lakeway Crossfit
We see Calaway planning and preparing to train for an upcoming match and feud build-up leading up to WrestleMania. He is in Harry Shaw's gym who is getting him through the paces in preparation. Calaway says he will be 55 years old by the time, WrestleMania comes to be. He has to ensure that his cardio is on par and even higher than it had been in the past. Calaway then shares that he is aware of the critics of how he has to train even greater harder than he had in the past. It is about achieving even a quarter of the results to train two times as hard.
Undertaker: The Last Ride Chapter 5: Revelation
Raw
March 9th, 2020
Fans are chanting Undertaker as AJ Styles is in the ring. Styles shares about what took place 3 years prior. How The Undertaker was beaten by Roman Reigns and the symbol of how he appeared as though he was ending. Styles then shares about how the moment however was 'ruined' by The Undertaker
The one thing I learned about WWE is it's all about the moments. That is the key…this is going to be personal. He wants to make it so personal that he wants a piece of AJ Styles. 
– AJ Styles
McCool shares the buildup wasn't what he expected. She didn't anticipate him cutting such a scathing promo. In fact, she shares how she texted Styles' wife with how good it was and how she wanted to hate him too. Calaway shares how will he go out there and be the Undertaker with Styles cutting a promo on Michelle. He continued on about how he felt a little stale come the year 2000. If he felt that way, he thought how would the audience have felt about the character? He then proceeds to share that the business was changing and evolving so quickly.
The character needed to change with the times. And the times were the Attitude Era and everybody was louder, ruder, rowdier.
– Stone Cold Steve Austin on The Undertaker character in 2000
Calaway reflected on that time and said if he doesn't evolve the character somehow so that it fits in then, he felt he would have gotten lost.
Undertaker: The Last Ride Chapter 5: Revelation
Judgment Day – May 21st, 2000
We flashback to a Degeneration X beatdown in the ring. It was at that time when we see the debut of the American Badass Undertaker come to the ring. While riding his motorcycle, Undertaker came into the ring and cleaned house.
I would keep elements of the Undertaker but I needed to bring in new ones to make it work in that era. I could talk as much smack as I wanted and didn't have to worry about staying in the confines of the traditional Undertaker character. And I don't think The Undertaker would have survived if I hadn't made that switch.
– Mark Calaway on the transition to the American Badass Undertaker in Undertaker: The Last Ride Chapter 5: Revelation

Edge shares about how Calaway knows his character better than anyone else knows theirs. He also knows he didn't want to change the character because of the fear of changing the mystique about the character. Calaway then proceeded to share that there was another side to the Undertaker and this new persona was just that. Executive Producer Bruce Prichard states, 'as much as Mark Calaway is the Undertaker, The Undertaker is Mark Calaway. They've merged'. We then see The Undertaker have to evolve bring with his elements of The Undertaker, The American Badass, and Mark Calloway involved in his match with 'Allen Jones'.
Calaway had envisioned that the match that this match would have been in front of 80,000 people. However, as the pandemic hit so did the realization that things would have to be different for this match. Once the realization of WrestleMania not taking place in Tampa, Florida, and moved to the Performance Center also came a rethinking of how to present the match.
Undertaker: The Last Ride Chapter 5: Revelation
Orlando, Florida – WWE Performance Centre
WrestleMania would take place over two nights and some things would happen off sight. Calaway is perplexed in how they would possibly pull this off with no fans. He points out how valuable they are to the performance. The discussion of what is a 'Boneyard Match' is and how they would have made this work was remarkable. Calaway then shares how fortunate to have this match happen off-site. He knew with how the build for this match was that it had to happen off-site.
Calaway then shares how his niece called him saying that his brother had a heart attack. When he asked what hospital did they take him too, she responded with, 'No, Uncle Mark…he didn't make it'. He then says he needs to be the one to call all his brothers and mother and let them all know. Knowing what this was going to affect her (his mother). He stresses the importance of family and that he wouldn't be able to be there because of the pandemic. Calaway needs a minute to compose himself in talking about it. He then shared that it was difficult for him to have to go in the next day and perform.
It was difficult because the focus was on this ending when someone is buried. We are then privy to some of the early moments of the match. Styles greets the arriving Undertaker. He says that he's digging Undertaker's grave. The match had a 25-minute fight scene. It was at that time when we see Anderson and Gallows arrive. Styles then comes after The Undertaker. We see Styles attempting to escape the wrath of The Undertaker. Styles is then beaten down and choke slammed off the roof! The Undertaker walks away he then proceeds to wipe out Styles with a big boot. He then buried Styles. Calaway then shared that while it wasn't the original plan it was still successful.
He shared that a lot of thoughts were going through his head as he rode off into the darkness. Was this the last time he ever did this?
It was a difficult night and it was every bit as rough as it looked. Five minutes into shooting I put my hand through the herse window. It chews up my arm so we have to stop shooting immediately. So we have to clean my arm out dig the pieces of glass out of my arm. What happens when you feel that way is you get started and there's a stoppage. They've got to switch cameras around. They've got to lighting around.
And for me from where I'm at physically, just standing in one place is the worst. It allows that adrenaline to come down a little bit. And it allows whatever it is that's hurting to make me think 'yeah, that's going to be bad tomorrow'. It was just a really long night and we wrapped at about 5AM. I knew things that we were filming and the things that we were doing were going to be cool and then when I saw the final product I was like 'well, like this turned out really cool'. And then the feedback that was the icing on the cake.  Everyone had nothing but positive things to say about it. That's very rare.
– Mark Calaway on The Filming of the Boneyard Match
Triple H then shares that it was just phenomenal. The storytelling and selling and aura and mystique of the Undertaker was back with this story being told. Calaway then shares that his specialty is storytelling. When considering the buildup to the match and the payoff of the match its storytelling at its best. He said it wasn't what he envisioned when he said yes to the match. However, it was damn good and that he can hang his hat on. 'How do you top that' is the question he asks.
Undertaker: The Last Ride Chapter 5: Revelation
Two Months Later
We see Calaway fishing with Michelle by his side. He shares that there is no pressure where he is. Calaway said its time to relax and enjoy yourself and forget about all the other things that are going on in the world. It is a very peaceful and tranquil scene. This encourages him to slow down. McCool proceeds to share that the more they go out there and relax that the more she is hoping that he won't want to leave there. That he will be a peace with whatever decision he makes that he is there and comes to. This place is peaceful and where she feels he wouldn't have a worry in the world while there, other than catching fish.
Calaway then shares that considering all that was going on in the world that he feels very fortunate to even have that match. That it was still different yet physically taxing. At the end of the film shoot, he shares that he felt he did a 45-minute match. Michelle then pipes in how it was a very difficult week for them emotionally with Mark's brother passing away. Then she shares that the Sunday evening, her nephew Rhett passed away in a car accident. He had just graduated high school. She shares that in these times, it is family that she is most grateful for having.
What is interesting was how Calaway shared how the passing of Basketball legend Kobe Bryant's passing equally effected.
How his death struck home for him. It made him realize that he wasn't going to get the time back so it is time to give back to his homelife. He shares that he doesn't want to miss anything else personally. His match was tremendous and the legacy of the Undertaker speaks for itself. That at the end of the day, it was all that had mattered. Calaway then proceeds to share that he has his personal life that he needs to live and experience.
McCool then shares that the transition from The Undertaker to Mark Calaway the person is where the challenge has remained for him. She knew it was rough but that he is now in a place where he can be happy about where he is. Calaway can reflect that his last match was against one of the best in the business in a match he can be proud of having.
Are you happy enough with that? It was a powerful moment for him and that is a perfect ending to a career. He then proceeds to ask the question would he ever come back if Vince was in a bind? Calaway ends that by saying only time will tell. He then says that it is something he would have to consider. However, at this point in his life, he has no desire to step back into the ring.
We then get a moment in which Calaway reflects deeply on what he is essentially saying.
I'm at a point. This time the cowboy really rides away. There is nothing left for me to conquer. There is nothing left for me to accomplish. The game has changed. It is time for a new guy. The time to come up and the time just seems right. I think this documentary has helped me discover that. It has really opened my eyes to the bigger picture and its allowed me to not judge myself as harshly on these last few years. To see me on a broader scale.
My peers giving me their insight. I really got a genuine sense that they cared for me and want the best for me. It's been hell allowing this part of me to come out and having people accept it. I've only ever given them The Undertaker they've never gotten Mark Calaway. All signs are that they accepted Mark Calaway. I can do more outside the ring than I can inside it now. I'm finally in a place where I am able to accept that and I'm okay with it.
I've been very blessed to have two families. My wife and my children and then my family on the road. Brian Adams. Yokozuna. The Godfather. Shawn Michaels and Triple H. Bret Hart and Mick Foley. Obviously the Mayor Kane, Edge. I know there is too many to mention not only on a professional level but on a personal level. So many people that I consider true, great friends. I just can't thank you guys enough. Obviously, Vince, he's always had my back. Thank You. I consider myself blessed to be able to do something for as long as I've been able to do it.
– Mark Calaway reflecting on his career

Undertaker: The Last Ride Chapter 5: Revelation
We then hear his peers reflect on what they think of him and his career. How he carried himself and what he's meant to this industry. From Bret Hart and Edge to Shawn Michaels and Kane, Calaway is best described as the rock that waves would crash against when tides rolled in. Always there to be steady the waves.
He said that he gave most of his adult life to his career. That they all helped to shape the person that he is today. He will miss everyone that he was on the road with and most he already does miss. Many are honored to know him, befriend him and work with him. Whether it was The Godfather or Kurt Angle that defines who he is in and out of the ring. Foley shares that his life would be very different had they never crossed paths.  Mick Foley shares that The Undertaker put not only himself but a number of wrestlers on the map. He was never off any time he faced them at any point which is very telling of who he was as a performer. Many credit him with teaching them both in and out of the ring. He is valued and respected.
John Cena pipes in that The Undertaker set the bar for who is respected and where that should sit. Calaway says that it doesn't work without his opposition and the fans standing by him. Every time he said he went out to do the best that he could on any given night. What it meant for him to perform in front of an audience. That to perform in front of as many people for 30 years was nothing short of phenomenal.
His legacy is that there will never be another
– Triple H
No question Mark has made the best of every opportunity. From family to the business to his professionalism to who he is as a human being. He can look back and say 'I did good'.
– Vince McMahon
Calaway shares that the business will always be a part of him. That the business has given him everything. He shares that he did things his way and that he's going to leave his way. Calaway then shares that he is 'good with that'.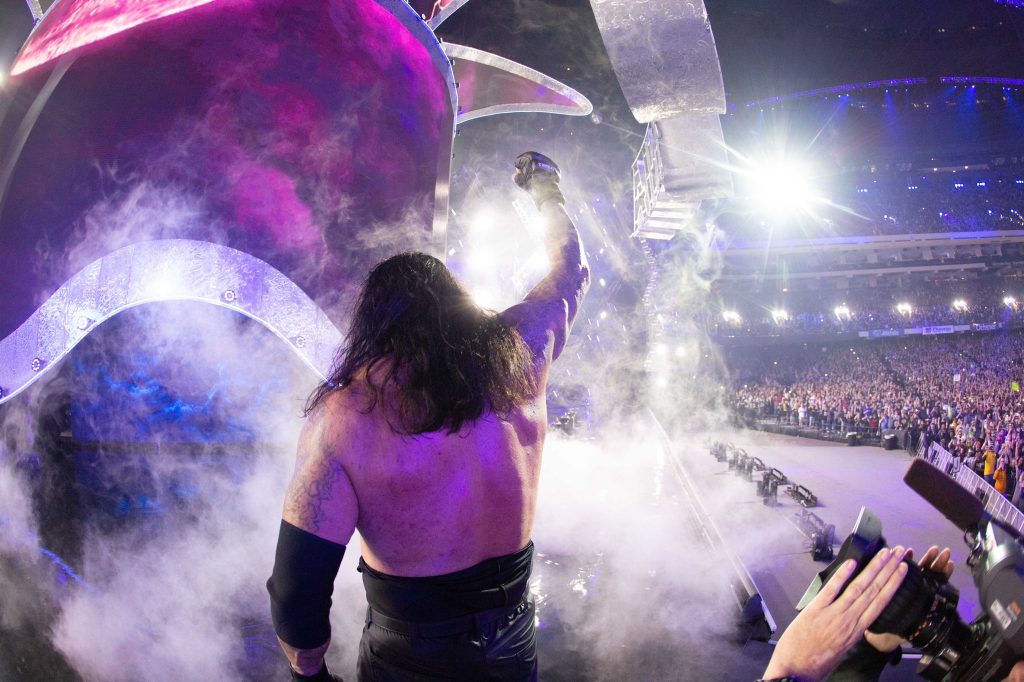 Reflection of Undertaker: The Last Ride Chapter 5: Revelation And The Series As A Whole:
Here at Pro Wrestling Post, sharing my personal opinions isn't something I will typically do. Upon watching this five-part series the first thing that strikes me about the Undertaker was how beloved he has been. There wasn't anything he hasn't said that as a fan of wrestling I couldn't see. While I couldn't claim to be the biggest of Undertaker fans watching this series made me want to relive his career.
He never claimed to be the best wrestler ever. Calaway didn't have to because that is bestowed upon him by not only fans but peers. Yet, to many, he will be seen as one of the greatest performers every. His character alone stands the test of time. Will you ever find a performer as invested in a character for 30 years like Mark Calaway was with The Undertaker? There is lifely a handful of those that are very protective of their character in the ring than Mark Calaway.
This documentary was beautifully shot and shared insight into his relationships and parallels that he faced inside the ring over the last few years. The support his family has provided him during this time has been quite telling. His final match and the buildup to it was as close to perfect as it could have been. In fact, it brought his two lives together when he faced AJ Styles. Whether it was taboo or not to peel back the curtain and see that The Undertaker and Mark Calaway the person could be separated was fine because people wanted that. Now it is time to sit back and live the life you deserve that you've created a legacy that no one will ever be able to follow.
Thank You Taker