In Chapter 1, we recount The Undertaker's greatest fear. With Chapter 2, it was about how The Undertaker remerged. Chapter 3 recounts his tag team match in Saudi Arabia with Kane against Triple H and Shawn Michaels. Undertaker The Last Ride Chapter 4: The Battle Within begins with a shot of Riyadh, Saudi Arabia, Crown Jewel November 2nd, 2018.
It was a flashback to the tag team match between The Brothers of Destruction and Degeneration X in a contest that was a 'trainwreck.' Undertaker says that he took the results of this match on him as he wasn't mentally focused. He alluded to family things taking place at the time as a contributing factor.
'When you can't go like you want to go or need to go, it's tough. But Father Time catches up with every single person. That's just the way it is" – Stone Cold Steve Austin.
"..just don't want to see him get hurt. His heart is in the right place, and his head is in the right place. His body is in a different place". – Batista
Calloway refers to his personal drama playing a part before this match at the time. He said he left Saudi Arabia, believing he was done.
Undertaker The Last Ride
Chapter 4: The Battle Within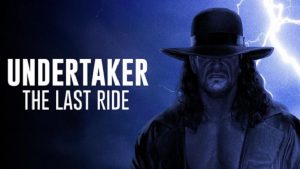 Calloway begins to share that the days for him in the ring may be coming to a close. That it was vital for him to explore other options as was coming to the end of this portion of his career. He shares that he passed on several things as that they weren't true to the Undertaker character.
'Not many guys could have pulled that off. I can't think of any guy that could have'. – Scott Hall
'There is this thing where people say that your character is you just turned up to ten. But for the Undertaker its always-on ten'. – Bray Wyatt
We see his commitment to The Undertaker. Mick Foley spoke about how he knows less about him now than we did twenty years ago. He shares that he knows less about him now than he did almost thirty years ago. Bruce Pritchard spoke about how he first purchased books about death. We see some of the lighter side of The Undertaker's character evolving in the cemetery area. Pritchard spoke about how committed he was to his character.
'…the early years you didn't see me without him and him without me. We were always together. We traveled together. It was the perfect chemistry. In those early days, Undertaker didn't say anything. He just stood there while Paul Bearer was all 'oh yes."– Percy Pringle (AKA Paul Bearer circa 2012)
Undertaker: The Last Ride Chapter 4

Pritchard discusses the early time with the promos and vignettes in the cemeteries. How the conditions in which they filmed were in the worst weather. He's referred to as an absolute professional in and out of the ring.
Calloway spoke about how he was The Undertaker 24/7 and will dress in black everywhere he went. Vince talked about how committed The Undertaker was to his character. The image was protected, and Calloway shared that it was a constant. That he was always in control of his emotions. We see attempts to try and get him to break character that never did.
"It was an investment that I made in the character. I didn't think people would have accepted the character they way they did if I'm out here doing these other things. I'm this guy here, but then I'm this guy…here."
"Which today, it's just normal. So I started working with a social media group to get my name out there and get some endorsements and exposure in some other things, and I agreed to do an autograph signing in Las Vegas. It wasn't pitched to me that a competitor had a show that was running parallel to this autograph signing. I was oblivious. I wasn't even keeping up with what was going on and any of that."
"Vince calls me and asks me, 'what are you doing'? I said I'm doing a signing. He goes, but yeah, but you have all these people thinking you are going to do this. It's stupid. Anybody that knows anything about me knows that I'm not going to a different company. I've been here forever. I'm not going anywhere. I'm not going to jump ship to go to..why would I?"
"Vince and I had a little bit of a falling out over it. I understand where he is coming from. He has a business to run, and I also have a position of my own that I needed to. We both didn't talk for a while. But then we both barred down and talked, and things all worked out. Since then its all been sunshine and rainbows since" – The Undertaker on his character, the Starcast II situation, and how it affected his relationship with Vince.
Undertaker: The Last Ride Chapter 4
New York City, April 4th, 2019
Calloway spoke about how he was taking it easy as they were leading up to WrestleMania. That year he didn't have a match. He shared that he's okay with WrestleMania coming and going. He said that as time draws near, he'll wonder why he isn't getting ready. Calloway then shares that it had to make sense for him to be on the card rather than just be on the show, only to be on the show. We see Calloway speaking with Bruce Pritchard and how he shares that he has nothing to do. It is a rare opportunity to enjoy the time with his family. This was precisely what he did.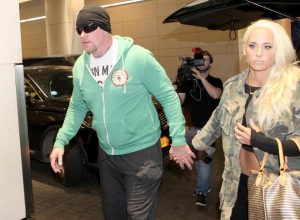 Both he and wife Michelle take their daughter to the WrestleMania Axxess show. Calloway shares how his daughter is intuitive and that she is aware of what she did for wrestling. We see him exchanging pleasantries with The New Day and Ricky Steamboat backstage. Calloway then proceeds to share a laugh with several of today's talent. Michelle shares the awkwardness of this all. She then shares that the Saturday before WrestleMania that he is needed on the Raw after WrestleMania for an appearance.
McCool shares that he knew that he wanted to do it, but he wasn't prepared. A light moment of him forgetting his gear is shared. It was at that point where he had to take a flight back home to fly right back to New York from Texas.
Undertaker: The Last Ride Chapter 4
WrestleMania 35 – East Rutherford, NJ
April 7th, 2019
Backstage we see Undertaker taking in the sights and sounds of the day. He shares that he is just a spectator. It was an awkward moment to see that he wasn't on the card but that he should be getting a break. We hear Mark Henry sharing thoughts of his relationship with The Undertaker, not unlike Batista's feelings for him as well.
We then witness Vince teasing Calloway for not bringing his ring gear with him to the show. To that, Calloway razzes McMahon right back, saying that a pro would have booked him in advance.
'I've said this before. I've said I've heard Mick Jagger say this. I can't understand some people taking something to getting up for a show. I can understand taking something to come down from it. The feedback from the live audience is the best'. – Scott Hall
'It wasn't until the show started we went up to Gorilla. We were watching from there. That's where it really hit me. I should be out there'. – Mark Calloway on the realization of not being on the show.
"…it was a rough night sitting there and watching the show going on and thinking in my head that I should be out there and I'm…not. It let me know that there was a passion still there. Moving forward, I think it will be a little bit easier now that I've been through this. If I can get through the day without working, it'll be okay. It is what it is...' – Mark Calloway on the realization of not being on the show and moving forward.
Undertaker: The Last Ride Chapter 4
Raw – Brooklyn, New York
April 8th, 2019
We see Calloway in the dressing room preparing for the Monday after WrestleMania. He shares about how the suitcase with him was what he flew back to Texas to pick up. His mentality was that he would be ready when he's called upon to perform. He comes out, interrupting Elias' performance. In the backstage area, he shares that this is building up to the matchup against Goldberg in Saudi Arabia. Calloway shares that this upcoming match with Goldberg would be his redemption.
Undertaker: The Last Ride Chapter 4
Raw – Austin, Texas
June 3rd, 2019
Calloway is backstage talking to McMahon and Michelle McCool. He shares how this match can deliver on the hype of what this could mean to everyone in the industry. He's sharing some laughs with those on the roster, including Vince. The two exchanged ideas between them behind closed doors. A promo begins to deliver a promo about facing Goldberg later on in the week. The mood of The Undertaker is quite upbeat and looking forward to the opportunity.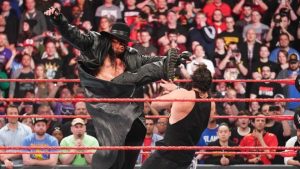 Undertaker: The Last Ride Chapter 4
Super Showdown – Jeddah, Saudi Arabia
June 7th, 2019
Both Goldberg and The Undertaker share how they are equally looking forward to facing each other. Early on in this match, we see the two battle. Then it quickly changed. Goldberg charges The Undertaker and went headfirst into the steel post cutting himself open. Calloway says that Goldberg was 'concussed' early on. At the very least a head injury. We can see how they two continued on and then the failed Jackhammer attempt was delivered when The Undertaker landed on his head. The reaction by those in attendance was rather squeamish. A failed Tombstone piledriver followed. The sentiment by those watching was echoed by Michelle McCool. 'It was a trainwreck'. It wasn't anything anyone wanted. A Chokeslam after the match was that it was mercifully over. Both men were upset and disappointed.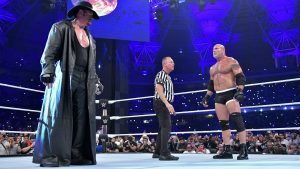 The concern after the match outside of disappointment was the safety of Calloway. He shared how much pain he was in after the match. It was a scary moment to both watch and have to relieve.
'..it was a long flight back to the US and my back is bothering me. I'm thinking maybe its time. You are out of gas and you have a wife and kids and are risking permanent injury. And all that stuff comes flooding into your head and then I need to take a real honest look at this and assess where I am at. Is it me?'
Austin, Texas
June 12th, 2019
The thoughts of what took place in Saudi Arabia flood Calloway's mind. He questions why and how's of things are taking place. A great deal of these concerns centers around his now growing self-doubt. The doubt coupled with the pain he's suffering says a great deal for him. He spoke about the upcoming Extreme Rules event taking place and his commitment to that event as well. Undertaker was scheduled to team with Roman Reigns against Drew McIntyre and Shane McMahon.
Extreme Rules – Philadelphia
July 14th, 2019
Calloway arrives and discusses how he is set to team with Reigns against McIntyre and Shane McMahon. We are then flashed back to Monday Night Raw on June 24th, 2019. A perched Shane McMahon prepares to hit his Coast to Coast when at that moment…for whom the bell tolls. He shares about how others speak about him. Calloway shares that he has his own expectations for himself and make others forget about Saudi Arabia. It means less about what he's done in the past and more in the present. We see Undertaker and AJ Styles and then Strowman, Lashley, and Jeff Jarrett all communicating before a show.
Calloway opens up about this being the one thing in his life that he is absolutely sure about. He knows what to do in certain situations. It was the one thing if something came up he had the answer.
'This is one of the most addictive businesses that I think that there is. It's so great at its greatest level. It's so the perfect form of entertainment if you really love it. The talent that you are on the road with are your family.  The people that you are in the ring with are your family. It's addicting that connection, electricity, that fan, that reaction, all of it'. – Triple H
'I think that the biggest thing is really am I ready for that change? There is also a comfort in that groundhog day. It's familiarity, It's the stuff that you know and It's like a friggin drug deal. Any addiction is bad even if its a healthy stuff'. – Shawn Michaels.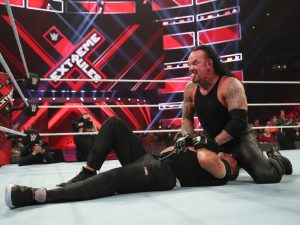 Calloway and Edge share about comfort about the struggle that comes with having to come to grips with time. The business will go on long after he is long gone. Steve Austin knows when his time will come. He shares that Calloway knows that Father Time is knocking on his door. However, it has been Calloway's conversations with Shawn Michaels that are the most telling.
Flair and Michaels share about how the challenges of leaving the business. That their body of work will remain and stand the test of time. Calloway is starting to see that he physically can't do what he once could do. The struggle is real.
With Extreme Rules is upon them, we see Undertaker preparing for the moment. A great deal of thought crosses his mind. Could this match very well be the last time we see the Undertaker? As the match unfolds we see, The Undertaker getting the fans involved and hitting his signature moves. We then see Shane hit a top rope elbow on The Undertaker through a table. He takes Shane's best shot and then recovers as Reigns spears McIntyre taking him out of the equation. A tombstone by The Undertaker puts Reigns and The Undertaker in the winners' circle.
The thoughts after the match were that this was a success.
'I'm done. I'm not there anymore. It's not there. I know. My body's not though. Well it's my body and my long term. I'm going to go, get out and think, but..I didn't want to just want to spring that on you, I mean I'm springing it on you now but..I need to evaluate'. – Calloway to McMahon post-match.
'We're all chasing that pop. I think that that's the most difficult struggle that anyone of us that are in there have that something that makes us feel in life like we do the way we do when we are in that ring'. – Mick Foley
Hall, Michaels, Triple H all share perspective on the struggle of being in the ring anymore. The feeling of loyalty to what they continue to be everything that went well.
After the match we see AJ Styles and The Undertaker walking together in the backstage area. It is at this point where The Undertaker asks the cames to stop.
On the Final Chapter –
We see a series of how he wants the ending. He wanted to go one more match. The belief that if it the last time is against AJ Styles it is an intriguing…dragon to chase.