In Chapter 1, we recount The Undertaker's greatest fear. With Chapter 2, it was about how The Undertaker remerged. The next episode of Undertaker : The Last Ride Chapter 3 begins with the closing moments of his match at WrestleMania 34. Undertaker delivers a tombstone pile driver to John Cena. The match left The Undertaker feeling bittersweet. In one sense he was grateful for how the match turned out. However, in the other, it left him feeling empty inside. Calloway shared that this was the first time he was prepared to do a twenty to thirty-minute match in a long time. He had trained and was in a better place physically than he had been in a long time. His personal and professional sides were conflicted.
I was able to train for the first time in a few years the way that I wanted to train. Pain-free in my hips. I was prepared to do a twenty-thirty minute match. You would think, John Cena / Undertaker it would have been a different deal but… – Mark Calloway on his WrestleMania match against John Cena
After his match with Cena, Stephanie stops him and shares how awesome she thought he was. He didn't feel that he was. But he has a higher expectation for himself. He is looking for that one match that brings him back to what he has once done. A match that brings him back to yesteryear as he put it that delivers in every facet of the match. Whether its story and athletic requirements that happen in a match. The problem was he didn't achieve that with Cena and a….3 minute match.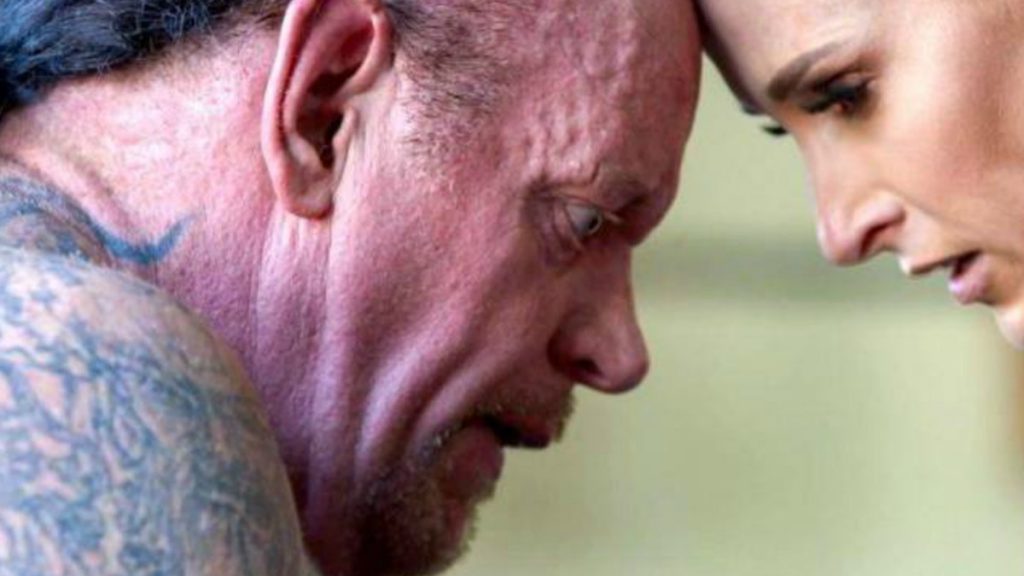 Undertaker: The Last Ride Chapter 3
End of an Era
As Stephanie is sharing words of support for The Undertaker's performance, Michelle McCool and his daughter arrive to congratulate him. After the match, we see a sweet moment of his daughter being unsure whether or not he won his match. In the dressing room area, The Undertaker shares that his daughter hasn't been awake to see him win a match. It's typically because she's fallen asleep during them. He jokingly shares that it was great that he had an opportunity to crush her favorite and let her know her daddy was still the man.
McCool shares that she was disappointed as well much like Calloway that the match was only a few minutes in length. However, she is quick to point out that emotionally he did a great deal to resurrect him and his confidence.
"The fire was really lit once I came out of the Cena match. I was good and I was in shape. I was like shoot, I could work a few matches. And I was ready to go". – Mark Calloway
Jeddah, Saudi Arabia
Calloway shares what he says they are trying to do in the country was intriguing to him. He found it to be an honor just to be invited. Calloway shared that it was all part of the Saudi's and that initial relationship in the country. We're shown footage of a dinner with the likes of Kurt Angle, The Undertaker, Roman Reigns and Brock Lesnar as they are all seated with Vince McMahon.
Calloway shares in his wonder as to how the show will be perceived and where they are. He looks back at the casket as he faces  Rusev in a Casket match. After the match fireworks commemorate his win as a celebration begins for the dead man. He shares that he didn't feel as good as he did in New Orleans (against John Cena) but still 90% better than he had felt for a number of years. He said he can't take a match for granted at this point in his career. It keeps him feeling young.
Undertaker : The Last Ride Chapter 3
Three Months Later
It was a WWE Live Event on July 7th, 2018. Undertaker talks about headlining an event at Madison Square Gardens. In doing so, it is still special for him to do.  He said its important for him to soak it all in as this could be his last time competing there. It was a special night for him.
"When I rolled up to the garden it was all lit up in purple for me. That was a really special moment for me. After all these years in the business and sometimes we get a little jaded about things and then that was wow, that was Madison Square Garden that's been Vince's house forever." – Mark Calloway
He spoke about the fans that were in attendance at the Garden are some of the most passionate fans anywhere. Calloway was also quick to point out that talent need to bring it when they are there or they will let you hear it if you don't.
"They pay money to watch the best wrestling card in the world and we've got to give it to them" – Mark Calloway
It was a six-man tag with Strowman and Roman Reigns in there. He shared that he wasn't sure what he had going in there but it was meant to help him to shake off any rust. Calloway talks about how good it felt to get in there with a group of younger talent. After the match. Calloway shares how he took time to soak in the crowd. It is something he never does. This time felt different. It was as though this was the end. He said that he was reflecting on the past. It was special and we see that it was a memorable night and he's said he was okay with that. However, there was a moment in which he appeared melancholy after making the statement. The camera followed his expression in what could have been nothing more than him reflecting.
"I think those closure moments help if they're great. But its a catch-22. If those closure moments are great it makes you want to have another one." – Triple H
While these matches are great they aren't what he is looking for. He is looking for those moments for him to say that's it. That he could put his six-shooters on the shelf and call it a day.
Undertaker : The Last Ride Chapter 3
Austin, Texas – September 18th, 2018
He spoke about when he comes back home that he shuts down from the ring. With Michelle by his side he jokingly says he thinks he's going back to work full-time. He is referring to back in the ring, knowing full well that he can't. Calloway speaks about how he's always thinking of how he can make things new, fresh, and different. His mind is thinking about what he could do differently.
How far am I out and how much do I have to do to get myself there? – Mark Calloway
Undertaker : The Last Ride Chapter 3
Lakeway Crossfit
We see Calloway training but he speaks about a call he received from Vince and Triple H.
"I get a call from Vince about facing Triple H. Oh, you want me to face him (Triple H)? Oh and you want me to travel to Australia to do it? Yeah, sure I can. Let's get it done" – Mark Calloway
WWE Super Showdown was slated to take place Live at The MCG in Sydney, Australia with The Undertaker facing Triple H in what was being billed as the last time ever. We see a recorded promo with Vince stating it was to be an end to an iconic era in WWE history.
"When I first came into the company in 95′, me and The Undertaker had an aura. That Undertaker persona was legit. We had a few opportunities to be in the ring. Maybe that changes his respect level for me. There was one night where we were all, everybody was out and he kinda motioned for me to come over.

We're out doing shots of Jack and he kinda sat there looking at me for a little bit and we starting talking and he finally said to me. 'You're alright with me'. We did a shot a Jack and I don't drink and he knew it but I think it was kinda the icebreaker for me and him." – Triple H on The Undertaker sharing with him that he was essentially respected.
Calloway also shared how he and Triple H always had mutual respect for one another. Whether it was how they approached a match and how they told a story in the ring. He spoke of how he enjoyed working with Triple H.
"As a locker room leader, he was sort of a sounding board for things. When Steph and I got together. And were starting to have a relationship together. The guy that I talked to about it was Taker. He was one of the most supportive guys of it. He (UnderTaker) said screw it with everybody else and their opinions. You know what you bring to the table and so do I. If anybody doesn't like it that's their problem. He was in our wedding at a certain point time. You find yourselves being two of the ones that will always just be there. When you walk to the locker room the one guy that you can relate to everything that you have been through for the last 20-25 years or whatever was Taker." – Triple H on his history with The Undertaker
Both Triple H and Mark Calloway share that they don't have a buddy-buddy day to day relationship with one another. That each of them knows that if they ever needed something from one another that they would be there. Calloway shared about how he has special chemistry professionally with Triple H. While he has that with many wrestlers overall it is his matches with Triple H and Shawn Michaels.
He spoke about his two matches with Shawn Michaels that he would put up against any match. Calloway doesn't hide that outside of the ring he didn't like Shawn early on in his career. However, inside the ring, he couldn't think of anyone he wouldn't have wanted to work with other than him because he was just that good. Shawn shared how his changes personally essentially changed Undertaker's perception and respect for him in and out of the ring.
The Chemistry Between Michaels and The Undertaker
They had tremendous chemistry between them. Triple H then shares how he is watching the Michaels/Taker match knowing that he was to face Randy Orton later on and thought they were screwed. That they couldn't possibly follow that performance. Triple H said that it was the greatest thing he had ever seen. The look of disbelief at one point on the face of The Undertaker along with JR's 'I'm having an out of body experience' comment made for a memorable night. When the final bell chimed at the end of their match, we flash to the backstage area to see The Undertaker and Shawn Michaels embrace proud of what they did moments earlier.
Austin:….that was storytelling and execution at its finest.
"The pressure of following not only the greatest WrestleMania match that many consider ever, but on top of that you have the responsibility of having his last match. You have already set the bar the year before" – Mark Calloway on facing Shawn Micheals prior to WrestleMania 26
We hear the commentary between Undertaker and Michaels as their match replayed and how both men felt. Michaels wanted this to be the way he would go out. After their match footage is shown of the two embracing with Triple H and Vince McMahon applauding the effort that just took place. We then hear The Undertaker share how he wishes he had the clarity that Shawn Michaels had that this was the end for him. He had the clarity before he went into the match and that is something he wishes for.
Mick Foley then shares that it is hard to think of a storybook ending for this character. However, The Undertaker said that there will come a time when he knows and that it will be understood. The last of a true phenomenon. Edge says he hopes The Undertaker gets it (that moment) and when he does that he is able to close the door.
"At that point in time, Taker is starting to talk to me about if what if on the other side of this you and I pick this up and we run with this" – Triple H
WrestleMania 27 – April 3rd, 2011
The pressure of this was for these two to have to carry on what took place the two years before.  Triple H shares about this all being a part of how to encapsulate this all together. The idea of carrying on their storyline that emerged from the Michaels/Taker matches from the years before.
Undertaker : The Last Ride Chapter 3
WrestleMania 28 – April 1st, 2012
The 'End of an Era' had nuances of the story within it. The friendship between Triple H and Michaels combined with him being the referee and having to be impartial to his inability to beat The Undertaker. These were all pivotal points in this ongoing story. Calloway talks about how the sequence of moves he is hit with to attempt to finish him off and end the streak. The superkick into a pedigree and a kick out. The frustration on Michaels's face said more without how they collectively couldn't end the streak. Calloway knew that it was the moment where fans thought that it could have been the end. The Undertaker finally ends the match with a three count.
This moment with the three of them all standing together at the top of the ramp wasn't planned. They collectively all embrace. The Undertaker shares how this was one of the most special moments of his career. He knows that there won't be someone that he stood in the ring with that he had the same history with them.
Raw – October 1st, 2018
In the lead up to their Last Time Ever we see Triple H come to the aid of his friend Michaels while The Undertaker and Kane attempt to finish off HBK. The expectations of those involved based on who they were and what they achieved before were important. However, when you add eight years between them the question remained will that chemistry still be there?
Melbourne, Australia
"With guys, Triple H, Shawn Michaels, Kane. I know they are going to be able to do what they do. And I'll be able to do what I do and hopefully, we deliver. But it is what the people are expecting." – Mark Calloway
Undertaker : The Last Ride Chapter 3
Super Show-Down – October 6th, 2018
We see The Undertaker look around at the arena as he and Triple H discuss things outside the ring prior to the match. Triple H is confident that he could have a match in his sleep with him. There is no fear that anything is lost between them. While there may be pressure to perform there is no added pressure. There was no reason to stress because they knew what the other guy was doing. At this moment we see all four men involved in the match discussing things prior to the match.
Backstage, The Undertaker is playing cards with WWE trainer Larry Heck. He shares how he's played cards in a lot of different countries. This was while he was preparing for his match. He shared that most people that know him and work with him know that he gives a lot of crap. This was directed towards Heck. Calloway shared how there is a great deal of downtime. He spends so much time with Larry that people come just to see them play cards. Calloway goes on to say how he asks people to leave the room because they are often bad luck. He goes on to give names as well.
Heck shares how they would play for pride and had nothing to do about money. Calloway says its a full-time job about how to keep him healthy.
Undertaker : The Last Ride Chapter 3
WWE Super ShowDown
Last Time Ever was all based on their history with one another.  Calloway shares how there were eight years since they last faced one another. The match was supposed to be physical. We see all four men involved in this match. In what appeared to be a nod of mutual respect. However, that wasn't to be. After the match, the moment of respect was replaced with the ultimate betrayal. Applauds were heard after the match. This was meant to be where they would be setting the stage for the final act between them.
Raw – October 8th, 2018
Triple H asks Shawn Michaels who had retired 'are you ready?' That moment was to symbolize when HBK would come out of retirement to team up with Triple H and face The Undertaker and Kane. Degeneration X against the Brothers of Destruction. It was meant to be a dream match and a way to bring closure to their longstanding rivalry. Kane shares how The Undertaker always meant to help the younger guys along. He spoke about how they both faced one another and earned each other's respect.
"He never took a day off, worked hurt. We obviously had our moments of when we worked together and against each other…You can count on Glenn Jacobs (Kane) just like you can count on the sun rising up in the east. One of the only few guys that I would ever let hold my wallet if I wanted to". – Mark Calloway on his respect for Glenn Jacobs 
Triple H shared about how Shawn and he had several conversations that would come out of retirement for this match. That the match was going to be a one-off. He felt that it would be an easy night except it was a recipe for disaster. Kane had been pursuing his political candidacy, Michaels hadn't wrestled in nearly nine years while both Triple H and Undertaker weren't competing regularly anyway.
Undertaker : The Last Ride Chapter 3
Crown Jewel – November 2nd, 2018
With the four of them in the ring with one another, Triple H shared that he tore his peck off after going over the top rope. They replay Michaels striking Kane that the Devil's favorite demon's mask came completely off. Triple H shared that the match was awful. The match was a disaster and everyone shared in that.
"It was a total trainwreck. It was a disaster…We're all human and things happen to people you don't even think things happen to. I take a lot of responsibility in that because, in my mind, I wasn't there."

"I mean I was there physically but mentally I wasn't there. And Michelle and I had some personal things going on and parts of family and so I had that drama going on in my head and I'm all consumed with…"

"If that match would have come off the way it was supposed to and as it was intended that may have been enough for me.". – Mark Calloway
Michelle shares in the vicious cycle of I know he's not going to be happy. I know he's not going to be happy with this performance which means he's going to have to redeem himself.
Michaels shares about how it's about chasing the dragon and its difficult. Triple H shares that everyone's storybook endings are different. He says that its difficult to break the cycle especially when he is supposed to end. JR shares that The Undertaker is processing that this is the end of his career. McMahon shares that there may be a change in life changes that could be pulling the Undertaker and while he tries but difficult to perform. A number of talents share that The Undertaker feels he has to have this perfect storm of things to come together. He now appears to be at a crossroads. Calloway shares that he may be spinning out of control and may need some life changes.
On The Next Episode –
We see that The Undertaker feels that his days in the ring are numbered. He doesn't have a match at WrestleMania planned to this point. He said he is okay with that. We then see that he is slated to face Goldberg for the first time ever. A replay is shown of Goldberg practically dropping The Undertaker on his head. McCool shares that she immediately texted their doctors asking will he be okay.