The Triple Threat. It's a term often used to describe someone that is multi-faceted in a particular sport. Whether it's baseball, basketball, football, or hockey, the Triple Threat suggests that athlete is capable of doing so much as their skillset covers different areas that of their sport that makes that individual elevated as if they are elite talents among common talents.
But the tale of Extreme Championship Wrestling's Triple Threat was a collection of talents that combined size, speed, technical skill, strength, charisma, sex appeal, beauty, and brawn all in one. While all those qualities certainly exceed 'three' combined, they represented a triple threat in the ring, outside the ring, and on the microphone.
Triple Threat – The Most Important Faction in the History of ECW
"I preferred the latter one, and let me qualify that the way I came up with the idea was every promotion I'd ever watched had that heel stable that ran rough shaw. House of Humperdink, The Fabulous Freebirds, The Four Horsemen, and the Valiant Brothers.
There was always some faction that was having its way with the dressing room. And I looked around, and we didn't have one. And thought, well, who better do it than me, right, and there's someone gonna do it, let it be me.
I came up with the idea of three because four, if not takes three, to do what four used to do, and I kicked around a couple of ideas and almost instantly came up with the triple threat"
– Shane Douglas on which incarnation of The Triple Threat he preferred.
The group first originated in 1995 when Shane Douglas, Dean Malenko, and Chris Benoit came together to combine the group's first incarnation. This version didn't have the size that would later become synonymous with the group, but they, without question, had technical prowess, charisma, and an ability to deliver scathing promos that others would soon not forget.
But Dean Malenko and Benoit's time in the faction was so short-lived that they never truly had an opportunity to gain the popularity that other formations of the group would have years later. Both Malenko and Benoit would sign contracts with World Championship Wrestling, resulting in their departure from the group and ECW.
The Original Triple Threat
"The original incarnation is Benoit and Dean Malenko. Big fans of both their work. And it was three very different cultures. It wasn't three vanilla's. It was three (different) flavors. Dean was the mechanic.
Chris was that explosive in-ring performer, and the Franchise was the big mouth. It worked. They left to go to WCW within a matter of months. It was very, very short. Paul (Heyman) didn't really get a chance to put much into it."
– Shane Douglas on the origins of The Triple Threat
This was the group that would begin to use a gesture that would raise the pinky, ring, and index finger as a collection, much like the Four Horsemen. By the Summer of 1995, Douglas himself would leave as well as he would join the WWF and become 'Dean' Douglas. Despite a one-time alliance between 2 Cold Scorpio, Chris Benoit, and Dean Malenko, referring to themselves as the Triple Threat, the group had essentially disbanded.
The interim version was me, Candido, and I was a big fan of his work. And I thought we need a big guy. We can't have me as the big guy because I couldn't be it. The Big bada** and there's Brian Lee. I always loved Brian, who just came off the fake Undertaker run.
To this day, I've never found out what happened, and I've only seen Brian like once or twice since. He just didn't show up for work one time. He's gone and disappeared, and we're gonna put him on milk cartons. And within a week or two or three, Bam Bam (Bigelow) walked in.
Then the idea, light bulb over my head, and we put him in there. That later version because it had the time into it. Paul was really able to push him (Bam Bam Bigelow) initially had us carrying all four belts.
There is this heel faction with Franny (Francine) standing right there who wasn't tough on the eyes with all the gold. The TV belt, the World title, and the Tag belts and kept it there for a couple of months, and it really got us over. But the three of us worked so seamlessly together.
– Shane Douglas on the evolution of the Triple Threat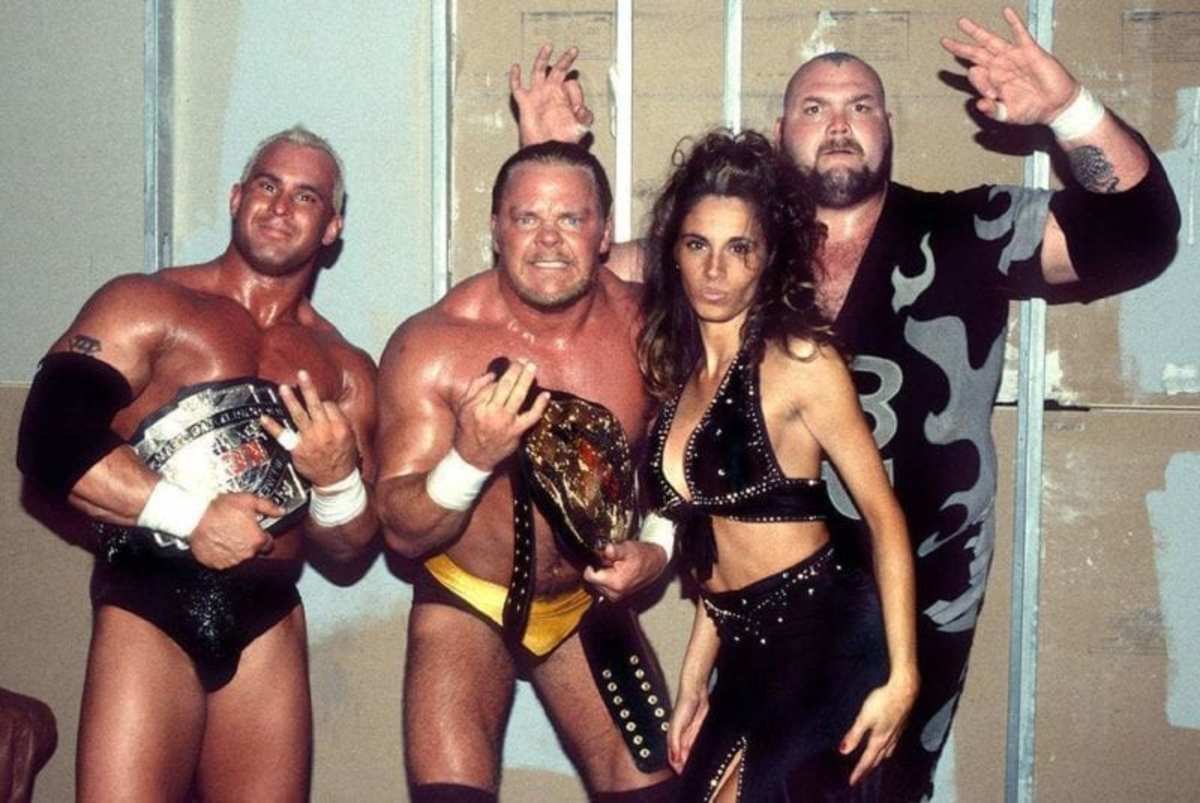 When Douglas would return to Extreme Championship Wrestling, the Triple Threat would once again resume. But this time, the Triple Threat would be a whole new incarnation of the group. By the latter half of 1996, Douglas would be accompanied to the ring by the Queen of Extreme, Francine.
Douglas would also be joined by Chris Candido and Brian Lee. Lee's career was interesting in that he performed as The 'fake' Undertaker in the WWE. But in ECW, the intention was for Lee to act as the heavy for Shane Douglas, representing the size and strength within the group.
The Emergence of The Triple Threat
It wouldn't actually be until 1997 that the trio would refer to themselves as The Triple Threat. Only Lee would not be a part of the group despite the intention of having him be with the group. Prior to that, their alliance didn't officially go by any name.
Within every faction, there needs to be someone that is the face of the group, and often that face also is also a main event caliber talent. This was 'The Franchise' Shane Douglas. Douglas was the ECW World Television Champion. But Douglas wanted more and more gold meant more power.
So, despite being a former World Champion, it became clear that Douglas was determined to be the face of the promotion and would do so with Chris Candido, his new technical wiz, and the beast from the east, Bam Bam Bigelow, along with Francine by their side.
"I'm sure Chris (Benoit) and Dean, and I would have as well, and Brian and I would have thought as well. But Bammer was just a very professional wrestler, if that makes sense. In the sense that he wasn't coming in, 'Ah I was at WrestleMania. I can't have Spike Dudley beat me'.
By him coming in and doing that, it elevated him and elevated everybody he worked with. The three of us really got along incredibly well, and it makes it a lot easier in carrying off the types of things that we had to do".
– Shane Douglas on the commitment Bam Bam Bigelow made to ECW and The Triple Threat.
Over the next two years, it was the era of the Triple Threat in ECW. Shane Douglas would defeat Chris Jericho, 2 Cold Scorpio, and Pit Bull #2 to become the World Television Champion and defeat Terry Funk in 1997 at Hardcore Heaven to become the ECW World Heavyweight Champion.
At the time, Douglas was courting former champion Rick Rude to join the Triple Threat. Rude would advocate for Chris Candido during his match at Hardcore Heaven against Tas. But within the power that reigned in the Triple Threat, there was certainly dissension within the ranks.
Ravishing Rick Rude's Choice to challenge Douglas for the title.
While the belief was that Rude would have shown his support towards Shane Douglas during his World title defense at his next title defense. This all turned out to be a ruse as Rude would announce that Douglas' next opponent would be nonother than fellow Triple Threat member Bam Bam Bigelow. Bigelow would eventually defeat Douglas and, in the process, leave the Triple Threat in the process.
For Candido, he would temporarily team with Lance Storm, who would replace Bigelow within the Triple Threat and, in the process, capture the ECW World Tag Team Championship. But issues between Storm and Candido led to their alliance within the Triple Threat being brief and culminated with the two losing their tag team titles.
By the following year, Bigelow would rejoin the group assisting Douglas in his quest to regain the ECW World Heavyweight Championship against Taz. By the Spring of 1998, Bam Bam Bigelow would defeat Taz to capture the ECW World Television Championship. In the process, all three members of the Triple Threat would be a champion.
"We knew we could trust each other. Then we got to the point where the physical language between us (was there). I knew when Chris (Candido) turned a certain way what he was doing. I knew when Bam Bam did this (motions to his forehead) what he was doing.
It was just a sort of language between us that sort of developed, and it became seamless. So those guys paid most time into it but two damn good workers in Chris Candido and Bam Bam Bigelow."
– Shane Douglas on why he, Chris Candido, and Bam Bam Bigelow worked so well
One of Douglas' most prominent feuds was against Taz while he held the World Championship. Despite Taz wanting a shot at the World Title and being denied time and time again by Shane Douglas, it would culminate with the emergence of his FTW World Heavyweight Championship.
Taz would face either Candido or Bigelow in one way, shape, or form to try and get his hands on Douglas. By 1999, Taz would eventually get his hands on Shane Douglas and regain the ECW World Heavyweight Championship.
Dissension within The Triple Threat
Douglas' title loss, coupled with Bigelow's departure from ECW and Candido deciding to go in a different direction, resulted in the end of the faction's time in ECW. There was a 'New Triple Threat' versus Triple Threat match at November to Remember 1998 when Taz, Sabu, and Rob Van Dam would battle Candido, Bigelow, and Douglas before Bam Bam's departure from the company.
Much has been made about WCW's The Revolution faction as it consisted of initial Triple Threat members Chris Benoit and Dean Malenko in 1999, which also included former ECW talent Perry Saturn.
The Triple Threat – The Faction Emerged in Various Forms, Places, and Incarnations
And Candido, Bigelow, and Shane Douglas did team together ever so briefly as well in WCW, and while they never officially went by the name, the Triple Threat fans of the faction during their days in ECW were able to piece together what WCW was attempting to capitalize on. Promotions such as XPW and Jersey All Pro Wrestling saw Douglas, Bigelow, and Candido work together once again.
Sadly, for all that the Triple Threat brought to wrestling, tragedy struck three of its former members outside of it. Bigelow, Candido, and Benoit all passed away within a two-year span between 1995 and 1997. Each was known for their contributions to the faction and for helping to establish them as a prominent alliance in ECW's history.
With the vision of Shane Douglas and his desire to create a faction that would not only dominate but use all the tools that combined old-school factions with a new-school cutting-edge approach to wrestling, Triple Threat will remain one of wrestling's most underrated factions in wrestling history.