On the latest episode of "What Happened When" Tony Schiavone confirmed that he will be leading the official AEW podcast.
According to Schiavone, the official podcast for All Elite Wrestling will be launching in conjunction with WarnerMedia. While specific details regarding the podcast have yet to be released, it's safe to assume that it will cover all events related to AEW. This means that the show is likely to cover everything from Dynamite to any rumors circulating the company in question.
Schiavone is no stranger to wrestling podcasts, as he had been doing "What Happened When" alongside Conrad Thompson since 2017. This podcast spans a number of topics, including Schiavone's stint in the World Wrestling Federation and his considerably lengthier career in World Championship Wrestling. He also co-hosted the live show "What Happened in 83 Weeks" this past April. During the show in question, Schiavone was joined by Thompson and Eric Bischoff, sharing stories about their wrestling careers and taking questions from attendees.
The official AEW podcast, hosted by Tony Schiavone, will launch next month.
A 2000 version of the NWO? Not on @tonyschiavone24 's watch! Join @HeyHeyItsConrad & Tony as they watch and discuss #Nitro 12.20.99 #ButchReedFacts

Download Now https://t.co/vVWdTTgpo9 pic.twitter.com/acd1fPSwi7

— What Happened When (@WHWMonday) December 18, 2019
Sutter's Synopsis:
To say that Tony Schiavone's return to wrestling, in 2017, has been eventful would be an understatement.
After spending roughly a decade and a half away from wrestling, Schiavone was brought back into the fold courtesy of "What Happened When." Many months later, the former WCW lead announcer made his way to Major League Wrestling, where he would perform commentary for a few years. Most recently, he found himself behind the desk at Dynamite, not to mention offering analysis on Dark. Given the fact that Schiavone had been away from the industry for an extended period, he seemed to jump back in nicely.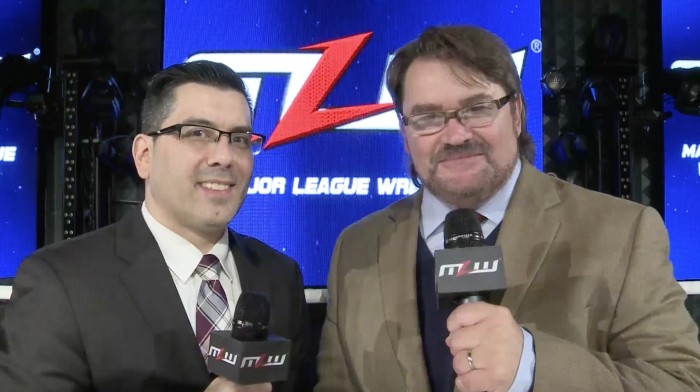 With another podcast on his plate, one may wonder how Schiavone will balance the new workload. It would seem that he will no longer do "What Happened When" on a weekly basis; this makes sense given his various commitments to AEW. Nonetheless, one can't say that he won't be kept busy.