In 2023, the 10th trophy was awarded at Tokyo Princess Cup 10 coinciding with the 10-year anniversary of Tokyo Joshi Pro Wrestling. Future champions have topped these brackets, and MOTYCs have emerged from the ranks.
The winner will go on to challenge for the Princess of Princess title at TJPW's climactic show in October, Wrestle Princess IV.
The single-elimination tournament has narrowed its scope from recent years, selecting the 16 best available wrestlers on the roster to vie for their place in history. No byes, no rookies, and no Yuka Sakazaki due to injury.
It's been the story of the year that the inaugural class is beginning to cede the mantle of responsibility while the next stars are entering the spotlight. Upsets are teased and delivered in these intergenerational matches, with all the participants raising the stakes to win the Tokyo Princess Cup.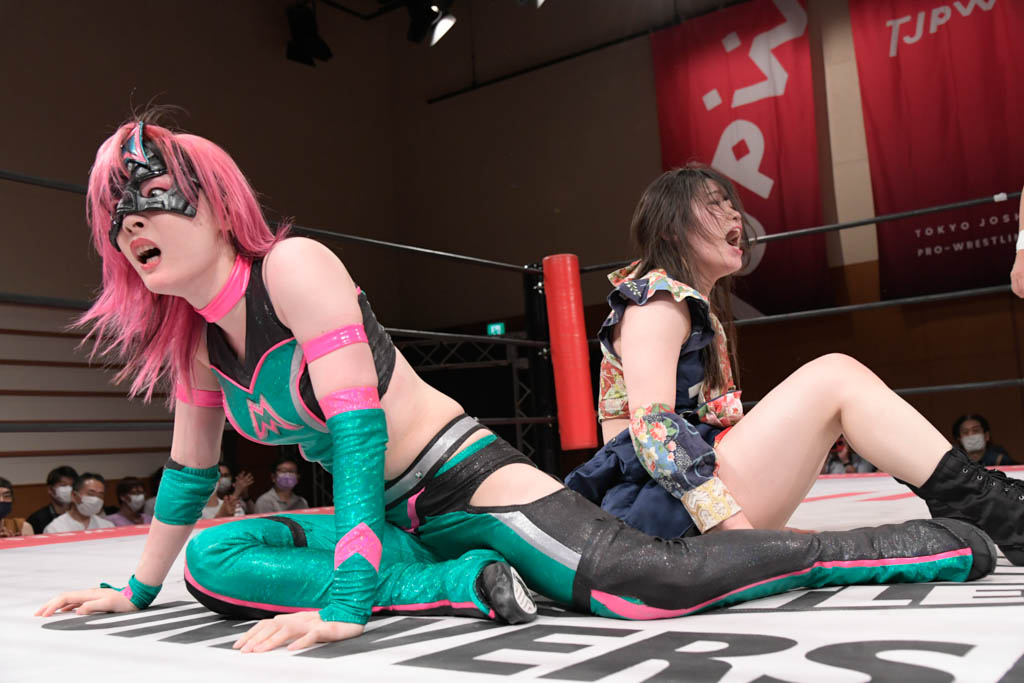 Tokyo Princess Cup 10 – Round of 16
July 15th was a pro wrestling holiday with so many must-see shows all over the world, including three straight days of the Tokyo Princess Cup opening round. The first tournament match saw veteran Hyper Misao against up-and-comer Moka Miyamoto.
Much has been said about Miyamoto falling behind her classmates. So when she pinned Misao with a sudden cradle, the element of surprise became a theme for the season.
Mizuki vs Miyu Yamashita had last main evented Ittenyon 2022 and before that it was Mizuki beating the champion during the 2021 Tokyo Princess Cup. Yamashita returned the favor by knocking out the current champion in the first round.
On paper, it's an upset. But the luck of the draw was cruel in making this a 1st round match. The historical Ace has historically gone out early in these tournaments, though making the semis last year felt like the closest she had made it in years.
As Yamashita grows into more of a global ambassador, the shock makes sense when considering that this might be one of her final solid chances to win her first singles tournament.
All the opening-round matches were great in their own ways. Shoko Nakajima defeated Suzume in an exciting, fast-paced sprint. Miu Watanabe defeated Yuki Aino in a powerhouse battle.
Old rivalries were revisited when Yuki Kamifuku defeated Nao Kakuta to advance for her first time. And Yuki Arai got her revenge on Hikari Noa from last year's tournament when she countered a similar sequence and got the victory. 
Two major upsets almost defied all odds when Raku came close to defeating Rika Tatsumi in the main event of the second day. The Up Up Girl upped her game to where those nail biting nearfalls looked like she had the White Dragon beat.
And in the eighth Round of 16 match, the lovable doormat really stepped it up against the brightest student with the brightest hair, Arisu Endo. If she's going to live up to the hype, Endo needed to advance past her senpai and did so.
With Miyu, Shoko, Rika, and Kamiyu, 4 of the 8 quarter-finalists were wrestlers who debuted in the first 5 years of TJPW. Three of them being there since the beginning and Kamiyu, who debuted in 2017.
With Miu, Moka, Arai, and Arisu, the other 4 were from the second half of Tokyo Joshi history, arriving in 2018, 2020, and 2021 respectively.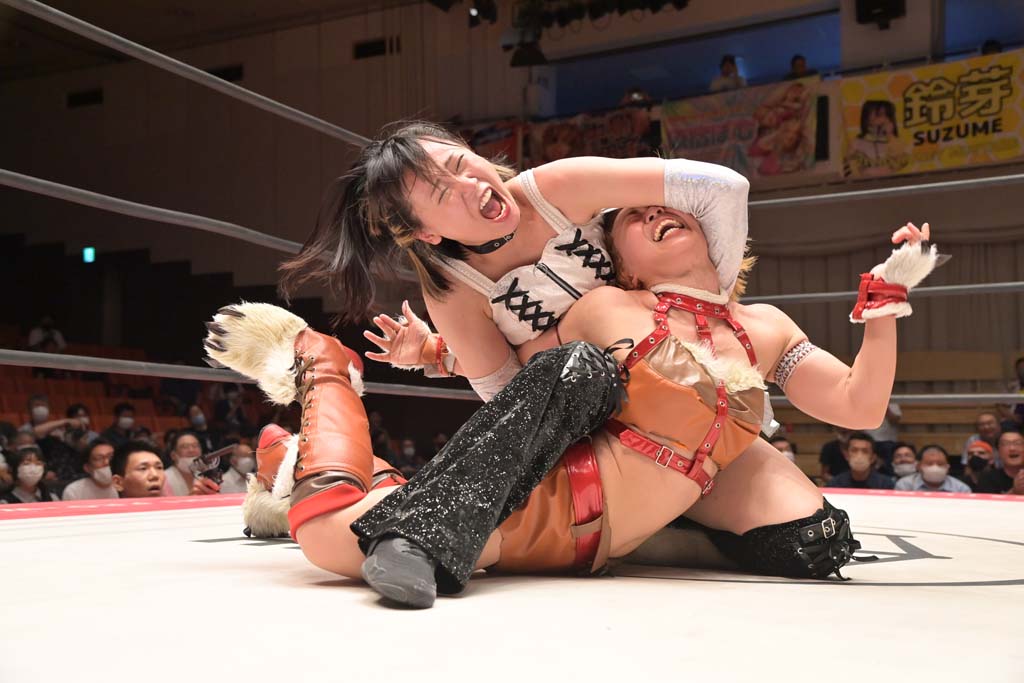 Tokyo Princess Cup 10 – Quarterfinals
Rika Tatsumi vs Shoko Nakajima was one of the best matches of 2022 when they fought for the Princess of Princess title. The 2023 rematch did not disappoint. The two Cornerstones had a counter for just about every attack the other tried.
Shoko has arguably been the most well-rounded TJPW wrestler throughout the years, but Rika's last five months as International champion have painted her as a workhorse of the year.
With Miyu and Yuka turning their attention to the States, the role of the teacher falls on their shoulders. And their talent makes them more than qualified. In a must-see bout, Rika tapped out Shoko.
Another top-tier match between rivals saw Yuki Arai vs Arisu Endo. Both had incredible rookie years in 2021. Arai received awards, got title shots, and reigned as a tag champion, while Arisu struggled to find her first victory, only coming earlier this year after a lengthy losing streak.
The match was dramatic, with both wrestlers understanding the gravity of a semifinal berth in their young careers. Arisu Endo has all the tools to become a superstar, but she hasn't quite been able to finish with her camel clutch in big moments, which comes back to bite her yet again. Using shades of her mentor Saki Akai, Arai got the pinfall over Arisu.
Aside from those two tossups, the other two quarterfinals pitted a favorite against an underdog. In Miyu Yamashita vs Moka Miyamoto, the outcome was chalk. Moka put up a good fight, but Miyu had a 10 year journey she wanted to accomplish.
While those odds were steep, perhaps the biggest disparity was between Miu Watanabe and Yuki Kamifuku. Miu's expectation to one day become the Ace is as big as her shoulders, considering that she made it to Finals last year in a spectacular run.
She was a favorite to win the whole tournament. So when Kamiyu knocked her out of the tournament this early on, just about every bracket was busted.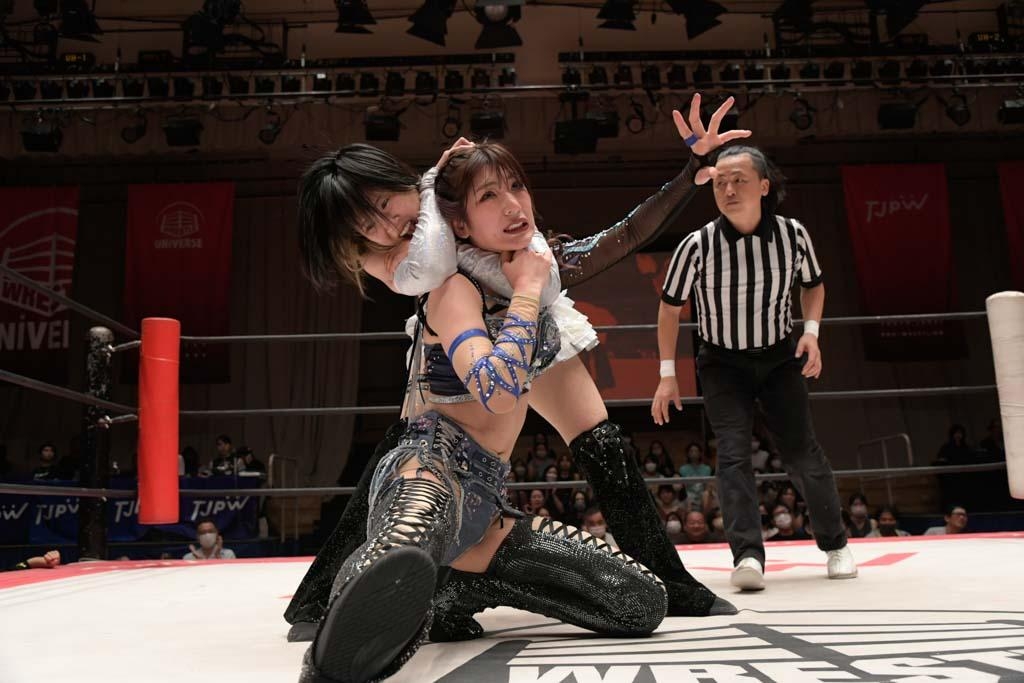 Tokyo Princess Cup 10 – Semifinals 
Two weeks after the Quarterfinals at Korakuen, TJPW returned to the hallowed halls for the Semifinals on August 12th. The random draw designated the first half to be Yuki Arai vs Miyu Yamashita.
The two meshed well for an awesome kick-based war. It's one thing for the Ace to have a great match, but it takes two to tango, and Arai held her own. Yamashita finished her with the Skull Kick, her third victim on the warpath towards the promised land.
The other semifinal saw Kamiyu take on Rika in the main event. The White Dragon would have made a great opponent for the Pink Striker, given their almost 10 years of history. She, too, had never won the Cup.
But a Cinderella princess doesn't care about expectations. Kamiyu pinned Rika and continued her miracle run. It's unexpected and unconventional, but it's also so TJPW.
Yuki Kamifuku didn't come from an athletic background. She was a model who wandered into this wacky world and found her confidence in the ring. That's Joshi pro wrestling, where greatness comes from the most unlikely of places.
She may be a denim-clad wrestler without much ambition, but when she decides to try, she's as talented as anyone.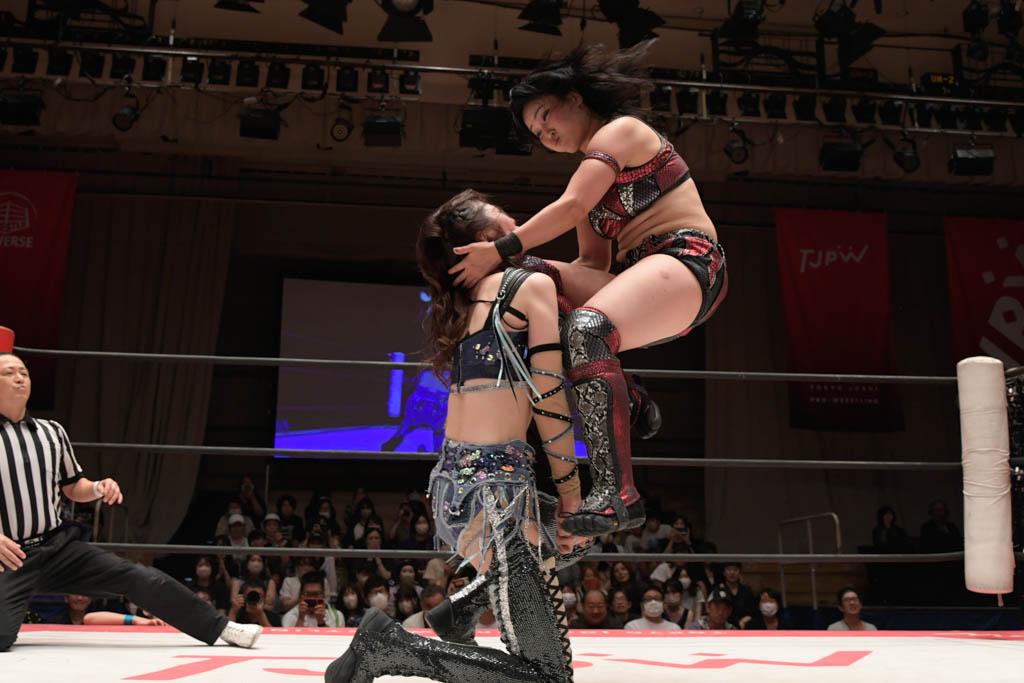 Tokyo Princess Cup 10 – Finals
On August 13th, the finals of the Tokyo Princess Cup was held in Korakuen Hall. After a show full of fun matches and big announcements, the main event entered the ring in front of an electric crowd. The inevitable final boss Miyu Yamashita vs. the Casual Cinderella Yuki Kamifuku. 
Dismissing the pre-match formalities, Kamiyu ran at Miyu and hit one of her signature dropkicks in the corner. Yamashita was less eager than her opponent at first, relying on slowing down the pace and taking it easy.
Repeated kicks to the face seemed to wake up the Ace. Both combatants exchanged strikes, threw each other from the top rope, and fought like it was the most important opportunity in their careers.
A lot can be said about Kamiyu upsetting two bonafide contenders and making it this far. She's faced enough questions, harassment, and self-doubt in her life to break anyone down, yet she still stands tall and wrestles with an incredible inner strength.
Witnessing the crowd chants her name while she held the 3 time Princess of Princess champion in a submission is proof enough that Kamiyu has become a believable main event star.
She defied all expectations of what people said she couldn't do. And so did Miyu Yamashita as she pinned Kamiyu in an incredible match and finally won the Tokyo Princess Cup on her 10th try.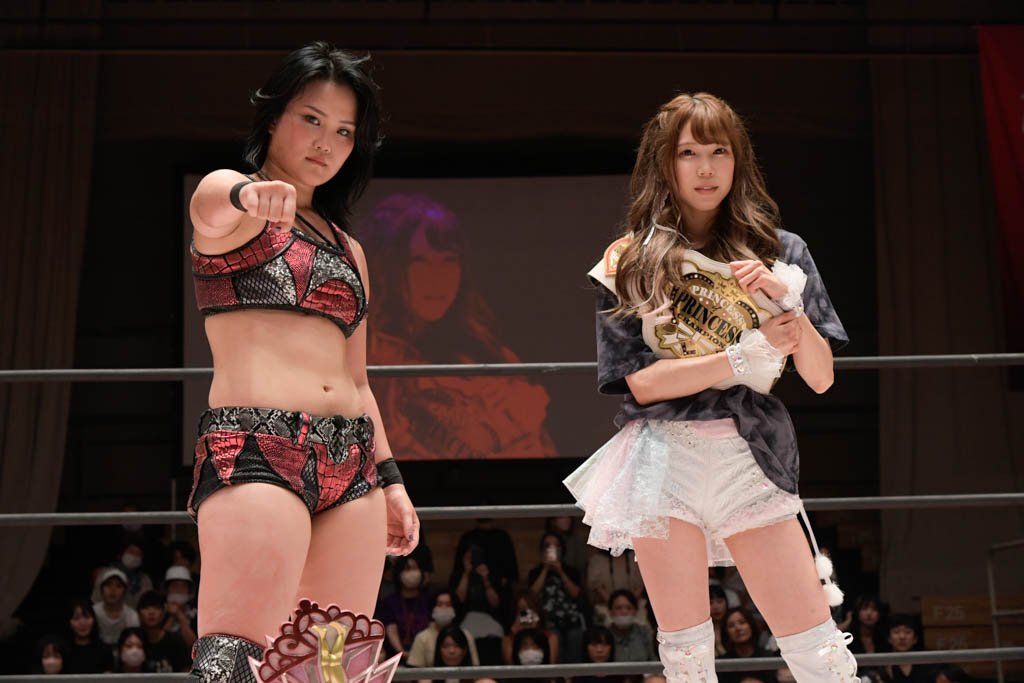 Tokyo Princess Cup 10 – Aftermath
Miyu Yamashita was the first cornerstone Tokyo Joshi Pro Wrestling was built upon in 2013. She's held countless accolades and set every record, but the Tokyo Princess Cup is what has eluded her the longest.
She joins a lineage of winners: 1) Nonoko, 2) Shoko Nakajima, 3) Yuu, 4) Reika Saiki, 5) Yuu, 6) Mizuki, 7) Mizuki, 8) Maki Itoh, 9) Yuka Sakazaki. Now that the curse is broken, she turns to headlining Wrestle Princess IV and challenges Mizuki for what would be a record-setting 4th Princess of Princess championship reign. Of the 7 times the trophy wielder has challenged for the title, the success rate is 3 wins, 4 losses.
TJPW continues to grow exponentially, with fast-improving rookies and a growing number of trainees: including their first gaijin from Australia. The company has announced another milestone as well.
In December, they will return to America and will put on a joint show with Prestige Wrestling called Combat Princess. The variety of styles seen throughout the tournament, and especially the top-level bouts like Nakajima vs. Tatsumi, Arai vs Yamashita, and Kamifuku vs. Yamashita, to name a few, is what helps the product grow all over the world.