Golden Week is a unique period in Japan from late April to early May when the hardworking population finally gets respite during a series of national holidays. Wrestling promotions, however, don't take a vacation; instead of putting on important shows to, put their best foot forward. On May 3rd, Tokyo Joshi Pro Wrestling will hold its annual Yes! Wonderland at Korakuen Hall, broadcast with English commentary on the Wrestle Universe streaming service.
With spring in full blossom, TJPW invites you down the rabbit hole to see a colorful, captivating, and curious world unlike any other.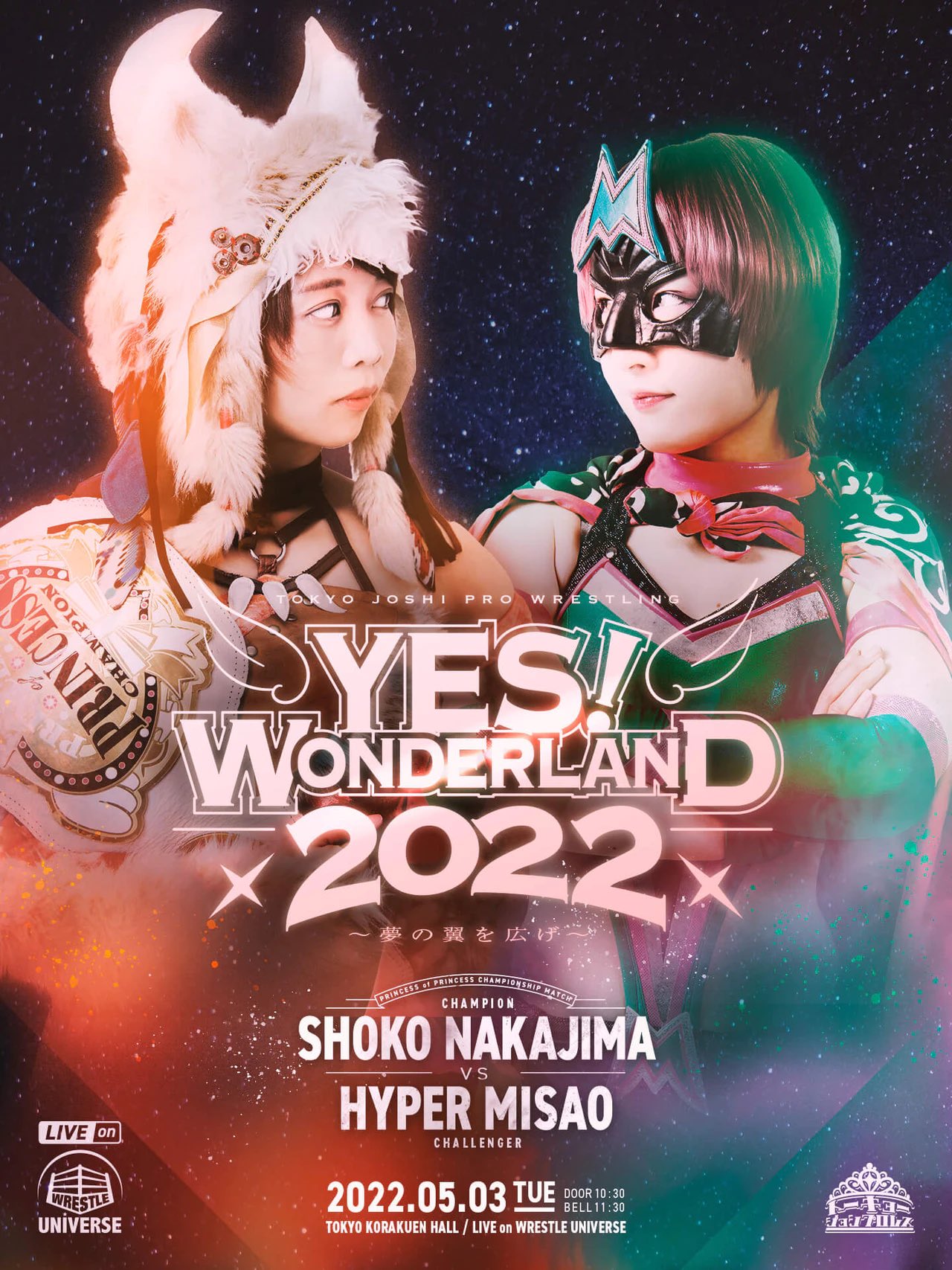 Yes! Wonderland 2022 Preview
Hyper Misao vs. Shoko Nakajima (c) for the Princess of Princess Championship
Once upon a time, a suicidal young woman stumbled upon the realm of pro-wrestling. To escape her life as a shut-in, she desired to put on a mask so that people might care who she was. She discovered this ridiculous artform and saw that, here, she could play by her own rules. She dared to become whoever she wanted to be. So she decided to be a superhero.
Hyper Misao has long been the court jester of TJPW, the self-proclaimed protector of love and peace through innovation and tomfoolery. Though quick to make the audience laugh with her schemes to win, recent years have seen her open up about her tragic backstory, turn heel to become a tag team champion, and even grow a taste for hardcore wrestling.
Her latest saga has been as a unit with Shoko Nakajima called Kyoraku Kyomei. Roughly translating to "resonating in the pursuit of hedonistic pleasure," the dynamic duo have spent the past three January 4th shows facing off in bizarre gimmick matches. Violence only makes them better friends.
Shoko Nakajima won her second Princess of Princess title in March, dethroning the mighty Miyu Yamashita. Coming off a rough 1st defense in April and making her UK debut for Pro Wrestling Eve, Nakajima has voiced her intent to make herself and her company into better versions of themselves. The 147 cm Kaiju excels at grappling and quickness with some lucha and high-risk moves as well.
Having been taken by surprise by Hyper Misao in the weeks leading up, the champion is looking to bring her best as the masked challenger tries to break into the exclusive top title club.
The Main Event
This main event has an impressive lineage to live up to. The TJPW match of the year for 2020 and 2021, as voted by the fans, has been the champion defending against her tag team partner. While Shoko Nakajima has a championship pedigree and might expect victory with her Northern Lights Suplex or top rope senton, Hyper Misao is no joke with talent and trickery.
She is riding high on recent singles match victories and could perhaps win with the I Am A Hero (diving crossbody) or the Hypami Returns (Eye of the Hurricane). It will be an emotional match as the caped combatant battles the Big Kaiju for her storybook ending. After all, wrestling is a wonderland where the rules are made up, and anything is possible.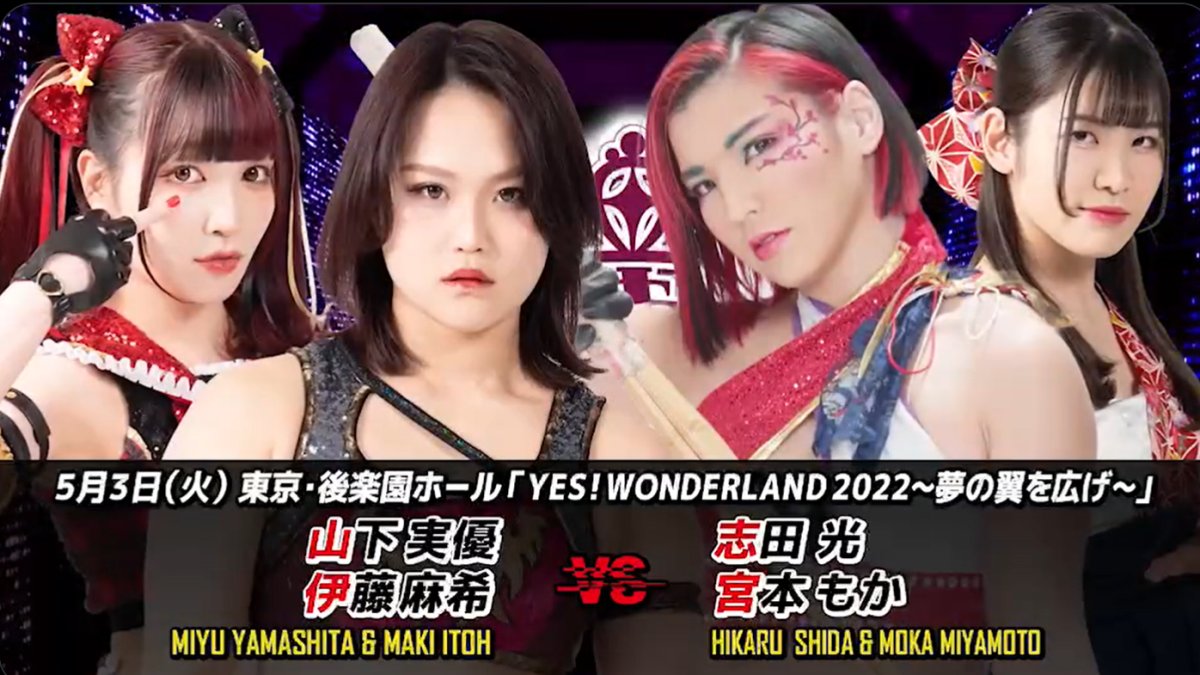 Yes! Wonderland 2022 Preview
2! Hikaru Shida and Moka Miyamoto vs Miyu Yamashita and Maki Itoh
After a dominant win at March's Ryogoku show, AEW's Hikaru Shida returns to face two main event players in the form of 121000000 (One to Million). Shida is coming off a loss in her acclaimed series against Serena Deeb and is looking to make her mark in the Owen Hart Foundation Women's Tournament.
With her devastating knee strikes and Falcon's Arrow, the longest-reigning AEW champion could be making her second statement win in TJPW. Teaming with Hikaru Shida is an up-and-coming wrestler and fellow martial artist Moka Miyamoto. While she may seem like the odd girl out in terms of prestige, the company has confidence in her as part of a rapidly growing crop of young stars. Alongside the 1998 generation (Arisu Endo, Suzume, and Yuki Arai), the near future looks bright.
Across from them stand the Ace and the Dark Ace. Miyu Yamashita, former 3x Princess of Princess champion, and Maki Itoh, current 2x International Princess champion. Bitter rivals turned tag team partners; the two are involved together in a love-hate romantic comedy in order to become stronger as wrestlers. Seeing Miyu Yamashita square off against Hikaru Shida is a dream match for many Joshi fans.
Yes – Wonderland 2022
Shida VERSUS Yamashita
Both are hard-hitting, put-the-company-on-my-back main eventers anywhere in the world. Maki Itoh has her own history with Shida, meeting in trios matches when Shida went to Japan in early 2021 and again when Itoh went to AEW soon after.
While it might look like Miyamoto is there to take the fall, either from a Yamashita knockout or one of Itoh's submissions, Hikaru Shida isn't going to want another loss heading into the Owen Hart tournament. Pinning either of her opponents would be a gigantic victory.
Consider the fact that Miyu Yamashita and Maki Itoh will be in Portland, Oregon, for Prestige Wrestling on the same Memorial Day weekend when AEW is in Las Vegas for Double or Nothing. Is it any coincidence that AEW is then in California when Yamashita and Itoh are on the West Coast mere days prior?
Yeah, probably. But with all the fantasy booking for AEW and NJPW in the month of June, one can dream that their women's division gets the same kind of hype. Itoh has been teasing something with former foe Thunder Rosa and mentioning AEW in promos. The finish could have exciting implications.
Yes, Wonderland 2022 Preview
3! A Tag Team Title Match, a Retirement Ceremony, and So Much More
One of the more newsworthy happenings at Yes! Wonderland will be the retirement ceremony of Reika Saiki. Known as the Muscle Idol, Saiki made her debut in 2016 after being trained in Keiji Mutoh's Wrestle-1 alongside Hana Kimura. She soon transferred to TJPW, using her idol charisma and kickboxing background to achieve immediate success.
She won the 2017 Tokyo Princess Cup tournament and became the 4th Princess of Princess champion. Her matches were good for such a young career, and she would also win the Tag Team championship with Marika Kobashi. She stepped away from pro wrestling in 2019, advancing her career as a bodybuilder, fitness model, and actor.
Saiki makes her return to TJPW after a long absence and will be honored as a champion by the old companions she feuded with and the younger generation she inspired.
The Princess Tag Team Championships
The Princess Tag Team championships are on the line as "Popping Sugar Rabbit" Mizuki and "Mad as a Hatter" Yuka Sakazaki seek to make their 3rd defense against the new tag team of Hikari Noa and Nao Kakuta (Free Wifi). Each coming off a big win at last month's Korakuen show, the deathmatch punk Noa and tank girl Kakuta are looking to make a splash against the high flying, high standard of the division.
Emotions ran hot when the challengers stole a trios win over the champions using an exposed turnbuckle. Free Wifi believes there is Noa better time than Nao to win.
Like the diligent worker enjoying Golden Week or a flower finally blooming in May, Tokyo Joshi Pro Wrestling is ready to reap the rewards of their effort. Emerging from the pandemic era is not easy, especially for Japanese promotions ready to shed their Covid restrictions.
Under the Cyberfight banner, TJPW is advancing English engagement online, launched an accessible streaming app, and continues to forge relationships with different Western companies. They are a wonderland of strong characters, great wrestlers, and strange fun. As the princesses grow bigger, all they ask is you come visit again.