The Undertaker vs Shawn Michaels was one match that is truly worth watching from start to finish. Many wrestling fans consider this the best WrestleMania match ever. It was a dream match that, by all rights, should've closed the show. In fact, this match is more synonymous with the words 'WrestleMania XXV' than anything else.
The Undertaker vs Shawn Michaels
In early 2009, Shawn Michaels was involved in a feud with JBL. This story focused on JBL using his wealth to save Shawn, who had (allegedly) lost much of his fortune when the Great Recession hit the United States. This feud came to an end at No Way Out 2009 when Shawn defeated JBL in a match that had Shawn's name and likeness on the line.
"I JUST HAD AN OUT-OF-BODY EXPERIENCE!"
– Jim Ross, calling this match
Shortly thereafter, JBL announced that he wanted to take on 'The Streak' at WrestleMania. But Shawn had other plans, as did another challenger from SmackDown, Vladimir Kozlov. Shawn went on to defeat them both and earned the right to face the Deadman on the show with which he has become synonymous.
"Sometimes, it's Hell trying to get to Heaven." –
The Undertaker regarding match with Shawn Michaels

This was a dream match for so many people for so many reasons. Shawn Michaels and The Undertaker had never had a formal singles match. The last time they feuded, they faced off in a Hell in a Cell Match at Badd Blood 1997, and then in a Casket Match at the 1998 Royal Rumble. Shawn won both those matches due to interference from Kane. But in that latter match, Shawn suffered the debilitating back injury that forced him into retirement for four years.
By 2009, Shawn was in the midst of his second WWE run. Many people have argued that this run was better than his first, pre-injury run. He was putting on outstanding matches one after another and was involved in some of the best feuds of the decade.
He lived up to his moniker of 'Mr. WrestleMania' more than once in the 2000s. He had stellar performances at the show of shows against Chris Jericho (2003), Triple H and Chris Benoit (2004), Kurt Angle (2005), Mr. McMahon (2006), John Cena (2007) and Ric Flair (2008).
But Shawn's opponent was to be none other than The Undertaker. He was arguably WWE's biggest threat in any circumstance. He had been with WWE for almost 19 full years by that point. Had defeated any and every challenger placed before him. He had won sixteen consecutive WrestleManias prior to this one, and in some cases against seemingly impossible odds.
He had overcome two opponents at once, wrestlers both taller and stronger than himself, underhanded rookies, experienced veterans, and many others. But they all lost to The Undertaker in the end.
So the question stood: who would be victorious on this night, the man that was undefeated at WrestleMania, or the man that The Undertaker had never defeated?
The Rise of Texas
With WrestleMania being held in Texas would be highlighted by a match between two Texans The Undertaker vs Shawn Michaels. Shawn was the first to enter and he brought the symbolism with him in full force. Dressed in white, Shawn descended from above, a ray of heavenly light accompanying him. Smoke billowed from beneath him as a choir sang ominously, harbingers of Shawn's entry into the ring.
Once he entered, the lights went out and that famous GONG reverberated throughout the Reliant Stadium in Houston. Never one to forego symbolism, The Undertaker emerged from beneath, his own ominous fog snaking its way throughout the arena as giant columns of fire shot into the sky. The Undertaker kept his stony gaze on Shawn as he entered the ring.
From bell to bell, this was one of the best matches of both men's careers. Despite not having wrestled with each other in over a decade, they had incredible chemistry together. Shawn had to rely on his smaller stature and quickness to overcome Undertaker's height and longer reach. They tried to craft a classic David vs. Goliath tale here…except half the arena wanted Goliath to win.
Shawn tried to gain an early advantage by chopping Undertaker in the chest and targeting his legs. This worked for a while, especially after he wore Taker's legs down with a lengthy Figure-Four leglock. But Undertaker fought on and kept it simple by hitting hard punches whenever he could.
The Phenom Keeps The Heartbreak Kid At Bay
That superior reach allowed him to keep Shawn at bay and gave him the advantage…until Shawn reversed a Chokeslam into a crossface. Sure, no one thought the match would end right then and there, but Shawn's craftiness was becoming more apparent. Undertaker would have none of that, because soon he started reversing Shawn's own moves by reversing another Figure-Four attempt into the Hell's Gate submission hold.
This same hold had won Undertaker his WrestleMania match the year prior. This was a believable submission hold. As the match progressed, so too did the risks. Undertaker tried his patented apron leg drop, but Shawn dodged it. Shawn tried a diving moonsault crossbody, but Undertaker simply swatted him away like a fly. Then The Undertaker flew through the air with his over-the-ropes suicide dive…which almost became literal when the landing got messed up.
The cameraman that Shawn threw into 'Taker failed to catch him, so the Undertaker landed hard. And by hard I mean he landed so awkwardly that looked to have a concussion at best. Yet he still managed to not only shake that off but continue the match as though nothing wrong had happened.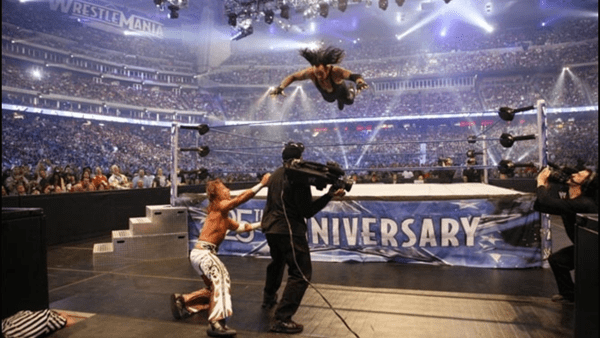 From there the match evolved into one of the most exciting finisher reversal sequences in WWE history. Each move that wasn't ducked or reversed landed with brutal precision. Shawn looked like he had kicked 'Taker's head off on more than one occasion, while Undertaker delivered his signature Tombstone, Last Ride and Chokeslam all with incredible force. The near-falls at this point in the match were insane.
Even The Undertaker himself – a man known for his stoicism when in front of the camera – couldn't believe that Shawn Michaels kept kicking out of everything!
In the end, it took The Undertaker vs Shawn Michaels and catching a soff another moonsault crossbody attempt and dropping him with a Tombstone to end the match. After more than thirty minutes, this amazing contest was over and The Streak was still alive.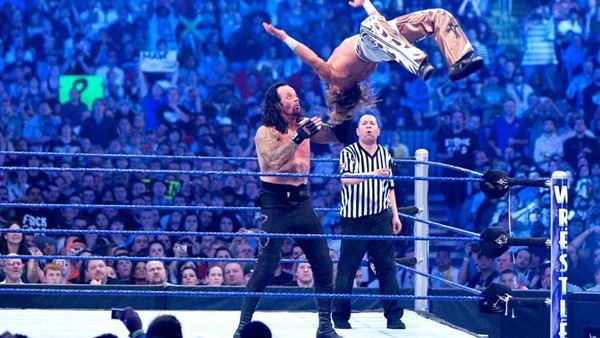 The Undertaker vs Shawn Michaels – Shock and Disbelief
When people argue that Shawn Michaels vs The Undertaker are two of the best wrestlers ever, they use this match as proof. Both men were well past their peaks as performers. Shawn was very much a part-timer and the Undertaker was approaching his one-match-per-year phase. Yet these two men – both north of 40 years old – put on a match that put everything else on the card to shame.
For Shawn, this was another feather in his cap as a wrestler. He had stolen the show yet again and demonstrated why his name carries so much weight in the wrestling business. But for The Undertaker, it was something more. It was arguably his magnum opus as a wrestler, especially since he had such a checkered past.
Sure, he had a long and successful career, but much of his wrestling in the 1990s was uninspiring and, in some cases, boring. His best matches were always 'gimmick' or special matches because they fit with his character.
If you were to ask any wrestling fans in 2000 if The Undertaker could put on a good singles match without stipulations, they'd probably laugh in your face. But the Undertaker aged like fine wine. After years of putting on singles matches that ranged from anywhere from slightly above average to downright awful, he started getting better and better.
Then this match happened and the Undertaker managed to turn even the biggest skeptic into a believer. Yes, The Undertaker could put on an amazing match without wacky gimmicks or showy hijinks.
It's just that he needed a Showstopper to show him how.