King Tonga and The Tonga Kid/ Haku and Tama were The Islanders. Both men are of Polynesian descent, and with that comes a great deal of expectation already. With wrestling's long-standing familiarity with the Anoai's and the lineage tied to wrestling with them, so comes the expectation of others that are also from the islands.
Both men, they had developed their careers in wrestling in familiar circles. King Tonga first competed in International Wrestling in Montreal, Quebec, Canada while the Tonga Kid, who first competed in 1983, also includes his time competing in Montreal as well alongside Dan Kroffat as a team.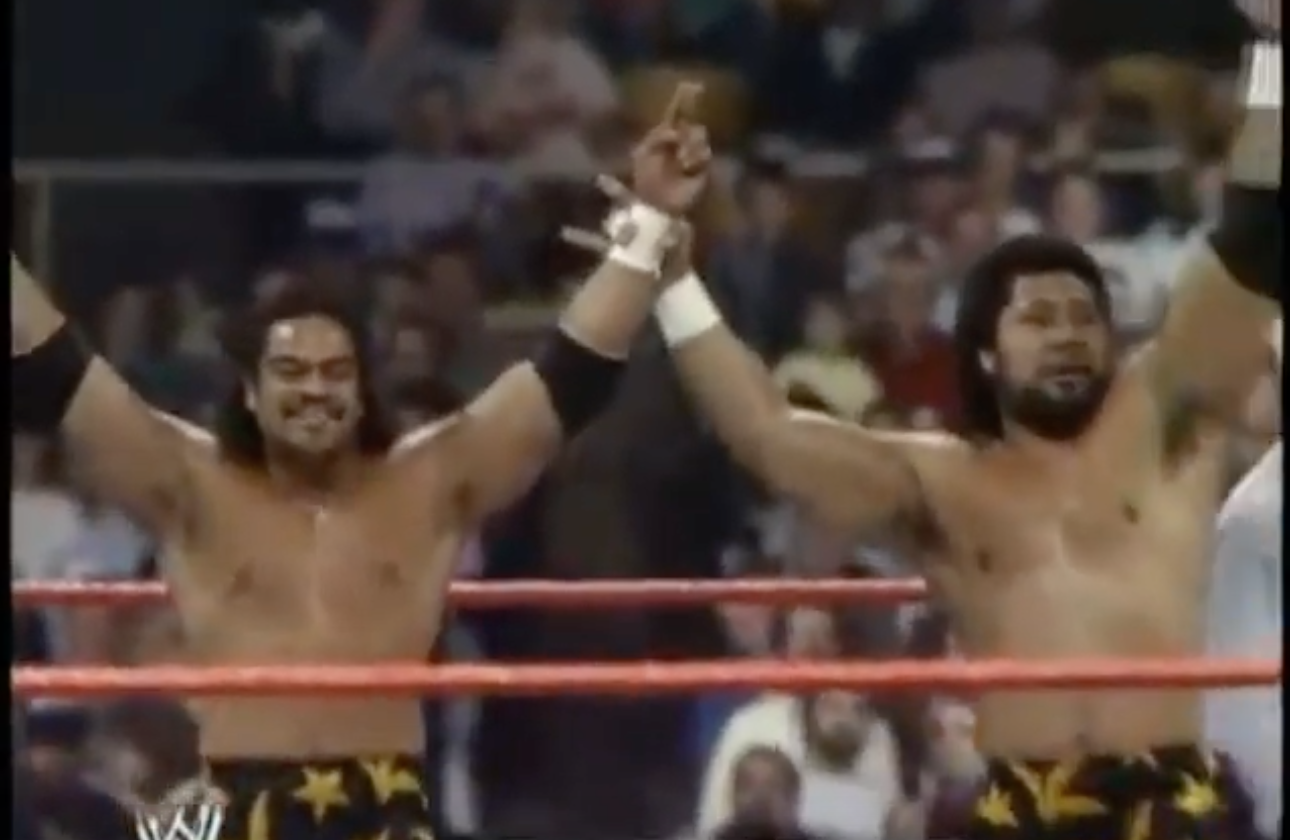 The Islanders – Their Humble Beginnings

King Tonga ushered in a much more villainous character in Quebec. During this time, he was managed by Tarzan Tyler but also faced some of the promotions top stars, including the late Dino Bravo. He would even spend some time as a face as he was attacked by his partners in a match leading to him becoming a face.
The Tonga Kid, born Sam Fatu was trained by his legendary family members, Afa and Sika 'The Wild Samoans' upon entering into wrestling. His initial growth was the opportunity to move around and compete for various promotions. He initially wasn't onscreen in the WWF but rather competed on house shows under the 'Samoan No. 4' guise prior to being on screen.
The Tonga Kid's brother Fatu who later would compete as Rikishi, and his other brother, who would compete as Jamal and later as Umaga would showed the Samoan dynasty was in his bloodline. He would compete as other names at different points in his career, but The Tonga Kid would be his first incarnation and foray into wrestling. But to know where he was going is as important as to know where he had been.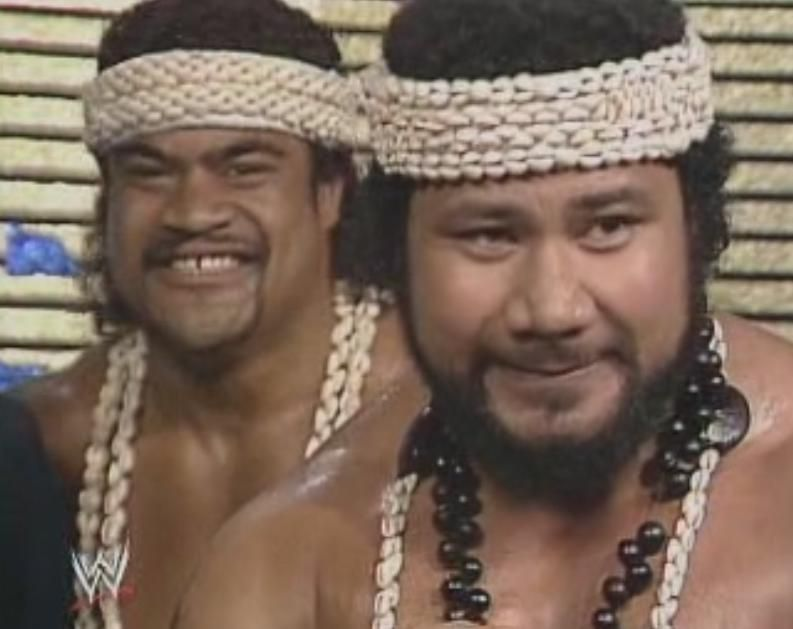 "At 17, he doesn't know how to read. He doesn't know how to write, and back in the day, they didn't have GPS. So he had those maps, but he didn't read, so what he would do when he would go eat, he would have a fan that recognized him, get those highlighters, and highlight the road.
"Most of the time, he would tell the fans he would give them tickets because they knew he was hot. He was like Hulk Hogan hot, Jimmy Snuka hot back in the day at 17 years old. He was like the Jeff Hardy back in the day."
When he first appeared on screen he was advertised as being the cousin of Jimmy 'Superfly' Snuka despite not actually being cousins. They were close and had family ties but not actually cousins. This opened the door for him to take part in a short-lived feud with Rowdy Roddy Piper. Their matches were about wins or losses but rather experience.
After The Tonga Kid's brief feud with Piper he would begin to move around and learn trades competing in places like Canada and Puerto Rico. It was upon his return to the WWF when The Tonga Kid would be reunited someone that he would later create history together with.
"My brother there, he doesn't get enough credit the way he should be, meaning that because of the new era, they don't remember him. He is the youngest professional wrestler to ever sell out the Madison Square Garden. To this day, my brother holds that record at the age of 17,"
The Birth of The Islanders
But when The Tonga Kid returned to the WWF, he would then team with King Tonga (who had been primarily a singles competitor at this time), forming a tag team that while capitalizing on their Polynesian origins, was unlike those previous incarnations. Too often, the notion of 'savages' were how they would be portrayed. But The Islanders carried with their athleticism, strength, and speed rather than relying on sheer brutality.
With this new alliance came new names, King Tonga would now be known as Haku and The Tonga Kid would go by the name Tama. During their early time together as babyfaces, they would defeat notable names and main event featured talent such as the Heenan Family's King Kong Bundy and Big John Studd.
But despite showing true athletic prowless something was missing from them. It was an edge. On an edition of WWF Superstars of Wrestling, Bobby 'The Brain' Heenan had said he was going to be debuting a new tag team that night. So while many had thought the team would be a pairing we hadn't seen before, what we did get was Heenan appearing at ringside during The Islanders match and it being announced that he would be managing them.
After trying to garner the admiration of fans, Haku and Tama would attack fan favorites Tom Zenk and Rick Martel, the Can-Am Connection with Bobby Heenan leading the way. With these actions, the duo would officially become heels. As we said, that edge was now firmly in tow as both Tama and Haku would fiercely use everything they did before but with much more aggression behind their moves now.
The Islanders' first rivalry would be with the Can-Am Connection. But after Tom Zenk would leave the WWF, he would be replaced with Tito Santana, and the Can-Am Connection became Strike Force. Their matches were highly competitive battles that showcased the skillset of all involved while still embracing the character and personality of Bobby Heenan as well. His involvement in their matches lent them that special something that made them stand out.
"Bobby Heenan was a good manager, and he was a good person. At the same time, he kept everything to himself. He would socialize but with people that he knew. He sort of had his own little clique, like any other wrestler. We never traveled with him.
We never roomed together at all. We never sat down and had dinner with him at all. So the only time we would see Bobby Heenan was when we got to the arena. He would always wait for us by the Gorilla (Monsoon) Position at the curtain before we got out.
That's the only time I had seen Bobby Heenan, and it was when we went out and when we got back. Then he would go his way, and we would go our way. But he had a good mouthpiece and a good style. He was splashy and had that blunt blonde hair. But it fitted us right."
– Sam Fatu on working with Bobby Heenan
Their next major feud was against The British Bulldogs, Davey Boy Smith, and The Dynamite Kid. The rivalry reached a fevered pitch when they kidnapped Matilida, the Bulldog mascot of Davey Boy and Dynamite.
The feud would culminate at WrestleMania IV when The Islanders and Bobby Heenan (dressed in animal protective gear) would battle The British Bulldogs and Koko B. Ware. Tama, Haku, and Heenan were victorious in their match despite Matilda still getting her hands on Heenan after the match.
Sam Fatu (Tama) would disclose that Matilida was in such poor condition that moving her around as part of their storyline made it quite a chore in some cases and more of a challenge in others. He as much as anyone, was pleased that their feud would come to an end.
Within a month or so after their match against the Bulldogs and Ware, Tama would leave The Islanders. In the process, it would end the union between Haku and Tama in the WWE. Tama would compete in WCW, in Puerto Rico in the WWC and move around but nothing to the height and attention that came during his time in the WWF as part of the Islanders.
In the case of Haku, his matches both in singles and tag team would continue to forge ahead. With that time as mentioned previously, so have the stories of his sheer toughness and means of protecting the business.
"I'll tell you that some of them are true and some of them they make up. The beating up the people in bars is again just protecting the business and showing them what this business is all about. So most of them are true and I'm not bragging, I'm just telling you guys that it was just me protecting the business.
People just had the wrong timing and had a few beers and would turn around calling the business saying it was fake and sometimes I guess it was jealousy that we were in the bar and that girls saw you on TV and start talking to you and are not talking to those local boys so there was other things that happened."
-Haku on the stories of his reputation inside and out of the ring.
Haku would depart the WWF in 1992, compete in Japan then until 1994 and eventually move to WCW, where he would wrestle under the name Meng. During his time in WCW, Meng was everything from a bodyguard to being parts of factions and tag teams in particular, The Faces of Fear alongside The Barbarian. Coincidently, The Barbarian was also of Polynesian descent and specifically Tonga, much like Meng/Haku.
The Islanders' time, while short-lived, is still often remembered in particular with their connection to the Anoai wrestling lineage and Polynesian wrestling. Both Haku/Meng and Tama's children have carried on the family wrestling lineage in both Japan and North America. Tama Tonga, Tonga Loa, and Hikeluo are the sons of Haku, competing in New Japan Pro Wrestling, and Jacob Fatu is competing in Major League Wrestling and is the son of Tama.
They were a departure from the savages that Afa and Sika were known as being in the ring. The fierce intensity they brought to the ring was heightened when they were heels. During the 1980s, The Islanders brought more eyes to a new generation on just how important Polynesian wrestlers were to professional wrestling's past, present, and future.