In WWE, Umaga played a hard-hitting, tough son-of-a-gun. However, behind the curtain, Edward Smith Fatu was regarded as of the most sweet-hearted men in the industry. Today, we take a look back at the life and tragic end of one of the most talented members of The Anoa'i Family.
Umaga – The Life and Times of a Samoan Savage
On March 28, 1973, Umaga (real name Edward Smith Fatu) was born in American Samoa to mother Elevera Anoa'i and I'aulualo Fatu Sr. Many wrestling fans do not know that the man born to become Umaga is the brother of both Tonga Kid and Rikishi.
Edward would train alongside his cousin, Matt Anoa'i (popularly known as WWE's Rosey), at the Wild Samoan professional wrestling school. He would first debut in World Xtreme Wrestling (his uncle's wrestling promotion).
Wrestling for Frontier Martial-Arts Wrestling
In 1999, Fatu would debut in Japan's Frontier Martial-Arts Wrestling. His first match would be at the FMW Round Robin Tag League 1999 event in a six-man tag team contest.
Fatu would debut under the ring name Armageddon 1 (alongside Matt Anoa'i as Armageddon 2 and wrestler Ricky Fuji.)
This trio would fall in a twenty-three-minute contest against the likes of Hideki Hosaka, Hisakatsu Oya, and Super Leather. Armageddon would have their final match as a tag team in October 1999. He would be taking a hiatus from FMW after this.
On May 2, 2000, Fatu and Anoa'i would return to FMW under the names Eddie Fatu and Matty Samu. Collectively known as The Samoans, they would compete in six-man tag team action alongside Crazy Boy in a loss against H, Mr. Gannosuke, and Testuhiro Kuroda.
At FMW King of Fight 2000, The Samoans would defeat Hideki Hosaka and Yoshinori Sasaki to win the WEW Hardcore Tag Team Championships. They would successfully defend these titles against the teams of Hosaka and Sasaki and Gedo and Jado.
On June 28, 2000, Hosaka and Sasaki would defeat The Samoans for the WEW Hardcore Tag Team Championships. This loss effectively ended the 37-day reign of The Samoans (and their FMW runs.)
First stint with the WWF, Memphis Championship Rebrand
In 2001, Fatu and Anoa'i were signed to developmental contracts with the World Wrestling Federation. They would compete in their first match at a Georgia House Show on February 4, 2001. In this match, Charlie Haas and Russ Haas would defeat The Samoans.
Two months later, they would be assigned to the Memphis Championship Wrestling developmental territory. Fatu and Anoa'i would be renamed OG Ekmo and Kimo, respectively. Together, the tandem (now known as The Island Boyz) would defeat the team of Seven and Tomko in their debut.
On May 25, 2001, The Island Boyz would defeat The Haas Brothers to win the MCW Southern Tag Team Championships.
On that same day, The Haas Brothers would defeat The Island Boyz to win back their titles.
One week later, The Island Boyz would defeat The Haas Brothers for the MCW Southern Tag Team Championships, earning their second title reigns… only to drop them back to The Haas Brothers on the same night again.
Two weeks after that, The Island Boyz would defeat Bradshaw and Faarooq for their third MCW Southern Tag Team Championship reign. This would be the final MCW Southern Tag Team Championship reign for the company, as it would close in 2002.
Heartland Wrestling Association
In August 2001, The Island Boyz would be transitioned to Heartland Wrestling Association in Cincinnati, Ohio. The tandem would debut at the 4th Annual Brian Pillman Memorial Show in a loss to Cody Hawk and Lance Cade.
After three months, The Island Boyz would defeat the team of Evan Karagias and Shannon Moore for the HWA Tag Team Championships. The Island Boyz would successfully defend the titles against the teams of Elix Skipper and Russ McCullough and Bennie The Bookie, and Johnny The Bull.
On December 8, 2001, The Island Boyz would suffer a loss against Steve Bradley and Val Venis (losing the HWA Tag Team Championships in the process.)
After losing the tag team belts to Bradley and Venis, Ekmo and Kimo would establish a relationship with RC Haas (formerly known as Charlie Haas.) This would lead to a match on January 9, 2002.
At a 2002 HWA event, a six-man tag team match for the HWA Heavyweight Championship and HWA Tag Team Championships would take place where RC Haas and The Island Boyz would take on EZ Money, Steve Bradley, and Val Venis. Haas and The Island Boyz would walk out victorious, leading to The Island Boyz's second tag title reign in HWA.
This tag team championship reign would last 35 days. On February 13, 2002, Lance Cade and Mike Sanders would defeat Ekmo and Kimo to become the new HWA Tag Team Champions. The Island Boyz would face off against Jason Sugarman and RC Haas in a disqualification loss in their last match in the Heartland Wrestling Association.
Little did Fatu know that something much greater would be coming for the tandem soon enough.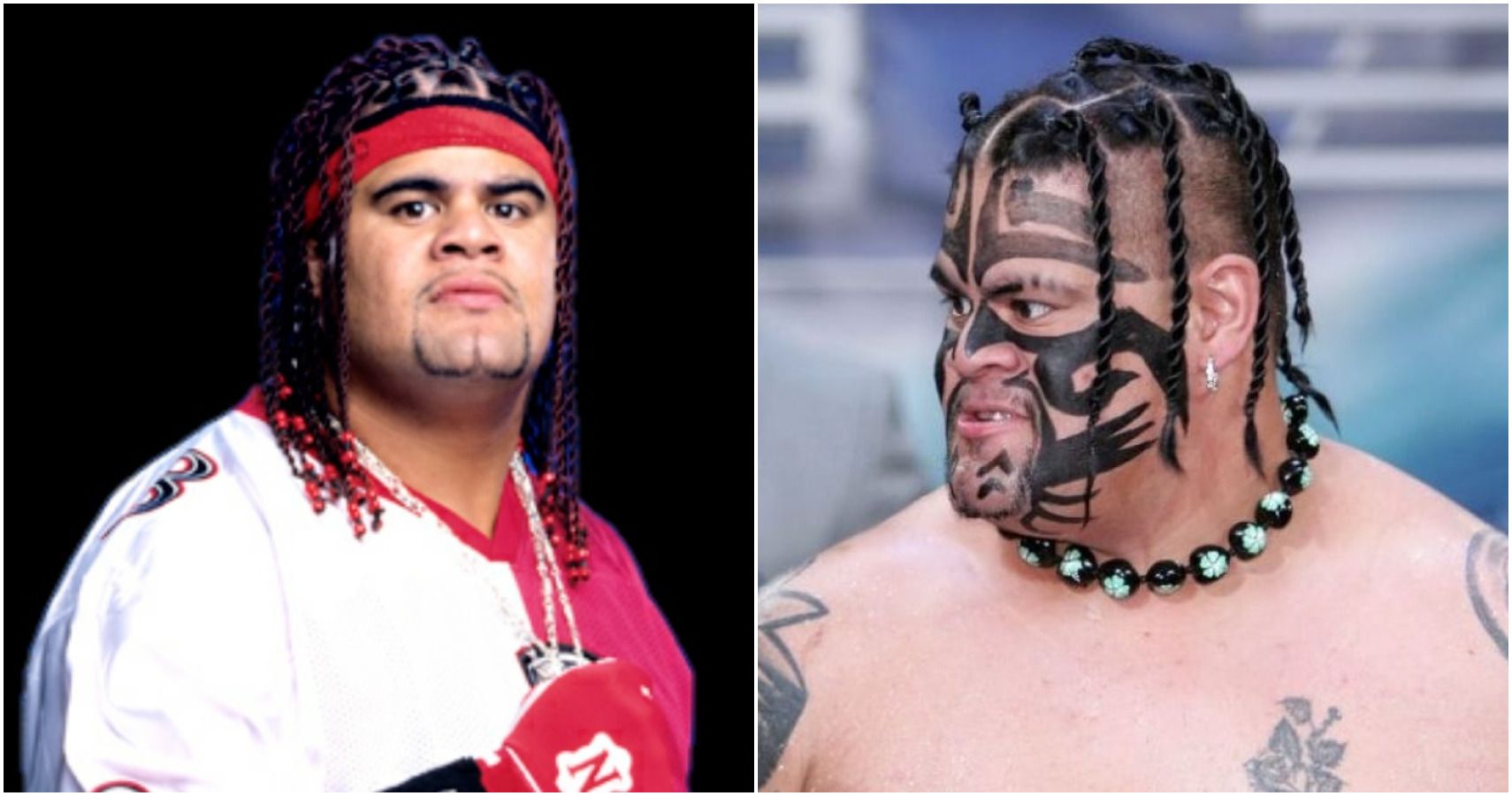 Umaga as Jamal in Three Minute Warning
On July 22, 2002's edition of Monday Night Raw, Fatu (now renamed Jamal) and Anoa'i (renamed Rosey) would make their main roster debuts. This tandem would be known as 3-Minute Warning.
The two big men were brought in as hired guns for Raw General Manager Eric Bischoff. Every week, Jamal and Rosey were brought in to attack random wrestlers requested of Bischoff.
One of Jamal and Rosey's most famous segments came in the midst of Eric Bischoff's Hot Lesbian Action angle, where 3-Minute Warning attacked two lesbian women on live television.
Later in the year, at WWE's Unforgiven 2002, Jamal and Rosey would defeat Billy and Chuck to cap off a feud instigated by 3-Minute Warning's interference in their wedding.
In 2003's Royal Rumble match. Jamal would inevitably be released from his contract in June 2003 after his reported involvement in a bar fight. His last match would come in the form of a loss against Maven and Tommy Dreamer alongside Rosey on Sunday Night Heat.
TNA Wrestling
With Rosey maintaining his status within WWE, Fatu was now forced on his own. Little did he realize that this would be the best career move possible. Fatu would go on to compete in various matches for wXw and MLW before landing in NWA-TNA Wrestling.
Fatu (now known as Ekmo Fatu) would debut on September 10, 2003, helping Sonny Siaki defeat D'Lo Brown in a casket match.
His first on-screen match would take place nine days later, where he would team alongside Sonny Siaki, defeating the team of Axis and Python at TNA Xplosion #49.
Fatu and Siaki would go on to defeat the teams of Shark Boy and Mad Mikey, Danny Doring and Roadkill, and America's Most Wanted (Alex Shelly and Chris Sabin.)
Fatu's final television appearance would take place on August 11, 2004, where he would suffer a pinfall loss to Alex Shelley.
All Japan Pro Wrestling
After his short stint in TNA, Fatu would debut in All Japan Pro Wrestling. He would debut under the name "Jamal" and align himself with Taka Michinoku. Michinoku's stable (Roughly Obsess and Destroy) allowed Jamal to team with members Taiyo Kea and Buchanan.
Jamal would feud with Toshiaki Kawada for the AJPW Triple Crown Heavyweight Championship but would not come out on top. Jamal would promptly go back to focusing primarily on the tag team division.
On December 1, 2004, Jamal and Taiyo Kea would win the World's Strongest Tag Determination League Tournament.
After defeating Kaz Hayashi and Satoshi Kojima, they would earn a shot at the tag team titles. One month later, Jamal and Kea would defeat Hiroshi Tanahashi and Yutaka Yoshie for the AJPW World Tag Team Championship.
Riding this momentum, Jamal would go on to compete in the Champion Carnival. Jamal would get victories over Kawada and Kojima before losing to Kensuke Sasaki in the finals.
Jamal and Taiyo Kea would hold on to the AJPW World Tag Team Championships until December.
In December 2005, Jamal would leave AJPW for greener pastures, and the titles would be vacated. Kea would later pick up a new partner in Toshiaki Kawada.
Jamal's final AJPW match would take place on September 30, 2005. In this match, he would earn a victory over Shuji Kondo in nine minutes. Fatu was about to embark on his most successful gimmick to date within World Wrestling Entertainment.
Umaga – A Monsterous Return to WWE
Fatu would go on to make a couple more independent appearances for WRESTLE-1 and Nu Wrestling Evolution before signing with WWE that December. He would return on the April 3, 2006, episode of Monday Night Raw under a new gimmick: Umaga.
As Umaga, he was built to look like an indestructible monster. In his return, he attacked Ric Flair at the orders of his new manager, Armando Alejandro Estrada.
Umaga's WWE resurgence would begin with a short feud against wrestling legend Ric Flair. Following his attack on Flair, Umaga would wrestle his first match against local talent Chris Guy (popularly known as Colt Cabana.) This feud would culminate with Umaga defeating Flair at Backlash 2006.
Over the course of 2006, Umaga would go on a tirade against wrestling superstars of all caliber. Umaga would pick up victories over stars such as Triple H, John Cena, Shawn Michaels, Jeff Hardy, and a litany of local talent.
Fast forward to Summerslam 2006, and enter the feud between The McMahon's and D-Generation X. Umaga was set to be the "special enforcer" for the duo of Vince and Shane McMahon. However, Umaga was attacked by Kane during his entrance. This would lead to an inevitable feud between The Big Red Monster and The Samoan Savage.
Umaga's feud with Kane would end when Umaga won a Loser Leave's Raw Match between the two. After Kane left the Raw brand, Umaga would have one final match against The Big Red Machine at Cyber Sunday, where Kane would once again take the loss.
With Umaga's winning streak still intact, The Samoan Savage would soon be named number one contender for the WWE Championship.
Umaga would enter a feud with John Cena over the championship. In the blow-off to this one, Cena would hand Umaga his first one-on-one loss at New Year's Revolution 2007. After 34 televised matches, Umaga's winning streak had finally come to an end.
Knowing WWE's history with booking people post-winning-streak, Umaga's career was fortunately salvageable.
Umaga's manager, Estrada, would call Cena's victory "cheap" and downplay the severity of this pinfall victory. A Last Man Standing match was set up for 2007's Royal Rumble PPV between Umaga and John Cena. However, despite injuring Cena prior to the show, Umaga would still come up short in his championship pursuit.
Battle of the Billionaires: Umaga (McMahon) vs. Bobby Lashley (Trump)

For reasons many still can't explain, Vince McMahon had begun a wrestling feud with reality television star and forty-fifth president of the United States. Due to Trump's inability to wrestle, Vince McMahon suggested facing off via wrestling proxies.
As the tale goes, Donald would select Bobby Lashley, and Vince McMahon would select our subject Umaga. As a reward for his acceptance in the event, Umaga would be awarded a WWE Intercontinental Championship match against then-champion Jeff Hardy. Things wouldn't exactly work out well for Hardy.
On February 19, 2007, Umaga would defeat Hardy on Monday Night Raw for the WWE Intercontinental Championship. This would be Umaga's first and only singles championship he would earn throughout his career.
At WrestleMania 23, Bobby Lashley would defeat Umaga in the Battle of the Billionaires match in thirteen minutes and two seconds. While WrestleMania matches tend to lead toward the conclusions of feuds, this war between Lashley and Umaga was far from over.
The night after WrestleMania 23, Bobby Lashley would defend his ECW Championship in a handicap match against Armando Estrada and Umaga. Lashley would pick up the victory – and this feud would continue.
Two weeks afterward, Umaga would issue an open challenge to any fan in attendance at the show. We see a young Milanian fan hop over the barricade, take off his shirt, and enter the ring. This young fan would be the debuting Santino Marella.
In this championship contest, Marella would defeat Umaga thanks to interference from Bobby Lashley. At Backlash 2007, Umaga would go on to compete in a handicap match alongside Vince McMahon and Shane McMahon against Bobby Lashley for his ECW Championship. In this match, Umaga would win the ECW Championship… for Vince McMahon.
After aiding Vince McMahon in his loss at ECW One Night Stand 2007 against Bobby Lashley, Umaga would re-enter a feud with Santino Marella for the WWE Intercontinental Championship. The two men would face off against Vengeance 2007 for the championship. The match would eventually end in a disqualification after Umaga worked against the referee's discretion.
In a rematch, on July 2, 2007, Umaga would defeat Marella to become WWE Intercontinental Champion for the second time in his career.
Shockingly, after his championship win, Umaga would turn babyface to team with former rival John Cena. Umaga and Cena would face off against Carlito and Randy Orton.
At Summerslam 2007, Umaga would defeat Mr. Kennedy and Carlito in a triple threat match to retain his title. He would go on to interrupt a match between Kennedy and Hardy, leaving Hardy lying motionless in the middle of the ring. (There goes that face turn, huh?)
As per wrestling tradition, Hardy would go on to defeat Umaga for the WWE Intercontinental Championship two weeks later.
In that same night, Umaga would tag with Carlito in a match against Triple H. Post-match, Triple H would attack Umaga with a sledgehammer leading to a kayfabe injury. It is at this point that Umaga began suffering crushing losses, lessening his wrestling stardom.
After suffering a loss to Triple H at No Mercy, he would suffer a second loss to Triple H and the rest of his Survivor Series team at Survivor Series 2007.
For the next couple of months, Umaga would begin feuding with Batista. However, Umaga would lose to Batista at WrestleMania XXIV.
During the 2008 WWE Draft, Umaga would be drafted to the SmackDown brand. Umaga would not do much on SmackDown. Shortly after being drafted, Umaga would tear his PCL at a live event.
He would be out of action for the remainder of 2008, making his return on a January 2009 episode of SmackDown. He would defeat Jimmy Wang Yang and go on remain in catering for the next three months.
The Final Days of Umaga
After losing to Triple H via disqualification a March 6 episode of SmackDown, Umaga would remain off-screen for another two months.
On a May 1, 2009, edition of SmackDown, Umaga would return to attack CM Punk. Umaga would attack CM Punk multiple times in an attempt to keep him from cashing in his newly won Money In The Bank briefcase. Umaga and Punk would face off in two different matches.
At Judgment Day 2009, Umaga would defeat CM Punk in a near-twelve-minute match. In the penultimate moment of this feud, CM Punk and Umaga would face off at Extreme Rules 2009 in a strap match. This match was grueling, and some consider it to be one of the best of Umaga's wrestling career. However, in the end, CM Punk would defeat Umaga.
This would be Umaga's last WWE performance.
On June 8, 2009, WWE announced that Edward Fatu was released from his WWE contract. Reportedly, Fatu had violated the Wellness Policy. While this may have been Umaga's second (of three allowed) wellness policy violations, Fatu was still released from his contract.
It was later discovered that it was not the policy failure but rather Fatu's refusal to enter rehab led to his removal from the company. The wrestling world was shocked by the release of Umaga. Sadly, more shock was to come.
The Tragic Death of Wrestling's "Samoan Bulldozer" Umaga
On December 9, 2009, Edward Fatu was found by his wife in his home, unresponsive with blood covering his body. Fatu was rushed to a hospital where paramedics determined he had suffered a heart attack.
After his heart had been revitalized, Fatu had shown no signs of brain activity. Fatu was kept on life support, suffering a second heart attack while on life support. He was pronounced dead that day at 5:00 p.m; that same day at 36 years old.
Autopsy and toxicology reports revealed that Edward Fatu had traced hydrocodone, Soma, and Valium in his system. Medical examiners also determined that the wrestler had been suffering from heart and lung disease for quite some time.
The official pronunciation of his passing was ruled as a "heart attack brought on by acute toxicity of multiple substances." He was survived by his wife and four children.
Note: With much controversy surrounding his exit, WWE completely ignored the passing of Umaga. WWE did not present a pre-show graphic, a ten-bell salute, or any other commemoration.
Remembering Umaga
In WWE, Umaga played a butt-kicking, tough son-of-a-gun. However, behind the curtain, Edward Fatu was regarded as of the most sweet-hearted men in the industry.
After the announcement of Fatu's passing, different wrestlers poured out their sentiments on social media.
Chris Jericho tweeted, "Eddie Fatu was an awesome guy and one of the brothers. I trusted him and that's a rare thing for me. I am devastated. Safe travels, Uce." 
Former MCW Southern Tag Team Champion Shannon Moore, at the announcement of Fatu's passing, tweeted, "R.I.P Ecki …. Mad love and respect. We will miss you and I will cherish the times we had together." 
Edward Fatu's wrestling career was one of presumed promise. As a member of the Anoa'i family, in retrospect, there must have been high hopes for the Samoan Savage in the early goings of his career.
We currently live in an era of professional wrestling where people tend to reach their wrestling peaks in their forties. This notion makes the fact that Fatu passed away at 36 years old even more difficult in acceptance. Umaga is considered one of the most brutal, stiff, and believable wrestlers in the modern era.
Umaga was one of wrestling's most "what-if" characters. Nobody knows how Fatu's career may have panned out if it weren't for his passing. However, there is one thing that we know for certain: Umaga's short wrestling career left a long-lasting impact on the wrestling industry and fans of the industry alike.
In honor of Umaga, we recommend watching his New Year's Revolution 2007 match against John Cena for the WWE Championship. It was absolutely savage.