The 2021 Independent Professional Wrestling Awards
Clint: As we approach the new year and begin to contemplate what 2022 has in store, it's the perfect time to look back at what 2021 brought us when it comes to independent pro wrestling. Living in the midwest, I had the opportunity to witness some stellar independent wrestling over the past year. 
So now that it's that time to recognize the best of pro wrestling in 2021, my take will be a more regionally focused look back at independent wrestling. But, first, let's get to the categories. 
The 2021 Independent Professional Wrestling Awards
Best Male Wrestler:
Frontman Jah C
Clint: One of the most charismatic independent wrestlers in the country, Frontman Jah C, had himself a banner year. When looking at his accolades, there is no better place to start than Frontman Jah C becoming the inaugural Black Wrestlers Matter Champion. 
During the second Black Wrestlers Matter event, the beautifully crafted BWM Championship was on the line when Jah C faced off with JDX. The two put on an absolute classic, with Jah C earning a hard-fought victory. This year alone, Frontman Jah C has wrestled for more than a dozen promotions all across the country. Including All Elite Wrestling matches with Matt Hardy and Andrade El Idolo.
His matches, on the independent scene, with the likes of Jeremy Wyatt (Impact Pro Wrestling), JT Energy (SCWPro), and Jaysin Stryfe (Rugged Pro), are worth the search for wrestling fans. 
Never at a loss for words, Frontman Jah C continued delivering some of the best promos on the independent scene. Full of confidence and bravado, the best thing about Frontman Jah C is that he backs up his words when he steps in the ring, and that's why he is my 2021 Male Wrestler of the Year. 
Contenders:
JT Energy
ended 2021 just like he began the year, draped in championship gold. 
At the start of 2021, the "Unsolved Mistery" held the Central Empire Wrestling Championship, the 3XW Pure Wrestling Championship as well as being the SCWPro Quad City Cup holder. 
As the year progressed, Energy had his ups and downs, the highlight coming when he defeated Eric Redbeard at CEW Bridge City Slam 3. It was a measure of revenge after Energy was squashed the first time they crossed paths on Monday Night Raw in December of 2019. 
Entering 2022, Energy is still CEW and 3XW Pure Champion, and he is SCWPro Iowa Champion for the second time. 
Jeremy Wyatt
continues to prove why he is one of the most heralded independent pro wrestlers in the United States. 
The "Monarch" never has a bad match, utilizing his technical brilliance to ground out victory after victory. 
His reign of over 1,000 days as Gateway Heritage Champion is the stuff of legend and will most likely never be replicated. Defending the championship across a plethora of promotions, Wyatt proved how damn good he is on a nightly basis. 
He also found success in two major tournaments this year. Wyatt finished the Scenic City Invitational Tournament with a 1-1 record and emerged victorious in the Impact Pro Wrestling George Tragos/Lou Thesz Hall of Fame Tournament. His Hall of Fame finals match with Jah C was an absolute clinic in storytelling, but I'll have more on that later. 
The 1 Called Manders
hit a major milestone just a few weeks ago when he wrestled the 500th match of his career. 
Making that statistic even more impressive is that the "Cornbelt Cowboy" accomplished it in just four years. 
The man who lives by the motto "Another highway, another town" made his way across the United States this year. Wrestling for over 20 promotions, Manders brought his no-nonsense, tough-as-nails approach to the masses.
His match with Effy at SCWPro Hawkamania 19 stands out as one of the best matches to take place in Iowa this year. The momentum he gained this year has him on tap for an even bigger 2022. 
Best Male:
Atticus Cogar
Noah: Atticus Cogar has, this year alone, wrestled in almost 20 different promotions. Of his over-80 matches in 2021, the "Silver Teeth Satan" has shown fans of independent wrestling that he's not only one of the hottest assets when it comes to deathmatch wrestling but high-flying and technical showcases as well.
As one of the assassins for the detested 44OH! faction, Cogar has invited both cheers and jeers directed towards him, as nearly every match he's wrestled in this year has been met with dueling "f**k Ohio/Atticus" chants throughout their durations.
A fantastic run with H2O's Danny Havoc Hardcore Championship, as well as memorable showings in two of Game Changer Wrestling's most-anticipated annual deathmatch tournaments in Tournament of Survival: 666 and the NGI6 merits the Silver Teeth Satan as one of the most must-see talents in not just the independents, but professional wrestling as a whole.
Through his hate-driven philosophy, violent tendencies, and evident high ceiling as one of contemporary wrestling's top heels, Atticus Cogar has skewered his name, face, and actions into the minds of audiences this year.
The 2021 Independent Professional Wrestling Awards
Best Female Wrestler:
Sage Hale
Clint: Holding a championship for more than a month is no easy task. Holding a championship for almost an entire year is damn near impossible. Sage Hale, in just her first year in Impact Pro Wrestling, held the IPW Women's Championship almost the entire year. 
Her recent loss to twin sister Briar brought an end to an impressive reign. A reign that saw her notch victories against the likes of Miranda Gordy, Heather Monroe, Miss Frankie Jay, and Brooke Valentine. 
Cutting her teeth during the IPW Vault Show era, Sage Hale improved immensely over the past year and has since wrestled outside of IPW. Her stops in Central Empire Wrestling and Next Level Wrestling allowed her to ply her trade outside of her home base as she continued to improve. 
Contenders: 
"Queen Bee" Brooke Valentine
just gets better and better every time she steps in the ring. 
Bouncing back from an injury allowed Valentine to have a dominant year across 14 different promotions. 
The biggest highlight of the year for Valentine came during the Black Wrestlers Matter 2 show in June. That night she won a fatal four way match between herself, Camaro Jackson, Devon Monroe and Mike Outlaw to earn a future BWM Championship opportunity. An opportunity she plans to cash in on in 2022. 
Miranda Gordy
, much like Valentine, Gordy has been all over the country this year. 
Stops in the National Wrestling Alliance and All Elite Wrestling getting her name out there in the mainstream.
The most recent rumors of her signing with MLW, could make for an even better 2022. 
Billie Starkz
brings a youthful exuberance to the ring and this year she had the opportunity to wrestle in more than 30 different promotions. 
Adapting to her environment, Starkz wrestled in numerous inter-gender matches, hardcore matches and technical grapples. 
Learning from so many ring veterans over the course of so many promotions gives Starkz one of the brightest futures on the independent wrestling scene. 
The 2021 Independent Professional Wrestling Awards
Best Female:
Charli Evans
Noah: Charli Evans broke new ground this year as being one of Australia's breakout deathmatch wrestling stars with her showings in her native Deathmatch Down Under and IWA, as well as memorable appearances in both Jersey Championship Wrestling and Game Changer Wrestling in front of Western fans.
"The Violence Artist" made history this year by being the first female to progress to the semifinals of the annual Nick Gage Invitational. A night earlier, she had stolen the show at GCW: So High in an unbelievable deathmatch against the comparably amazing Rina Yamashita.
Not only did she look strong alongside SHLAK and Kit Osbourne during NGI6, but she also held her own against arguably the greatest contemporary deathmatch wrestler today in Alex Colon.
With Evans making headlines in over 10 US promotions throughout the duration of 2021, the future is an exciting prospect when thinking about the potential she has to perform in front of us yet again in the coming years.
Best Match:
IPW George Tragos/Lou Thesz Hall of Fame Tournament Finals  Jeremy Wyatt vs Frontman Jah C
Clint: This was the definition of storytelling within the realm of professional wrestling. Two polar opposite personalities and ring styles, the Frontman and the Monarch created magic back in July. 
From the minute Jah attempted to enter the ring and was blindsided by Wyatt, it was apparent what the current Gateway Heritage Champion's intentions were. The technical master Wyatt focused his entire offense on damaging Jah C's knee. 
If the Frontman can't stand, he can't hit you with that dangerous superkick. Not willing to go quietly into the night, Jah C, the current Black Wrestlers Matter Champion, fought off the assault as long as he could. 
It was a back and forth tilt that saw Jah play the never say die hero to Wyatt's tenacious technician villain. In the end, Wyatt picked up the win to become the Hall of Fame Tournament Champion. You can read a more in-depth look at their match here.
I'm currently putting together a top 15 list of the best matches I was in attendance for or shot ringside this year, and here are a few that will surely be on the list. 
1 Called Manders vs Effy (SCWPro),
Nick Aldis vs Jaysin Strife (Magnum Pro, NWA Title Match),
Storm Thomas vs JTG (CEW),
JT Energy vs Jah C (SCWPro),
Bryce Jordyn vs The Big Picture (IPW),
Mike Bennett vs AJ Smooth (IPW)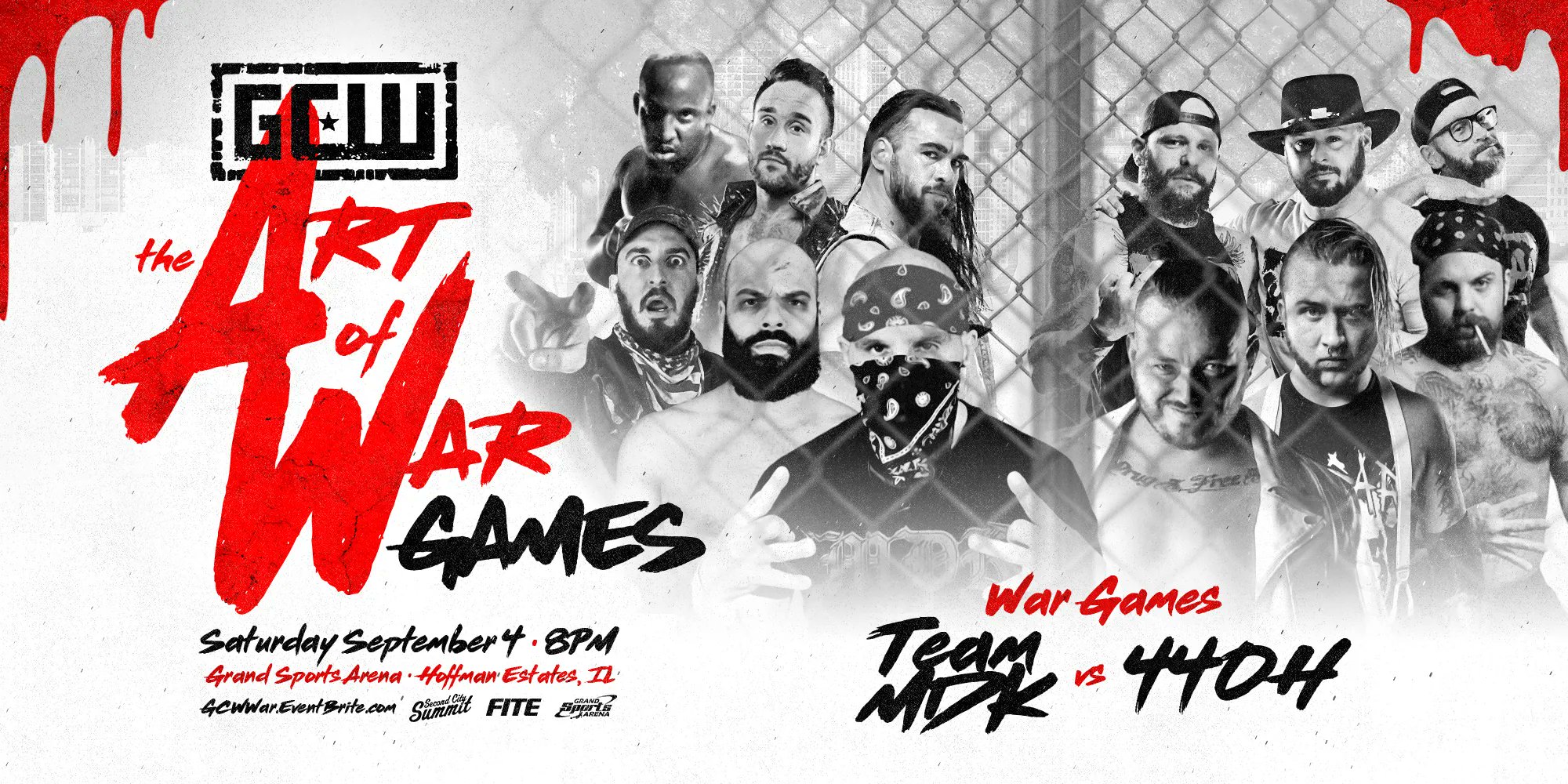 The 2021 Independent Professional Wrestling Awards
Best Match:
Team MDK vs. 44OH – The Art Of War Games
Noah: When Nick Gage announced that he and his Murder Death Kill gang would be facing 44OH! at the end of GCW: Homecoming this past summer, headlines were made throughout the wrestling world. Two of the most sadistic, violent, and barbarous factions in the deathmatch scene were going head-to-head in a War Games match – a match that had historically delivered unseen levels of brutality to the major promotions in both WWE and WCW. Only the imagination could infer what a War Games match in Game Changer Wrestling could potentially look like.
Fortunately for fans, the individuals participating exceeded expectations through gallons of bloodshed, thousands of glass shards, and "holy sh**" moments galore. At one point, before all members had even entered the rings, Atticus Cogar hit his signature Air Raid Crash onto Alex Colon off of some scaffolding onto a pane of glass and a door at ringside.
After all, members had eventually entered the ring; calling it a spectacle would be an understatement. In one ring was Nick Gage, Mance Warner, Matthew Justice, AJ Gray, Alex Colon, and Effy. In the other was Rickey Shane Page, Eddy Only, Atticus Cogar, Eric Ryan, Gregory Iron, and Bobby Beverly. Every single one of them had a weapon in hand, and not one person took their eyes off of the opposing team.
What followed was perhaps one of the most awe-inspiring displays of brutality in Game Changer Wrestling history, as keeping tabs on the action became progressively difficult. Sheer chaos from every corner of the rings, unrecognizable faces covered by crimson masks, flying glass shards, and light tube dust fogging up the venue made War Games live up to its name. The whole match felt like a true war.
The match was only complimented by its final moments, as Atticus Cogar delivered a Spanish Fly to a skewered Colon off of the aforementioned scaffolding through a door into the ring, only for the Second Gear Crew to throw Rickey Shane Page off of the same platform through a glass/door contraption moments later. Team MDK won when Nick Gage pinned RSP, and both men, alongside their five respective partners, had proven that catharsis is best achieved through 40-minutes of unadulterated violence.
The 2021 Independent Professional Wrestling Awards
Best Feud:
JT Energy vs Frontman Jah C – SCW Pro
Clint: Some feuds may have gone on longer this year, but this one finished the year with a bang. Back in October, the Frontman Jah C made his return home to SCWPro. It was a feel-good moment for everyone in attendance, everyone except JT Energy. 
At the time, Energy was the new SCWPro Iowa Champion and he didn't take kindly to sharing the spotlight once again with the returning Jah C. You see, these two have history, as they were once are SCWPro Tag Team Champions together. Known as Vicious and Delicious, the two made a huge impact together as a dangerous tag duo. 
After their partnership came to a violent end at the hands of Energy and a steel chair, the two engaged in an intense feud. Flash forward a few years and the feud was reignited in a trilogy of matches to end 2021. 
Their first match was a hard-hitting ladder match right before Halloween, won by the Frontman. Read a detailed breakdown of that match here. Following that was an old-fashioned bar brawl during Turkey Town Throwdown, the night before Thanksgiving. Once again Jah C emerged victorious. 
Two weeks ago, the trilogy seemingly came to a close when JT Energy finally got his SCWPro Hawkamania (this was third time meeting at the SCWPro event) victory, pulling down the championship during a wild TLC match.  
Contenders: 
TJ Benson vs the World (Magnum Wrestling)
The current Magnum Wrestling Top Gun Champion and former Magnum Wrestling Champion, tells it like it is and doesn't care how anybody feels about it. From the fans to his fellow wrestlers on the Magnum Pro roster and even legendary MMA star Dan "The Beast" Severn, TJ Benson suffers no fools. 
Being able to back up his critical words with an MMA inspired ring approach, only raises the ire from the fans. When Magnum Wrestling makes their return in January, fans will be chomping at the bit to boo Benson and he wouldn't have it any other way. 
Rory Fox vs Damien Saint – Central Empire Wrestling 
The moment Damien Saint debuted in CEW he set his sights on CEW legend Rory Fox. Costing Fox the CEW Championship during that same debut, only made Fox more determined to put the mysterious Saint in his place. 
The two battled in some wild brawls over the summer and Saint attempted to win the CEW Tag Team Titles with various partners. Recently these two bitter rivals went one on one with Saint gaining a crucial victory. 
Heading into 2022, Saint recently found a new partner in CEW Champion JT Energy as this feud continues to boil.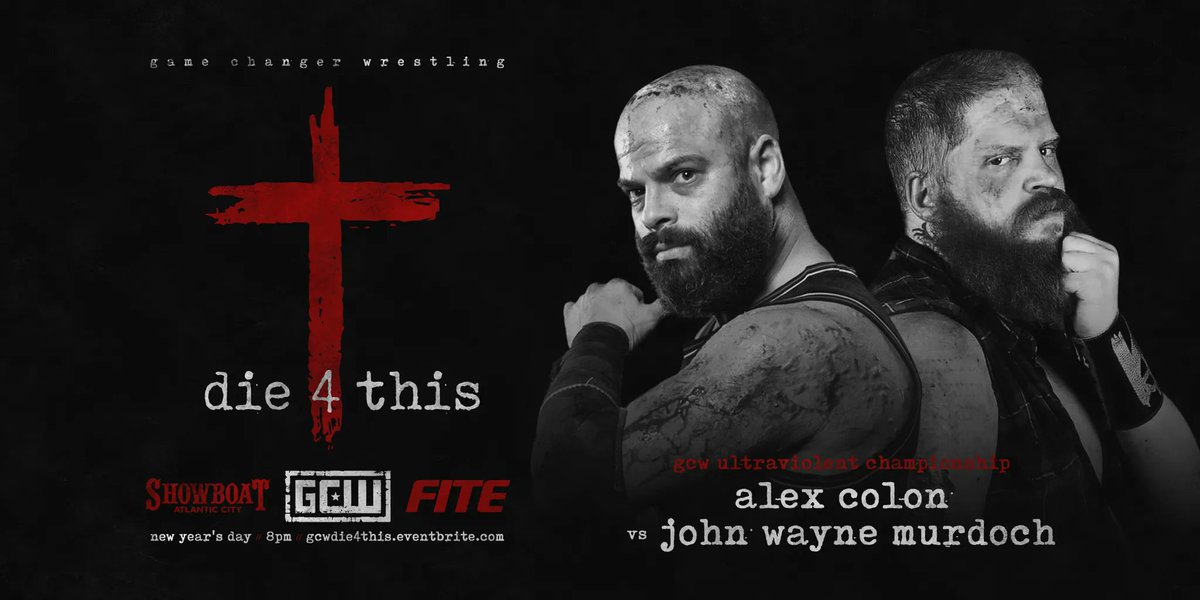 The 2021 Independent Professional Wrestling Awards
Best Feud:
Alex Colon vs. John Wayne Murdoch
Noah: Oftentimes, the quality of a feud in wrestling isn't necessarily dependent on the number of matches two wrestlers have against one another, but instead, the build-up to their conflict. As of this writing, the two wrestlers in question haven't even had their one-on-one yet. The story going into their match at GCW: Die 4 This on New Year's Day, however, is what has granted the unrequited anticipation for the bout.
To Game Changer Wrestling fans, two-time GCW Ultraviolent Champion and "three-peat" Tournament of Survival winner Alex Colon has shown beyond any doubt that he is the best deathmatch wrestler in the world today.
On the other side of the deathmatch world, however, "The Duke" John Wayne Murdoch has demonstrated his own personal warrant of that "best" title through his over 130 matches this year, many of which were ultraviolent deathmatches. IWA: Mid South and ICW: No Holds Barred has seen the current Horror Slam Deathmatch and ICW American Deathmatch Champion participate in some of the promotions' most violent matches – a notion that his scheduled opponent is no stranger to.
"Seeing that Murdoch, who had enough of the 'who's better?' debate, took matters into his own hands by attacking Alex Colon after the Nick Gage Invitational finals in Chicago," said esteemed deathmatch wrestling journalist Kings Road Wrestling in his "How It Came To Be" piece on the feud.
What's fascinating about this feud is that until Murdoch attacked Colon after winning the NGI6 finals, the feud was a product of fantasy booking. That "who's better?" debate only existed in the minds of fans and played out through hypotheticals brought forth by social media posts and comments. By Murdoch attacking Colon and Colon subsequently answering a month later at GCW: So Alive, the two men brought what fans wanted to see to life.
The 2021 Independent Professional Wrestling Awards
Best Moment:
Bryce Jordyn wins the Impact Pro Wrestling Champion from The Big Picture – IPW George Tragos/Lou Thesz Hall of Fame Show
Clint: For 853 days the Big Picture had a stranglehold on the IPW Heavyweight Championship. Defending the title by any means necessary, the Big Picture defended the gold against anyone and everyone in IPW. Bryce Jordyn had earned an earlier opportunity to wrangle the championship from the Big Picture but fell just short at IPW's 20th Anniversary show in June. 
A little over a month later, in front of a raucous Waterloo, Iowa crowd, Jordyn achieved his boyhood dream, defeating the Big Picture, giving the Hall of Fame weekend a storybook ending. Read about the title change here.
JDX – Frontman Jah C Pre Match Staredown
Sometimes all it takes is a stare down to capture the gravitas of a moment in pro wrestling and this staredown before the main event of Black Wrestlers Matter 2 for the BWM Championship, personified A MOMENT. 
Both men were determined to become the inaugural champion and when they locked eyes you can tell history was about to be made. You can watch the full match below:
JT Energy's Nightmare Before Christmas
This was the definition of a cool and something my kids will remember forever as they are huge fans of "A Nightmare Before Christmas". 
Complete with a painted face like Jack Skelington and entering to Marilyn Manson's version of "This is Halloween" made this a pro wrestling moment for my kids. And for a lifelong pro wrestling fan like me, that is something that is pretty damn cool. 
The 2021 Independent Professional Wrestling Awards
Best Moment:
Jon Moxley dethrones Matt Cardona at War Games
Noah: After Nick Gage defeated Rickey Shane Page at this past year's "rSpring Break," Jon Moxley appeared before the deathmatch legend, setting his eyes on not only his former rival but the Game Changer Wrestling World Championship as well. The feud was building progressively for the next coming months, yet underneath the collective hope for Mox and Gage to fight one more time, another feud was slowly simmering.
Matt Cardona, formerly known as Zack Ryder, had been fighting with Gage through social media. Trash talk, personal insults, and name-calling were being thrown back and forth via Twitter and Instagram, yet what just appeared to be online beef eventually transformed into a reality. At this past June's "Zombie Walk" event, one of G-Raver's masked druids began stalking an unaware Nick Gage with Jon Moxley's signature walk.
The crowd went nuts at the prospect of Jon Moxley before their very eyes and became even more unglued when the masked man delivered a double-underhook DDT. Among taking the mask off, however, the man revealed himself to be "The Thousand Dollar Broski" Matt Cardona. Instant heat. It was perfect.
Fast forward three months later, and Cardona is the GCW World Champion. He had defeated Nick Gage, proving in the process that he was not only "The Michael Jordan of Wrestling Figure Collecting," but the "Deathmatch King."
It was at September's "The Art Of War Games" show that saw Matt Cardona defeat Frank The Clown in about 10-seconds. The crowd was hot, and that Grand Sports Arena audience wanted to see nothing more than for Cardona to get his a** kicked. Luckily for them, one of Game Changer Wrestling's most violent stars, G-Raver, was there to seemingly settle the score.
The crowd chanted "G-Raver" as he, alongside his druids, made their way towards Cardona. Cardona laid out the druids, however, as G-Raver watched on from ringside. Yet, one druid remained. It was an eerily familiar site.
With Cardona's back turned, the druid began walking with his back slouched and his shoulders back. While everybody was on their feet, they still knew that they had been fooled once before by this exact visual. It was a mix of excitement, confusion, and suspense. A double-underhook DDT to Cardona, though, and hopes were beginning to heighten. When the druid finally unmasked, the sound in that arena was otherworldly. It was Jon Moxley. For real this time. Not only did Moxley make his triumphant return to GCW to win back the world championship, but to challenge his former foe, Nick Gage, once again. Long-term storytelling pays off.
____________________
To reach Clint Dye on social media to share with him your thoughts on his selections he can be reached here.
To reach Noah Grossman on social media to share with him your thoughts on his selections he can be reached here.