While the team that dons the maple leaf in The Olympics is commonly referred to in press and commentary as "Team Canada," that wasn't always the way. The first use of 'Team Canada' to refer to a team representing Canada was in the 1972 Summit Series.
The 8-Game ice hockey series pitted the inaugural Team Canada against a team from the Soviet Union. Team Canada scored an upset victory in game 8, bringing hope to a world on edge due to the Cold War and easing relations with Soviet Russia. The nickname stuck, and ever since, any team representing Canada in an international setting is known as Team Canada.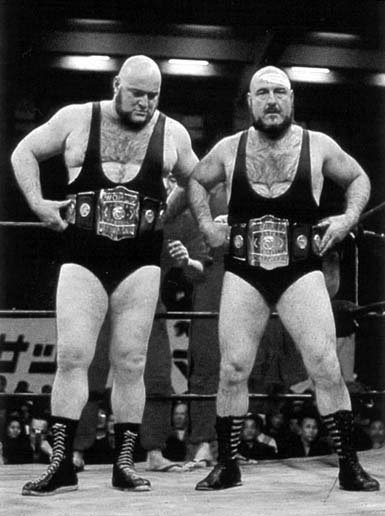 Team Canada in Professional Wrestling
The same is true of professional wrestling, which has seen a number of iterations of the "Team Canada" gimmick over the years. However, these were something of a long time coming.
While fans in the 70s riled at The Vachons and fans in the 80s had The Fabulous Rougeaus, the kayfabe families played the role of obnoxious French Canadians rather than claiming to represent Canada. In the 90s, we got a bit of a more nuanced take on Canadians, as The Hart Foundation became a tweener faction, depending on where they were.
Pro wrestling wouldn't see its first proper Team Canada until the year 1993, 21 years after the original Team Canada took to the ice. Today, we look back on the various incarnations of Team Canada in professional wrestling over the years.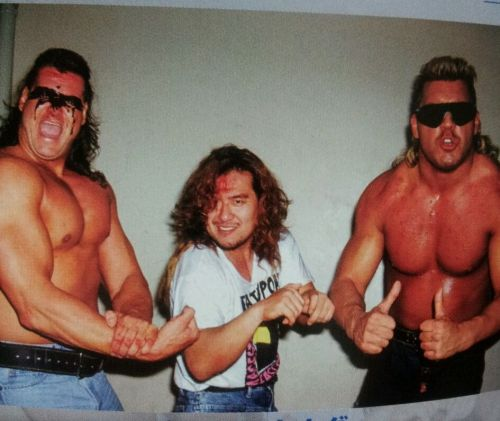 Team Canada In The Frontier
The first Team Canada in professional wrestling came together in the Japanese Deathmatch promotion Frontier Martial-Arts Wrestling in the year 1993.
The stable began when Stampede Wrestling alumnus and FMW fan-favorite Ricky Fuji turned heel on his stablemates Mr Gannosuke, The Great Punk, and FMW founder Atsushi Onita. Fuji would join forces with Gaijin heels Big Titan (Rick Bognar) and The Gladiator (Mike Awesome).
They soon added Dr. Hannibal and Dr Luther to their ranks, christening themselves Team Canada, after the homeland of most of the wrestlers involved. Later on, the group would add Horace Boulder, Mike Awesome's cousin, and the future Horace Hogan.
Team Canada was unique as the first heel faction in Frontier Martial-Arts Wrestling. The promotion had seen heels in singles and tag team action, but not heel faction. The stable made their biggest splash that may, defeating Katsuji Ueda, Tarzan Goto & The Great Punk in a Loser Leaves Town No Rope Barbed Wire Elimination Tag Team Match at the FMW 4th Anniversary show.
Team Canada would go on to hold multiple championships in FMW, including the FMW Independent World Heavyweight and Junior Heavyweight Championships along with various iterations of the FMW World Tag Team Championships. They also feuded with the likes of The Sheik, Sabu, Mr Pogo, and Hayabusa.
At the 5th anniversary show, Team Canada took part in an inter-promotional 6-man tag team match against WAR's Fuyuki-Gun (Hiromichi Fuyuki, Jado, and Gedo). The Gladiator won the match, however, some miscommunication between himself and Big Titan would see Gladiator abandon his teammates after the match.
After that night, the group would lose Horace, Luther, and Hannibal. The original Team Canada officially disbanded in December of 1994, when Rick Bognar's contract with FMW expired.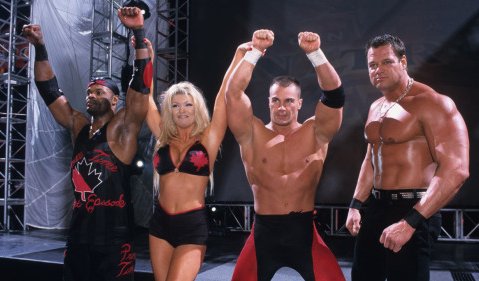 A Storm From The North
Calgary, Alberta's own Lance Storm left ECW in May of 2000, debuting in WCW to much fanfare on the June 19th episode of Nitro. He became a fixture of the undercard, swiftly capturing the United States Championship.
As part of his heelish anti-American antics, he slapped a sticker on the belt, rechristening it to the WCW Canadian Heavyweight Championship. He did the same with the Cruiserweight and Hardcore Championship, re-dubbing them the 101 KG and Under Championship and Saskatchewan Hardcore International Title respectively.
With his Canadian heritage being central to his gimmick, it was only fitting that he should become the leader of WCW's own Team Canada.
The original WCW incarnation of Team Canada came into being at New Blood Rising. That night, Lance Storm defended the Canadian Heavyweight Championship against Mike Awesome under 'Canadian Rules' with Jacques Rougeau as special guest referee.
'Canadian Rules' were a staple of Storm's matches around this time, though they were never made clear. However, it quickly became clear that Canadian Rules were rules that changed whenever Storm was about to lose.
Storm managed to walk away with his titles in tow, and the very next night he established WCW's Team Canada, gifting the Saskatchewan Hardcore International Title to Carl Oulette and the 101kg & Under Championship to Elix Skipper.
Carl would lose the Hardcore Championship in his first defense later that night while Elix would hold the championship for just under 50 days. Carl and Jacques would leave WCW due to visa issues shortly after, leaving Storm and Skipper as the sole members of Team Canada.
During this time, Team Canada entered into a feud with the babyface Misfits In Action, wherein Storm and MIA leader General Rection would trade the WCW United States Championship.
However, at Fall Brawl 2000, during the US Championship match between Storm and Rection, guest referee Jim Duggan turned heel, officially joining Team Canada. Through late 2000 into 2001, Team Canada would expand to include the likes of Mike Awesome and Major Gunns.
WCW's Team Canada would last until the very final Monday Nitro when WCW Tag Team Champions Sean O'Haire and Chuck Palumbo retained their titles over Storm and Awesome. Team Canada would disband shortly thereafter.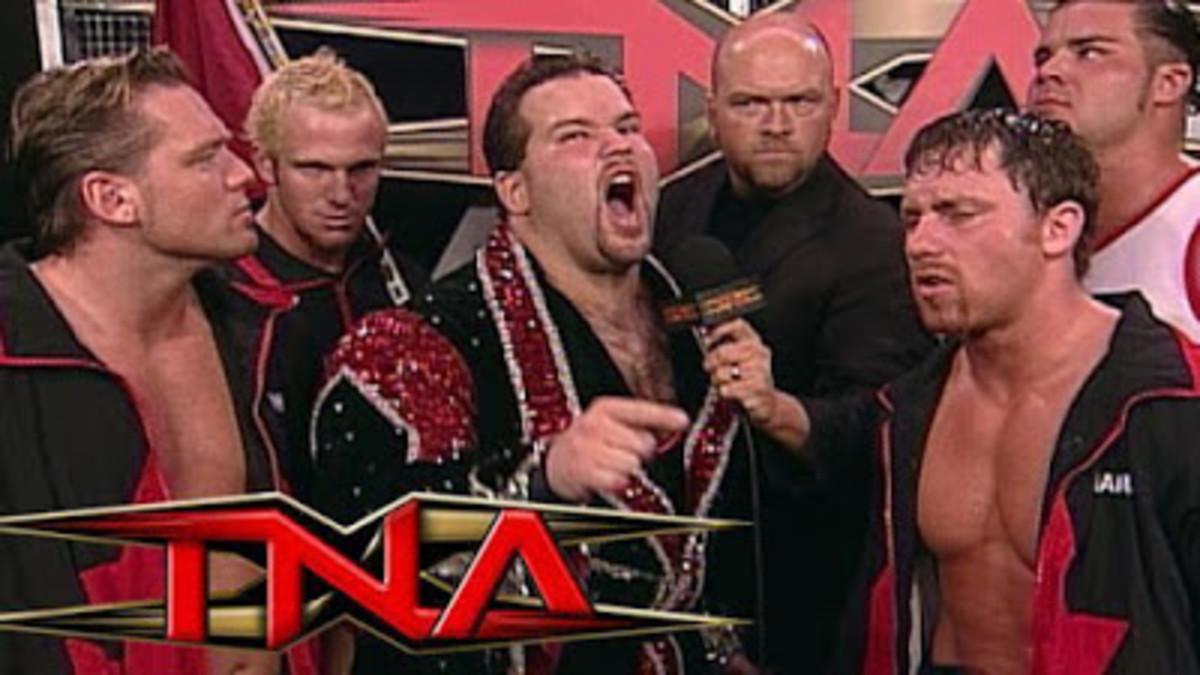 "Coach" Scott D'Amore Takes A Shot
In 2004, TNA hosted the Americas X-Cup Tournament, showcasing cruiserweight wrestlers from the United States, Canada, Mexico, and The UK. The top prize was the coveted X-Cup, along with a shot at the X-Division Championship.
At the time, Canadian wrestlers made up a significant portion of the TNA roster, thanks to the involvement of one Scott D'Amore. In fact, a significant portion of all wrestlers in TNA at the time had come through D'Amore's Can-Am Wrestling School in Windsor, Ontario.
While Team Mexico, captained by Juventud Guerrera, emerged victorious, Team Canada (consisting of Captain Teddy Hart, Jack Evans, Johnny Devine, and Petey Williams) stuck together after the tournament.
When the World-X Cup Tournament was announced later in the year, Petey Williams took over as captain, adding Eric Young and Bobby Roode as heavyweight contenders. The final round of the 2004 World X-Cup came down to Team TNA's Chris Sabin vs Team Canada's Petey Williams and Team Mexico's Hector Garza in an Ultimate-X Match with Sabin taking the win and breaking the 4-4 tie with Team Canada.
The following year's X-Cup would return the focus to singles action, however, Team Canada would not only remain an active faction but expand to include "Muscle Man" A-1 and Tyson Dux.
In September of 2005,
Scott D'Amore
booked NWA World Heavyweight Champion Raven to defend the title against Jeff Jarrett for Border City Wrestling. The match would see Jarrett recapture the NWA World Heavyweight Championship after interference from James Storm and Chris Harris (America's Most Wanted).
After the match, TNA Championship Committee lead Larry Zbysko would declare the title change official. A few weeks later, on October 1st, the ruse would be revealed, when Team Canada (along with "Coach" Scott D'Amore) joined Jeff Jarrett's 'funeral' for Team 3D.
The Canadians walked to the ring in black gear with black hockey sticks, signaling their new allegiance to the NWA Champion and his Planet Jarrett stable. However, things would begin to fall apart for Planet Jarrett with the return of Sting and the arrival of Christian Cage.
Despite Scott D'Amore's efforts to court Christian Cage over to Team Canada, Captain Charisma refused, intent on challenging for the NWA World Heavyweight Championship.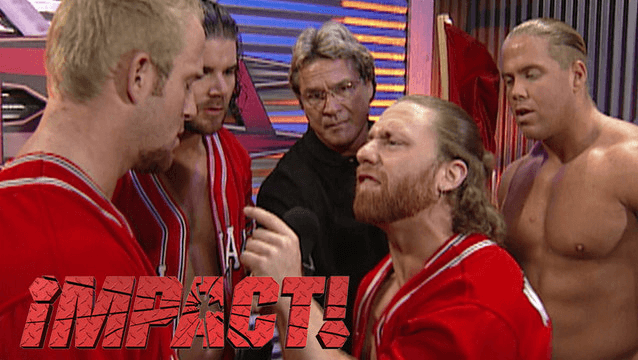 Jim Cornette and The End Of Team Canada
In 2006, the World X-Cup returned, bringing Team Canada back into contention. Team Canada lost their matches in the opening rounds before picking up a 5-point victory in the "Global Turmoil" Gauntlet Match at Sacrifice.
With Team Canada and Team USA tied at 5 points each, a tiebreaker was scheduled between captains Chris Sabin and Petey Williams for the May 18th episode of IMPACT! That night, Sabin scored another pin on Williams to secure the World X-Cup for Team USA.
However, just over a month later, Jim Cornette would arrive to take over TNA management. On the June 29th episode of IMPACT!, Cornette held a 'Company Meeting' to deal with the chaos that had run roughshod over Total Nonstop Action.
Among his 'executive decisions' were the firing of Earl Hebner, the return of the Latin American Xchange, and the disbanding of Team Canada. Upon appeal, Cornette offered an all-or-nothing 8-man tag team match pitting Team Canada against Team 3D, Rhino, and Jay Lethal. That match would end with Jay Lethal scoring the pinfall victory over A-1. At Victory Road 2006, "Coach" Scott D'Amore would call out the members of Team Canada.
Throughout the years, there have been attempts to revive Team Canada. When TNA announced the return of the World X-Cup, there were murmurs that Team Canada would be allowed to re-unite for the event.
However, Cornette announced he would not allow Team Canada to compete. Instead, former Team Canada member Tyson Dux was allowed to compete as Team Canada's representative on a team consisting of international members Daivari, Alex Koslov, and Doug Williams.
Former members remained in TNA/IMPACT Wrestling over the years and would regularly team together when the situation called for it. However, there wasn't a true Team Canada reunion until 2023. As part of Bully Ray's IMPACT World Championship angle, he power-bombed Scott D'Amore through a table, sending D'Amore away from TV.
He would return in the lead-up to Slammiversary challenging Bully Ray and Deaner to a match at Slammiversary. That night, D'Amore teamed with Eric Young in a re-united Team Canada to capture the win.
In Summation
Over their three incarnations, Team Canada captured eight championships:
– WWA World Martial Arts Tag Team Championships (Big Titan & The Gladiator)
– WWA World Martial Arts Jr Heavyweight Championship (Dr. Luther)
– WCW United States Heavyweight Championship (Lance Storm)
– WCW Cruiserweight Championship (Lance Storm, Elix Skipper)
– WCW Hardcore Championship (Lance Storm, Carl Oulette)
– NWA-TNA X-Division Championship (Petey Williams)
– NWA World Tag Team Championships (Bobby Roode & Eric Young)
– BCW Tag Team Championships (Petey Williams & Bobby Roode)
Meanwhile, across all 3 Teams Canada, they featured 6 Non-Canadians:
– Ricky Fuji (Japan)
– The Gladiator/Mike Awesome (USA)
– Elix Skipper (USA)
– Jim Duggan (USA)
– Major Gunns (USA)
– Jack Evans (USA)
Not bad for The Great White North.