Before I took up the pen for this here little ol' website about wrasslin', I worked for a traveling carnival. One of the very few days off I had while working on the road was a day in Windsor, Ontario. As I wandered around downtown in "the City of Roses", I encountered a poster for an IMPACT Wrestling live show at St Clair College.
In that moment, I remembered "Oh yeah, Scott D'Amore is from here." My mind flooded with memories from the early years of TNA and the stories I had heard from Border City Wrestling, one of the top indies in Canada. Back when I was writing Brace For IMPACT! and my brief run on The iMPACT Assessment, I would sing the praises of Scott D'Amore just about every week. Today we look back on the career of this unsung hero of professional wrestling in Canada.
Scott D'Amore | Wrestling In The Rose City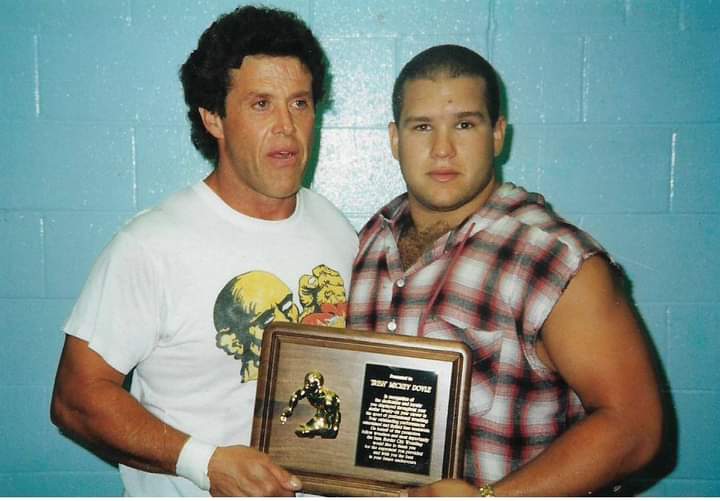 Scott D'Amore grew up as a pro wrestling fan in the Southwest Ontario city of Windsor. While the industrial hub is usually in the ten biggest cities in Ontario, it is absolutely dwarfed by its neighbor to the North, Detroit.
Being one of the great American pro wrestling territories, a young Scott D'Amore would be exposed to greats from the WWF, AWA, and NWA. D'Amore was hooked from a young age and began training in 1991, at only 16 years old. His trainer was Doug Chevalier, who began wrestling in 1983 and came to prominence in the mid-80s as a masked wrestler, "The Canadian Destroyer."
Young Scott took to wrestling like a fish to water and soon became a coach at Chevalier's wrestling school. The following year, Scott D'Amore would make his in-ring debut in a victory over future tag team partner Otis Apollo. At the end of 1992, Chevalier would approach D'Amore and area promoter Chuck Fader about opening an independent promotion to feature up-and-coming talent from Ontario and Michigan.
The resulting promotion, Border City Wrestling, would open its doors the following year. 1993 was a big year for the then-19-year-old D'Amore, as not only did he start BCW,  but he appeared on national television for the first time. On April 6th, D'Amore and tag team partner Otis Apollow would receive a World Tag Team Championship match against The Steiner Brothers.
This would begin a string of high-profile bookings as enhancement talent in WWF and WCW through the mid-90s, including a count-out victory over Dallas Page. Toward the end of that year, Scott D'Amore captured his first championship, The BCW Can-Am Heavyweight Championship.
In 1994, Doug Chevalier left Southern Ontario, leaving D'Amore as the booker in BCW. During this time, Border City Wrestling would become a hub for up-and-coming wrestlers in Ontario and the US Midwest. Notable wrestlers to come through BCW's doors at this time include Dan Severn, Terry Richards (later known as Rhino), and Edge & Christian.
Meanwhile, his enhancement talent bookings with WWF and WCW helped him make inroads with the undercard, which let him bring such names as Doink, Tom Prichard, and Al Snow into the company. BCW shows would become less frequent from 1995-99, as Scott wrestled overseas with Wrestle Association R and the English Wrestling Federation.
During this time, he and BCW standout Dave Clark took on a gimmick of being ice hockey players and wrestled under the team name "Gross Misconduct." In 1998, D'Amore had some tryout matches for ECW, and made lasting friendships with the likes of Tommy Dreamer, Rob Van Dam, and Sabu, all of whom would later appear for BCW.
Also in 1998, D'Amore booked an up-and-coming WWF star called The Rock, along with his Nation teammates Mark Henry and D'Lo Brown. The Rock and D'Lo Brown defeated D'Amore and Larry Destiny in the main event of a card that drew the biggest crowd BCW had ever seen, and the crowds would only get bigger.
A Difficult Time
In early 2000, Chuck Fader was diagnosed with throat cancer and subsequently resigned, leaving Scott D'Amore as a promoter and sole owner of Border City Wrestling. At this point, D'Amore had been the reigning BCW Can-Am Heavyweight Champion for five years despite long stretches of not being able to defend it.
In the storyline, D'Amore allied with Rhino to form a stable called "The Syndicate," which would grow to include Otis Apollo, Johnny Swinger, and Don Callis. The group would conspire to keep D'Lo Brown away from the BCW Can-Am Championship.
However, the summer of 2000 would end with a great tragedy. "The Canadian Destroyer" Doug Chevalier suffered a fatal heart attack, passing away in his sleep in the early morning hours of September 10th, 2000. Border City Wrestling events came to a halt until late November when they held the first annual Doug Chevalier Memorial Tag Team Tournament.
When BCW resumed live events in the Spring of 2001, they re-opened into an altogether different wrestling landscape. WCW and ECW had just been purchased by the WWF, leaving many wrestlers without a home promotion.
During this time, D'Amore used his connections with Tommy Dreamer and Sabu to bring them to BCW. Over the next few years, the likes of Dreamer, Sabu, Mikey Whipwreck, and Little Guido would hold championships in BCW. In late 2001, Chuck Fader's cancer went into remission, and he returned to the company as a publicist and kayfabe commissioner.
Then, in 2002, there was a breakthrough when Scott D'Amore secured a deal with Shaw Cable to bring BCW to television. The weekly 30-minute show brought some of BCW's finest into homes across Southern Ontario.
This also brought BCW to the attention of major promotions like TNA and WWE, who came seeking BCW talent. But they didn't just come for the indie stars and the homegrown talent. They also came knocking on Scott D'Amore's door.
Total Nonstop Action and Team Canada
In 2003, upstart promotion Total Nonstop Action brought Scott D'Amore into the company as a road agent, helping plot out matches and storylines. D'Amore used his position to bring in a number of Can-Am Wrestling School graduates like Chris Sabin and Petey Williams.
The following year, D'Amore would become an on-screen personality, putting together a team to compete in the 2004 America's X Cup. The resulting unit, Team Canada, would consist of team captain Teddy Hart, Jack Evans, Johnny Devine, and Petey Williams, with "Coach" Scott D'Amore as their manager.
The team made it all the way to the finals, only to be defeated by Team USA (Jerry Lynn, Chris Sabin, Christopher Daniels, and Elix Skipper.) However, in the wake of the 2004 X Cup, the only team that stayed together was Team Canada.
In the Spring of 2005, Scott D'Amore would be promoted to booker, and his increased off-screen workload gave him less time on-screen. At the 2005 Slammiversary, he took a chokeslam and a moonsault from Lance Hoyt, keeping him off TV for months.
Behind the scenes, though, D'Amore worked to have an NWA World Heavyweight Championship match to happen between Raven and Jeff Jarrett in BCW. The resulting match would see America's Most Wanted (Chris Harris and James Storm) interfere on Jarrett's behalf, making him a 4-time NWA World Champion.
This became known as the "Controversy in Canada" angle, and it would see D'Amore and Team Canada become part of the Planet Jarrett stable. Over the course of that year, D'Amore would also try to recruit the debuting Christian Cage. Team Canada would come to an end in 2006 in an 8-man tag team match against Team 3D, Rhino, and Jay Lethal.
The match ended when Lethal Scored the pin on A-1 and, as per the stipulation, Team Canada would disband. Scott D'Amore would receive less and less screen time over the following two years before his contract expired in 2008. He would return in a smaller role in 2009, but depart again in 2010 to oversee the merger of BCW and Toronto's BSE Pro into Maximum Pro Wrestling.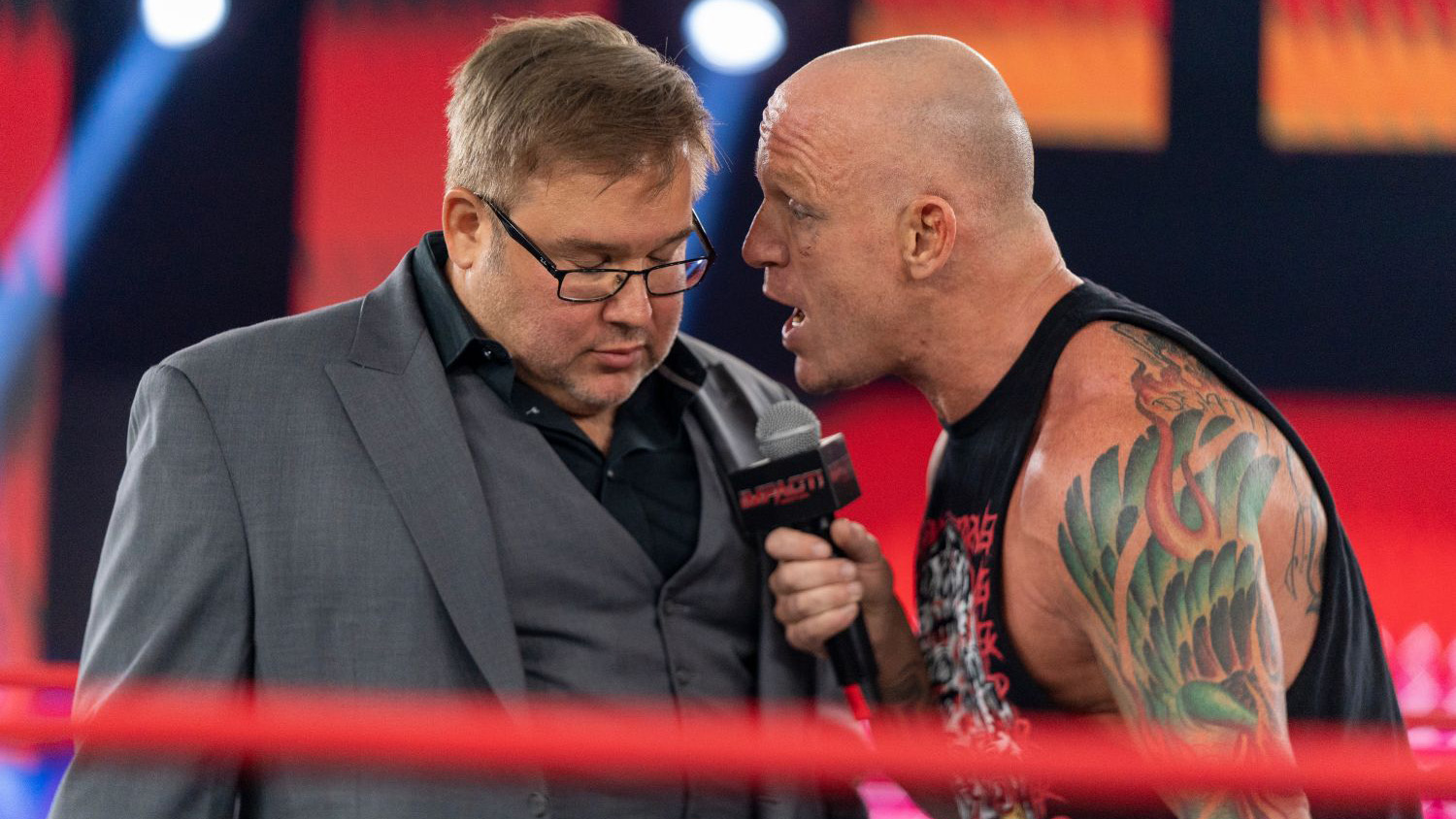 Maximum Pro Wrestling & Return To IMPACT!
The merger between BSE Pro and Border City Wrestling presented a great step forward for independent wrestling in Ontario. BCW had always been a popular promotion with wrestlers, and BSE Pro had a big following in Northern Ontario.
The merger between the two brought some of the top indie talent in North America to small towns like Woodstock and far-flung places like Iqaluit. MPW also negotiated a deal with Dragon Gate USA, which would see Dragon Gate championships defended in Canada for the first time. In their inaugural year, MPW brought us the March Breakdown tour, followed by the Spring Loaded tour and the Gold Rush tour.
Talent on these tours included Can-Am Wrestling School graduates like Tyson Dux and Jon Bolen along with the likes of Rhino, Tommy Dreamer, and Kevin Nash in a rare Canadian appearance. The merger didn't last long, however, as BCW would split from MPW and re-open their doors in August of 2012.
Around this time, Scott D'Amore worked out a deal with St Clair College in Windsor, making pro wrestling a part of their Entertainment Technology program. St Clair College became the new home base for Border City Wrestling, hosting nearly all BCW shows since 2012.
In 2014, Jeff Jarrett would recruit Scott D'Amore for his Global Force Wrestling project. Initially in a consulting role, D'Amore would become head of talent relations and GFW's liason with New Japan Pro Wrestling. To promote the GFW/NJPW working agreement, Scott D'Amore appeared at the G1 Climax finals, joining the Bullet Club in a beatdown on Hiroshi Tanahashi.
However, Global Force Wrestling was fighting an uphill battle to secure a TV deal for their flagship program, Amped. The company would hold a total of 36 shows and total 16 TV tapings, most of which would never air. In 2017, Global Force Wrestling would merge with the recently-rebranded IMPACT Wrestling, with the whole enterprise planned to move forward as Global Force Wrestling.
However, that plan fell through in September, when Jarrett and Anthem Sports would file a number of lawsuits and countersuits over the rights to the GFW branding and back catalogue. In the end, Scott D'Amore would side with Anthem Sports, becoming Executive Vice President of IMPACT wrestling, along with Don Callis.
On-Screen Personality and In-Ring Return
Through the COVID-19 pandemic, Scott D'Amore returned to screens as the head of IMPACT Wrestling on television. In this GM role, he would resolve conflicts between wrestlers and make matches. He was almost in a Kermit the Frog role, trying to keep the show going despite the chaos that emerges backstage in a wrestling promotion.
It's a role he's very good in, arguably the most compelling authority figure in pro wrestling today. Whether Scott D'Amore is laughing with a babyface or sighing out of frustration with a ridiculous heel, he always comes across as genuinely likeable.
Under D'Amore's guidance, IMPACT Wrestling weathered the worst of 2020 before becoming involved with AEW and NJPW through the "Forbidden Door" angle in 2021. However, being a GM, it was only a matter of time before his on-screen presence brought him into conflict with the wrestling talent.
At IMPACT Wrestling Over Drive in 2022, Bully Ray challenged Josh Alexander to an IMPACT World Championship match at Hard To Kill. Afterward, he launched into a vicious assault on Alexander and his wife until the champion agreed to the match. That's when Scott D'Amore got in Bully Ray's face, screaming about his actions.
After Hard to Kill, Bully Ray powerbombed D'Amore through a table, writing him off television. This attack would happen again at Under Seige, with D'Amore going through a flaming table.
The angle culminated in a tag team match at Slammiversary when Eric Young and Scott D'Amore re-united as Team Canada to take on Bully Ray and Deaner. Team Canada would walk out victorious, after D'Amore hit a Canadian Destroyer, the move he invented and named after the man who trained him.
The Can-Am Wrestling School: D'Amore's Greatest Achievement
Back in 1993, Doug Chevalier and Scott D'Amore opened the Can-Am Wrestling school, also located in Windsor, Ontario. Being right across the river from Detroit made the Can-Am wrestling school a hub for prospective wrestlers from both Michigan and Southern Ontario.
Original trainers at the Can-Am Wrestling School included Chevalier, D'Amore, Denny Kass and "Irish" Mickey Doyle. When Chevalier passed away in early 2000, D'Amore became head trainer. Under Scott D'Amore, a number of  highly regarded wrestlers would come to train courses, including old WWF friends Al Snow, D'Lo Brown, and Joe E. Legend.
But more interesting than the names who taught at the Can-Am Wrestilng School at this time are the students they were training. Students from around this time include Eric Young, Alex Shelley, Chris Sabin, and Petey Williams, all of whom would become champions around the world.
The Can-Am Wrestling School wound down in the mid 2000's as Scott D'Amore became more involved with Total Nonstop Action. However, in 2015, "Hot Stuff" Johnny Devine convinced D'Amore to relocate to Windsor and re-open the school. Initially, D'Amore and Devine trained new students together.
However, in recent years, many newer wrestlers like Josh Alexander and former students like Chris Sabin and Alex Shelley have taught at the Can-Am Wrestling School. Indeed, the Can-Am Wrestling School is often placed in the top 20 wrestling schools in the world, head of such legendary institutions as the Shawn Michaels Wrestling Academy and Ohio Valley Wrestling.
Despite all of the success and acclaim, Scott D'Amore remains very humble about his school, saying "until we looked at it recently and kind of started tallying it up for the relaunch, I didn't realize how many World champions we've had come through here." While his work in Border City Wrestling and Total Nonstop Action may be the most well known aspect of his career, the Can-Am Wrestling School remains Scott D'Amore's greatest contribution to Canadian wrestling.