All Elite Wrestling is continuing to build their women's roster. The newest signee is a true martial art badass with a black belt in Jiu-Jitsu. Her name is Tay Conti and although her career is concise, she is set to be a major player for years to come. She has the athletic ability that many dreams of, and with the proper coaching she will excel in AEW. The upstart company has received a lot of flack for their lack of attention towards their women's division.
It appears that they are listening more to the fans and are attempting to stack their women's roster. It is a refreshing feeling to see a company listen and provide positive change. Tay Conti like many of her peers is happy to have a platform to show the world what they can do. She is the focus of this week's AEW Talent Preview. Let's see why everyone is buzzing about the Brazilian Badass.
Early Life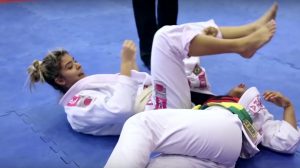 Taynara Melo de Carvalho was born on June 9th, 1995, in Rio de Janeiro, Brazil. Conti began her athletic career in artistic gymnastics. She made the transition to the martial arts of Jiu-Jitsu and Judo which are staples in Brazil. Conti trained and competed for "Brasil vale ouro" which stands for Brazil is worth gold. She then moved on to "Instituto Reação" owned by the 2004 Olympic Bronze medalist Flávio Canto. Tay was a four-time state champion in Judo.
She made the Brazilian team and made the trip to Europe competing in Portugal and Germany. She obtained her black belt in Judo, and a blue belt in Brazilian Jiu-Jitsu. Tay Conti got the opportunity of a lifetime by participating in the trials for the Brazilian Olympic team. She, unfortunately, did not make the team for the 2016 Summer Olympics. It may have been a disappointment but even being mentioned in the same sentence as the Olympics is an amazing achievement.
Start in Wrestling
After not making the 2016 Olympic team Conti was looking for a new direction. Conti received interest from the WWE who had the initial idea of being paramount of women's wrestling. WWE had discovered Conti through some modeling she had done. They were looking for Brazilian talent to add to their already diverse roster. With a pretty face and an impressive background, it was a no brainer to offer Tay a developmental contract. Although Conti had zero experience in the world of professional wrestling WWE knew the potential she held. Conti signed a developmental contract with WWE in October of 2016. Her class would include talents like Sarah Logan, Nikki Cross, Aleister Black, Roderick Strong and Killian Dane.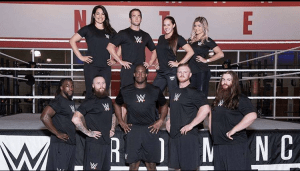 With no experience in professional wrestling, it took some time for Tay to adjust to the business. At first, she felt that everything was still like Judo to her. However, after her first match against Sarah Logan, she quickly released how different everything was. Conti credits Nikki Cross for assisting her in learning the business so quickly. She was starting to get her grounds and would debut on NXT after not even a full year of training.
Time in NXT
Conti debuted as Taynara Melo, on the May 13th, 2017 episode of NXT. She participated in a battle royal for the Number One Contendership to the NXT Women's Championship. Just a month later she made her singles debut in a loss against Lacey Evans. Conti was showcased in the 2017 Mae Young Classic where she lost again to Lacey Evans.
Tay Conti would be featured occasionally in NXT. She was never featured on a TakeOver show. She was never featured in any prominent storyline. Conti felt that she was idly waiting for something more to do. She did get the opportunity of a lifetime come WrestleMania season. Conti competed in the Women's Battle Royal at WrestleMania 34. She is the first female Brazilian to compete at WrestleMania, and she will always have that to look back on.
Dealing with being released
Tay Conti was included in one of the biggest talent purges in history. Conti has been vocal about her frustrations during her time in the developmental brand. She felt that no matter what she pitched to creative they always turned her down. She would continuously be told to keep up what you're doing, and eventually, you're time will come. Conti explained her surprise of being released in an interview with SportsKeeda:
"Well, yes, it was a shock for me because I asked for my release, like, a couple of months before. I wasn't happy there and we were trying to figure out something, right? And then I was not able to get my release, so we were okay after then, I gave myself one more chance to try because I had no option, right? Because I had a contract – but, yes, everything was good. I was having matches, and everything was fine so, yeah, I didn't expect to be released. They called me and they were like, "Yeah, you're released".

– Tay Conti on being released (h/t Sportskeeda

)
Conti was rightfully upset like many others who had previously requested their release and were denied, only to be released later. She credits Chelsea Green for helping her with life after WWE. She explained that Chelsea was one of the first to call her and helped her get onto Pro Wrestling Tees. The wrestling world was shocked by the purge of talent from WWE. However, it has allowed many to be free and rebuild themselves elsewhere.
Tay Conti | Start in AEW
Conti had to wait 3 months to get the chance to work anywhere else. As soon as her 90 days were up, she joined Anna Jay in the AEW Women's Tag Tournament. The team faced off against Nyla Rose and Ariane Andrew and picked up the win in the first round. The two would lose in the next round to Ivelisse and Diamante who would go on to win the tournament.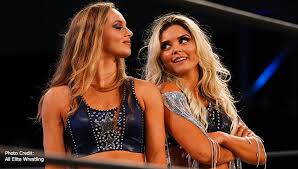 Conti has been in the crowd of Dynamite shows as of late. Recently she had been given an invitation from Anna Jay to join The Dark Order. The decision has yet to be made, and as she received the invitation Conti seemed very unsure of what to do.
Tay Conti is All Elite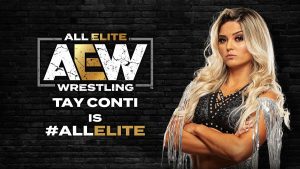 On September 9th, 2020 AEW officially announced the signing of Tay Conti. She made her AEW Dynamite debut against Nyla Rose in a losing effort. The match itself was great and Conti worked her knee injury well. During a social exclusive AEW showed Conti being recruited once more by The Dark Order. By the end of the segment, Anna Jay was there to be her aid. The plot continues to thicken with The Dark Order and the potential of Conti joining seems imminent.
Conti has recently announced that she started Muay Thai classes in August 2020 to better herself in wrestling and prepare for a possible MMA fight. The world of professional wrestling and mixed martial arts seem to be getting closer and closer. Most importantly Conti is just proud of where she's from.
"I feel in my heart, that I was born to represent my country and to represent my people and I don't know where. I don't know-how. But somehow, I will represent them. I will always do my best to represent my people and my country."
– Tay Conti on representing her country (h/t WrestlingInc)
Conti is happy to have the opportunity to represent her country of Brazil on TNT Wednesday nights. She looks to continue to get better in and outside of the ring. She is an amazing addition to the AEW Roster, and the sky is the limit for Tay Conti.