Shelton Benjamin is a pure athlete. Hailing from Orangeburg, South Carolina, this WWE Superstar is the epitome of what a wrestler should be. He's agile, quick, and a great worker. Unfortunately, Shelton does not always get the credit he deserves. Every year at the WWE Money In the Bank ladder match, Benjamin pulls out some new, innovating way to wow the fans. Many don't remember that on his RAW debut, he actually defeated Triple H three times in route to becoming WWE Intercontinental Champion.
Let's also not forget his association with Kurt Angle. As the World's Greatest Tag Team, he and Charlie Haas conquered the WWE, ROH, and the independent scene. Currently, Shelton Benjamin is the technical expertise behind the Hurt Business. Let's take a look at this phenomenal athlete's career.
Shelton Benjamin
The Journey Begins at OVW
Ohio Valley Wrestling was considered the place to be in the early 2000s. The class of 2002 featured a who's who in the business. It included John Cena, Batista, Randy Orton, CM Punk, and Brock Lesnar, just to name a few. Another alumnus of the OVW class of 2002 was Shelton Benjamin. Benjamin was a two-time all-American from the University of Minnesota. When he arrived at OVW, he was quickly paired with another University of Minnesota standout Brock Lesnar.
Not yet the Beast or even the next big thing; Lesnar looked to Shelton for in-ring advice.  He taught Brock how to work a crowd and how to get more out of a hold. Together they formed the Minnesota Stretching Crew winning the OVW Southern Tag Team Title twice. When Lesnar was called up to the WWE, Benjamin formed The Dog Pound with Redd Dogg, aka Rodney Mack. Shelton Benjamin was becoming a tag team specialist.
Team Angle invades SmackDown It's true, It's True.
Shelton Benjamin made his WWE debut on Sunday Night Heat in a dark match against none other than John Cena. Both superstars were just beginning their careers at this point. In his debut, he actually pinned John Cena with a spin kick.  It wasn't long before Shelton caught the eye of Smackdown GM Paul Heyman. On the October 22, 2002, edition of Smackdown, GM Paul Heyman had a surprise for Kurt Angle. Based on Kurt's loyalty to the brand, Heyman wanted to give Kurt some extra help. That help was Shelton Benjamin and Charlie Haas. Collectively the three were now known as Team Angle. Under the guidance of the Olympic gold medalist, Team Angle rose to the top of the WWE.
On February 6, 2002, they defeated Los Guerreros to win the WWE tag team championship when Haas rolled up Eddie Guerrero. In the meantime, Kurt Angle earned the respect of everyone in his matches with WWE Undisputed Champion Brock Lesnar. Unfortunately, during his WrestleMania 19 match with the beast, he reinjured his neck and therefore was out of action for months. Nevertheless, team Angle kept the championships until they were defeated by Eddie and a new partner Tajiri at Judgment Day 2003 in a ladder match. Tajiri was filling in for Chavo Guerrero due to a torn bicep.
This was arguably Shelton Benjamins' first introduction to using the ladder. Several times he would use the ladder as a springboard to connect with a splash or plancha. Shelton looked right at home. Despite Team Angles's best efforts, they walked away, losing the tag titles.
Shelton Benjamin
Team Angle Implodes
On June 5, 2003, Kurt Angle returned to the WWE to a standing ovation. During his time off, Kurt Angle adjusted his attitude. He now was just happy to be back after suffering what could have been a career-ending injury. On June 12th, 2003, episode of Smackdown, Kurt Angle called Team Angle to the ring. Kurt mentioned that he didn't hear anything from Haas or Benjamin while he was out of action. Shelton said that they were sick of Kurt Angle and blamed him for losing their titles because he wasn't there. They claimed the neck injury was just a reason for Kurt to be selfish. Angle fired both. Team Angle was no more.
Worlds Greatest Tag Team
Despite no longer having the guidance of Kurt Angle, Shelton Benjamin and Charlie Haas continued their domination of the tag team bracket. They defeated Los Guerreros for the WWE tag team title. Back on top, the World's Greatest Tag team were proving they didn't need Angle. They had amazing matches against the APA and the team of Rey Mysterio and Billy Kidman. However, on September 8, 2003, they lost the titles back to Los Guerreros. The team stayed together until Shelton Benjamin was drafted to RAW, and nothing was stopping him now.
Shelton Benjamin –
Ain't No Stopping Me Now
Jim Ross called Shelton Benjamin one of the greatest all-American athletes he's ever seen. Shelton was not about to disappoint the legendary announcer.  After being drafted to Raw, he saw an opportunity to make a name for himself. What better way than to go after The Game Triple H. Benjamin saw an opportunity to evolve off of Evolutions expense. On the March 3, 2004, episode of Raw, Shelton Benjamin defeated The Game. That's right, Shelton Benjamin holds a victory over two World Champions and future Hall of Famers. Needless to say, HHH was not happy. HHH claimed the victory was a fluke. The next week on Raw, as the cerebral Assasin was talking about his World Title hunt, Shelton interrupted The Game.
"Triple H, let me introduce myself. I'm that young punk kid from Smackdown & I'm the two-time All-American from Minnesota. I'm the guy that just beat you in this ring  1-2-3".
With that statement, he challenged HHH to a second match. Once again, he defeated the Cerebral Assassin but this time with a countout. The two had yet a third match where Benjamin defeated HHH again but by disqualification. Shelton Benjamin was now a marked man in Evolutions eyes. He added another victory to his list when he defeated the Legendary Nature Boy Ric Flair at Backlash. Unfortunately, Shelton's luck ran out when he lost to WWE Intercontinental Champion Randy Orton at Badd Blood on June 2004.
Shelton Benjamin –
Intercontinental Champion
In 2004 the WWE Intercontinental Champion was the incomparable Chris Jericho. At Taboo Tuesday, Shelton was chosen by the fans to challenge Y2J. This match is a wrestling clinic. Jericho tried everything he could. He hit the lion sault. He even put Benjamin in the walls of Jericho, but the young rookie wouldn't quit. Finally, Shelton Benjamin caught Jericho with a thunderous T bone suplex. Shelton Benjamin pinned him and took the WWE Intercontinental Championship. He held the title for 244 days until being defeated by Carlito.
A Man needs his Momma.
After losing the Intercontinental Title, Shelton went on a losing streak. In his time of need, he turned to the one woman who would truly understand him, his momma. WWE decided to add another facet to Shelton's career by having comedian Thea Vidale accompany him to the ring portraying his momma. She was basically the stereotypical baptist momma that promised no one would "mess with her boy." Momma did what she promised, and Benjamin was once again on the winning path due to her interference.  On February 20, 2006, Shelton defeated Ric Flair for his second Intercontinental Championship after " momma" faked a heart attack.
Shortly after, Vidale had an issue backstage that caused her to leave the company. Shelton no longer had his "Momma," but he was once again Intercontinental Champion. At WrestleMania 22, Shelton Benjamin competed in the Money In The Bank Match. The young superstar almost won it all. Unfortunately for Shelton, Rob Van Dam climbed the ladder of success and won the briefcase. This guaranteed him a World title shot. At Backlash, in a winner-take-all match against RVD, he lost the Intercontinental title and his opportunity at the title.
However, Shelton wasn't done with RVD. In a tornado tag team match that included Triple H and John Cena, Shelton pinned RVD and became a three-time Intercontinental Champion. Unfortunately, Benjamin did not hold the title for long. Johnny Nitro defeated him at Vengence.
Worlds Greatest Tag Team Part 2
After this loss, Shelton Benjamin reunited with Charlie Haas. The team started a feud with Cryme Tyme. They also went after the Hardy Boys but could not take down the daredevils. They also attempted to defeat Paul London and Brian Kendrick but also came up short. The team disbanded in 2007 after Shelton Benjamin was drafted to ECW. In Extreme Championship Wrestling, Shelton dyed his hair blonde and began calling himself the gold standard. That night he defeated ECW Original Tommy Dreamer.
At WrestleMania 23, Shelton once again entered the Money In the Bank ladder match. This time he was representing the extreme brand. Benjamin put on another amazing performance. However, someone else from the Land of the Extreme beat the Gold Standard to the briefcase. CM Punk climbed the ladder and got his first opportunity at a World title. After WrestleMania 23, Shelton began a feud with Kofi Kingston. On the 100th Episode of ECW on Scifi, he ended Kofi's undefeated streak.
Return to Smackdown and ECW
In 2008 Shelton Benjamin was drafted back to Smackdown. At the Great American Bash, he defeated Matt Hardy for the United States Championship with his new move called the Paydirt. Ironically enough, Shelton's future Hurt Business mentor Montel Vontavious Porter aka MVP, defeated him for the title. At WrestleMania 24, Shelton Benjamin again participated in the Money In The Bank Match. He arguably was the MVP of the match. Shelton used the ladder in ways that were never seen before. However, it was Deja Vu as once again CM Punk won the match. Shelton Benjamin was traded back to ECW, where he entered into a rivalry with Sheamus.
At TLC, he challenged Christian for the ECW title in an unbelievable match ladder match. After the loss, the gold standard went back to Smackdown, defeating CM Punk to qualify for the Money In the Bank Match at WrestleMania. Once again, Shelton was the master of the ladder. He is arguably the greatest Money In the Bank entrant to never win. Unfortunately, he came up broke and failed to capture the briefcase. On April 22, 2010, WWE wished Shelton Benjamin in his future endeavors.
Ring of Honor
In 2010 Shelton once again reunited with Charlie Haas. This time the team set their sights on the Ring Of Honor. On September 11th, 2010, they made their debut against the ROH tag team champions Kings of Wrestling. Although they lost the match, they made an impact. On April 1, 2011, at Honor Takes The Stage, Shelton and Charlie became the ROH Tag Team Champions.
At Final Battle 2011, the duo lost the titles to the Briscoe Brothers. However, at Border Wars 2012, they regained the titles. On June 24th, Benjamin and Haas lost the tag titles to Rhett Titus and Kenny King. By this time, the wear and tear of the ring were consuming Shelton. He asked and was granted his release from ROH, but not before facing Charlie Haas in a rivalry. Haas also asked for and was granted a release from the promotion.
Shelton Benjamin –
New Japan and Pro Wrestling NOAH
In early December 2011, The Gold Standard took his skills to New Japan Pro Wrestling. In an ironic twist, his tag team partner was future Hit Business leader himself MVP. Benjamin and MVP challenged some of the greatest tag teams in the land of the rising sun. They called their team Black Dynamite. Shelton also wrestled as a singles competitor challenging Tanaka.
After losing to Tanaka, Benjamin joined the Suzuki Gun stable. He began to refer to himself as Shelton X. Benjamin. As a member of Suzuki Gun, he targeted IWGP Champion Shinsuke Nakamura. Unfortunately, Shelton failed to defeat the strong-style fighter. He left NJPW and went to Pro Wrestling NOAH along with his stable. He began to challenge Takashi Sugiura. Once again, Shelton came away empty-handed.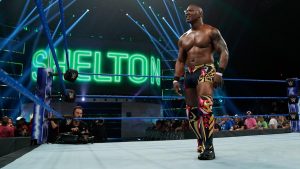 WWE Return
On July 26, The Gold Standard returned to Smackdown. However, due to a torn rotator cuff, his debut was put off a few weeks. On August 27th, 2017, he teamed with Chad Gable. Both all Americans clicked. They were awarded a WWE tag team championship match against The Usos. They defeated them, but the win was overturned due to the wrong Uso being pinned.
After the loss, Benjamin and Gable turned heel. Due to the draft, the team was disbanded when Gable went to RAW. On Smackdown, he began to challenge the locker room. Randy Orton answered the challenge. Shelton ended up defeating the Viper. He also defeated Daniel Bryan on an episode of Smackdown. In the 2019 Draft, he was drafted back to RAW.
Hurt Business
Shelton received a United States Championship opportunity against Apollo Crews. Shelton lost due to Crews using the ropes for leverage. Due to the controversy, he received another shot. Unfortunately, he also lost that one. Benjamin decided if he can't beat them, join them. He became a part of the Hurt Business. As a result, he won the 24/7 title from R truth. He also defeated Crews due to MVPs and Bobby Lashley's help. The Hurt Business added a third member, Cedric Alexander. Benjamin and Alexander defeated The New Day for the WWE tag team championships at TLC. They would go on to lose the titles to The New Day on RAW. After the loss now Universal Champion, Bobby Lashley kicked Benjamin and Alexander out of the Hurt Business. Alexander was not happy with this decision and attacked Shelton in their match. Since then, Shelton has been making sporadic appearances in WWE.