Unsung Heroes will cover people and personalities whose work doesn't always get talked about as much as it could be, such as Montel Vontavious Porter. With a history rich in stars, the supporting actors don't always get their just desserts. This series will strive to shine a light on those who fall into that category. Our next subject is the former WWE United States Champion, MVP.
_____________
Over the course of his eighteen-year career, Montel Vontavious Porter has grown both personally and professionally. It was reported that as a child, he was a member of a gang that became more dangerous as time passed. Charged as a juvenile and later being arrested and incarcerated for kidnapping and robbery at 16. As a teen, the young MVP known as Alvin Antonio Burke Jr would convert to Islam while in prison but has no official religious affiliation and becoming Hassan Assad.
It was a corrections officer that convinced MVP to pursue wrestling as a career. Said corrections officer also pursued professional wrestling outside of their daily work. For the first three years of his career, much like several of today's stars, MVP competed on the independent circuit. Interestingly enough, current NXT trainer Norman Smiley is listed among his past trainers. His time with Coastal Championship Wrestling, Full Impact Pro, and Future of Wrestling helped to carve the way for him initially. It was also at this time when he was appearing on-screen sporadically for TNA, competing once for them in 2003 against Erik Watts under the name Antonio Banks. He appeared the following year, competing for the promotion in a tag team match against America's Most Wanted.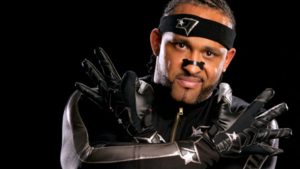 MVP Joins the WWE
By 2005, MVP had several dark matches with the WWE and eventually was signed to a contract. He was moved to their Deep South Wrestling developmental promotion, where the MVP character was born. The character could be described as a Mr. Perfect for a new generation. The character combined confidence along with uncomparable athletic ability.
Upon being called to the SmackDown brand, MVP engaged in feuds with Kane, Chris Masters, & Matt Hardy. His debut was heralded as the arrival of an in-demand free agent. Often the character would ignore those that were scurrying to secure his services. The storyline was a modern-day spin of the initial arrival of the 'Macho Man' Randy Savage in that a highly sought after talent was in demand if not by managers but a brand itself. MVP's ring attire has consistently remained unlike what fans will typically be accustomed to with talent. With gear that is typically form-fitting, it helps to reinforce the athletic and his often overly confident persona.
MVP's first notable title contention and run was for the WWE United States Championship. He defeated the likes of Ric Flair and Chris Benoit during this time for the title. But his feud with Matt Hardy allowed both professional life and real-life to bleed into each other. MVP claimed to be better than Hardy at nearly everything; however, when he didn't win a competition, it was due in part to what MVP stated was a recent diagnosis. MVP was diagnosed with Wolff White Parkinson Syndrome. Wolff White Parkinson Syndrome is when irregular heartbeats are detected in the body.
Rivalry & Alliance with Matt Hardy
It was at this point when an on-screen segment would emerge, and the VIP Lounge was born. From there, his rivalry with Matt Hardy became an unlikely alliance. The duo would come together to capture the WWE Tag Team Championships. Despite coming together to become champions, their competitive nature between one another would continue. Who was the 'Captain' of the team? If MVP had his way, he was the one calling himself that. Despite the competition between them, the two initially, they would work together, even seeing them support one another.
As they say, all good things must come to an end. Once the duo lost their titles, their rivalry for the US title resumed. After Hardy returned from an injury, he was announced as an unannounced participant in the Money in the Bank Ladder match at WrestleMania XXIV. MVP would lose the US title after an impressive 343-day reign to Hardy. His reign falls within the top ten within the history of the title. MVP's losing streak storyline really was a case of how the mighty had fallen. With the loss of incentives, his entrance was taken away. While in the storyline, the obstacles are not unlike his life prior to wrestling.
But even losing streaks come to an end, and with MVP, the end of a losing streak led to regaining the US Championship. He would change brands and ultimately lose the title to Jack Swagger (Jake Hager). The balance of his run with the WWE initially saw him contend for the tag team titles, compete for the top contendership for the Intercontinental title, and mentor talent in NXT. However, by 2010 MVP was no longer with the company.
New Japan Pro Wrestling
A new year brought about new opportunities and a new company. This new opportunity would be in a different country as well. MVP joined New Japan Pro Wrestling, but it wouldn't be easy. The desire to compete overseas was an issue as previous legal issues stood to be a challenge for him in getting a work visa outside of the United States. He would join Kojima-Gun upon joining the promotion. On the third day of the Invasion Tour 2011, MVP defeated Toru Yano in the IWGP Intercontinental Championship tournament's finals. MVP became the first-ever IWGP Intercontinental Champion. He held the title until Destruction 2011, where he lost the title to Masato Tanaka. MVP held the title for nearly five months.
It was also in NJPW, where MVP would be reunited with former WWE colleague Shelton Benjamin. Together, the duo competed under the name of 'Black Dynamite' in 2012. The following year, MVP parted ways with NJPW to turn his attention to acting opportunities in the United States and to step away from the industry to 'recharge.'
"I wanted to stay closer to home to work that's in development, which is pretty cool. But besides that, just recharging the batteries. I love New Japan (Pro Wrestling). People that know me and know my story and know that Japanese wrestling is the apex of pro wrestling for me. To have been in Japan, to have been the inaugural IWGP Intercontinental Champions, to have been accepted in there wrestling culture, and to have spent the time there was a dream come true, and I needed to back up for a second, reassess the scene and decide what I wanted to do."
 – MVP on leaving NJPW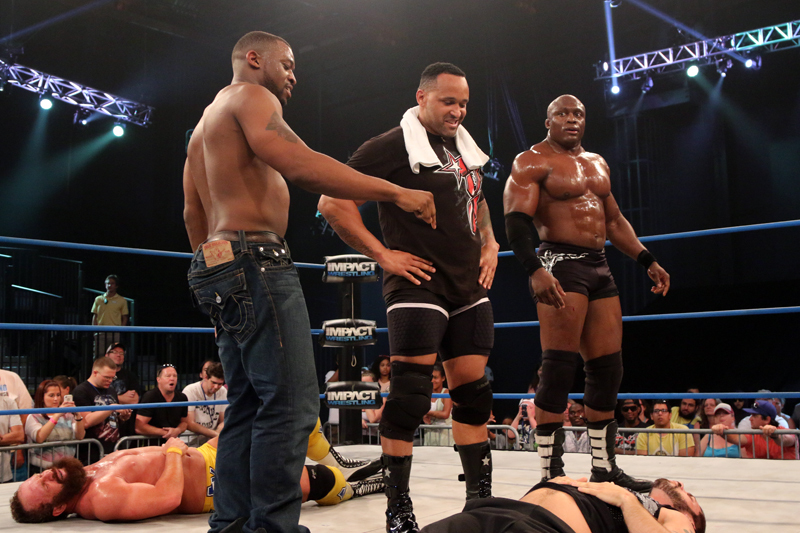 MVP joined TNA in 2014 in a more prominent role. The businessman character wasn't unlike fans see in more recent years in the WWE. He was in the position of power and ultimately gained control of TNA /IMPACT Wrestling (on-screen) over Dixie Carter. But his greatest quality is his ability to dive into the more heel persona. Unfortunately, a torn meniscus stopped plans of an IMPACT Wrestling World Title run but rather was in the position of manager of Bobby Lashley and Kenny King.
Independent Circuit Exploits
From 2015 until 2017, MVP wasn't prominently featured in any major promotions. He would compete on the independent circuit for places like Tommy Dreamer's House of Hardcore & Reality of Wrestling during this period. By 2017, he would join the newly relaunched Major League Wrestling. MVP first competed for MLW during their first show years ago and faced Sami Callihan. His role in the company was quite vast. From taking on the role of agent to competing on-screen as a performer, MVP dabbled in several different areas. The following year, MVP left MLW. During his time there, he was primarily engrossed in a feud with Sami Callihan.
MVP would appear the following year for Ring of Honor. As a surprise partner of Kenny King, the two men would compete in the Tag Team Wars Tournament with the opportunity at the titles. Despite being eliminated in the semi-finals, MVP was once again getting noticed and gaining more attention.
MVP Returns To The WWE
With a one-off appearance in 2018, the belief would be MVP wouldn't be a part of the WWE more than this one time. However, a surprise entrant in the 2020 Royal Rumble would evolve into something greater. From that appearance (his first in a WWE ring in 10 years) would lead to the VIP Lounge's return, the formation of The Hurt Business, and a prominent on-screen role.
His return to the company has been a renaissance in his time with the WWE audiences. MVP's life, like his career, has been anything but simple. He has recorded music, practices martial arts & won gold in Brazillian Ju-Jitsu, & succeeded despite his Wolff-Parkinson-White Syndrome diagnosis. From moments alongside his late friend Shad Gaspard watching Kofi Kingston capturing the WWE Championship to advocating for equality as part of Black Lives Matter. There is no reason to think MVP won't continue to be a prominent person both on and off-screen that fans can continue to look up to.