Shazza McKenzie had been conquering the world of professional wrestling for 11 years now.  The Australian-born wrestler made her professional debut back in 2008. A solid all-around performer, Shazza McKenzie has delighted audiences all around the world.
Shazza McKenzie recently has been leaving her mark upon PWA Black Label where she has been one of the most dominant PWWA Champions the company has ever seen. It is easy to see that Shazza McKenzie is on the rise.
It will only be a short matter of time before she truly breaks through. And has the entire world on notice of her work.
Busy would be a slight understatement when it comes to describing the year that Shazza McKenzie has had in 2019. Shazza has traveled the world in 2019 and wrestled for a multitude of different companies, all of which bared witness to a star on the rise.
The rising star of Shazza McKenzie has come about as a result of the incredible hard work that Shazza has shown through the years. In the early stages of Shazza's career, she worked for promotions around Australia such as Pro Wrestling Australia, Melbourne City Wrestling, and Riot City Wrestling.
Shazza McKenzie –
She's HEARTCore
Shazza, to this day still makes regular appearances for these promotions where she is one of the top competitors. McKenzie has twice held the PWWA Championship. She the championship was a 741-day run.
One that came to an end in an exciting one-on-one match with Jessica Troy. Shazza is also a former PWA Tag Team Champion with her then tag team partner Big Fudge, together, they were known as Choc Blockers.
Shazza has made her name known in Shine, where she made her debut in 2012.  In her debut with Shine Shazza McKenzie was teamed up with another wrestler who would make a real name for herself.
The debut was a team with then up-and-comer Davina Rose who the world would be more familiar with now as Bayley.  The two would see their efforts come up short of victory against the team of Made In Sin.
Made In Sin was a team made up of Taylor Made and current NWA Women's Champion Allysin Kay.  Shazza has continued to work for Shine, where she has become one of the best competitors on the card.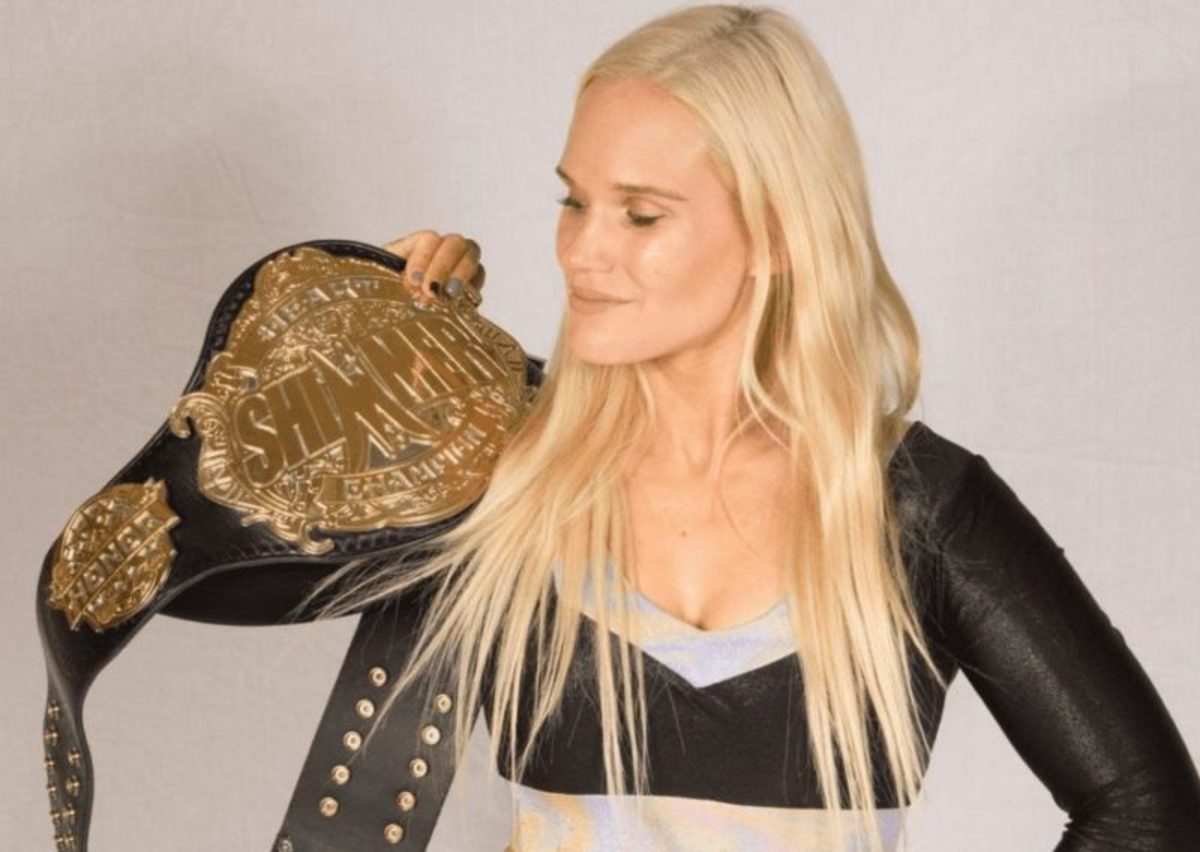 A Regular for SHIMMER
Shazza McKenzie has also become a regular competitor in SHIMMER.  McKenzie had a reasonably strong start to her run in Shimmer which grew with each and every time that she competed for the promotion.
Shazza continued to rack up victories over a multitude of opponents over the years, which eventually led her to a match with Nicole Savoy for the Heart Of Shimmer Championship.  Nicole Savoy had enjoyed a strong 462-day reign as the Heart Of Shimmer Championship when she locked up with Shazza Mckenzie.
The end result saw Shazza McKenzie defeat Nicole Savoy and become the new Heart Of Shimmer Championship.  Shazza would then hold the Heart Of Shimmer Championship for 281 days before she lost it to Dust.
On top of the highly decorated career that Shazza McKenzie has had around the world, she has also had some televised matches with NXT and AEW. In 2015, Shazza McKenzie had a match in NXT against fellow Australian competitor Tanielle Dashwood, better known in NXT as Emma.
Shazza then returned to NXT in 2018 in a match against one-half of the WWE Women's Tag Team Champions, Kairi Sane. This then brings us to 2019 during the AEW All Out event, where Shazza McKenzie took part in the Casino Battle Royal.
This continued exposure to the North American audience is opening eyes to the ever-growing talent of Shazza McKenzie.
United Kingdom Travels
Shazza has also been leaving her mark all across the United Kingdom this year with matches for promotions such as Rev Pro and IPW:UK in particular.  This experience that Shazza continues to receive from each company that she works with continues to make her a threat inside the squared circle.
Shazza has all of the tools it takes in order to be a champion, and better yet she has all the tools to make a real name in the wrestling business in general.
The next big step for Shazza McKenzie is coming up shortly as well.  It was only recently that Shazza Mckenzie defeated Carter Deams, Hooligan Marcus Kool, and Unsocial Jordon in a PWA Championship #1 Contender 4 Way match.
With this win, Shazza will now have the opportunity to go one-on-one with quite arguably one of the most dominant champions in PWA history, Caveman Ugg.  This opportunity could see Shazza make history in PWA having been the only competitor that has been able to hold the PWA Tag Team Championship, PWWA Championship, and also the PWA Championship.
A Future Confrontation with Caveman Ugg
If this is to happen it will definitely have all of the world awake to the work of Shazza McKenzie. This win could also open some big doors for Shazza McKenzie as companies look to diversify their rosters with top talent from around the world.
It is only a matter of time before one of the larger companies comes knocking at the door and looking to sign this amazing young wrestling star.
It is no better time than right now to check out all of the work of Shazza McKenzie and show some love for the incredible hard work and passion that Shazza has shown to the wrestling community over her 11-year career.