This Saturday night, SCWPro begins what could be their biggest month of 2022 with EPIC Night One. The event is taking place at the Walcott Coliseum Saturday night. It's the first of two huge events during the month of April, and much like EPIC Night 2, which takes place on Saturday, April 23, this show has a spectacular card of matches on tap.
Matches include the debut of a former WWE Tag Team Champion, an extremely personal grudge match, a possible show-stealing women's match, and a blockbuster eight-man tag, plus much more. But, first, let's take a look at the card.
SCWPro EPIC Night 1
Hall of Fame or Fired Match
Scotty 2 Hotty vs. Connor Braxton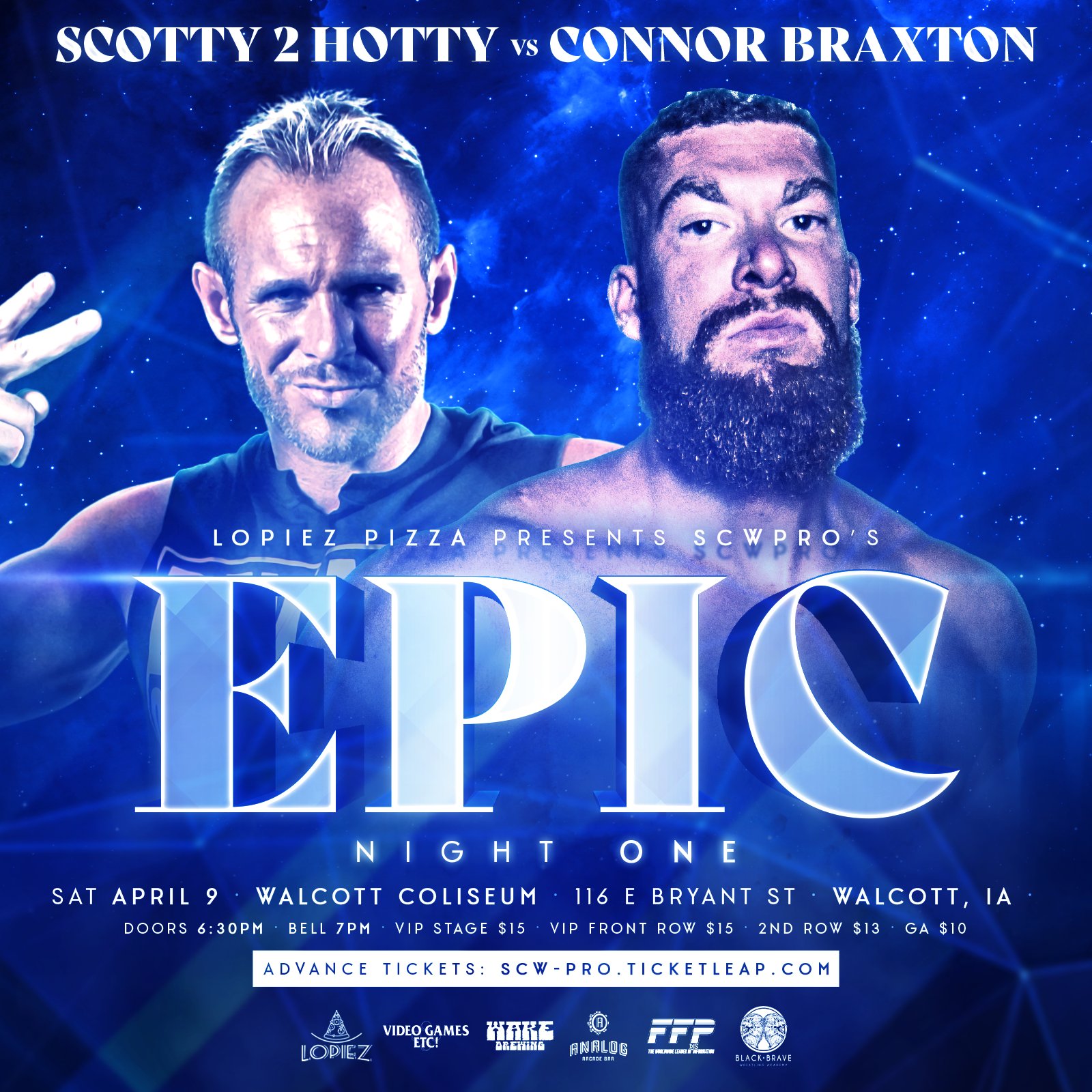 Wrestling fans the world over know the name Scotty 2 Hotty. Joined by the late Brian Christopher and Rikishi, Too Cool, as they were known, was one of WWE's most popular acts during the Attitude Era.
Everywhere he goes, the fans adore him, and this Saturday, he makes his debut at SCWPro. But unfortunately, his opponent, Saturday night, Connor Braxton, resides at the other end of the spectrum when it comes to the fans.
While Scott Garland (as he's known now) basks in the fans' support, Braxton feeds off their hatred. For months he's sparked the ire of the SCWPro faithful with nefarious acts against some of their favorites. 
With accomplices Ript Studwell and James Thomas by his side, Braxton recently defeated the likes of Corn Boi, Chuck Brewster, and Heather Reckless. Saturday night is an opportunity Braxton has been dreaming of. 
Is Connor Braxton ready for Scotty 2 Hotty?
It's his chance to not only defeat a former WWE Tag Team Championship, but per the match stipulation, a win puts him in the SCWPro Hall of Fame. However, this match does come with a risk; if Braxton loses, he will be fired from SCWPro. Lot's at stake in this one. 
No Holds Barred
The Shug vs. Matt Cage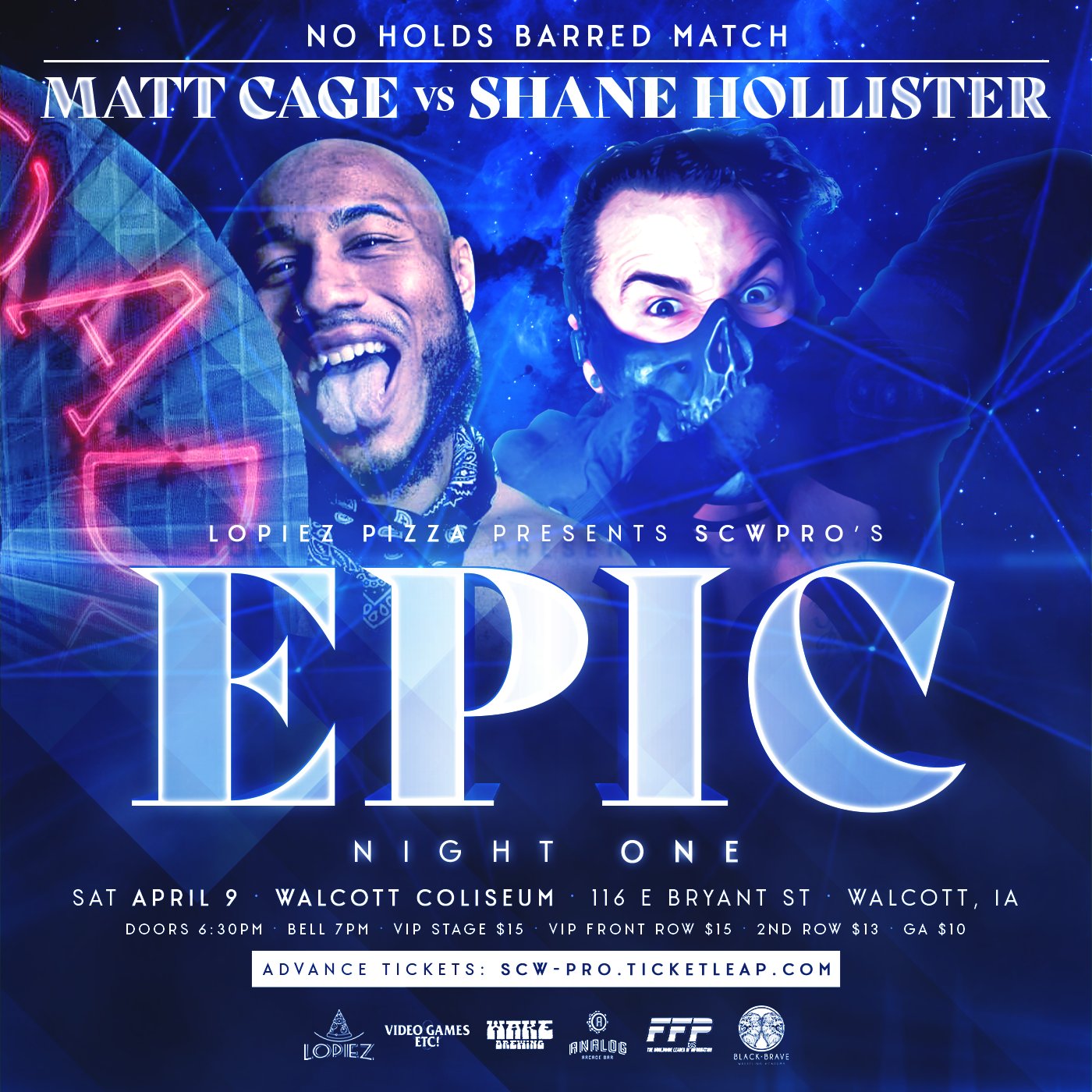 Grudge: a persistent feeling of ill will or resentment resulting from a past insult or injury.
For close to a year, Matt Cage and the Shug have engaged in SCWPro's most personal rivalry. These two former SCWPro Heavyweight Champions have continuously taken shots at each other. 
Both willing and ready to assault the other at the drop of a hat. This Saturday, during SCWPro EPIC Night 1, these two look to settle the score. Their feud has played out over numerous SCWPro events, including last October's Hawkamania, where the Shug was suspended for physically attacking Cage.
Suspension be damned, the Shug continuously showed up at SCWPro events in hopes of interfering in Cage's matches. Included in this was the Prestige Rumble, where Cage – who was one of the final four competitors in the battle royal to determine the number one contender for the SCWPro Championship – let a distraction from the Shug cost him the ultimate opportunity.
Cage accepted the Shug's pleas for a No Holds Barred Match following the Prestige Rumble, but he had conditions. The Shug would have to run a three-match gauntlet of opponents chosen by Cage. Match one at SCWPro Heartbreak; the Shug defeated the Samoan Dragon Solomon Tupu after a hard-fought battle.
SCWPro EPIC Night One

At Hawkamania XXII: Don't Wanna Be in Love, Cage brought in another monster in Lars Metzger. The Shug, despite Metzger being able to wrestle with no rules, once again emerged victorious. In the final match of the gauntlet, Cage really stacked the deck.
The Shug had to take on Gunner, MFG, and Niko Kline in a three-on-one handicap match.
Matt Cage discusses his feud with The Shug.
Making things even tougher was the fact that Cage himself was the special guest referee. Despite all these odds, the Shug, walked away victorious. Saturday it all comes to a head when the Shug faces Cage in a No Holds Barred Match.
SCWPro EPIC Night 1
Shazza McKenzie vs. Heather Reckless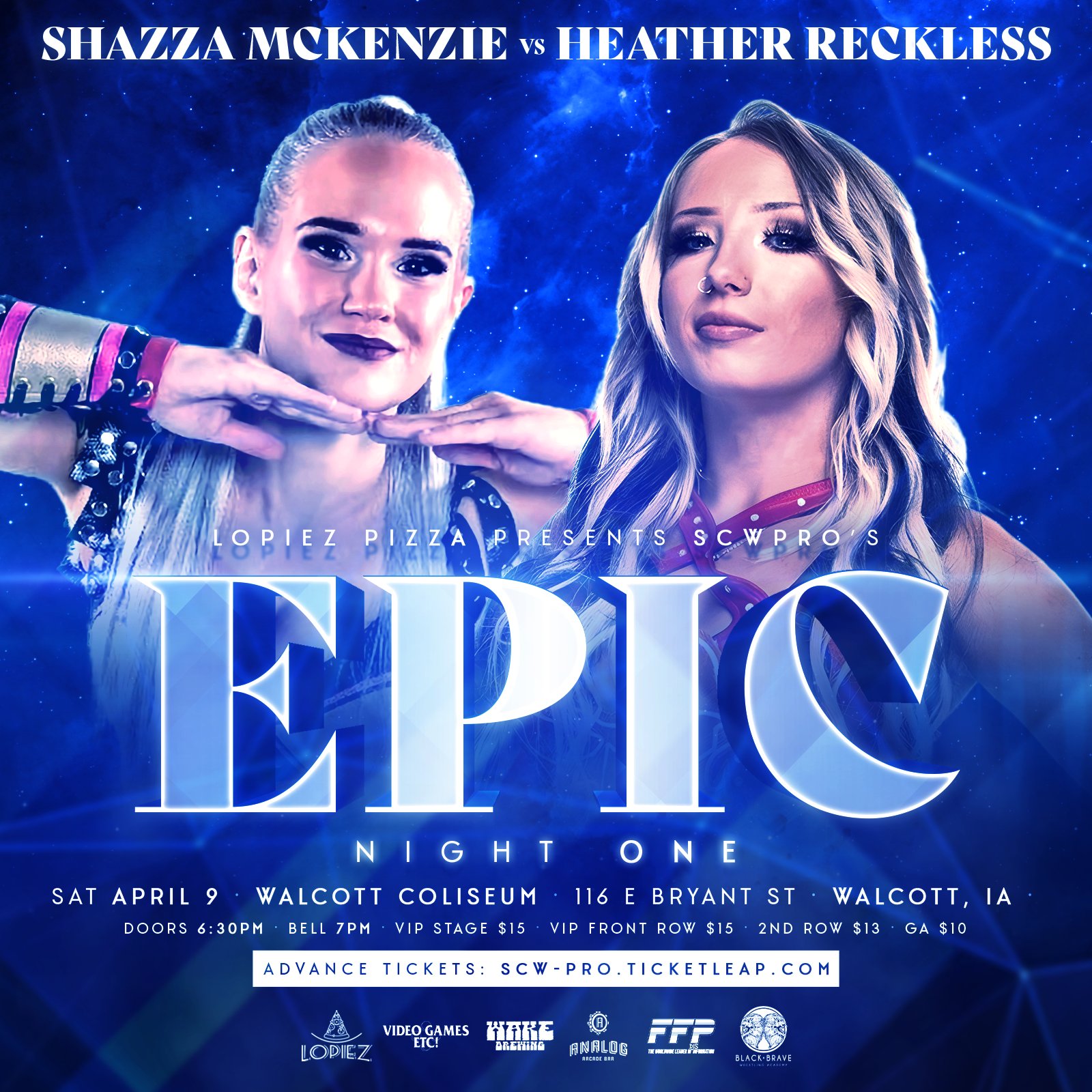 Scotty 2 Hotty isn't the only big name coming to the Walcott Coliseum Saturday. Australian veteran Shazza McKenzie also makes her SCWPro debut. Wrestling since 2008, McKenzie has plied her craft all over the world, gaining valuable experience at every stop. 
This year alone, she has wrestled for 13 promotions. Additionally, McKenzie has held championships in a handful of promotions, included in that is a 741-day reign as PWWA Championship. Welcoming McKenzie to SCWPro Saturday night will be Heather Reckless. 
Since debuting for SCWPro in 2019, Reckless has gained a reputation as a tough as nails performer unafraid of any challengers. This fearlessness led her into a singles match with Connor Braxton at SCWPro: Heartbreak. 
That night, despite a distinct size disadvantage, Reckless was seconds away from defeating Braxton. Multiple appearances on AEW have Reckless ready for one of the biggest challenges of her young career. These two ladies could be the show-stealer Saturday night.  
8-Man Tag Team Blockbuster
Johnny Wisdom, JT Energy, Dustan Moseley, Solomon Tupu vs Mason Beck, Dante Leon, One Called Manders, Conan Lycan
If you want to talk about combustible elements look no further than this blockbuster 8-man tag team match. Two teams with some of the toughest competitors in SCWPro. Each has a chip on their shoulder heading into night one of SCWPro's biggest events of the year. No better place to start than with SCWPro Heavyweight Champion Johnny Wisdom. 
Champion since October of last year, Wisdom has long felt under-appreciated by the SCWPro management and fans. Saturday is his final opportunity to make a huge statement before his colossal SCWPro Heavyweight Championship Match against Deonn Rusman during EPIC Night 2 on April 23. 
JT Energy might have the biggest chip on his shoulder. The current SCWPro Iowa Champion has a date with destiny at EPIC Night 2. That night he meets SCWPro legend Marek Brave in an Iowa City Street Fight. Like Wisdom, Energy would love nothing more than to spoil the fans' evening come Saturday night. 
Solomon Tupu is a monster in the search for bigger and better things in 2022. He was the last man eliminated during the Prestige Rumble back in January and being part of the winning team Saturday could put him on the cusp of achieving greatness.
Dustan Moseley currently holds the SCWPro QC Cup and loves rubbing that in the fans' faces. He enters Saturday with possibly the most momentum. Coming off Cup defenses against Shain Boucher and an intense rivalry with Krotch, Moseley could be the x-factor for his team. 
SCWPro EPIC Night 1
Moseley's opponent at EPIC Night 2, One Called Manders, sees Saturday as the opportunity to weaken his future opponent. Helping his team to victory would be the icing on the cake for Manders as he prepares for EPIC Night 2. 
Mason Beck fell short in his bid to take the SCWPro Heavyweight Championship from Johnny Wisdom and since then has been a tear. A win Saturday could be the first step at future championship contention for Beck. 
Conan Lycan has had a rough go of it lately in SCWPro. Recent losses to Matt Cage and One Called Manders have Lycan looking to find the key to a push back into title contention. Saturday could be that key. 
Dante Leon is the wild card in this match, his frenetic style and fearless approach to the ring make him one to watch. But, much like his teammates, Leon could use a win Saturday to start his quest for championship gold. 
Anyway you look at it, this 8-man tag match is a can't miss blockbuster with implications towards EPIC Night 2. 
---
It's the beginning of SCWPro's biggest month of the year and its a jam packed card full of matches that will begin to shape the future of SCWPro.