'The Samoan Hellraiser' Solomon Tupu is one of the fastest-rising talents on the independent circuit today. A three-year pro, Tupu continues to defy the odds and persevere, making a name for himself in the United States. This proud Samoan-Ameican talent continues to progress in each and every match, gaining a following due to his immense agility in the ring. His effort is evident in his matches for New Wave Pro. 
One of the most remarkable in-ring qualities he possesses is an incredible range of moves, including an array of strikes and punches that are the foundation of his combat style. His future is bright, as he has had matches in several different promotions along the way, which has helped to further his character.
In this interview, Tupu discusses how he has learned to adjust to his environment regardless of who he is in the ring with, his passion for wrestling, and the influence of a certain iconic Samoan wrestling star.
To reach Solomon Tupu on Twitter you can reach out to him here at @SolomonTupu
Where did your fandom begin? Where did the gears shift from fan to wrestler?
That's a pretty cool story, actually. Growing up, I was in a pretty religious household during the Attitude Era. But my dad was watching every single night; he was the biggest fan ever. But my mom, she hated it because she was like, 'I don't want my kid watching it!' So as a kid, I never watched wrestling because my mom would always shun it for me. It wasn't until 2012 on Netflix she put on a documentary, and The Rock was on it, and I had no idea that he had anything to do with wrestling. I'm like, oh The Rock, that's Dwayne Johnson from the movies. So she starts playing the documentary, and I'm like, he's a wrestler like WWF? That's awesome; let me check this out!
Then we had Hulu, around the time The Rock had returned, and he beat CM Punk for the title. I'm like, no way, I just watched a documentary about him on Netflix! It just ended up being perfect timing and everything, and ever since then, I was just hooked. I watched every single Raw and SmackDown. The WWE network came out later, and that was just a library for me to watch every single thing wrestling-related that I could. After getting out of school, I wanted to do what I wanted to do. You had to go to college; you had to go to the military. Something where you know you have a 9-5. The basics image for what you have to do when you're an adult.
I didn't like that, and I wanted to do what I wanted to do, and I wanted to be a professional wrestler. So I go online, and I begin my research, and I come across this school called Black n Brave in Davenport, Iowa. The head trainer is Seth Rollins (Tyler Black), who I was literally a big fan of watching from his time on the indies, Ring of Honor, and the Network. Now that's someone I'd like to be under the learning tree of. Then almost three years later, here we are today. I am, both in my life and career, as successful as possible.
Interestingly, you mentioned The Rock as his family tree, and his heritage is long steeped in wrestling. Did you feel a sense of connection to him because of the cultural connection with you both being of Samoan descent, or was it strictly coincidence?
It was a little of both. It was pretty coincidental that with me being of Samoan heritage and when I started watching wrestling that it was him that got me interested in wrestling. Him being part of the big Samoan family, the Samoan Dynasty, and it all just seemed to line up together. He is the one that got me interested in wrestling at the end of the day. It's perfect, really, the way things worked out.
You touched upon your following of Seth Rollins and how his training helped shape your early career. Have you found any connection to a talent, whether it be culturally or otherwise, since your early training?
Oh definitely, the connection with Seth Rollins was there from day one of my training. He literally helped me from the ground up. During training, he was a big fan of wanting his trainees to earn everything you want to get. 'I don't want you guys to be the people that get handouts just because that's not personally how I see success. I want you guys to earn every single drop and every single dime and dollar.'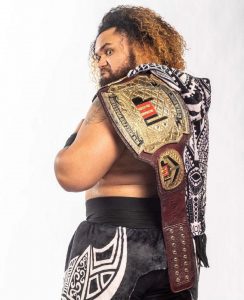 He (Rollins) did it for about seven years on the independents and then came to WWE. I'm three years in, and hopefully, one day, I'll be on that main stage right next to him. That connection, and literally working from the ground up, is what I aspire to do and what I'm trying to do right now. This is starting to become the biggest year of my career as I'm starting to get seen on these bigger platforms. Just the way he (Rollins) would do that in his early career is a big inspiration for me.
Solomon Tupu has learned under the learning tree of both Seth Rollins and Marek Brave. What can you share about their academy and what he has meant to you with how it helped you grow as a professional?
They are two of the greatest (wrestling) minds in the world, in my opinion. You have Seth Rollins, clearly top of the game as of right now. The best wrestler out there, in my opinion. And Marek Brave, and the way his mind works when it comes to wrestling and teaching and training and classes. It just makes sense what he says. With Seth there, it's not just another school or a money grab because of the names on the building. Seth is active in WWE, and he's always in the school, helping to teach and train, doing whatever he can.
They do things vastly advanced compared to other places because they teach you how to do it, when to do it, and why to do it, and everything in between. Everything they teach is down to a science. It's just the way that they do it.
One of the differences between independent wrestling and competing on television is wrestling towards the camera. Was that ever something that came up during your training with Black n Brave?
It's 100% part of it. Where the focus is specifically running through matches and such, if I get hit with a move, and I'm selling it, and I say 'aw that hurt,' I wouldn't sell to the ground. Because the ground never bought a ticket for it, the crowd did. And if there's a hard camera, the people working in that area would see it. In between, you're looking at the crowd and getting your energy back off of them. At the end of the day, you have to wrestle in the direction of the people that are giving you their money and not the ground.
How was Solomon Tupu able to parlay the training you received from Black n Brave into bookings on the circuit?
When you are trained by Black n Brave, there is a little bit of an advantage. Because immediately when promoters hear 'Black n Brave? Oh, you're one of Seth Rollins', so you know what you're doing. We will throw you in here and take a look of you, and if things go well, we'll put you over there.' So there is an advantage, just because of the name. But at the end of the day, don't worry about the name; worry about the wrestler trying to make a name for himself, instead of assuming we're trying to ride the coattails of the academy. It's great to have around, but I'm Solomon Tupu not, Black n Brave Solomon Tupu.