While it's not unheard of for wrestlers to begin their training young, few have been thrust into the sport as former AEW Women's World Champion Riho. Though only 25 years old, Riho has been wrestling since the age of 9, a fact that has been brought up multiple times by All Elite Wrestling's commentary team.
With more than a decade of experience under her belt, it may surprise new fans to know the five-foot-one Riho is one of the most seasoned wrestlers in AEW.
Riho's wrestling career began in 2006, when she and her sister, Seina, began training under Emi Sakura, the head of Joshi Puroresu company Ice Ribbon. Riho made her official debut in July, defeating Makoto at the third Ice Ribbon event.
During her first year in wrestling, Riho worked with the likes of Sakura, Seina, and Hikari Minami, racking up multiple wins along the way. 2007 saw much of the same in terms of Riho's formative years in wrestling. In addition to the aforementioned talents, Riho worked with such names as Hono and Toshie Uematsu.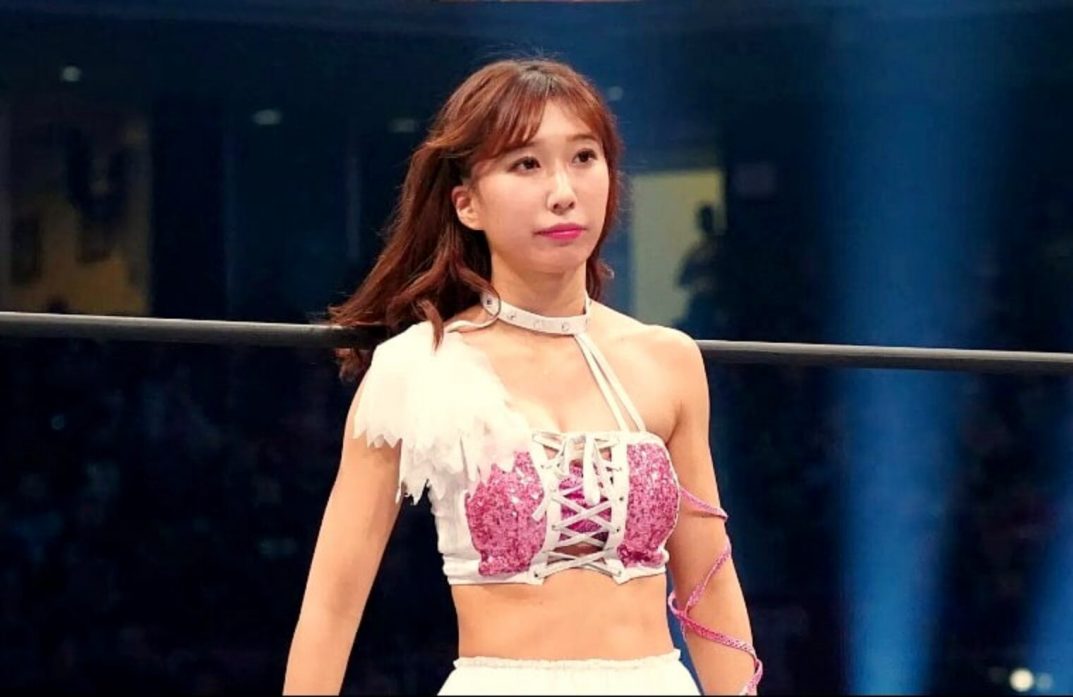 Riho
In 2008, Riho teamed with multiple partners, including Kazumi Shimouma and Shuji Ishikawa. By September, she found a more consistent partner in the form of current Kaientai Dojo talent Yuki Sato.
In October, Riho and Sato defeated Ryu Chokumo and Masa Takanashi for the International Ribbon Tag Team Championship; this would mark Riho's first-ever title win. Riho also competed in the ICEx60 Championship Tournament in December to determine the first titleholder; she lost to eventual winner Seina in the semifinals.
Riho and Sato held onto the International Ribbon Tag Team Championship until March of 2009 when it was vacated due to a leg fracture sustained by Riho. She recovered in due time and was back in action by late April.
In August, Riho made an appearance for the Dramatic Dream Team, competing in the DDT Iron Man Heavy Metal Title Battle Royal. In November, in addition to teaming with rival Chii Tomiya as Miniature Dachs, Riho won a three-way match to become the inaugural Triangle Ribbon Champion. This marked her first title victory as a singles competitor.
Though Riho wrapped up 2009 strong as Triangle Ribbon Champion, she dropped the title in March of 2010 in a three-way match. The following month, however, Riho defeated her former trainer, Sakura, for the promotion's top prize: the ICEx60 Championship.
She lost the title in her first defense against Sakura in May, though Riho would become the youngest wrestler to main event a Korakuen Hall event. In June, Riho won another title, this time in DDT.
Teaming with Kenny Omega
She teamed with Mr. 6 and future AEW EVP Kenny Omega to win the Nihonkai Six-Man Tag Team Championship. In July, Omega left the team, and The Great Kojika took his place. Together, they would hold not only the Nihonkai Six-Man Tag Team Championship but the Jiyugaoka Six-Man Tag Team and UWA World Trios Championships, unifying them as the Trios Triple Crown Championship.
They held onto the Trios Triple Crown Championship until November, when they dropped it to Hikaru Sato, Tomomitsu Matsunaga, and fellow AEW talent Michael Nazakawa at DDT's Shin-Kiba 5th Anniversary event.
Riho's efforts in Ice Ribbon continued into 2011, specifically concerning the International Ribbon Tag Team Championship. She teamed with multiple partners but failed to win the title in question. She would also join forces with the promotion's younger wrestlers to form the stable known as Heisei YTR.
In March, she made her Smash debut, picking up a win in six-woman tag team action. In August, following a Smash press conference that ended in chaos, Riho faced Tajiri in singles action. December saw Riho challenge Seina, who had been absent from Ice Ribbon and wanted a retirement match. Ultimately, Riho emerged victorious in this battle against her sibling.
Ice Ribbon Legacy

After continuing to wrestle for Ice Ribbon for the majority of 2012, Riho announced she would be leaving the promotion in September. At that month's Knights of Ice Ribbon event, Riho faced Aoi Kizuki in her last Ice Ribbon match, with Kizuki picking up the victory.
In October, Riho's career branched out further as she joined Gatoh Move Pro Wrestling, a Thailand-based promotion also headed by Sakura. Riho had her first Gatoh Move match against Sakura, wrestling her former trainer to a 10-minute draw. From there, she worked with the likes of Kaori Yoneyama, Maury, and current NXT UK Women's Champion Kay Lee Ray.
Riho – Focus on Education
During the beginning of 2013, Riho took a break from professional wrestling to focus on her high school entrance exam. From there, Riho's exploits in wrestling continued in Gatoh Move, even teaming with Omega in February. In May, Riho took part in the first-ever Go Go! Green Curry Khob Khun Cup tournament, teaming with Antonio Honda.
They made it to the finals, where they defeated Sakura and Sato to win the entire tournament. Though Riho stayed in Gatoh Move during most of 2013, she worked two Wrestle-1 events, competing against Sakura in both.
Much like in 2013, Riho focused mainly on Gatoh Move during the beginning of 2014. She even competed in the second Go Go! Green Curry Khob Khun Cup, teaming with Sato en route to the second round, where Madoka and Yoneyama won. In August, Riho entered Gatoh Move's Gatonun Climax tournament.
After defeating Manami Toyota in the first round and Cherry in the semifinals, Riho defeated Sakura in the finals to win. The following November, Riho bested Sakura for the IWA Triple Crown Championship. Riho capped off 2014 with a successful title defense against Sakura in December.
IWA Triple Crown Champion
Entering 2015 as IWA Triple Crown Champion, Riho had a target on her back heading into 2015. Nonetheless, she continued to prove herself as a champion, successfully defending against Makoto in March. She also took the time to compete in the third Go Go! Green Curry Khob Khun Cup, making it to the finals with Isami Kodaka before losing.
Riho continued to hold things down as IWA Triple Crown Champion against the likes of MIZUKI and Kotori, the latter of whom she defeated in August in Gatoh Move's first Korakuen Hall event. Riho lost the title to DJ Nara in September, but it wouldn't be long until she reentered the championship scene.
In March of 2016, Riho challenged IWA Triple Crown Champion Yoneyama in a losing effort. A few months later, in May, Riho finally unseated Yoneyama for the IWA Triple Crown Championship at the former's Gatoh Move tenth anniversary event. Riho held onto the title until November when she lost it to Makoto. The following month, Riho saw tag team success when she teamed with Kotori to win the Asia Dream Tag Team Championship from Kizuki and Sayaka Obihiro.
Teaming with Kotori
In 2017, along with singles matches, Riho continued to team with Kotori as Asia Dream Tag Team Champions. They successfully defended the championships against Makoto and Aasa Maika in March before dropping it later that month to Sakura and Masahiro Takanashi.
In May, Riho made her way to the United Kingdom to compete in Pro-Wrestling: EVE's EVE Championship Tournament. After defeating Alex Windsor in the first round, she lost the semifinal three-way that was won by Sammii Jayne. She soon returned to Japan, singles gold still in her sights.
After failing to win the vacant IWA Triple Crown Championship in August, which was claimed by Sakura, she won a tournament the month after to become the inaugural Super Asia Champion. She had her first successful title defense in November against Sakura, working multiple Gatoh Move and DDT events the remainder of 2017.
Riho was the reigning Super Asia Champion heading into 2018, but she took a slight detour in January to compete in Tokyo Joshi Pro, teaming with Mizuki to unsuccessfully challenge the promotion's TOKYO Princess Tag Team Champions Yuka Sakazaki and Shoko Nakajima.
She went on to successfully defend the Super Asia Championship against SAKI in March, having future successful defenses against the likes of Kizuki and Makoto. Riho added more gold to her collection in December, winning the Asia Dream Tag Team Championship for the second time, this time alongside Makoto.
Riho | 2019 & Beyond
2019 has proven to be an eventful year for Riho so far. Along with her work in Gatoh Move, she found her way to the United States a few months after the announcement of All Elite Wrestling. She competed in AEW's first live event, Double or Nothing, in six-woman tag team action.
Alongside Ryo Mizunami and Hikaru Shida, Riho defeated Sakura, Sakazaki, and Aja Kong. It was later announced that Riho would take part in several future AEW events; enter Fyter Fest, in June, which saw her defeat Sakazaki and Nyla Rose in a three-way match. In July, Riho teamed with Dr. Britt Baker, DMD at Fight for the Fallen, losing to the team of Nakajima and Bea Priestley.
Return to Gatoh Move
Back in Japan, Riho wrestled her final match for Gatoh Move in June, losing to Sakura, a fitting end to the saga between pupil and teacher. In July, she appeared for World Wonder Ring Stardom, later announcing that she'd start wrestling for the promotion.
Riho's debut match for Stardom occurred in August, where she defeated Starlight Kid and titleholder Death Yama-san for the High-Speed Championship. She would make another appearance for AEW, this time at All Out in August, where she defeated Shida to earn an AEW Women's World Championship match.
It was also announced that, on top of her commitments to Stardom, Riho would regularly appear for AEW, splitting her time between both promotions.
With Riho and Rose's respective victories at All Out, the stage was set to determine the foundational AEW Women's World Champion. They squared off on the first episode of AEW Dynamite, the diminutive Riho topping the imposing Rose to make history as the first women's titleholder in AEW. She had her first successful defense against Baker on the third episode of AEW Dynamite, the two shaking hands afterward in a show of respect.
Though small in stature, she stands as one of the most experienced wrestlers in AEW. The fact that she's not even 25, yet has already amassed tremendous success, means bright things for her future. Of course, as AEW Women's World Champion, she has many hungry competitors vying for the gold.
From powerhouses like Rose to up-and-coming talents, including Sadie Gibbs, Riho will have to bring every ounce of said experience, in addition to sheer heart and cunning, to remain champion.