One of the most famed rivalries in WWF/E history was the battle between Hulk Hogan and Andre, the Giant. Their animosity between one another erupted when Andre challenged Hogan for the WWF Heavyweight Championship at WrestleMania III. From their confrontations on Piper's Pit to The Body Shop, the feud between them would reach a fevered pitch at WrestleMania III. However, while that match was the one that was highly publicized, it was another match that is often talked about still to this day. When 'Macho Man' Randy Savage defended the WWF/E Intercontinental Championship vs Ricky 'The Dragon' Steamboat at WrestleMania III.
Before their matchup, Steamboat and Savage were on a nearly four-month feud towards their battle for the WWF/E Intercontinental Championship at WrestleMania III. On November 22nd, 1986, Steamboat faced Savage on one of the WWF's weekly shows. Superstars featured a championship match between the two.
Savage won the match via count-out. While Steamboat could not make it back into the ring by the count of ten, it was what happened after the match that is significant. The Macho Man continued his beatdown of Steamboat. Savage vs. Steamboat with the ring bell across the throat of the Dragon.
Ricky Steamboat vs Randy Savage
– The Foundation of Their Rivalry
With a prone Steamboat resting across the mental guardrail, Savage dropped a double ax handle across his throat. Steamboat was writhing in pain. He was clutching his throat, unable to speak, and coughing uncontrollably.
As a ten-year-old at the time, the image of Steamboat was desperate for air. It was hard to see one of your heroes desperate for air as though his life was in jeopardy. The focus was feud was Savage's attack on Steamboat's larynx.
That match, 2-to-1 (ratio), is talked about the most to me. Why? We didn't know it at the time, but we wanted to convince the fans that we wanted to make it a championship match.
I'll give credit where credit is due as the two biggest icons in the business – Andre the Giant and Hulk Hogan – they were headlining WrestleMania III, and we were the match right before them. They had the world championship up for grabs, and we wanted to make ours a championship match.
To this day, Steamboat's ability to convey true suffering and emotion had fans emotionally invested. His welfare and well-being still were among the things fans watching cared about. This attack set the stage for a feud that would arguably lead to one of WrestleMania history's greatest matches.
Steamboat would have vignettes where his voice was raspy as though he couldn't share how angry he was at Savage. With each word uttered, fans could see that it was a struggle for Steamboat to speak through his 'damaged' voicebox.
So in laying that thing out, we sort of changed the blueprint to make it a championship match. We ended up with all of these false finishes – 20 false finishes in a match that went 17 minutes. Customarily back then there was an average of about seven false finishes in a match.
We took fans on a wild ride and went back and forth throughout the match. The guys today tell me, 'Ricky that match changed everything on how to structure things.'
A little more than a month after Steamboat was written off of television due to the 'injury,' Saturday Night's Main Event took place. On January 3rd, 1987, George 'The Animal' Steele appeared as though he was going to suffer the same fate that Steamboat did over a month earlier. However, Steamboat returned and prevented Steele from Savage's attack. The stage was set for Ricky Steamboat to get his retribution at WrestleMania III vs Randy Savage.
With me, if I made a suggestion, then he was wide open to it. '[Savage voice] You know Dragon, that's better than my idea. Let's do that!' It made me a better worker and opened my eyes to little things you take for granted. It helped me moving forward in terms of structuring matches.
When we were putting this thing together, we didn't know if we were ahead of the curve as we were just trying to put together a championship match. It was all about me trying to beat him for the championship, and Randy was trying to hold onto it.
On March 29th, 1987, at the Pontiac Silverdome in Detroit, Michigan, in front of over 90,000 people, Steamboat would face Savage. There was no shortage of near falls. In fact, the tally listed is nineteen between them (although the plan was originally 20).
Their match went just over fourteen minutes in length. The story told within that time was as telling as the build-up to the championship as well. After holding the title for over a year, Randy Savage was dethroned.
Ricky Steamboat vs Randy Savage
– The Dragon and The Macho Man

Ricky 'The Dragon' Steamboat became the new WWF/E Intercontinental Champion. One of the keys to the matches' success was its planning and coordination amongst the two involved. In a match-voted match of the year by both Pro Wrestling Illustrated and The Wrestling Observer for 1987, assembled a symphony between them as Steamboat vs. Savage was a marquee matchup.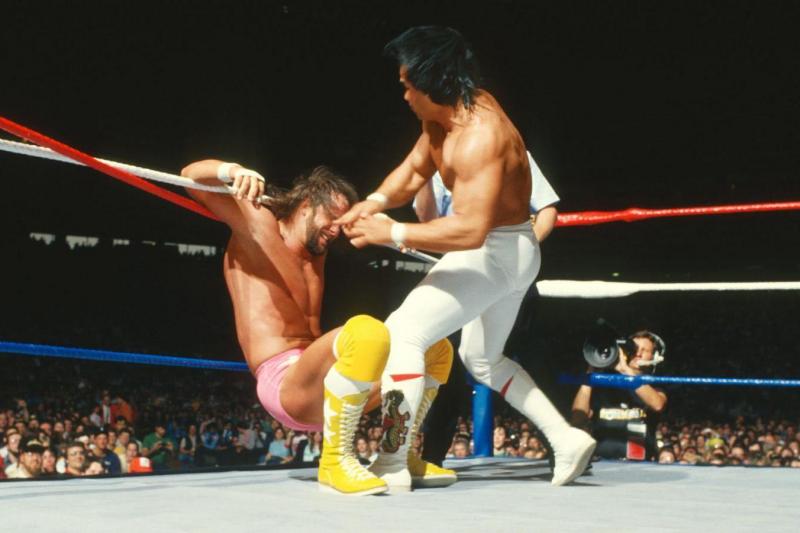 In thinking back about the match itself as told by his brother 'Leaping' Lanny Poffo, Savage felt that no match after this ever compared. Savage was a perfectionist in the ring. His commitment to putting together the best possible match had now been achieved. This match is the one of the most significant matches in WrestleMania history as the likes of Chris Jericho have referenced it for its impact on him. Steamboat vs Savage for the WWE Intercontinental Championship remains.
When he had his match with Ricky Steamboat at WrestleMania III, Randy finally felt he had achieved Buddy Rogers-Pat O'Conner status. But then it ruined his life.
Randy always tried to top that match with everybody he ever wrestled and couldn't even come close…Randy and Ricky were tremendous and raised the dignity of the sport to the highest level. It just broke his heart that he could never top that match.