With it being such an exciting time in professional wrestling, certain performers fly under the radar. One such performer is Ren Narita. At 23, his resume is already quite impressive, albeit lacking many signature moments. But, looking at the rapport he has built with anyone that has worked with him, he is surely destined for greatness.
Where Legends Are Built
Few, if any, developmental systems have cranked out the amount of talent that the New Japan Dojo has. In New Japan, rookie wrestlers are referred to as "Young Lions." These rookies wear very non-descript attires that consist of black trunks and boots. This is to make sure their focus is on wrestling and wrestling only. After their initial training, they are sent on a "learning excursion" overseas to further develop their style. Evidently, the system works. Jushin "Thunder" Liger, The Great Muta, Masahiro Chono, Finn Balor, and Jay White are just a few of the stars that bore the name "Young Lion" at one time. The amount of world champions and international superstars that cut their teeth in the Dojo is truly stunning.
Fast forward to 2021, and there are now three New Japan Dojos in operation. The original in Japan, one in Los Angeles, and one in New Zealand. In many people's eyes, one of the most exciting prospects in the Young Lion system currently is Ren Narita. Although a little undersized (coming in at six feet tall and 183 pounds), his understanding of the fundamentals and his execution more than make up for his shortcomings.  A true strong-style technician, his offense consists of hard-hitting strikes mixed with great mat wrestling and suplexes. In addition, Ren Narita has perfected the Bridging Front Suplex, as it has finished off many of his opponents. His modified cloverleaf is another move in his arsenal that has proven effective. This move is especially useful, as he can apply it to anyone, regardless of size.
Ren Narita
Heart Of A Lion
Ren Narita was born on November 29, 1997. He began his venture into professionally wrestling in 2017 when he joined the original New Japan Dojo. Narita made his debut at the July 4 Lion's Gate Project show of the same year. He wrestled fellow Young Lion Shota Umino to a ten-minute draw in an impressive first showing. Just a few short weeks later, on July 27 at night 8 of the G1 Climax, he made his official New Japan main show debut. His first challenge was not an easy, to say the least. He teamed with his one-time opponent Shota Umino to take on Suzuki-gun members El Desperado and Zack Sabre Jr. After a surprisingly valiant effort, Narita and Umino were ultimately defeated as their inexperience proved to be too much.
In December of 2017, Ren Narita performed in his very first Young Lion's Cup. He had a disappointing showing, losing his first two matches and going to a draw in the third and final. He finished the tournament with one point. From there, he would further his training by teaming with legends such as Liger, Yuji Nagata, and Manabu Nakanishi, as is customary for Young Lions.
Ren Narita
Learning Excursion
Things really started to pick up steam for Narita in May of 2019. After impressing his seniors, and an unfortunate injury to Flip Gordon, Ren Narita was selected as a last-minute replacement in the prestigious Best of the Super Juniors tournament. Although not earning a single point, his gutsy effort surprised everyone watching. Specifically, his performances against YOH and Will Ospreay raised quite a few eyebrows. Ren Narita had seemingly found his stride. In the last two years, he had clashed with talents such as Jon Moxley, the Guerillas of Destiny, Lance Archer, and Tetsuya Naito. With his newfound swagger, he entered the 2019 Young Lion's Cup. After winning three of his four matches, losing one to familiar opponent Shota Umino, he finished the tournament tied for second place. Scoring eight points, this was certainly quite an improvement from his previous showing.
Feeling he had learned all he could from his home country, Ren Narita felt ready to begin the excursion. He asked permission to join Katsuyori Shibata's LA Dojo in late 2019. He made his United States debut on September 27. Never one to get an easy opponent; his first opponent was Lance Archer. As is customary for Narita, he put on a spirited effort, but the "Murderhawk Monster" was too much.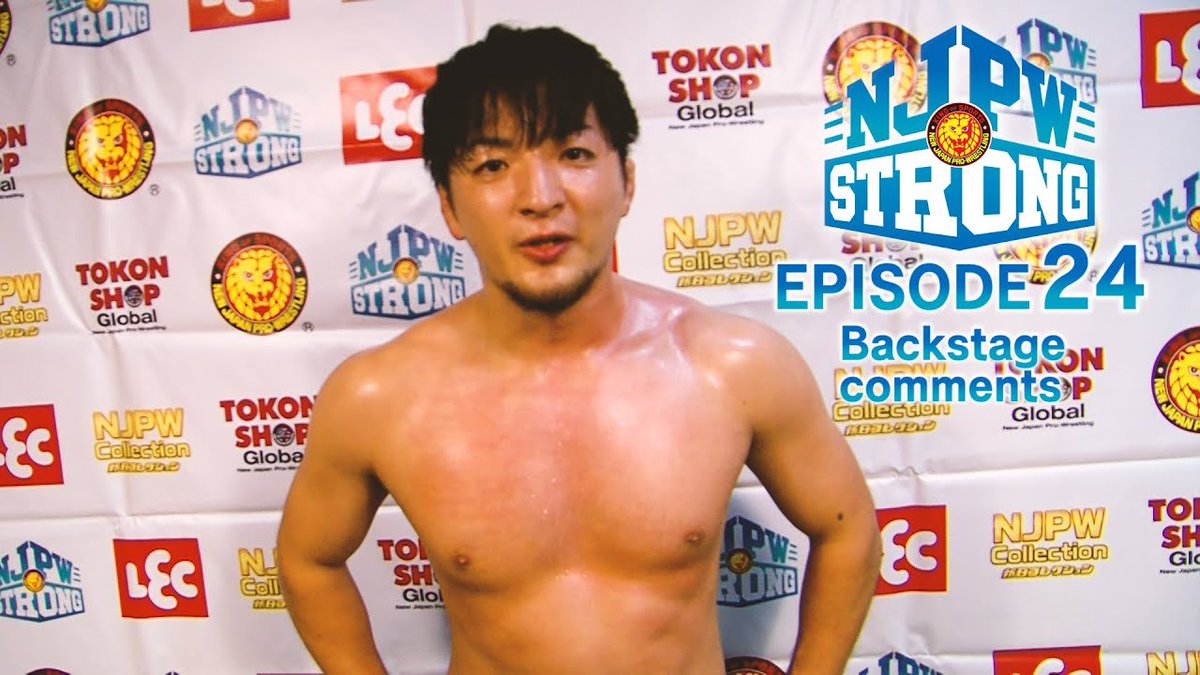 STRONG-Style
Then, 2020 happened. With the COVID-19 pandemic more-or-less ending indie wrestling, Narita didn't wrestle a single match for ten months. Then, in January of 2021, he made his debut on NJPW STRONG. STRONG is the newest show under the New Japan banner. Based in Los Angeles, it is the company's attempt to get in on the American market. In perhaps the biggest win of Narita's young career, he defeated the menacing BATEMAN in his debut.
In February, Ren Narita's hot streak continued. He defeated Chris Dickinson and was then granted a qualifying match in the 2021 New Japan Cup USA. In a shocking upset, Narita defeated Misterioso to qualify. Once again, never getting the luck of the draw, his first-round match-up was a stiff challenge. He was to take on "Filthy" Tom Lawlor. In a match the went nearly twenty minutes, Ren Narita gave Lawlor all he could handle. Lawlor's MMA background, however, proved to be too deadly. "Filthy" locked Ren Narita (who was bleeding from the mouth) into a devastating rear-naked choke. Narita eventually passed out after trying to fight it off, forcing the ref to call the bell.
Later, in July of 2021, Ren Narita entered the Tag Team Turbulence tournament. Teaming with Yuji Nagata, the two picked up a victory in the first round against the team of Fred Yehi and Wheeler Yuta. Although ultimately, they were defeated by the eventual winners, the Good Brothers (Karl Anderson and Doc Gallows), in the final round.
Ren Narita
Nothing But Time
Although only just beginning his career, Ren Narita has certainly shown flashes. There is obviously a lot of trust in his talents within New Japan management. Helping a new, budding show reach an audience and keep viewers is no easy task. He was even featured on an episode of AEW Dark. Even if he hasn't been on the winning side of things as much as he'd like, such is the life of a Young Lion. In fact, only two wrestlers in New Japan Pro Wrestling history have ever won titles under the designation. Ren Narita has a chance to add his name to that list as well. At the time of this writing, he has a match against STRONG Openweight Champion Tom Lawlor. He will surely be looking to avenge his previous loss.
The greatest thing about youth, though, is that there is plenty of time. Even if Narita is unsuccessful in his upcoming championship bid, he is only twenty-three years old. Being that young and having the experience under his belt that he has, the sky is the limit for this performer. He's in the perfect place too. The junior heavyweight division in NJPW always has a spotlight on it, and for good reasons. Some of the best matches of all time have come from that division. From the vaunted Super J Cup tournaments to the recent masterpieces from the likes of Will Ospreay and Ricochet, New Japan is the place to be for lighter performers. Could Ren Narita be the next in line? Only time will tell.
*****
Stay tuned to the Pro Wrestling Post for this and additional stories from the wrestling world. Readers can rely on Pro Wrestling Post to be their daily source for all things inside the squared circle. As a result, readers can expect daily news, history, and so much more. Please visit New Japan Pro Wrestling's site here for news and information on the promotion and upcoming events pertaining to the NJPW Strong program.