News! News! Get your news! Read all about it right here! Welcome one and all to your weekly irrelevant round-up of the week's hottest stories in pro wrestling. Pro Wrestling Post Week In Review 9/22/19. As always, I, "Smart" Mark Blake, have scoured the internet to find the biggest and most interesting stories. Enough of me lets get into this week's Week In Review! –
AEW News: Wednesday Night Show Name, Tag Team Tournament, Kenny Omega Interview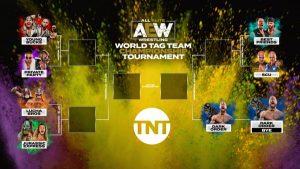 Well, the rumors were true. AEW: Dynamite is now official! I wrote about the possibility of the show name last week (click here), and the official AEW Twitter feed posted the announcement on Thursday afternoon –
You asked for it… Wednesday. Night. Dynamite. We've got a name #AEWDynamite ? pic.twitter.com/6ehp1zAXkv

— All Elite Wrestling on TNT (@AEWonTNT) September 19, 2019
AEW Executive VP Kenny Omega spoke with Sportskeeda and he spoke candidly about WWE and NXT in particular –
"You can call it a war if you want. It's like, to me, we're in a completely different kind of business. I mean what they're doing is different from what we're doing. It's weird because it's hard to say you're going to war with people that I call my friends.
And yet, we are going to war. And yet, when I sit back and look at the grand picture, I'm going to war with these dudes that, if we were on the same show together, the same promotion…let's pretend there were no borders. Let's pretend there were no promotions. Let's just pretend there's just one big promotion. If these guys were in the same show as me, they'd be in the dark match. They'd be in the opening match of my main event match.
You wanna call that a war, you wanna call that competition? Go ahead. Maybe it's fun for you to do. That's cool. But we're different planets. And you're going to see that right away when you see 10,000+ arenas sold out. You're going to see smiles on fans' faces. You're going to see real stars. Not developmental talent but real stars appearing on your television sets, every week".
Along with Kenny's strong words, their tag team tournament bracket was released and can be seen below in the tweet that AEW posted –
The #AEW World Tag Team Championship Tournament begins on Wednesday, October 9th in Boston. Here is the complete bracket as seen on Road to @AEWonTNT Episode #3 pic.twitter.com/aA72ns4eDV

— All Elite Wrestling (@AEWrestling) September 18, 2019
The Dark Order receives a bye into the semi-finals due to their victory over Best Friends at All Out. The match that has my mouth watering is Lucha Bros versus Jurassic Express. After the showing from Jungle Boy and Luchasaurus at All Out, I'm expecting big things from the pair.
NXT News Round-Up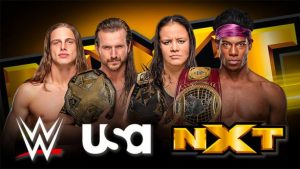 This week was the biggest week in NXT's history. Going live on the USA Network really has reinforced the idea that NXT is now WWE's third brand. And with that, more and more news about the product and its talent seems to appear daily. Here's a small rundown on what's been happening this week:
After NXT's debut on USA Network this week, word came out that a few NXT talents were injured. WWE released an "Injury Report" video which can be seen below –
Backstage after his match, Velveteen Dream was "walking gingerly" and has some "lower lumbar pain". He won't be cleared until after further evaluation.
Pete Dunne had damaged the fingers of Arturo Ruas so much after their match that Ruas needed x-rays on said fingers.
Kona Reeves faced off against Damien Priest in a dark match before the show started this Wednesday. During the match, Kona was struck on the cheek and busted open. An injury that needed five stitches. There is a possibility of some orbital bone damage but won't be assessed until after the swelling has gone down.
NXT Champion Adam Cole (bay-bay) was interviewed by FOX News a few hours before NXT went live on Wednesday night. He spoke about going head to head with AEW: Dynamite in a few weeks –
"You know, obviously with this event on Wednesday and the other promotion has an event on Wednesday, people are going to make comparisons and talk about both shows. But I can tell you this — I don't mean to speak for them, but I have a strong feeling this is how they feel because I know "NXT." We're solely focused on making sure that "NXT" is the best possible show that we possibly can. And I'm sure those guys feel the exact same way. So in turn, of course, it's exciting for the wrestling fans. They get to compare. They get to watch both events which is awesome, but they're focused on making sure their show rules. And I know we're focused on making our show rule and in turn again just really exciting for everybody."
Killer Kross Interviews – AEW, His Character, Impact Wrestling Situation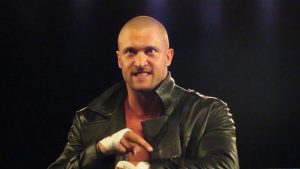 Killer Kross has been a busy bee recently. While at Starrcast III a few weeks back, he took time out to be interviewed by Chris Van Vliet which can be seen below. He spoke about AEW, his character, who inspired him and more –
He has also spoken to Sporting News where he broke down his situation in Impact Wrestling. Below are a few highlights but the entire interview can be found right here –
SPORTING NEWS: How would you describe your relationship right now with Impact Wrestling?
KILLER KROSS: Not good. It is not good at all.
SN: When did the issues begin?
KK: The issues began last year regarding merchandising.
SN: What was that issue?
KK: I've been advised not to go into the full detail of the issues, but I am hoping that they can be resolved as quickly as possible. It's something I've been working on for many months.
SN: Is that the only issue you have with the company right now? There has also been talk differences regarding pay and your creative direction.
KK: I'm in a situation right now where I have to be very careful about how I choose to address things. My hands are completely clean in all of this. I have been attempting to get clarification on things that were supposed to be given to me in a timely manner. Some of them have been … I'm not even sure how to put it. It's so difficult to answer. It's very difficult to even discuss. I'm doing my absolute best to remain civil and professional on the entire ordeal and it's extremely difficult.
I'm really just looking to being treated fairly and I'm just looking to put my best work out there. There are now situations that are occurring where, basically, opportunities are being delayed and I guess, what the easiest way to put it, opportunities are being … I apologize. It's really the first time I've talked about it. These things I'm attempting to pursue in my career, I'm being blocked from pursuing them for really ridiculous circumstances.
SN: What have some of the people on the roster said to you regarding this situation you have going on with Impact?
KK: I don't want to put words in anyone's mouth or necessarily mention anyone's name, but the best way to put it would be they've expressed that they're pretty disgusted about how this situation is being dealt with and how I'm being treated. I've had full support from them the entire time which has been awesome.
They know me personally and they know me professionally and I think anyone you could ever ask who's ever met me, talked with me, or worked with me will tell you that I've been a constant professional ever since I stepped foot into this industry. I've always followed through with everything that I said I was going to follow through with. That's not always reciprocated, unfortunately.
SN: There has been talk that you are going to sue Impact Wrestling. Do you plan on suing them?
KK: I've actually made it abundantly clear that I have not been interested in going into litigation. I'm not interested in going down that road. I've been trying for many, many, many months. I've been exhausting all the options on how to fix this situation. There's an attorney involved and we're not suing anyone. I've been trying to avoid litigation as much as possible and, again, I have nothing to worry about in all of this. I really don't. I'm not on the wrong on any of this and I'm just trying to follow my lane here.
I have everything on paper. As I said before, I'm not worried about anything at all. I've done nothing wrong — at all. I'm just trying to do the right thing and I wish I would be met with that as well because there's only one right thing to do here and it's not being done.
---
That's it for today's Pro Wrestling Post Week In Review for 9/22/19. Some great little nuggets of news if I do say so myself. As always I thank you all for reading not only my work but all the work here at PWP each and every week. It doesn't go unnoticed. We'll see you back next week for another edition of Week in Review!
If you have any comments, queries, or just want to chat then feel free to hit me or Pro Wrestling Post in the comments below or on our social media. Click the links below to do so –
Mark Blake Facebook – MarkBlakeSmart
Mark Blake Twitter – @Smart_Mark_B
Pro Wrestling Post Facebook – ProWrestlingPST
Pro Wrestling Post Twitter – @ProWrestlingPST