News! News! Get your news! Read all about it right here! Welcome one and all, to your weekly irrelevant round-up of the weeks hottest stories in pro wrestling. As always, I, "Smart" Mark Blake, have scoured the internet to find the biggest and most interesting stories. So kick back, put your feet up and feast your eyes on this week's Pro Wrestling Post Week In Review 5/19/19!
Ric Flair's Scheduled Surgery Postponed Until Monday
Many of you would have woken to the news last Thursday to find that the Nature Boy Ric Flair was hospitalized. In true TMZ fashion, they ran a story that it was a life or death situation and made many fans across the world (myself included) very worried.
It was later that day that Conrad Thompson, Ric's son-in-law, posted onto Twitter that it was a scheduled minor surgery. The whole world breathed a sigh of relief.
Well earlier today (Sunday), Ric's Wife Wendy Barlow, posted onto her Instagram account that the surgery has now been postponed until tomorrow:
The actual reason for the surgery is unknown at the time of writing. It's possible that the reason may never come out. Rumors have been circulating that his multiple heart surgeries over the course of the past few months have been a cause of concern moving forward.
I and the whole PWP staff wish nothing but a speedy recovery to Naitch.
AEW News – Six Days To Double Or Nothing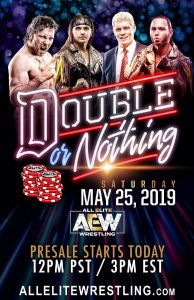 The countdown is on! All Elite Wrestling's first ever event, Double Or Nothing, will air next Saturday. A few more details of the event and the company itself have come to light in an interview Cody and Brandi Rhodes held with WrestlingNews.co. Below are some highlights:
Cody spoke about the possibility of scripted promos –
"You may not see one scripted promo. When it comes to promos, if we invested you, we already know your voice. We just want to put the voice out there for more people to hear. There's great coaches we have, great collaborators. Guys like Jim Ross, guys like Billy Gunn, a bunch of guys I can't name. We have these great collaborators, plus all of us who want to make this work. Collaboration yes, micromanagement no, scripted no, that's the best."
Brandi spoke about the relatively small rosters –
"We've obviously been cautious in building our [women's] division because we don't want people to be sitting weeks and weeks out of the year not being active, not being used, not having stories, not having reasons for you to like them. So we've been very careful to pick and choose competitors that we think we are gonna be able to keep moving in some sort of sense."
Not long after the interview, news broke on Twitter on how to watch Double Or Nothing in the US and Canada. WarnerMedia (the company that owns TNTDrama, the channel that will air the AEW show later this fall/Autumn) B/R Live Twitter account tweeted that the PPV will be shown via their service and will cost $49.99:
Hey Cory! AEW Double or Nothing will be $49.99 in the US and Canada on B/R Live.

— BR Live Support (@BRLiveSupport) May 15, 2019
A lot of folks will balk at the price tag of the PPV, but remember that to watch All In on FITE would have set you back $39.99.
EVOLVE Alumni Return For 10th Anniversary Show
At an NXT house show in Philadephia on Friday night, it was announced that NXT Superstars Drew Gulak would face off against Matt Riddle at the EVOLVE 10th Anniversary show. It will be held at the world famous 2300 Arena, formerly the ECW Arena, on Saturday July 13th.
As you can see in the tweet below, Gulak announced he would be there and called out anybody to face him at the event. And who better than The Bro to answer the challenge.
It's official! @DrewGulak vs. @SuperKingofBros at the 10th Anniversary of EVOLVE/DGUSA #EVOLVE131 on Saturday, July 13th at The 2300 Arena in Philadelphia, PA!

Tickets & Info at https://t.co/J70u9L3Ajw
Watch live on Club WWN!

Footage courtesy #NXTPhilly pic.twitter.com/trsA6j5dzU

— EVOLVE Wrestling (@WWNEVOLVE) May 18, 2019
Gulak wrestled for EVOLVE from 2013-2016, winning the EVOLVE Tag Team Championship during his tenure. Riddle went one better than Gulak during his time there, winning the EVOLVE Championship, cementing himself as the company's top star.
This could very well be a show-stealing, hard-fought contest. Definitely a match not to sleep on!
Scarlett Bordeaux And Impact Wrestling Done?
PWInsider broke the news today that during the last week, Impact Knockout Scarlett Bordeaux requested her release from Impact Wrestling.
As of the time of writing, there has been no word as to whether this request has been granted. Like many Impact contracts, Scarlett has been working on a pay-per-appearance agreement.
Although only making her in-ring debut in March of this year, Bordeaux has been with the company since July 2018.
Her real-life boyfriend, Killer Kross, also requested his release two weeks ago in a disagreement over pay. It's no stretch of the imagination to see that both these requests could very well be related.
Kross has gotten over huge in the past few months, and along with Scarlett's star beginning to shine, it's easy to see why they would want more pay. Whether either or both is to receive what they, is still up in the air.
—-
That's it for today's Pro Wrestling Post Week In Review for 5/12/19. Some great little nuggets of news if I do say so myself. As always I thank you all for reading not only my work but all the work here at PWP each and every week. It doesn't go unnoticed.
If you have any comments, queries, or just want to chat then feel free to hit me or Pro Wrestling Post in the comments below or on our social media. Click the links below to do so.
Mark Blake Facebook – MarkBlakeSmart
Mark Blake Twitter – @Smart_Mark_B
Pro Wrestling Post Facebook – ProWrestlingPST
Pro Wrestling Post Twitter – @ProWrestlingPST
To read our past editions of the Pro Wrestling Post Week in Review with Mark Blake click here.