Women Superstars United returns on October 18th to the light the fire with incredible women's wrestling action! Just a Bunch of Hocus Pocus is chock full of all sorts of spooky and grappling goodness! Kris Statlander will face off against Diamante, Davienne defends her WSU Spirit Championship, and we see the debuts of Ashely America and Vita Von Starr!
Karen Bam Bam vs. Corrine Mink
Karen Bam Bam, also known as Chocolate Thunder, is back in WSU for Just a Bunch of Hocus Pocus. She debuted at Summer, Kind of Wonderful in a losing effort against Sierra. The bodacious beauty will be taking on Corrine Mink, who has also yet to score a win in WSU. Mink has faced all sorts of competition, but has anyone ever faced someone like Karen Bam Bam? One of these women will walk away with a sought after victory and a step in the right direction of getting the attention of WSU management.
Kasey Catal vs. Angel Sinclair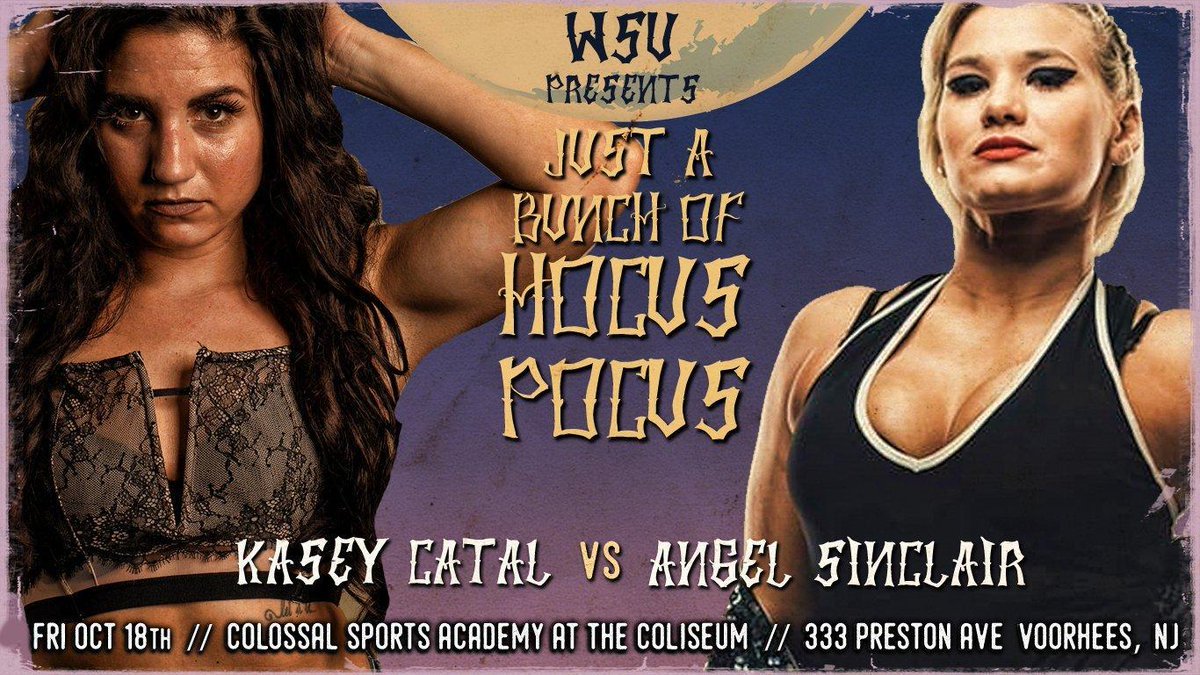 Kasey Catal is one half of the current WSU Tag Team Champions and Angel Sinclair is a former holder of that title. Angel was not involved in the match that Catal and Delmi Exo won at Summer, Kind of Wonderful to win the titles. She's back, she's mad as heck and ready to take out her frustrations on the mean girl, Kasey Catal. One fact to not overlook is Catal is not opposed to doing whatever it takes, inside or outside the rules, to win.
Ariela Nyx vs. Violette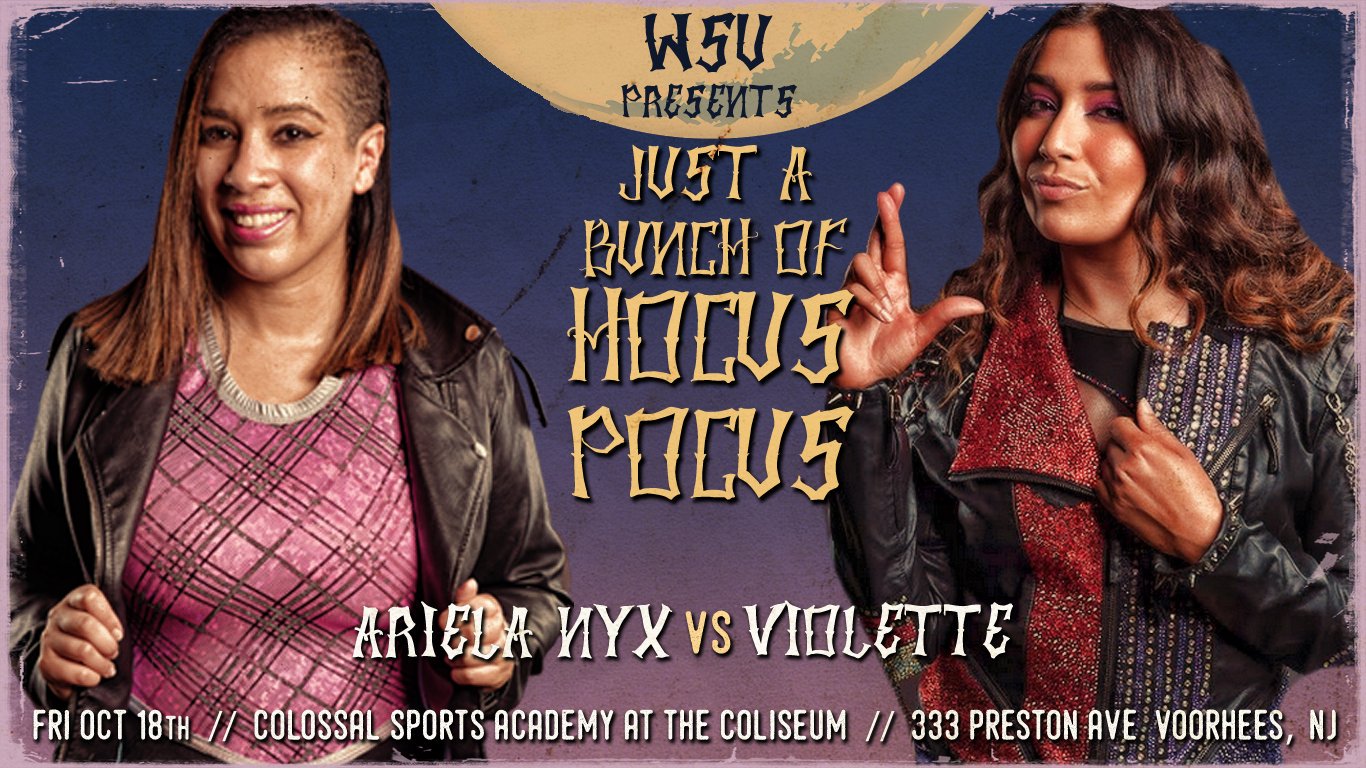 Violette will be putting her undefeated singles streak on the line at Just a Bunch of Hocus Pocus. Her opponent Ariela Nyx is very well acquainted with that feeling as she too was once undefeated. Nyx tasted defeat at the hands of Ruthless Lala at Summer, Kind of Wonderful. And like most of us, she doesn't like the way it tastes. Violette is determined to not have to taste it just as badly. These women will go to war and only one will walk out unscathed.
Sonya Strong vs. Megan Mason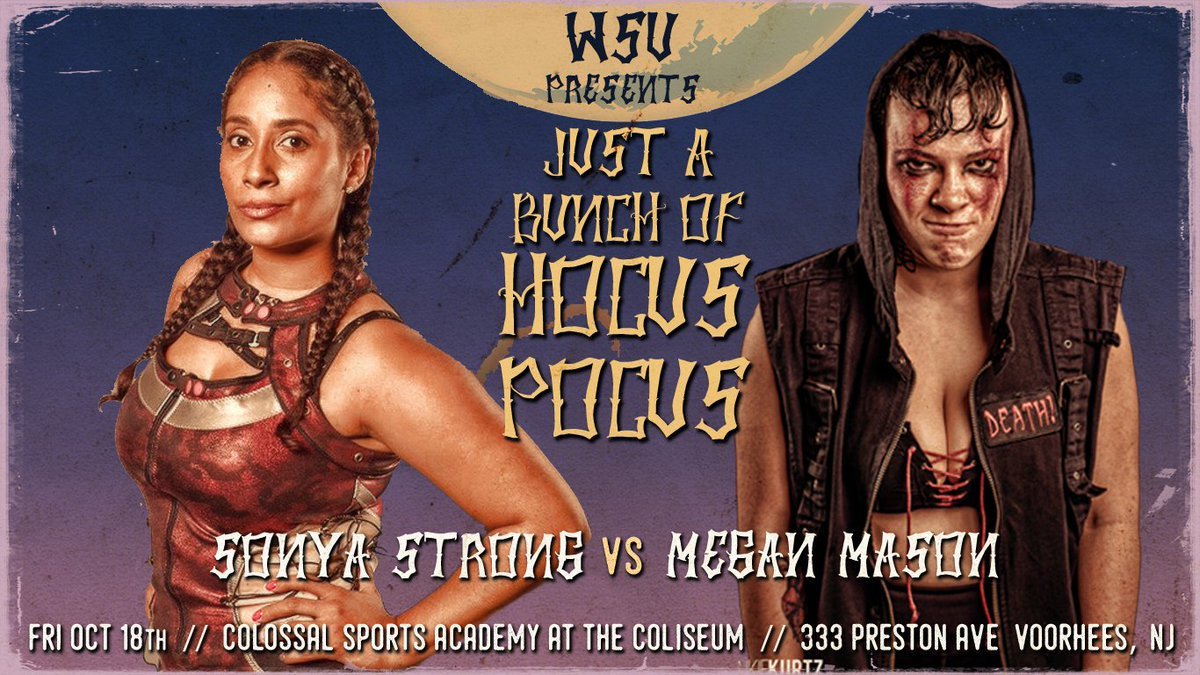 Sonya Strong is fresh off of her first win in WSU at Is It Fall Yet? The striking specialist is now on the hunt for her first singles win. Her opponent will be Megan Mason, the Facebreaker and member of The Endless. In search of impressing and bringing both chaos and glory to Mother, Mason is unpredictable at best. The Facebreaker is also still riding the high of glorious victory over Gabby Gilbert at Is It Fall Yet?
Candy Cartwright vs. Gabby Gilbert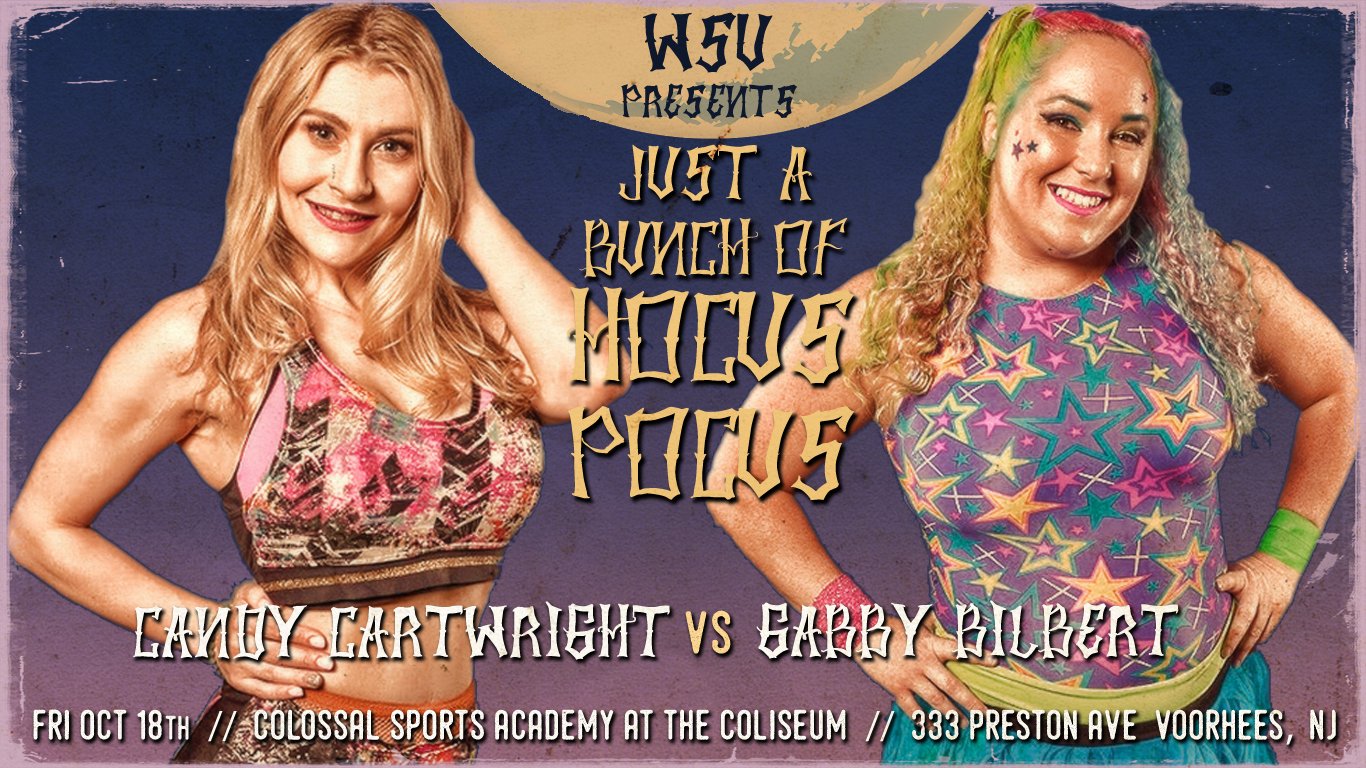 Speaking of The Everlasting "Gabstopper", she is also in action at Just A Bunch of Hocus Pocus. Gabby Gilbert is also looking for a much-needed singles victory. She's been desperately trying to prove herself to the fans and fellow superstars that she's a serious competitor. Having come up short against Brittany Blake and Megan Mason, she will take on the Platinum Hunnie in Training, Candy Cartwright. Despite trying to win a spot with the Platinum Hunnies, things have not been going well for her. When she stood in for the missing Angel Sinclair, the Platinum Hunnies lost the WSU Tag Team Championships. At Is It Fall Yet? she was victorious against Briley King, but King would snap and join Mother and the Endless.
Ashley America vs. Vita Von Starr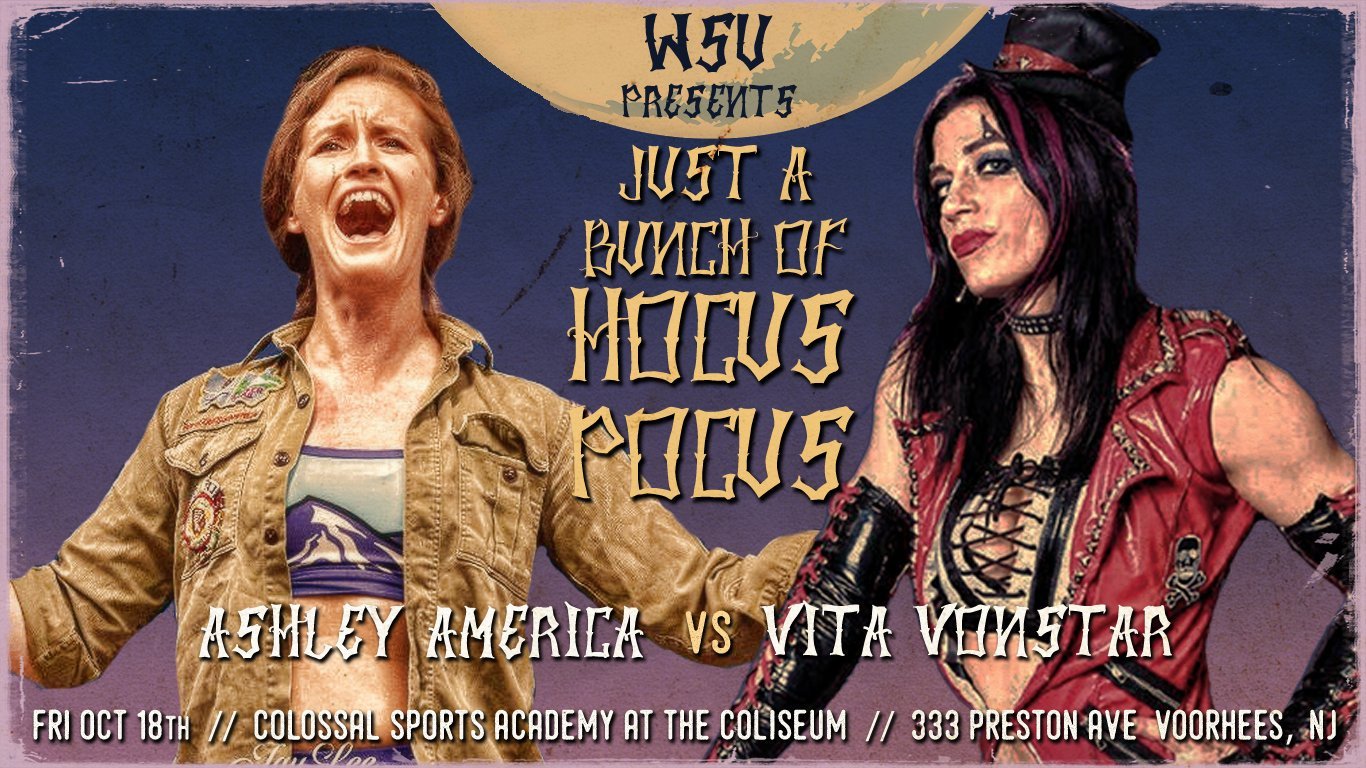 Here we have two debuts for WSU! Ashley America and Vita Von Starr have both been wrestling for a handful of years each, mostly in the northeast and midwest. They're also friends outside of wrestling. However, when the lights are on and the fans are watching, friendships are out the window. If they would like to turn the heads of WSU management, they have the perfect chance for a great first impression.
#1 Contender's Match for the WSU World Championship
Kris Statlander vs. Diamante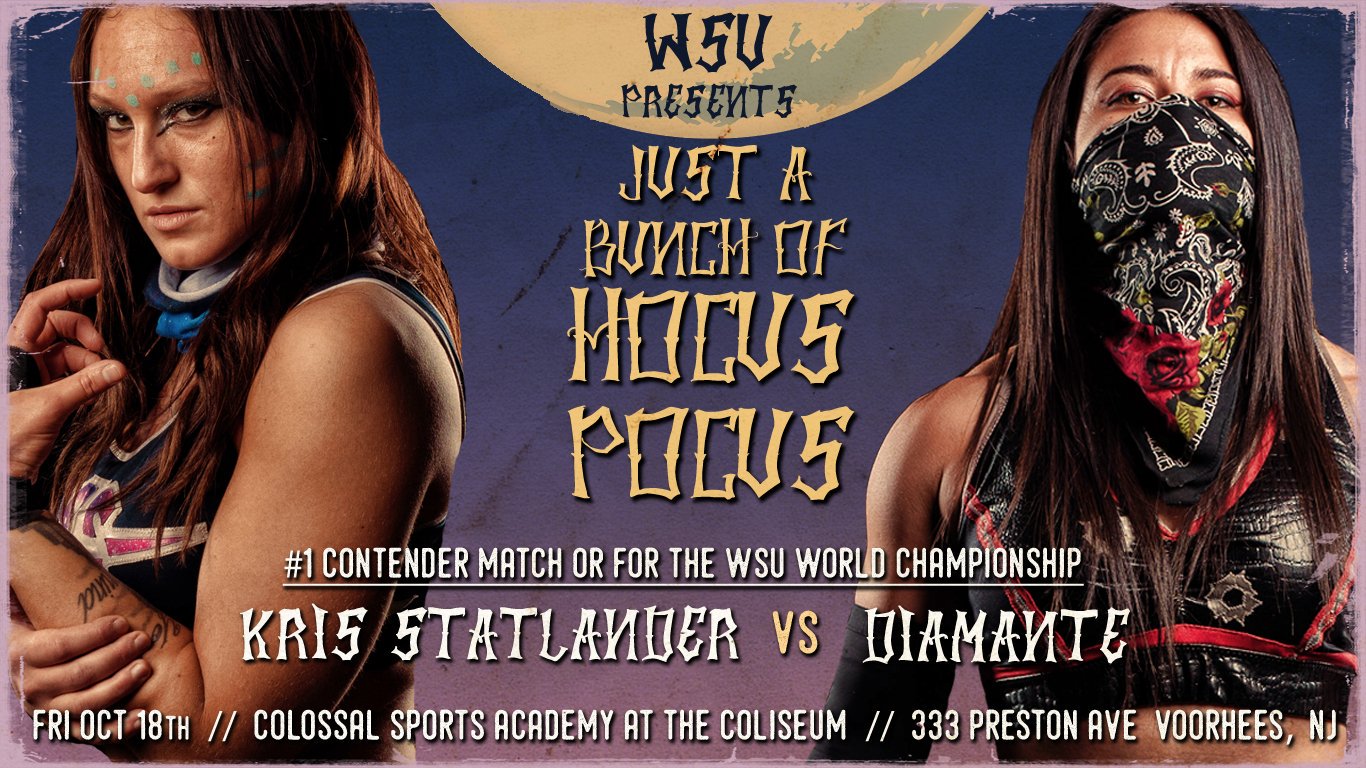 It's safe to say that this is one match at Just a Bunch of Hocus Pocus that you don't want to miss. The Extraterrestrial Kris Statlander is still stinging from the loss of the WSU Spirit Championship. Due the fact she was Spirit Champion at the time of the World Championship tournament was seeded, she received a bye to the finals. Diamante beat Aja Perera at Is It Fall Yet? in a tough match. This match was originally scheduled to be a triple threat with Brittany Blake being the third competitor. Blake has an impressive record of 4-1 and defeated Alex Gracia in her title eliminator at Is It Fall Yet?
Brittany Blake has a huge opportunity in Japan which has left her unavailable for this particular show. WSU management has acknowledged Blake's impressive record and her eliminator win and promised a title shot in the future for her. That leaves just two women fighting currently for the opportunity of a lifetime to face Tessa Blanchard for the WSU World Championship. Will it be The Alien Among Us or the Cuban Diamond?
WSU Spirit Championship Match
Davienne (c) vs. Ava Everett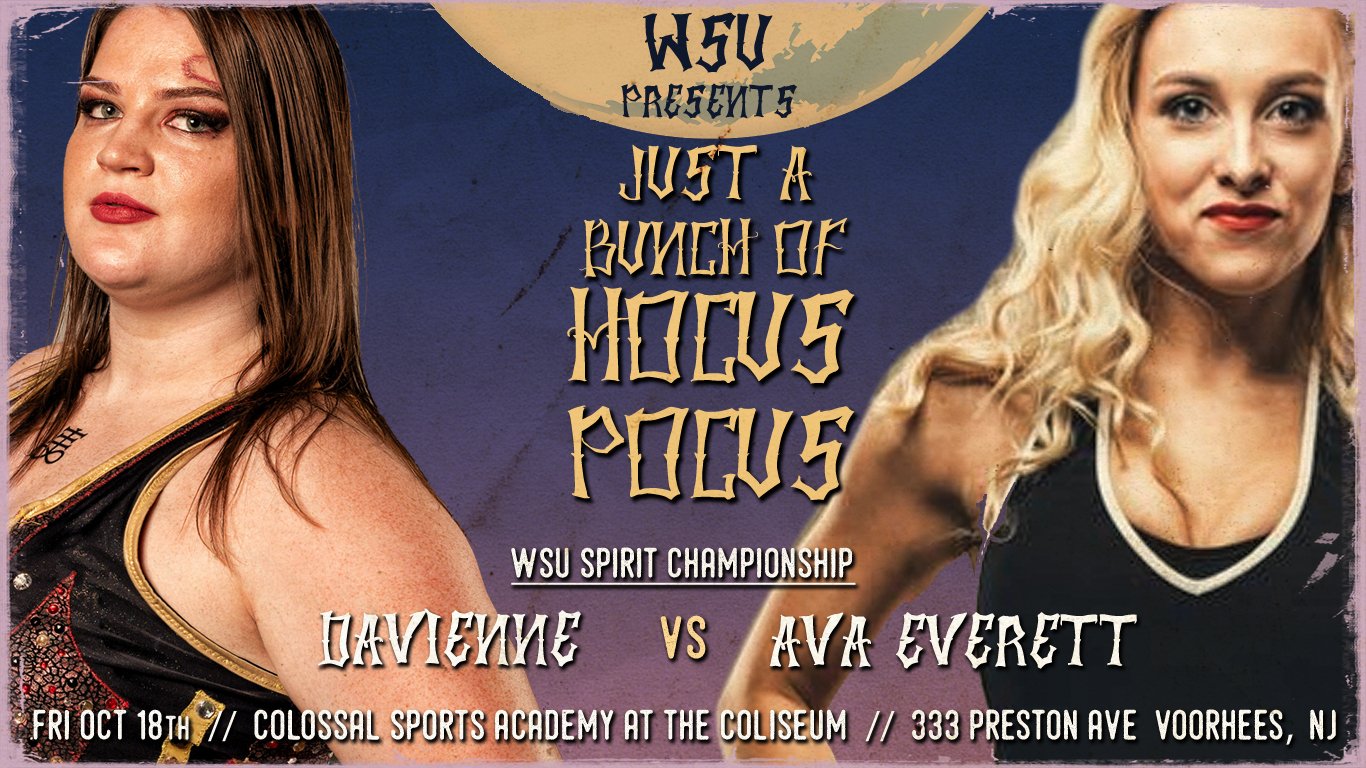 The crowning, golden glory of Mother and The Endless is Davienne. She swooped in at Is It Fall Yet? and ended Kris Statlander's impressive reign. Statlander raised the profile of the WSU Spirit Championship as more than just another mid-card title. Now Davienne will carry on that legacy into battle against All That Ava Everett. Everett has a fresh opportunity in the singles world following the unexpected loss of the WSU Tag Team Championships. The taller and leggier Platinum Hunnie will have no easy task though, taking on the powerful Not America's Sweetheart. Mother will of course be floating nearby for her charge, which adds another wrinkle.
There's only one way to know what will happen at Just A Bunch of Hocus Pocus and that's to be there live! The show goes down on Friday, October 18th with doors opening at 8:00 PM and the action set to begin at 8:30. If you aren't in the New Jersey area, the show will be available at a later time on CZW Studios! They have tons of incredible action in their library for just $9.99 a month.