SPW New Zealand kicked off 2020 with their recent show Fight For Gold and a lot went down on that night. Now as tensions begin to build and new rivalries kick-off, we see SPW New Zealand return for Queenstown Wrestlefest. Being held on Saturday, March 14th, 2020 at the Queenstown Memorial Centre, this is the opportunity to see the stars of SPW New Zealand is once again there for the fans in Queenstown. There a lot of big names coming out for Queenstown Wrestlefest and the card is packed with some exciting matches. Let us take a look at what will be in store for SPW New Zealand presents Queenstown Wrestlefest.
---
It seems that @JackBonza wants to find out if @MarcusKool is unstoppable at #Queenstown WrestleFest! ?#GodOfWarVSHooligan

BUY TICKETS via @EventfindaNZ pic.twitter.com/3E1LpTR06e

— SPWNZ (@SPWrestlingNZ) March 4, 2020
Jack J Bonza vs Hooligan Marcus Kool
A video announcement that was made via SPW New Zealand's social media accounts revealed that one of Australia's biggest names Jack J Bonza would be making his way to Queenstown Wrestlefest. Jack J Bonza wants the opportunity to step inside the ring with the Hooligan Marcus Kool. The match has been set and there is sure to be a wealth of excellent wrestling and excitement through the entire match.
Hooligan Marcus Kool may look like a run of the mill football hooligan fresh out of a recent match, but this underestimation is exactly what has cost many of his opponents in the past. A great combination of smash-mouth technical skills and calculated athletic ability make Hooligan one of the toughest opponents that anyone could step inside of a ring with.
Jack J Bonza has a confidence that radiates off of him when he is inside the squared circle, a very calculated and skillful ring veteran makes Bonza a true threat between the ropes. The clash of these two massively popular and exciting talents will make certain that Queenstown Wrestlefest takes in-ring action to all new heights.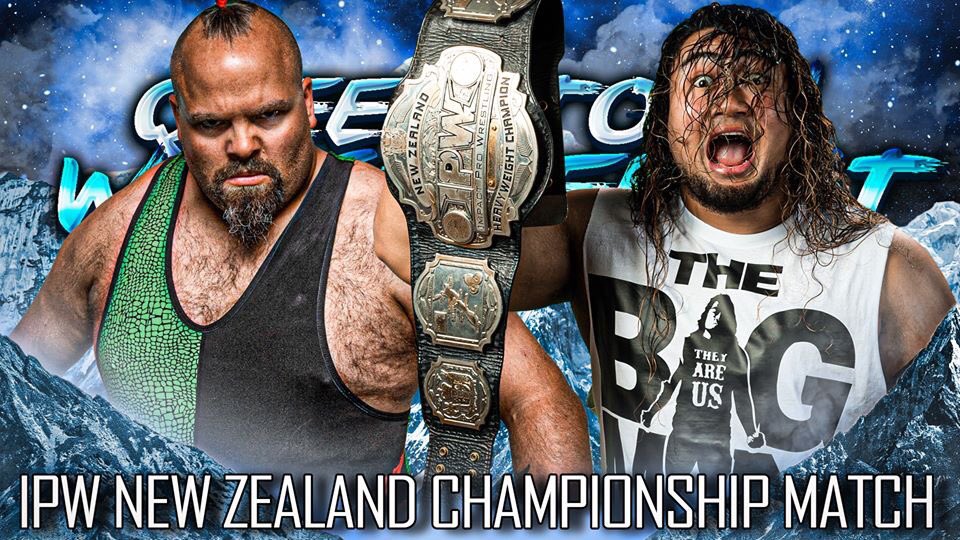 IPW New Zealand Championship Match
T Rex vs Jamie Tagataese (c)
SPW New Zealand made an announcement recently that they have come to a partnership agreement with New Zealand wrestling promotion IPW. This means that the championships for both companies will be recognized and defended across both promotions. Talent will also be shared across both companies allowing for further growth of the New Zealand wrestling scene. This partnership now means that the story of two very big men can truly unfold at Queenstown Wrestlefest.
The IPW New Zealand Heavyweight Champion Jamie Tagataese came out to confront T-Rex in late 2019. But a fleeing T-Rex wanted nothing to do with the Big Man at the time. After T-Rex defeated Cool Guy Sky at Fight For Gold 2020 he immediately called out the undefeated Jamie Tagataese, despite knowing that he was busy with a title defense that evening for IPW. Jamie Tagataese did not allow that to stop him from appearing via video call as he had some choice words for the human hate machine T-Rex.
This animosity that continues to build between these two behemoths has led to a history-making event for Queenstown Wrestlefest. The first time ever the IPW Heavyweight Championship will be on the line as the undefeated Jamie Tagataese crosses into unknown territory against T-Rex. It is possible that the unknown could be to the detriment of Jamie Tagataese. However, the big man will come to show the SPW crowd and T-Rex that he means business when the bell ring for this match.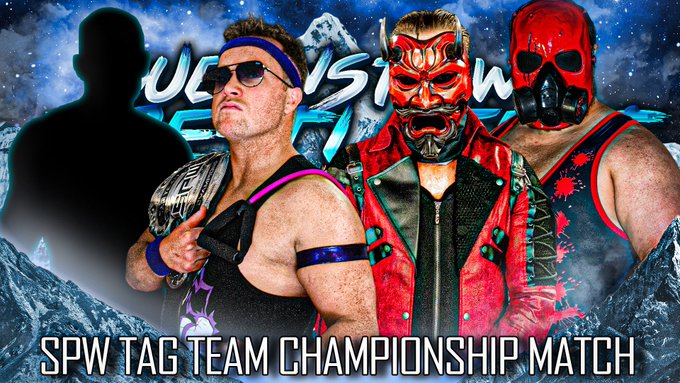 SPW Tag Team Championship Match
Will Power & ? (c) vs CTRL
Fight For Gold 2020 the tag team champions Power Tools (Will Power & Hammer) took on the intimidating team of CTRL. CTRL also a known faction around SPW, has been creating chaos in the company for just over a year now. They have a lot of confidence that comes from becoming the new champions. Despite some hiccups during the match, the Power Tools managed to overcome everything and retain their titles. At the close of the match, Hammer handed over his Tag Team Championship and whispered into the ear of Will Power. This was Hammer giving up his half of the championship, leaving Will Power in a situation where he needs to find another partner.
The match at Queenstown Wrestlefest against CTRL is now very uncertain. Will Power needs to find someone with enough courage to help him in the fight against CTRL. Is there someone out there that Will Power can trust? To step in and defend the tag team gold with him? Or does this simply spell the end for the storybook championship run for Will Power? At this point, CTRL must feel more than ever that they will be walking away with the gold.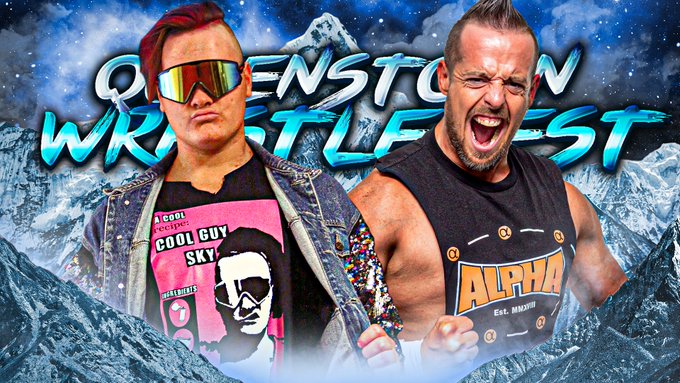 Cool Guy Sky vs Charlie Roberts
The Alphalete and the Cool Guy are two personalities that are going to crash in glorious ways at Queenstown Wrestlefest. Cool Guy Sky and Charlie Roberts both suffered unfortunate losses at Fight For Gold. But these two men will both be looking to give their best performance and get back to winning ways.
Charlie Roberts, who has been with the company since the beginning, has yet to climb to the top of the ladder in SPW New Zealand. The Alphalete needs to obtain a victory here if he hopes to one day get a chance at the companies' top prize. Cool Guy Sky has certainly broken free of his Detention persona and brought forth the real him. A larger than life, exciting young talent with a flare for everything cool.
Cool Guy Sky gave a competitive match against T-Rex at Fight For Gold but still came up short of the victory. He will need to channel the confidence that almost picked him up the win and amp it up to another level in order to get his much-needed victory.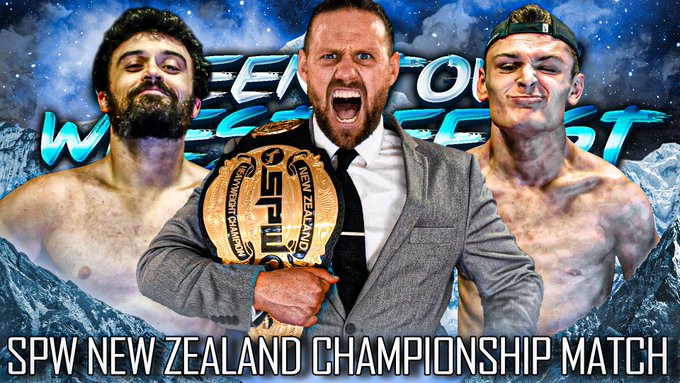 SPW New Zealand Championship Match
Notliamh vs Shooter Shane Sinclair (c) vs Falcon Kid
It will be a reunion of sorts for the former tag team Cruiser Mates. Notliamh is returning after spending some time at the Fale Dojo improving his game. Now upon his return to SPW, Notliamh gets a shot at SPW New Zealand Champion, Shooter Shane Sinclair. The match comes in the form of a triple threat which also involves Notliamh's former tag team partner, The Whole Falcon Show, Falcon Kid.
Falcon Kid gave one hell of a performance at Fight For Gold in a ladder match against Shooter Shane Sinclair.
It could even be argued by anyone who witnessed the match that Falcon Kid had the match won. Until the numbers game become a factor. Shane Sinclair had an ace up his sleeve in the form of Professor Palmer and Sabrina.
Will Palmer and Sabrina play a factor in this triple threat match? Is it possible for the champion to continue to find ways to retain his championship? Or is he simply running out of time? The clash between these three should and will be absolutely memorable and very likely a show-stealing match.
---
SPW New Zealand's Queenstown Wrestlefest features an abundance of championship matches and a whole lot of excitement that will unfold before our very eyes. Make sure to get your tickets and pack the arena on Saturday, March 14th. Those of you that do not have the opportunity to take part in the live experience still can get your fill of all things SPW New Zealand. Through the hard work of a team of professionals within the company, events are edited and produced in a very quick turn around time. The shows are then uploaded for viewing through SPW On Demand. Check out the SPW New Zealand website for details on how to sign up for SPW On Demand and start enjoying previous events that the company has done while preparing yourself for the masterpiece that will be Queenstown Wrestlefest.