On Saturday, September 14th, Pro-Wrestling: EVE presents its first big event of the fall. Wrestling with an Agenda will be the first show of September (they've got two more at the end of the month) and it will also continue the road to the SHE-1 tournament. Last month, at Fights and False Lashes, Charli Evans and Laura Di Matteo qualified for the SHE-1. Solo Darling is in the qualifier on this show.
Match 1: Holidead vs. Charli Evans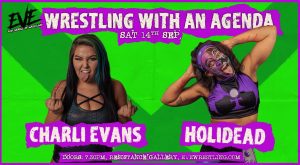 This should be a good, hard-hitting match with a bit of lucha flair. Holidead is a fantastic character worker. Despite the size difference between her and Evans (Holidead is quite tall), it won't be hard for her to keep the crowd engaged and on her side. Evans is a great heel, and she and McKenzie are the top heel act in the tag division, so I see no reason why this match shouldn't bring the heat.
Prediction: Evans wins. Something nefarious may play into the finish, but really Evans will want the extra momentum going into the SHE-1.
Match 2: Angel Hayze vs. Sammii Jayne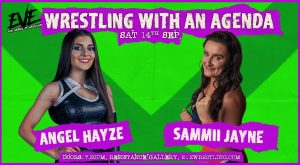 I'll admit to knowing next to nothing about Angel Hayze. What I can give you is this match, which shows a bit of her ability. She certainly has the tools to become something. Sammi Jayne hasn't factored into EVE booking much this year, participating in their BattleBowl and putting over Charli Evans in a SHE-1 qualifier. I honestly don't know what to make of this match as a result.
Prediction: I feel like Sammii wins this one. Angel is new on the EVE scene, so let's get her feet wet before strapping a rocket to her.
Match 3: Livvii Grace & Nightshade vs. Laura Di Matteo and Jayla Dark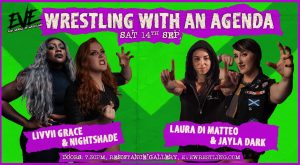 Livvii and Nightshade have been Rhia O'Reilly's heavies lately, but they're still ultimately the flunkies of the heel champion. That said, they're an established heel team opposed by a popular face in Laura and someone who has overcome them in Jayla. At Fights and False Lashes, Jayla Dark beat Nightshade. The question remains if that will be enough to overcome a team of monster heels fending off challengers to their leader's supremacy in EVE.
Prediction: EVE is smartly booked. I don't see the thrown together team beating the established team here, even if the heels are just flunkies for Rhia. They need to look strong as a unit in order to help bolster Rhia's credibility and to make the fight to get to her something to invest in. Not everyone should beat the top heel's lackeys and get to face her. That just creates a bad kind of predictable storytelling.
Match 4: Mercedes Martinez vs. Jinny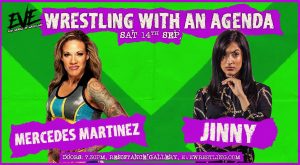 This is where the show should pick up from good to great. If I haven't made it clear before, I think Mercedes Martinez is the best wrestler on the American independent scene today. Period. It's exciting to me that she's been doing EVE shows lately, and I think she and Jinny will be a perfect match up. There should be a lot of really fancy submission work in here, and Jinny's character work will help the match dynamic while Mercedes plays face.
Prediction: Mercedes is going to win. EVE has a tendency to take their really big-name foreign talent and make them juggernauts, to an extent. Yes, Mercedes has already lost a match in EVE, but it was to Kay Lee Ray in the finals of a tournament that led Ray to win the EVE Championship. Mercedes is not Meiko Satomura, but I expect EVE to keep Mercedes's losses to a small number with each one being significant.
Match 5: Solo Darling vs. Millie McKenzie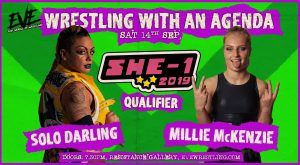 This is a SHE-1 qualifying match and Solo Darling's EVE debut. Solo's got great energy and seems just inherently likable. Matching her up with Millie McKenzie here is perfect, then. If they put the match together right, this should do a lot for introducing the EVE audience to Solo Darling and keep Millie McKenzie well hated.
Prediction: Millie should win this. It's always good to leave the audience wondering if the tag team will face each other in the tournament, as that opens doors for potentially unexpected turns or for the team coming together even more.
Match 6: Rhia O'Reilly (c) vs. Roxxy for the EVE Championship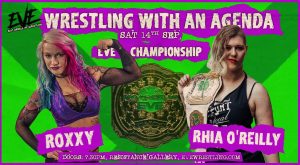 At Fights and False Lashes, Roxxy won the #1 contender's tournament for the right to face Rhia O'Reilly this Saturday. She's a good young wrestler with a lot of promise, but sometimes it seems the nerves of a big match situation can get to her (her match at Wrestle Queendom 2 being a prime example). This will be Rhia's first defense of the EVE Championship, so expect a showcase of Rhia's heel side that builds sympathy for Roxxy.
Prediction: Rhia has to win this. The time isn't right for her to drop the title, and for her position she needs to hold onto the title until day 2 of the SHE-1, at the very least. Roxxy should come out of this match looking good, though.
You can read more Pro Wrestling EVE articles by clicking RIGHT HERE!