This upcoming Saturday in Dayton, Ohio, Sami Callihan will return home as IMPACT Wrestling teams up with The Wrestling Revolver to present No Surrender. This show should be a doozy with three matches scheduled that will certainly get fans on their feet all night long. Without further ado, let's jump into the preview.
---
Michael Elgin vs Larry D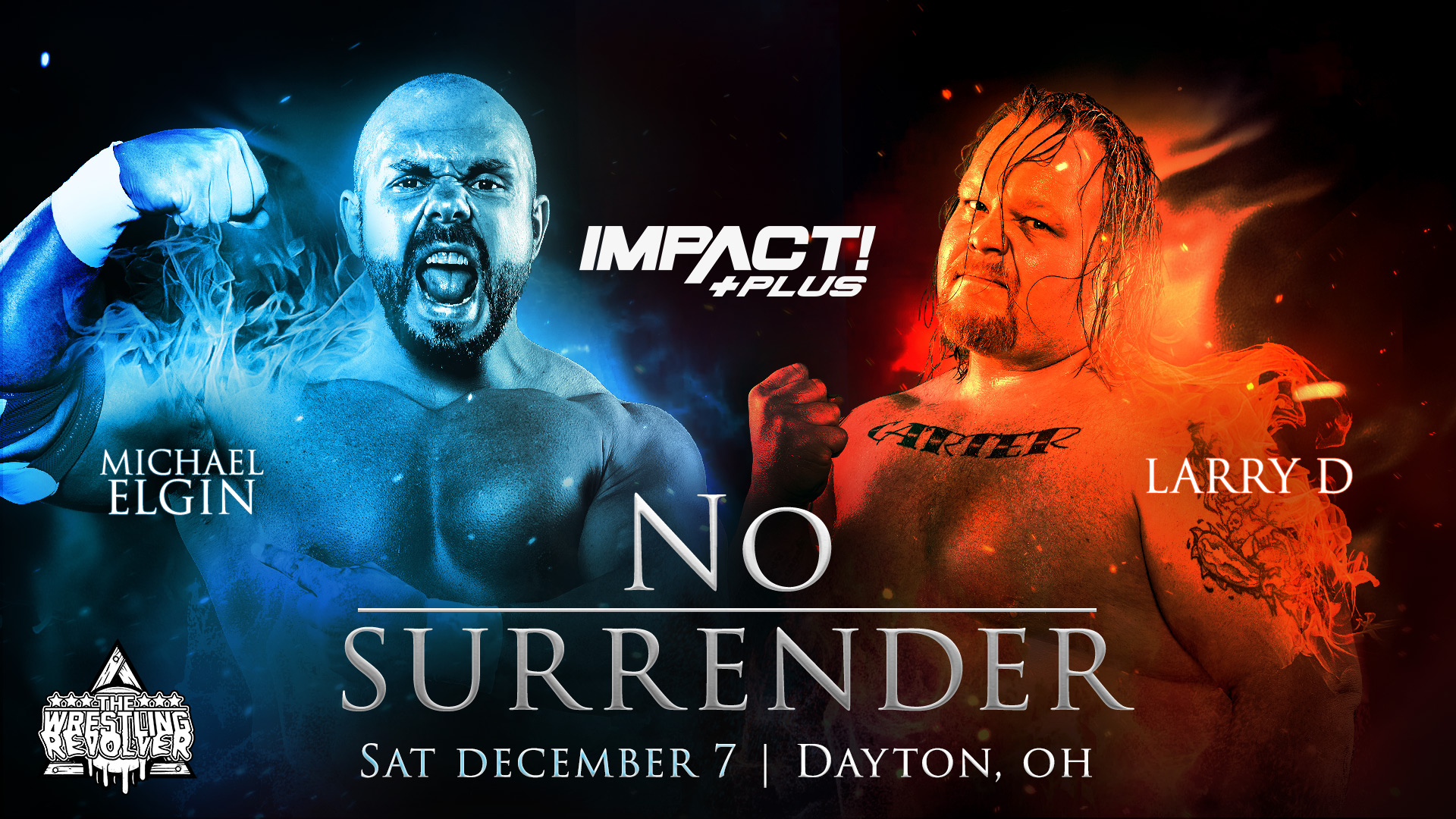 In the partnership with The Wrestling Revolver comes this special match set for No Surrender. Michael Elgin will go one-on-one with Larry D in a match that is sure to surprise. Elgin has been on a hot streak of sorts, which makes this match another hopeful win for him while Larry D looks to win the biggest match of his career to this point. It should be a great opener to the card.
Madison Rayne vs Rosemary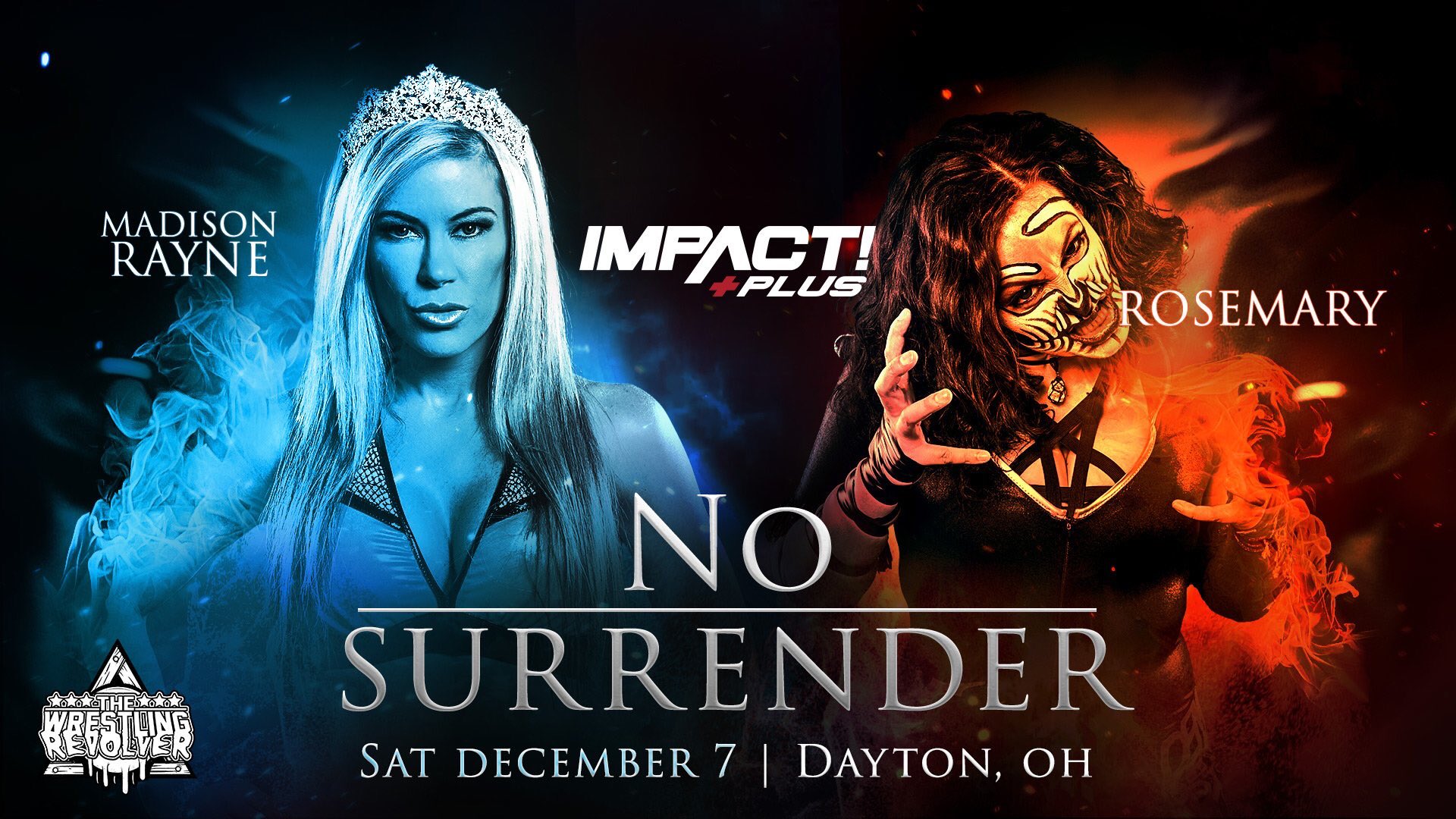 The Knockouts division doesn't have just one, but two big matches to decide the future of the division. The self-proclaimed leader of the locker room, Madison Rayne, will have her handsful Saturday night when she takes on Rosemary. While an opportunity at Hard To Kill for the championship is gone, a big win between either lady can go a long way into deciding a contender for Taya Valkyrie's IMPACT Knockouts Championship. With both women being champions in their own right, this will be a must-see match to watch. Rosemary is planning to put an end to Rayne and her "reign" over the locker room.
Triple Threat Tag Team Match
Desi Hit Squad vs oVe vs The Rascalz
Tag team action is some of the best things when it comes to IMPACT Wrestling is this one will be no different at No Surrender. The Desi Hit Squad is hoping to pick up a huge win over two of the best tag teams in the company on Saturday. oVe will have the brothers Dave Crist and Jake Crist teaming up to try and represent the meaning of "Ohio Versus Everything" in Dayton that night by aiming for a clean sweep of a night starting with this tag match. And finally, The Rascalz, who many see as the best tag team in IMPACT that doesn't hold the tag gold. With Hard To Kill a month away and no contender for The North's tag team titles just yet, this one could decide who gets the opportunity.
Hoss Fight Scramble
Madman Fulton vs Moose vs Brian Cage vs Acey Romero vs Willie Mack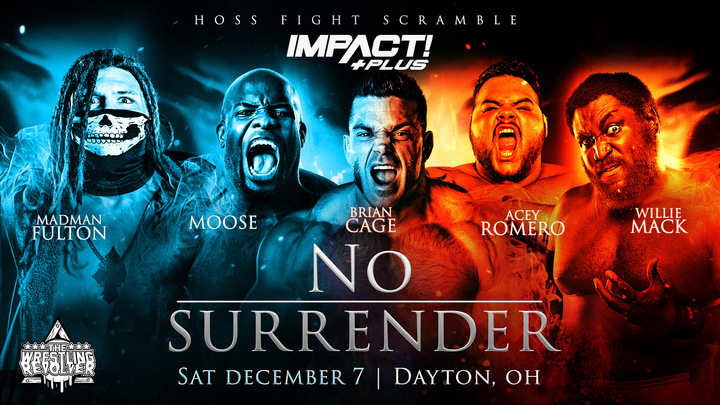 Show stealer? Quite possible. Something about the word "hoss" should get you excited alone. Five men will go to battle at MPACT Wrestling's No Surrender on Saturday night and only one "hoss" will come out victorious in the Hoss Fight Scramble. Madman Fulton, as stated prior, will look to give oVe another big win on the night in Ohio as the massive man has a chance to grab a huge win against championship contenders. Next in the match is Moose, who despite his continued words of discouragement to everyone surrounding him, he has only shown how good he can be in the ring. Not being able to get the IMPACT World Heavyweight Championship opportunity will make this be a huge match to get back on top.
And speaking of getting back on top, then there's Brian Cage. Cage is the former world champion attempting to get back on top with this match being treated as the first step to accomplishing that feat. Finally, the final two make up this match is relatively new signee Acey Romero and Willie Mack. Romero will look to grab his biggest win since signing with IMPACT by showing he is the superior "hoss". And then Willie Mack, who everyone knows will show out and put his life on the line in order to try and win the match. Prepare to enjoy an absolute show-stealer.
Tables Match
Ace Austin vs Eddie Edwards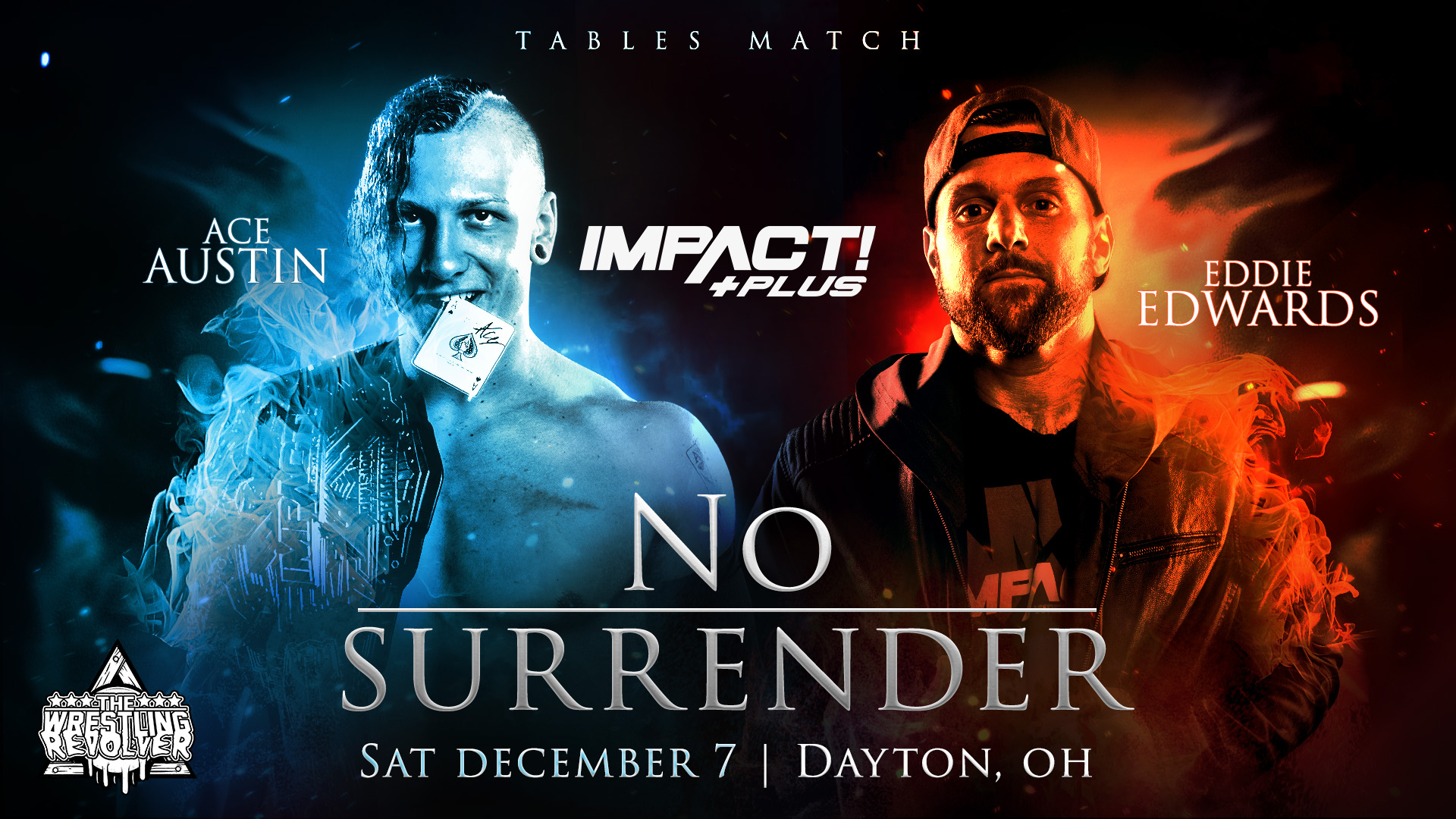 The longest going rivalry that doesn't involve the IMPACT World Champion will hopefully find it's ending this Saturday night as Eddie Edwards looks to get his final revenge on IMPACT X-Division Champion, Ace Austin at No Surrender. After months of Austin trying to attract the wife of Edwards away from him, he finally blew his plans which now leads to this bout at No Surrender. A table match is even more important, as this will not go down quietly by any means. Edwards and his psychotic mindset will hope to put the final nail in the coffin of Austin in this one.
The last time these two went head-to-head, Austin picked up the victory in a street fight on IMPACT TV, proving he can do just as well in a match consisting of a stipulation. Will the Boston native be able to get the last laugh on Austin, or will it be the X-Division Champion who gets the upper hand yet again on Edwards?
IMPACT Knockouts Championship
Taya Valkyrie (c) vs Havok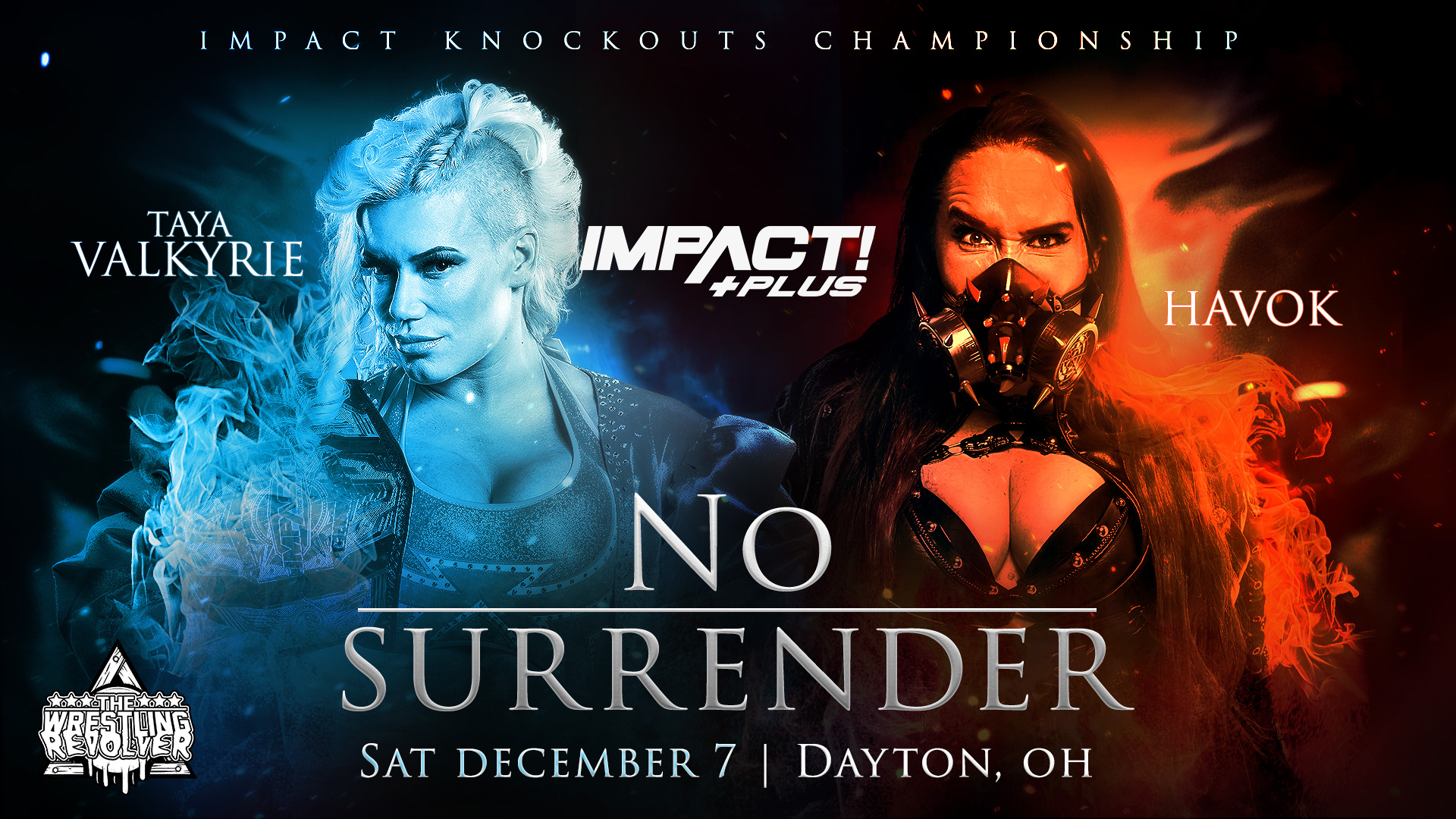 Taya Valkyrie has her Hard To Kill opponent set, but she is not in the clear just yet as she must defend her IMPACT Knockouts Championship against the one and only Havok at No Surrender. The longest-reigning champion in Knockouts history hopes to continue this record run with a win over Havok, but that is not an easy task by any means. The former champion wants to experience that feeling again, and what better way to do so than beating the pound-for-pound best to hold the title? Havok has been on a path of destruction in trying to capture the championship again but has come up short since returning. This may be her best opportunity as Taya could have her sights set on Jordynne Grace, leaving occupied which leads to Havok's chance.
IMPACT World Heavyweight Championship
Sami Callihan (c) vs Rich Swann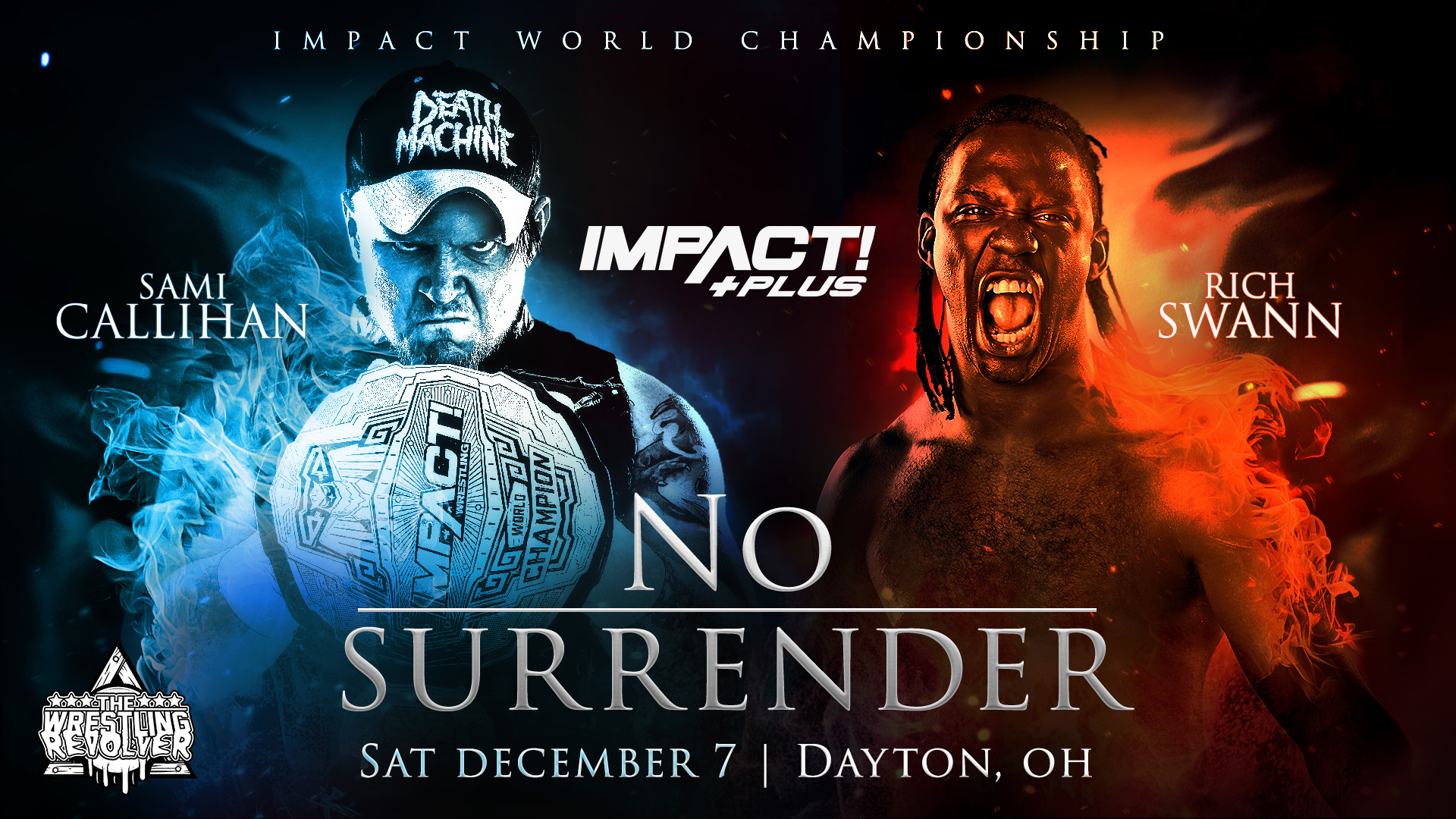 Opportunity arrives for Rich Swann this Saturday night. Unfortunately for him, it will be at the home of oVe's leader and IMPACT World Heavyweight Champion, Sami Callihan at No Surrender. Swann earned this shot on IMPACT television when he pinned the champion in the center of the ring during a tag team match. You pin the champion, you get a shot. This is Swann's biggest shot to date as he has his first shot at the world title and looks to bring the groove rather than be stomped out by the questionable champion. And this may be the best time to get the chance with Sami Callihan just a month away from making history, which could be on his mind far more than this matchup.
Of course, Sami Callihan is a completely different animal. It was October on the AXS debut of IMPACT where the "Callihan Death Machine" pinned Brian Cage in the middle of the steel cage to win his first world championship. Now just nearly a month and a half later, Swann might have to kill him to take the title from him, especially in Ohio. However, with Tessa Blanchard on his mind with their historic rivalry coming to an even more historic point next month at Hard To Kill, he could surely be a little bit off mentally which makes it the time for Swann to strike.
Originally written by Scott Edwards