With the weather cooling down, Bar Wrestling is keeping the heat alive with their first show of September, The Wildest Ride in the Wilderness. Bar Wrestling: The Wildest Ride in the Wilderness is already set to be one of the hottest wrestling events of the month with a stellar card already in place. Held at the American Legion in Baldwin Park on the 4th September, here is a small preview of the matches that have been announced. As always, they are subject to change but will give you a small idea about what to expect from the show!
Jake Atlas vs. Killer Kross
If you want a match with two athletes who couldn't be more different, this is the perfect example of this. Even though both men aren't afraid to head to the top rope, there is a different story behind each man and where they are comfortable. Jake Atlas is known for his amazing high flying athletic style with his amazing sports background and agile frame. However, Killer Kross is a very different build to Atlas with a much larger frame and more of a focus on his power and strength. However, these differences make for an amazing match where both men will have to adapt their styles to fit their opponent's offense. We will see Atlas having to try and use his strength to have a proper fight with Kross and Kross is going to have to try and embrace his agility and speed to keep up with Atlas. No matter which style you prefer, this is a must-watch match which will have everything in it, including the kitchen sink!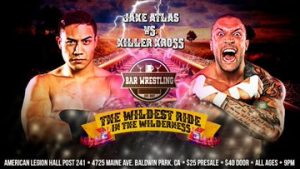 Heather Monroe & Dom Kubrick vs. Penelope Ford & Kip Sabian
We're normally used to seeing Heather Monroe team up with Jake Atlas. However, like her team with Atlas, Monroe has fought Kubrick a few times before which means that they know each other very well and how the other works. Yet, their opponents have become a new power couple in the ring and are extremely familiar with each other. Monroe is well known for her versatile style as well as her willingness to break the rules to get the win. Kubrick is also very agile and athletic meaning that both have very similar styles and will be quick as lightning.
Their opponents are AEW signings and couple Penelope Ford and Britain's own Kip Sabian are definitely a team that's going to be hard to beat. Ford is probably one of the most amazing wrestlers around with an amazing hybrid of wrestling and gymnastics in her style which is so unique at the moment. Her partner Kip Sabian is someone I am very aware of and have followed in the British scene for years. Superbad by name and nature, he's both athletic and quick but also shifty. It will be the battle of sneaky style between Monroe and Sabian. Who will come out on top? Only time will tell.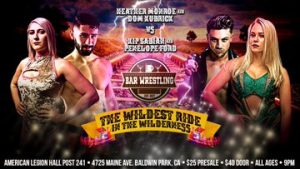 Delilah Doom vs. Ivelisse
Without sounding a like a broken record in this previews, we've got another example of the high caliber of female talent in Bar and the promotions passion for women's wrestling. However, as much as everyone loves Delilah Doom and will be rooting for her to win, Ivelisse will not let that happen easily. Former Lucha Underground Trios and Shine Champion and newest AEW signing, Ivelisse will not let her return to Bar Wrestling be sour. Ivelisse will also have a chip on her shoulder after coming up short in the All Out Casino Battle Royale. Both women are very different athletes with Doom being very positive and embracing her uniqueness to put on a show for the fans compared to Ivelisse who has that same athleticism but just wants to win by any means necessary.
However, that doesn't mean that Delilah Doom should be taken lightly even with a height disadvantage. With the crowds behind her the whole way, Doom has an amazing chance of picking up the win with her amazing athletic offense and fearlessness that leaves crowds in awe.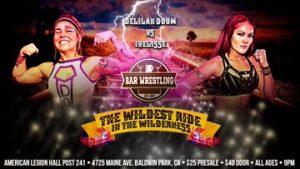 Los Luchas vs. Scorpio Sky & Watts
With Los Luchas really showing why they're becoming firm Bar favorites; this match sees the return of the team Wakanda Vice! This is a matchup that most people would have never expected, but one that will have crowds wanting more of. We've got four wrestlers in this ring that combine every perfect quality of a wrestler making it an even footing going into the match. On one side, we have Los Luchas who are amazing athletes combining this usual strength and athleticism with their Luchador roots making them both so dynamic. Also, their tag team history and chemistry is second to none making them tough opponents for anybody.
However, Scorpio Sky and big Eric Watts have also been a formidable team for so many in Bar Wrestling. With Sky's athleticism, strength and high-risk attitude combined with the power, agility, and strength of Watts, it's going to a tough match for Los Luchas. It's tough to pick a winner but it might all depend on whether we get any sneaky stuff from Watts and Sky and also who the crowds support. Having the crowds on your side can give you a small enough advantage to pick up the win.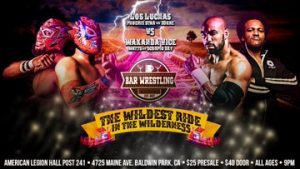 Farewell to Luchasaurus – Final Bar Wrestling Appearance
From the first Pro Wrestling Bar preview/ review, one name that always stood out on the card was the huge half luchador, half dinosaur who would put on amazing matches consistently. It's crazy to think that nearly a year on from that first post, we're going to be saying goodbye to the phenomenon that is Luchasaurus who is having his final Bar Wrestling appearance. Of course, we know that he is going amazing places as one of the most popular AEW wrestlers, but it's going to be so sad to not see him in a Bar Wrestling ring anymore. However, rest assured, the crowds are going to give him a farewell he won't forget. Whether Luchasaurus ever decides to come back to Bar or if this is the end, thank you for the matches and the memories. You will always be our favorite part luchador, part dinosaur at The Wildest Ride in the Wilderness!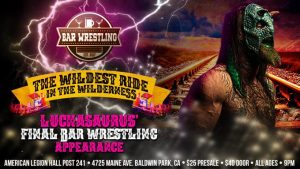 With some amazing matches on the card and a farewell to a beloved Bar veteran, it's going to be an emotional night for everyone but still a ton of fun! Like always, presale tickets can be bought and there are still a few available https://m.bpt.me/event/4273760 for $25. However, if you can't buy them until the show or if tickets sell out, limited tickets will be available at the door for $40. So, for a good night out, get yourselves down to the American Legion and enjoy some good ol' wrestling with a whole lot of fun at The Wildest Ride in the Wilderness!