As discussed in the previous piece on Fenix, lucha libre is often associated with colorful masks and high-flying offense. However, as history has shown, there are numerous wrestlers associated with this style that have deviated from the norm. In fact, some have deviated so much that they cease to be acrobatic assassins and start to shift into brutal brawlers.
During the modern era, few seem to encapsulate this as well as the ninja-masked luchador with a cold stare that would fill anyone with dread. In this week's AEW talent preview, we dive deep into the career of the man with "Cero Miedo," Pentagon Jr.
The mysterious Pentagon Jr. started wrestling in 2007. He learned under the tutelage of Skayde, a former four-time titleholder in NWA Mexico. In his early days, and within the independent circuit, Pentagon Jr. was known as "Zaius." He wrestled in the Mexico circuit before making his way to Lucha Libre AAA Worldwide the following year. In AAA, he took on the name of "Dark Dragon."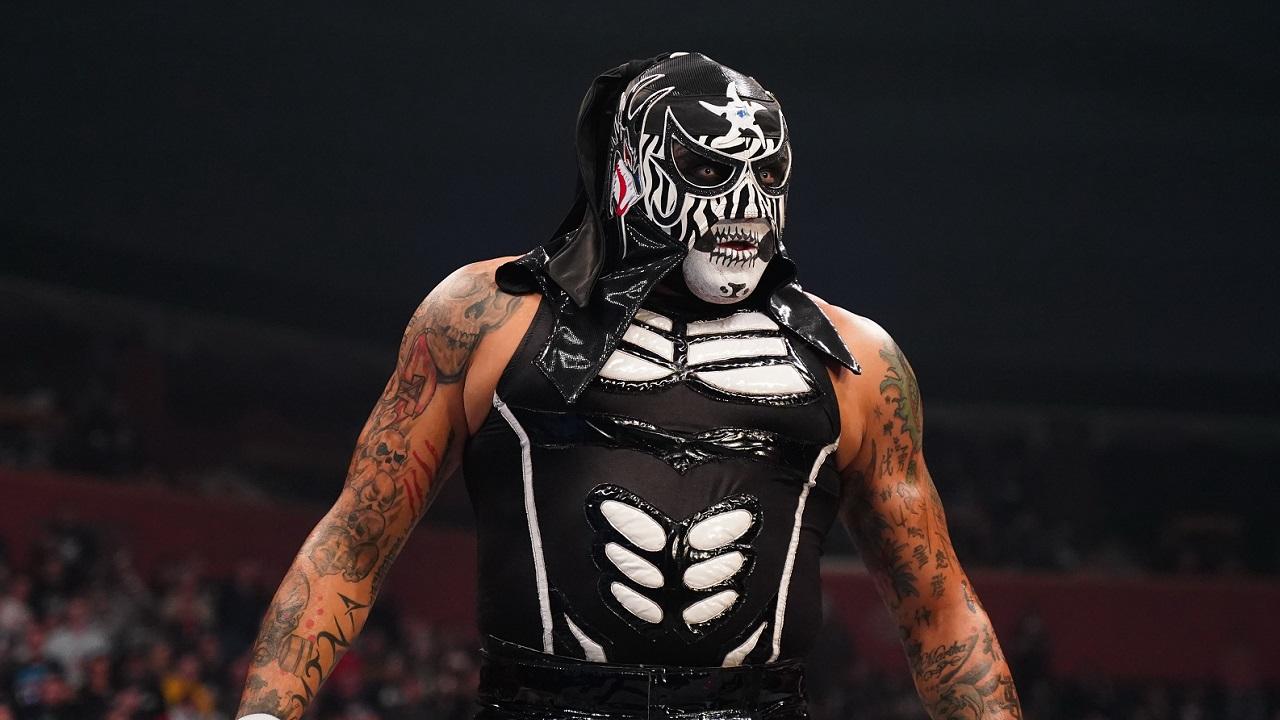 Pentagon Jr. – The Rudo
He would join the rudo, or heel, a faction known as La Milicia early in the year. The faction in question faced off against the likes of Argenis, El Gato, and Dark Dragon's real-life brother, Fenix. In 2012, Dark Dragon wrestled primarily in tag team competition. In September, at Xtrem Mexican Wrestling's Independencia event, he teamed with Fenix in a four-way elimination match to win the XMW Tag Team Championship.
This would be one of numerous tag team championships that the two brothers would win together. Dark Dragon would challenge for the AAA Fusion Championship in November, in a four-way elimination match, but the match was ultimately won by Fenix. By the end of 2012, Dark Dragon shed his gimmick and AAA rebranded him as the character fans know today: Pentagon Jr.
The main purpose behind AAA's decision to introduce Pentagon Jr. was to have him serve as the major rival to Octagon Jr.; WWE fans may know the latter better as Kalisto. This feud was to be Pentagon Jr.'s major feud of 2013, but Octagon Jr. left the company midway, which left the former without an angle. Nonetheless, he continued to perform throughout different organizations, AAA included.
In March of 2014, Pentagon Jr. competed at Rey de Reyes in an eight-way Lucha de Apuestas Domo de la Muerte match. Essentially, if he lost, he would have to unmask. Fortunately, he was one of the combatants to escape the cage, which allowed him to keep his mask.
Cero Miedo
2014 was a year of not only tag team success but new beginnings for Pentagon Jr. After joining the stable known as Los Perros del Mal, he set his sights on the AAA World Tag Team Championship. During the fall, Pentagon Jr. made his debut for Lucha Underground, a wrestling TV show broadcast on El Rey Network. He lost his debut match before entering an onscreen feud with the winner: Fenix.
This was the first step Pentagon Jr. would take to eventually become one of the show's main stars. In AAA, Pentagon Jr. teamed with Joe Lider, who was also part of Los Perros del Mal, to challenge for the AAA World Tag Team Championship. The team in question would win the championship at Guerra de Titanes in December, defeating titleholders Jack Evans and Angelico and challengers Fenix and Myzteziz; WWE fans may know the latter competitor better as the original Sin Cara.
Pentagon Jr. continued his work in Lucha Underground in 2015, though with more of an edge. In February, he developed a desire to break the arms of his opponents. According to him, every broken arm was done for his master, an unknown entity to the fans. He entered a feud with Sexy Star in April after she stopped him from breaking the arm of Super Fly. In June, their feud ended when Pentagon Jr. defeated Star in a submission match.
Pentagon Jr – "Cero Miedo"
Following the match, Pentagon Jr. attempted to break her arm, only to be stopped by color commentator Vampiro. This feud culminated at Ultima Lucha, which aired during the summer, where Pentagon Jr. and Vampiro faced off in a "Cero Miedo" match. Pentagon Jr. defeated Vampiro, broke his arm, and it was soon revealed that Vampiro was the aforementioned master Pentagon Jr. referred to all season long.
Pentagon Jr. debuted for Pro Wrestling Guerrilla in the summer, competing in the 2015 Battle of Los Angeles tournament. He defeated fellow Lucha Underground star Drago in the first round but lost to Zack Sabre Jr. in the second round two days later. In 2016, during the second season of Lucha Underground, Pentagon Jr. set his sights on the Lucha Underground Championship, turning babyface as well.
Following an unsuccessful match against Matanza Cueto, who won the Lucha Underground Championship at Aztec Warfare II, Pentagon Jr. underwent further training under the guidance of Vampiro. This resulted in the creation of the character "Pentagon Dark," who was stronger and more sadistic than before. This character debuted at Ultima Lucha Dos, which aired in July, in a Lucha Underground Championship match against Matanza.
Despite a dominant effort by Pentagon, Matanza won the encounter. Afterward, Pentagon turned on Vampiro, attacking and leaving him a bloody heap in the ring. The third season of Lucha Underground debuted the following September. Despite losing to Rey Mysterio in the first episode, Pentagon Dark successfully defeated such opponents as Cortez Castro and Chavo Guerrero Jr.
In November, Pentagon competed in Aztec Warfare III but lost due in part to the interference of Black Lotus and the Black Lotus Triad. Pentagon challenged the Black Lotus Triad to a gauntlet match two weeks later. Despite successfully eliminating Doku, the current Kairi Sane in WWE, and Yurei, also known as Mayu Iwatani to Stardom viewers, he ultimately fell to Hitokiri, who WWE fans may know better as Io Shirai.
This resulted in Pentagon having his arm broken by not only Black Lotus but El Dragon Azteca Jr. In AAA, Pentagon Jr. won the Rey de Reyes tournament in March. He would follow this up in July by successfully challenging Psycho Clown for the AAA Latin American Championship.
Pentagon Jr. continued his winning ways at AAW United We Stand, where he defeated Sami Callihan to win the promotion's Heavyweight Championship; he lost the title the following October back to Callihan. In August, Pentagon Jr. set his sights on Pacific Coast Wrestling, based out of Torrance, California, and its vacant PCW Heavyweight Championship.
Following victories over Willie Mack and Brian Cage, Pentagon Jr. won the championship. Pentagon Jr. would lose the AAA Latin American Championship to Johnny Mundo a little more than one week later. In November, Pentagon Jr. lost the PCW Heavyweight Championship to Rob Van Dam at Clear the Way.
In January of 2017, Pentagon Jr. announced his departure from AAA. According to Wrestling Observer, this decision stemmed from general unhappiness with the promotion. This would also lead to Pentagon Jr. going by the name Penta el 0M, due to copyright reasons, for a short period. One of the places where he went by his name was PWG, where he appeared in March at Nice Boys (Don't Play Rock N' Roll).
Penta, along with Fenix, defeated challengers Ricochet and Matt Sydal and titleholders The Young Bucks to become PWG Tag Team Champions. They successfully defended the championship until October, at All-Star Weekend 13, where they lost to Matt Riddle and Jeff Cobb, collectively known as The Chosen Bros.
During the third season of Lucha Underground, in the Cueto Cup, Pentagon Dark defeated Argenis in the first round. He made it to the finals, where he ultimately lost to Prince Puma. In October, when Ultima Lucha Tres Part 3 aired, Pentagon Dark defeated Son of Havoc in a ladder match to claim the vacant Gift of the Gods Championship.
He would cash in on this opportunity in Part 4, when he challenged Lucha Underground Champion Puma in a Loser Leaves Lucha Underground match. By the end of the night, Pentagon Dark stood tall as Lucha Underground Champion for the first time.
2018 saw the debut of Penta 0M in Major League Wrestling, which went through a revitalization of sorts during this year. He defeated Fenix at the "Zero Hour" show before teaming with him on a routine basis. In MLW, Penta and Fenix became the first-ever MLW World Tag Team Champions under the promotion's new direction. He would go on to feud with L.A. Park later in the year.
As Pentagon Jr., he debuted for Impact Wrestling in April.  Pentagon would go on to win the championship in question. He dropped the title back to former champion Austin Aries not long after. At the start of Lucha Underground's fourth season, in June, Pentagon Dark became the first competitor to successfully retain the Lucha Underground Championship in an Aztec Warfare match.
He would go on to successfully defend the championship throughout the summer before ultimately dropping it to Gift of the Gods Champion Marty "The Moth" Martinez in September. At Ultima Lucha Cuatro, during the fall, Pentagon Dark regained the Lucha Underground Championship from Martinez in a "Cero Miedo" match. However, Pentagon Dark quickly dropped the title to Git of the Gods Champion Jake Strong, previously known in WWE as Jack Swagger.
2019 proved to be another notable year for Pentagon Jr. throughout different promotions. In MLW, along with Fenix, he continued to hold onto the MLW World Tag Team Championship until February. What was perhaps more noteworthy, however, was at the independent show "Come Hell or High Water" at Georgia the same month.
Following a victory over SoCal Uncensored, The Young Bucks made an unscheduled appearance to offer All Elite Wrestling contracts to The Lucha Brothers. It was later confirmed that they signed with AEW. Following a confrontation with The Young Bucks at the AEW Ticket Announcement in Las Vegas, where the EVPs were left laying, it was announced that The Lucha Brothers would face them at Double or Nothing for the AAA World Tag Team Championship.
With the popularity of such stars as Pentagon Jr., it can't be denied that lucha libre is a popular style in the United States. All Elite Wrestling clearly recognized by signing The Lucha Brothers, who made a collective name for themselves nationally and abroad. As a tag team specialist, Pentagon Jr. will be a major asset to AEW. As his match at All In, against Kenny Omega, has shown, he can be just as big of a singles star.
Once he enters the main event scene of AEW, he will pursue glory, even if it means snapping a few arms along the way.