The Biblical proverb tells us that the spirit is strong, but the flesh is weak. Paul Orndorff was the living definition of this adage. He dedicated so much of his life to making his body strong. He pushed it beyond its breaking point. Yet where his body may have failed, his spirit would not.
Paul Orndorff, Jr. was born in Winchester, Virginia, in 1949. He was named after his father, who raised him in their trailer home alone. But if you asked, he would say he was raised by his neighborhood in Palm Beach, Florida. He had to learn how to fight at an early age in order to defend himself from bullies.
Orndorff had a passion for sports. He competed in almost every form of competition his school offered. He started visiting gyms to improve his performance when he was just 13. Some of his coaches recommended Smith's Athletic Studio in Tampa. When he went there for the first time, he met the gym's founder, former Mr. Olympia Harry Smith.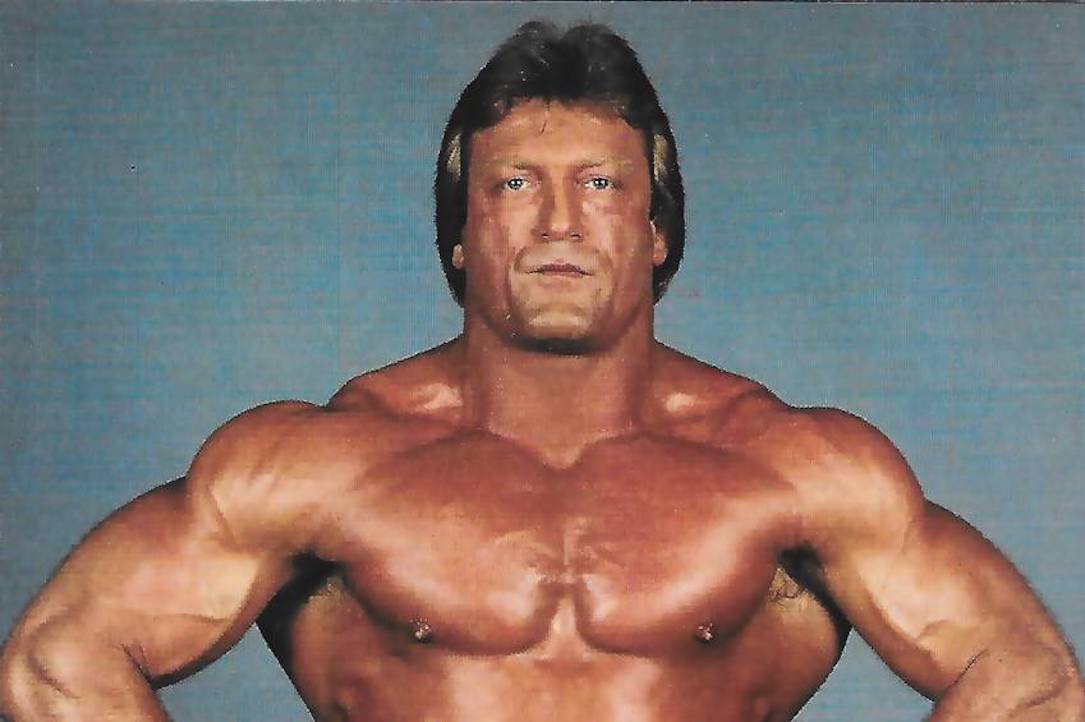 Paul Orndorff – Before he was Wonderful
He was immediately impressed by Smith's physique and wanted to look like him. Smith already knew who the teenager was because he had read about him breaking multiple State records. Smith became Orndorr's bodybuilding coach and personal mentor. It was because of Smith's influence that Orndorff studied and trained hard while abstaining from drugs, alcohol, tobacco, and stayed out of trouble.
"When I first met Paul, I was working out at a place in Tampa called 'Harry Smith's'. It was just an old-time musclehead gym. No frills. Nothing like a Gold's Gym or anything like that. Just small, perfect equipment.
You go in there and get a good work out. And that's where I met Paul Orndorff. And he came up to me. Nice guy. God, he was built. But he was playing football, and I believe college football, high school football. He really didn't mention wrestling, and then all of a sudden, he got into it. God bless Paul Orndorff."
– Greg Valentine on meeting Orndorff for the first time.
Like with so many other wrestlers, Orndorff thought his future was on the gridiron. He was scouted by colleges across the country. He eventually chose the University of Tampa so he could stay close to Smith, and his girlfriend, Ronda.
He played fullback for his college team. Orndorff would play tight end during his senior year. He scored 21 touchdowns and achieved over 2,000 all-purpose yards during his college career.
He was selected by the New Orleans Saints during the 12th round of the NFL draft in 1973. However, he quit during the training camp. He took part in the next camp for the Chicago Bears and went on to play with the Jacksonville Express in the World Football League briefly.
Orndorff kept the "personal problems" that caused him to quit both teams to himself. One popular theory was that UT teammate Ron Mikoljczak had gotten into his head. Mikoljczak wrestled during off-seasons. Some suspected that Mikoljczak had convinced him he would make better money in the ring. The truth is that Orndorff's wife had given birth to their first child. Playing football no longer interested him.
He had become close friends with Ronda's family from the start of their relationship. Her parents provided a level of support for Orndorff that his own father struggled to. He watched Championship Wrestling from Florida with them if it was on TV whenever he visited. He initially hated it because he believed it was fake.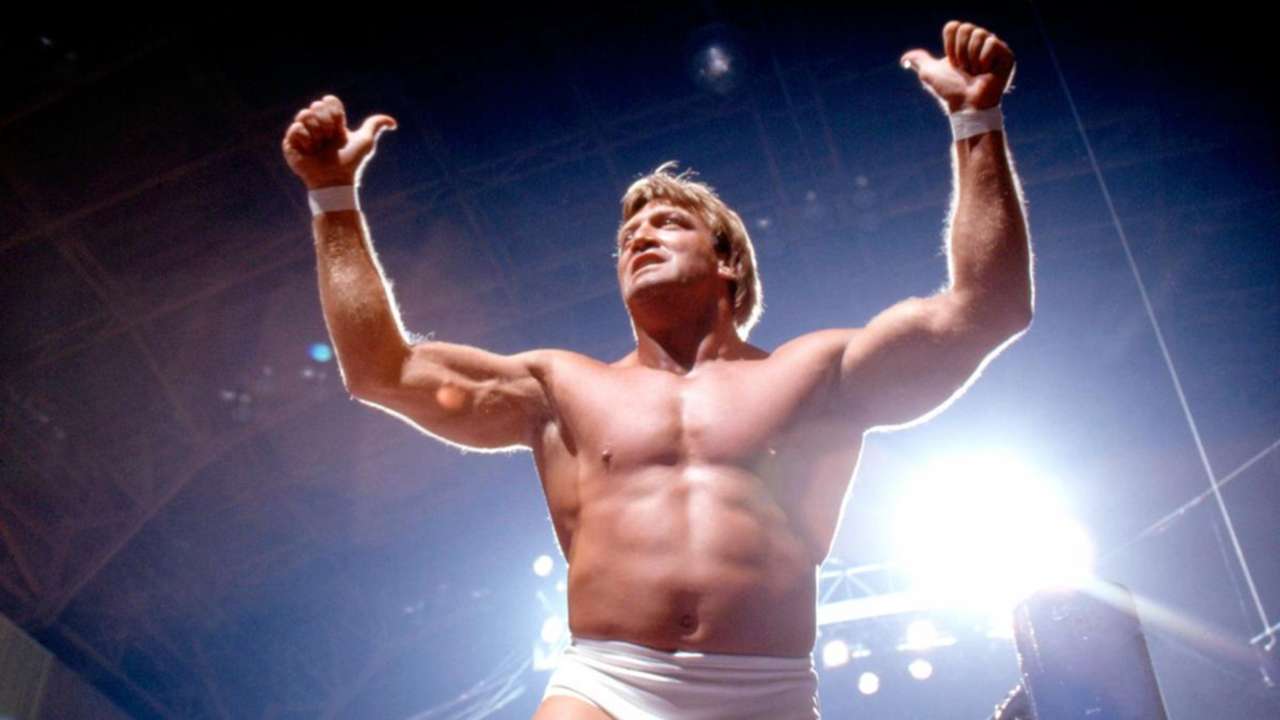 Early Training
After a few weeks, he told his father-in-law, "I can do that. I actually think I can do that." His father-in-law said he knew someone who could put him in touch with Eddie Graham if he was serious. Orndorff called his bluff, and he was talking to Graham within weeks.
Orndorff was trained by Graham and Hiro Mitsuda. They quickly taught him that being a wrestler required more than just being physically strong or being good at fighting. They gave him an intensive course in grappling techniques and physical endurance. He made his debut in Mid-Southern Wrestling in 1976.
Promoter Bill Watts would become one of his biggest supporters. He got Orndorff in the door at various NWA affiliates in the territory and even gave him a place to stay until he started making money. But Watts also gave him his biggest wake-up call. He told Orndorff to his face that he was going to be fired because he was not any good. Orndorff heeded the warning and started taking his career more seriously.
His first feud was against Jerry "The King" Lawler. He eventually defeated Lawler to become NWA Southern Heavyweight Champion, his first career title, and then dropped it back. He then repeated this with a different King in NWA Tri-State, taking the North American Championship from Ernie Ladd twice before losing it back.
He spent much of his time in Tri-State feuded with Baron von Rasckhe over the tag titles. He then spent a year in NWA Southeast's tag division, teaming and feuding with the same group of people over their tag titles, winning them twice.
"Nobody will ever master golf. Not even the pros master it. They just make less mistakes. It is hard to master it. Wrestling was this way. To really play with people's emotions. My thing was to never have the same match every night, like some people I know.
The same match they had twenty-five years ago, they still do today. I couldn't stand that. I even wrote notebooks, and I knew exactly what I did. If I was going into a town, I would write down a few things. What I did, and everything, and the things I done, and the gist of the match.
And I graded myself. I actually did that. I never had the same match twice."
– Orndorff on improving his career.
Orndorff slowly transitioned out of the Alabama region and into the Mid-South. He handed a humiliating defeat to top heel Ken Mantell. The villain had been cutting the hair of defeated opponents. When Orndorff beat him, he smothered Mantell's scalp in hair-removal cream, and earned a shot at the NWA Mid-South North American Heavyweight Championship. The stunt failed to get Orndorff over with local fans. A change of direction was needed.
He missed the match because he had slept in. His friend Jake Roberts took his spot and the title. This made Orndorff irate, and he turned on Roberts. He cemented his heel turn by beating Roberts for the title. During his reign, he defended it against big-name babyfaces such as The Junkyard Dog and Dusty Rhodes.
As similar storyline saw him turn face again. He missed his chance to regain the title from Ted DiBiase due to car trouble. His friend Bob Roop took his place and won the gold. It was then revealed that Roop had sabotaged Orndorff's car. Orndorff was unable to get revenge due before he left the region.
It was also around this time that his younger brother Terry began his own career. The Orndorff brothers competed as a tag team for a short time. As "The Brandon Bull" was already an established name, Paul was in much higher demand. Terry did have some success in his own right. He competed mainly in tag team matches and teamed with Kerry Von Erich and the Junkyard Dog. Terry would retire after just a few years.
The final stop in Orndorff's NWA tour would be a return to Georgia Championship Wrestling. He dominated the NWA National Heavyweight division. He took a brief break from it to challenge Ric Flair for the NWA World Heavyweight Championship. He juggled the National title with The Super Destroyer. His final reign ended when Zbyszko paid Tim Brooks to win the title on his behalf. When Brooks tried to give the title to Zbyszko, GCW President Bob Geigel blocked it and vacated the championship.
He then completed two tours with New Japan Pro Wrestling. He mainly feuded with Akira Maeda, mostly in tag team matches. He formed a tag team with John Stuff for a second tour. It was this alliance that told the WWF that he was no longer under contract with any NWA affiliate. They signed him in November 1983.
Joining Forces in his Feud against Rock N Wrestling
The following January, he became a lackey for Roddy Piper. Piper dubbed him "Mr. Wonderful", a nickname that he kept for the rest of his life. This coincided with Hulk Hogan winning the WWF Championship for the first time. Less than two months after his first match in the company, Orndorff was main eventing with Hogan in matches for the title.
With this sudden push came a lot of heat. Fans would throw sharp and heavy objects at him, damage his car, and even assaulted him. One incident left him needing twenty-seven stitches after being hit in the mouth with a bottle of whiskey. Orndorff responded by fighting back at first.
An act simultaneously encouraged and discouraged by Piper. Piper taught Orndorff that the more crowds hated him, the more they would pay to see the babyfaces beat him. The more tickets he sold, the more the promoter would put into his pay packet. Piper taught Orndorff the secrets to riling audiences.
Hogan was becoming a household name due to his movie and television appearances. A-List celebrities were now confessing their love for "fake" wrestling. Singer Cyndi Lauper did so when she cast Captain Lou Albano in one of her music videos. The WWF capitalized on this by creating a cross-entertainment event.
Lauper was in Hogan's corner when he defended the title against Piper at 'The War to Settle the Score'. She got into the ring to defend him from a post-match attack. After she got pushed away, it prompted actor Mr. T to get into the ring. This confrontation set up the headline match for the first-ever WrestleMania. The WWF announced that Mr. T would team with Hogan against Piper and Orndorff.
While Hogan and Mr. T advertised the match on every show they could get booked on, the heels promoted it at every WWF event. They, along with Bob Orton, Jr., voiced the opinions of wrestling traditionalists that wrestlers should not cross the line into Hollywood, or vice versa.
They also made it clear that they hated how Hogan represented the company as champion. To make the hatred seem more genuine, the heels avoided being seen with their opponents prior to the match. That made preparation planning impossible. The only thing that had been decided was the finish.
The heels had no idea what training Mr. T had, and assumed he had none. They let Hogan call the match while he was in the ring. But anytime he tagged out to Mr. T, they legitimately grappled with him to prevent him from getting in any offense.
The main event was announced as WWF Champion Hogan and Mr. T in a tag team match against Piper and Orndorff. The celebrities promoted the match on every television show and magazine interview they could get onto. The heels, along with Bob Orton, Jr., promoted it at every WWF event.
They voiced the opinions of wrestling traditionalists that wrestlers should not cross the line into Hollywood, or vice versa. They also made it clear that they hated Hogan as champion. To make the hatred seem more genuine, the two avoided talking to the babyface team before the match.
This then put things in jeopardy as the finish was the only part that was pre-planned. They also had no idea what training Mr. T had, and assumed he had none. The heels let Hogan call the match while he was in the ring. Any time he tagged in Mr. T, they legitimately grappled with him to prevent him doing any offense.
This frustrated the actor who genuinely wanted to do spots and take bumps. Orton got into the ring and accidentally struck Orndorff in the head with his arm cast. Hogan recovered and pinned Orndorff for the win.
"Everywhere that we went, and I was on an airplane six days a week. Everywhere that we went, they talked about that. You would think that it was Rocky Marciano vs whoever he was fighting. They were talking about it everywhere. It was huge."
– Orndorff on the success of WrestleMania.
Piper and Orton blamed Orndorff for the loss and kicked him out of the group. He then helped Hogan against his former allies. He solidified the face turn by firing Bobby Heenan as a manager. Heenan offered a $25,000 bounty (later raised to $50,000) to anyone who could injure Orndorff. When Mr. Wonderful was not teaming with Hogan or Bruno Sammartino, he was the guy heels had to beat before they could challenge Hogan for the title.
"Hulk Jr"
Despite headlining the first WrestleMania, he was relegated to the opening match at the second. Siding with Hogan caused him to fall down the ladder. Adrian Adonis stirred the pot by telling "Hulk, Jr." that the champion was using him. The manipulation took hold when Hogan failed to take one of his calls. Orndorff began suspecting the worst about Hogan before eventually turning on him.
Orndorff took Hennan back as he renewed his rivalry with Hogan. Having wrestled and worked out alongside Hogan gave him better knowledge. Most of their clashes came to inconclusive finishes as Hogan struggle to overcome his former ally. This included a steel cage match which initially ended in a draw when both men escaped at the same time.
Hogan eventually got the win and vanquished his foe. His victory came at the end of one of the most lucrative feuds in WWF history. One event in Toronto attracted a crowd of 74,000. Combined with his success from his college football career, his university inducted him into their athletic Hall of Fame. The hard work paid off, but it came at a price.
Early into the feud, Orndorff tore one of his biceps in a weightlifting accident. He knew this program with Hogan would make him more money than he had ever earned in his career so far. He understood that if he took time off now, he may never get another opportunity like this. He may not ever be trusted with a main-event push ever again.
He put off surgery and kept the injury a secret for as long as possible. Even when this feud was over, he still worked a part-time schedule. When he finally succumbed to his injury, he was written out in storylines with Heenan hiring Rick Rude to replace him.
Orndorff initially returned as a lower member of Heenan's stable. The WWF did not expect him to receive warm receptions from crowds. The logical step was to have Orndorff ditch Heenan again, turn babyface, and feud with Rude. This bothered Orndorff as he felt he would make more money as a heel. The rivalry ended with Orndorff at an advantage after pinning Rude in an elimination match a Survivor Series 1988. He left the company after one final match in January.
His disappearance was so sudden that some regional newspapers erroneously reported he had died. The truth was that the condition of his arm had forced him to retire. Working while injured for so long caused the damage to spread throughout his arm and neck. This had led to nerve damage, and his bicep had begun to deteriorate.
Forced to Retire
He was forced to retire. He turned his attention to running his bowling alley in Fayetteville. Orndorff began working out again in order to maintain his health and retain mobility in his arm and neck. In short time, he had begun to regain his strength and muscular physique.
The only problem was that his right arm was noticeably smaller than the left. He convinced himself that he was ready to return to wrestling. He tested the waters with a series of matches against Kerry Von Erich in 1990.
"You see, I had movie parts. I had the part in Rambo. I had the part. They flew me to New York, and I met Sasha Stallone, and his wife, and I met [Sylvester] Stallone's agent. Three weeks later, I flew to San Diego, met Sly Stallone, Johnny Stallone, blah, blah, blah. Took my shirt off, and everything else. They wanted to see my body.
They wanted to see what I looked like with a black shirt on. I did the whole deal with them. And he said, 'You got the part'. About a week later, they said they needed to get my flight information to fly out to Mexico, so we can do the movie because it was in Mexico.
Six-to-eight weeks shoot with two weeks extension. So I asked Vince [McMahon] about it. But you see, I was stupid. I should have went ahead and done it. I should have done it. And he said 'You'll do Rocky too'. And Vince knew all this. Because you know they did another Rocky. I had the part. He wouldn't let me do it either."
– Paul Orndorff on how Vince McMahon talked him out of two movie roles.
Returned to Active Competition
Orndorff debuted with World Championship Wrestling as both a wrestler and a backstage agent. He was recruited by the "Dudes with Attitude", a stable led by Sting to combat the Four Horsemen. As the enforcer, his focus was to counter the Horsemen's enforcer, Arn Anderson. They feuded across the Summer, with Orndorff pinning the Television Champion multiple times.
But he would not pick up the win anytime the title was on the line. He lost his push after getting into a genuine backstage fight with Vader. Accounts about the incident are wildly varied, but every witness agrees that both men downplayed how badly they got hurt by the other. He was let go a short time later.
"When [Vader] says the bad arm hit him, and didn't hurt him. When Leon White came out of that room, his face looked like it exploded. Orndorff must have got him right in the right place. His whole face, not only his nose and his cheeks, his whole face look like it exploded. You ever see the grey and black bins that they put ice and water in?
He threw all the water out of one of those bins. It was just ice and melted ice. Held his breath probably for about fifteen minutes and held his head under to get the swelling to go down. Leon, I love you, but when you say he didn't hurt you? Your face look like it exploded. I'm sorry. I was asked for the truth, and that's the truth."
– Dave Penzer disputes Vader's claim that Orndorff didn't hurt him in their fight.
He then went on to work for four different indy companies almost simultaneously. He competed for the Universal Wrestling Federation, the American Wrestling Federation, the National Wrestling League, and Smoky Mountain Wrestling. His feud with Steve Williams was considered essential to the early years of UWF. He beat Col.
DeBeers in a strap match at their only pay-per-view event; Beach Bash. He defeated his former ally Orton for the UWF Southern States Championship. He also bested Stan Lane for the AWF Heavyweight Championship. He retained both titles until he left the respective promotions. His highlight in NWL was co-holding their tag championship with Brain Blair.
Orndorff was one of the top stars in SMW. He was immediately put into a feud with the heel management. He beat Hector Guerrero to be included in a tournament to crown the first SMW World Heavyweight Champion. He was thwarted in the finals when he lost to Brian Lee in the finals by disqualification.
He and Tony Anthony continued to battle Lee and other heels sponsored by management. His biggest win was in a 'Piledriver Match' against Ron Garvin. However, he was "fired" after performing a piledriver on a referee. The feud never reached a conclusion.
He formally returned to WCW in January 1993, having signed a new contract just before New Year. Mirroring a storyline towards the end of his time in WWF, Harley Race hired him as a replacement for Rude. He won a tournament to become the WCW United States Champion. He would frequently team with Television Champion Rude. At one point, they both challenged for the tag titles while still holding the singles belts. He eventually dropped the US title to Ricky Steamboat and never regained it.
Pretty Wonderful
Orndorff was often one of Paul Roma's opponents in a series of tag matches where Roma failed to get along with his partners. He eventually turned on one of them to align himself with Orndorff. The pair took on the Masked Assassin as a manager, but failed to get anywhere.
They went their separate ways before giving the team one more try, but without a manager. Now calling themselves "Pretty Wonderful", they became a more dynamic force.
Pretty Wonderful would decimate competition, making it easier for them to win the WCW Tag Championship. They mainly defended the belts against teams that included past rivals.
The duo even turned back a challenge from Hogan and Randy Savage. Stars and Stripes (Marcus Alexander Bagwell and The Patriot) defeated Pretty Wonderful for the titles twice. The second time came after they gambled Patriot's mask for one final shot. Pretty Wonderful quietly separated.
Orndorff earned shots at the IWGP World Heavyweight Championship and the WCW TV Championship against much lighter opponents, but came up short both times. A loss to the Renegade caused him to go on a downward spiral and lose confidence. His losing streak came to an end after talking to TV psychic Gary Spivey.
The medium told him to remember who he is. He then developed a narcissistic character, only going by the name "Mr. Wonderful". When he was not admiring himself in mirrors, he was hitting his opponents with them.
On December 11, 1995, Orndorff delivered a worked shoot on Horsemen member Brian Pillman. During the promo, he alleged that Pillman was only in the Horsemen because Orndorff turned it down. Pillman, Flair, and Anderson proceeded to attack Orndorff. The latter two performed a spike piledriver on the arena floor.
WCW announcers claimed that he was seriously injured in the attack and was forced to retire. In truth, he was forced to retire because of the exact same condition that forced him to retire seven years earlier. The entire right side of his body was beginning to atrophy. One of the symptoms was that his limb muscles were visibly shrinking.
Instead of releasing Orndorff from his contract, they offered him a trainer position within their Power Plant wrestling school. He taught almost every young talent that the WCW signed over the next few years. He also worked as a road agent for some of them after they were called up to the main television roster. He was running the facility during the final year it operated.
Prior to being put in charge of the Power Plant, he was brought back unto WCW television for a storyline. Part of it involved him being beaten in a handicap match by the Harris Twins. At the Fall Brawl 2000 pay-per-view, he was revealed as the mystery partner of The Filthy Animals team in a match against his proteges; the Natural Born Thrillers.
He fell while attempting his signature piledriver on Mark Jindrak and re-injured his neck. The referee was forced to call off the match so he could get medical attention. Despite retiring for the third time, he still made onscreen appearances as part of the "Old Age Outlaws" stable, but never worked a single match as part of this short-lived group.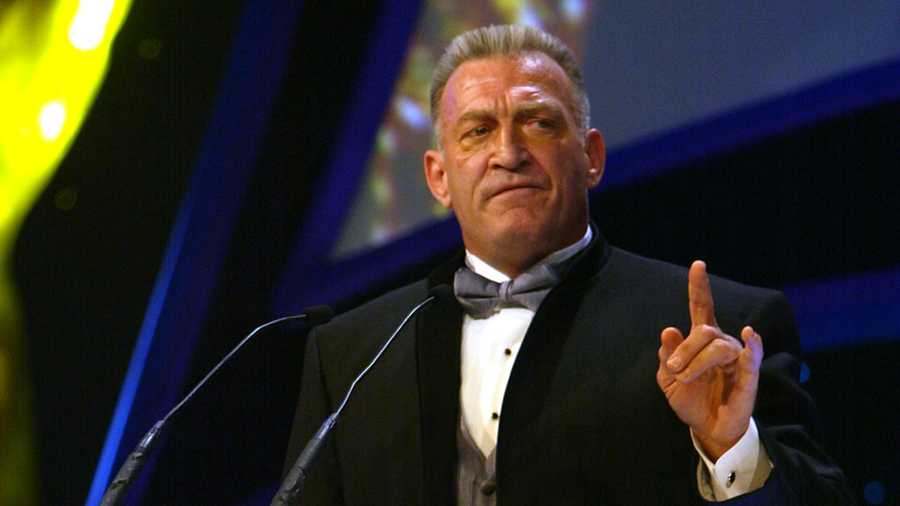 2005 WWE Hall of Fame
Orndorff was inducted into the WWE's Hall of Fame in 2005, and the Professional Wrestling HoF in 2009, and won Cauliflower Alley Club's Men's Wrestling Award in 2016. These were some of the rare times he broke kayfabe in public. Any time he had been asked about his career, he used to answer questions in character.
This included pretending to hate Hogan in projects honoring him. He also portrayed his heel persona in a segment at WrestleMania XXX celebrating the first WrestleMania main event. He made one final appearance in WWE as a guest celebrating Hogan's birthday in 2014 on Raw. Orndorff and Hogan had been friends since their famous feud.
"What an honour. I mean, I got so many rings that are [from] wrestling. All the famous rings, I got them. But you know, I earned it. And I broke my neck three damn times. It wasn't fun. It was hard work."
– Paul Orndorff on being in multiple Halls of Fame.
In early 2011, Orndorff admitted during a radio interview he had been diagnosed with throat cancer. Several months later, he was proud to announce he had been given the all-clear.
In 2016, he joined a large class action lawsuit that was filed against the WWE. It alleged that plaintiffs had suffered "long-term neurological injuries" while working for the company. It further alleged that the company failed to care for wrestlers who performed for them, and "fraudulently misrepresented and concealed" the nature of injuries that could occur while working for them.
Almost every wrestler who took part in the lawsuit has been blacklisted by the WWE ever since. A U.S. District Judge dismissed the case in September 2018, citing that some of the claims were frivolous and were filed after the statute of limitations. It took a further defeat when an appeal was dismissed in September 2020.
Orndorff worked his final ever match on May 3, 2017. It was a six-man tag team match for Canadian Wrestling Elite, held in Brandon, Manitoba. After that, Orndorff all but disappeared from the public eye.
In May 2021, his youngest son Travis posted a video of him at a medical facility. He confirmed that his father was battling dementia. Travis speculated in the caption that his condition was the result of chronic traumatic encephalopathy (CTE) caused by years of wrestling.
He received a lot of criticism from those who accused him of disparaging his father publicly. Travis had also told stories of Orndorff's alleged steroid use and temper. Two months later, he posted a photo of his father at home, implying that he was recovering. Sadly, this was not the case. He would then have to inform the world that his father passed away on July 12, 2021. He was 71. His legacy lives on through his two sons, Paul Orndorff III, and Travis, and his eight grandchildren.
Life is the hardest thing that anyone will ever do. That was no different for Orndorff. He may have had to work hurt, but he always worked hard. As strong as he was physically, his body could never be as strong as his spirit was.