Junkyard Dog, or "JYD" as most fans greeted him, was one of the most charismatic superstars of the eighties. He worked for Mid-South Wrestling and "Cowboy" Bill Watts before going to the World Wrestling Federation in 1984.
___________________
Born Sylvester Ritter on December 13, 1952, he was a college football player who gained great acclaim as an All-American Honorable Mention while playing for Fayetteville State University. Though the Green Bay Packers drafted him, injuries derailed his professional football career before it ever really took off.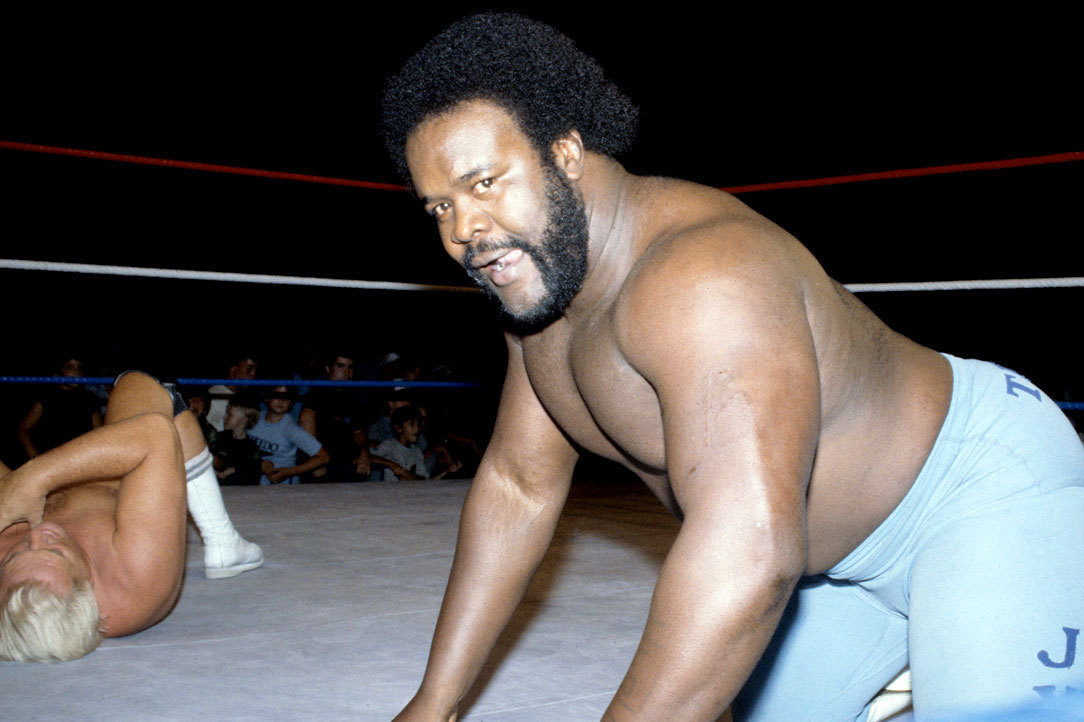 After debuting in Tennessee, J.Y.D. worked for world-class promoters like Jerry Jarrett and Stu Hart before landing in Mid-South, where Bill Watts christened him the "Junkyard Dog." From then on, J.Y.D. was never without his trademark dog collar with chains hanging from them. Standing at 6'3" and weighing close to 300 pounds, he was a mountain of a man. His other two trademarks were his long tights with the word "THUMP" emblazoned on the rear end, an ode to his signature Power Slam maneuver. In addition, he was charismatic and expressive with his mannerisms and a huge hit with young wrestling fans.
THUMP
While wrestling for the World Wrestling Federation, he would often bring young fans into the ring to help him celebrate a victory by doing his 'knee-knocker' dance.
Junkyard Dog Dancing With Fans
Although he never won any major titles while working for WWF, he was a part of quite a few notable firsts within the company. He was on the first-ever Wrestlemania card in 1985. His opponent was Intercontinental Champion Greg "The Hammer" Valentine.
J.Y.D. was also featured in WWF's first-ever King Of The Ring Tournament, where his opponent was Don "The Rock" Muraco.
https://www.youtube.com/watch?v=Jx5P0UgroRc
But the firsts didn't stop there as he was also a participant in WWF's first-ever Royal Rumble. He was entrant number fifteen and was the 20th man eliminated.
He may not have been the first superstar to pull off his next feat, but it was amazing nonetheless. In 1988, Junkyard Dog appeared separately for both flagship events for the World Wrestling Federation (Wrestlemania III) and the National Wrestling Alliance (Starrcade). First, he took on Harley Race in a "Loser Must Bow" match on the Wrestlemania card. Then, later that year, he appeared at Starrcade as he and Ivan Koloff battled against the Russian Assassins.
Junkyard Dog & His Notable Feuds
Superstars such as King Kong Bundy, "Hacksaw" Butch Reed and The Fabulous Freebirds, and Harley Race were among them.
In a feud against Ted Dibiase, J.Y.D. lost a "Loser Leaves Town" match, only to return as a masked wrestler, "Stagger Lee," and gain a measure of revenge. Even though the crowd and other superstars knew it was him under the mask, they could never unmask him.
The Junkyard Dog passed away on June 1, 1998. While returning from his daughter's graduation, he fell asleep at the wheel and was the victim of a one-car crash. The World Wrestling Entertainment posthumously inducted Junkyard Dog into its Hall of Fame in 2004.
As a professional wrestling fan, my earliest and fondest memory of Junkyard Dog was that he was larger than life. His "THUMP" power slam was one of my favorite moves in wrestling because of the way he'd bounce up after planting his opponents onto the mat. Another great memory occurred in my younger years as well, when the World Wrestling Federation released Thumb Wrestling figures.
Junk Yard Dog, Hogan, Piper, and The Iron Sheik were the first wrestling figures my parents ever bought for me. JYD. was my favorite to play with, even though there was no "THUMP" on his backside. Unfortunately, I never got to see him live, but I'm sure if I had, I would have thoroughly enjoyed him and may even do the knee-knocking dance with him. In the world of professional wrestling, there are many superstars, each great in their own right; but Sylvester Ritter, Junkyard Dog, was truly one of a kind.